Abstract
The water of urban landscape park is often confronted with microalgal blooms due to its stagnancy. Bioremediation using the combined emergent and submerged plants to control the microalgae growth was investigated in the present study. Two water bodies (Bei and Xin) of Yuyuantan Park in Beijing were selected for the field experiments, and the other lakes with different vegetation of macrophytes were selected as the comparison. The concentrations of chlorophyll a (chl a), chemical oxygen demand (COD), total nitrogen (TN), and total phosphorus (TP), and water temperature and transparency were monitored before and after bioremediation from 2015 to 2017. Results showed that the effects of microalgal inhibition were more significant 2 years after bioremediation. Specifically, the chl a of Dong Lake without any vegetation of macrophytes was up to 65.1 μg/L in summer of 2017, while the Bei and Xin Lakes was only 6.2 and 11.3 μg/L, respectively. In addition, the water quality and transparency also improved, with water bodies being crystal clear. Submerged plants played major roles in microalgal control and water quality improvement, compared to the lakes with only emergent plants. The intensity of humic acid-like substances in three-dimensional fluorescent spectra was stronger for the lakes with submerged plants.
Access options
Buy single article
Instant access to the full article PDF.
USD 39.95
Price excludes VAT (USA)
Tax calculation will be finalised during checkout.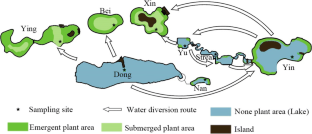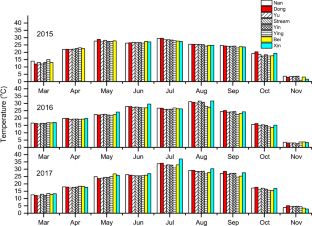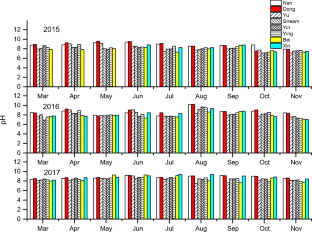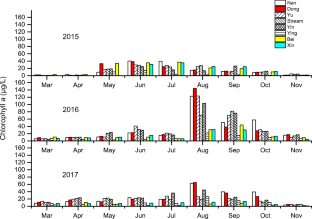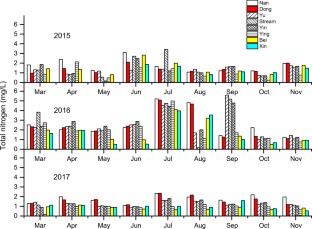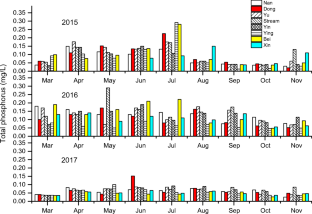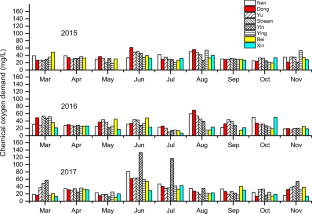 References
Anderson F, Al-Thani NNJ (2016) Exploratory analyses for water quality of the Gulf of Mexico Basin, Texas, 2005-2014. J Geosci Environ Prot 4(1):58–63

APHA (2005) American Public Health Association, Standard methods for the examination of water and wastewater, 21st edn. American Public Health Association, Washington

Bibak M, Hosseini SA (2013) Review ways to control harmful algal bloom (HAB). World Journal of Fish and Marine. Sciences 5(1):42–44

Björn LO, Govindjee (2015) The evolution of photosynthesis and its environmental impact. Photobiology. Springer, New York, pp 207–230

Cai S, Shi H, Pan X, Liu F, Cui Y, Xie H (2017) Integrating ecological restoration of agricultural non-point source pollution in Poyang Lake basin in China. Water 9:745

Chen W, Westerhoff P, Leenheer JA, Booksh KS (2003) Fluorescence excitation−emission matrix regional integration to quantify spectra for dissolved organic matter. Environ Sci Technol 37:5701–5710

Chen G, Xiu P, Chai F (2014) Physical and biological controls on the summer chlorophyll bloom to the east of Vietnam. J Oceanogr 70:323–328

Dai G, Zhong J, Song L, Guo C, Gan N, Wu Z (2015) Harmful algal bloom removal and eutrophic water remediation by commercial nontoxic polyamine-co-polymeric ferric sulfate-modified soils. Environ Sci Pollut Res 22:10636–10646

Dembowska E (2015) Seasonal variation in phytoplankton and aquatic plants in floodplain lakes (lower Vistula River, Poland). Wetl Ecol Manag 23:535–549

Dong J, Gao Y, Chang M, Ma H, Han K, Tao X, Li Y (2018) Colony formation by the green alga Chlorella vulgaris in response to the competitor Ceratophyllum demersum. Hydrobiologia 805:177–187

Elsheekh MM, Haroon AM, Sabae S (2017) Activity of some Nile River aquatic macrophyte extracts against the cyanobacterium Microcystis aeruginosa. Afr J Aquat Sci 42:1–8

Fang C, Li G, Wang S (2016) Changing and differentiated urban landscape in China: spatiotemporal patterns and driving forces. Environ Sci Technol 50:2217–2227

Fukuchi S, Miura A, Okabe R, Fukushima M, Sasaki M, Sato T (2010) Spectroscopic investigations of humic-like acids formed via polycondensation reactions between glycine, catechol and glucose in the presence of natural zeolites. J Mol Struct 982:181–186

Gerardi MH, Lytle B (2015) 13. Algae, alkalinity, and pH. The biology and troubleshooting of facultative lagoons. John Wiley & Sons, Inc, pp 105–109

Hao R, Ren H, Li J, Ma Z, Wan H, Zheng X, Cheng SY (2012) Use of three-dimensional excitation and emission matrix fluorescence spectroscopy for predicting the disinfection by-product formation potential of reclaimed water. Water Res 46:5765–5776

Hu L, Yin C (2017) Development of a new three-dimensional fluorescence spectroscopy method coupling with multilinear pattern recognition to discriminate the variety and grade of green tea. Food Anal Methods 10:2281–2292

Huang X, Ji-Sheng MA, Jia S, Yong AI, Branch S (2017) Study on control of algal bloom by composite chemicals. Guangzhou Chem Ind 45(13):13008803

Jabran K. (2017) Allelopathy: introduction and concepts. Manipulation of allelopathic crops for weed control. Springer International Publishing, pp 1–12

Jančula D, Maršálek B (2011) Critical review of actually available chemical compounds for prevention and management of cyanobacterial blooms. Chemosphere 85:1415–1422

Ji FQ, Wang W (2013) Comparison of the aquatic plants' purification effects on eutrophic water from Chaohu Lake area. Appl Mech Mater 368:282–285

Jia X, Luo W, Wu X, Wei H, Wang B, Phyoe W, Wang F (2017) Historical record of nutrients inputs into the Xin'an Reservoir and its potential environmental implication. Environ Sci Pollut Res 24(25):20330–20341

Jung G, Mais S, Zumbusch A, Bräuchle C (2017) The role of dark states in the photodynamics of the green fluorescent protein examined with two-color fluorescence excitation spectroscopy. J Phys Chem A 104:873–877

Kabenge M, Wang H, Li F (2016) Urban eutrophication and its spurring conditions in the Murchison Bay of Lake Victoria. Environ Sci Pollut Res 23:234–241

Kang BS, Eom CY, Kim W, Kim P, Ju SY, Ryu J, Han GH, Oh JI, Cho H, Baek SH, Kim G, Kim M, Hyun J, Jin ES, Kim SW (2015) Construction of target-specific virus-like particles for the delivery of algicidal compounds to harmful algae. Environ Microbiol 17:1463–1474

Katonoguchi H, Salam A, Ohno O, Suenaga K (2014) Nimbolide B and nimbic acid B, phytotoxic substances in neem leaves with allelopathic activity. Molecules 19:6929–6940

Latif S, Chiapusio G, Weston LA (2017) Allelopathy and the role of allelochemicals in plant defence. Adv Bot Res 82:19–54

Liu H, Xiao S, Guan Y, Ding P, Li Y, Xu S, Fang Y (2017) Role of illumination intensity in microcystin development using Microcystis aeruginosa as the model algae. Environ Sci Pollut Res 24:23261–23272

Liu Q, Sun B, Huo Y, Liu M, Shi J, Jiang T, Zhang Q, Tang C, Bi H, He P (2018) Nutrient bioextraction and microalgae growth inhibition using submerged macrophyte Myriophyllum spicatum in a low salinity area of East China Sea. Mar Pollut Bull 127:67–72

Mccrackin ML, Jones HP, Jones PC, Morenomateos D (2017) Recovery of lakes and coastal marine ecosystems from eutrophication: a global meta-analysis. Limnol Oceanogr 62:507–518

Mishra S, Maiti A (2017) The efficiency of Eichhornia crassipes in the removal of organic and inorganic pollutants from wastewater: a review. Environ Sci Pollut Res 24(9):7921–7937

Paerl HW, Otten TG (2013) Harmful cyanobacterial blooms: causes, consequences, and controls. Microb Ecol 65:995–1010

Park J, Church J, Son Y, Kim KT, Lee WH (2017) Recent advances in ultrasonic treatment: challenges and field applications for controlling harmful algal blooms (HABs). Ultrason Sonochem 38:326–334

Patino R, Rashel RH, Rubio A, Longing S (2018) Growth-suppressing and algicidal properties of an extract from Arundo donax, an invasive riparian plant, against Prymnesium parvum, an invasive harmful alga. Harmful Algae 71:1–9

Ralston DK, Keafer BA, Brosnahan ML, Anderson DM (2014) Temperature dependence of an estuarine harmful algal bloom: resolving interannual variability in bloom dynamics using a degree-day approach. Limnol Oceanogr 59:1112–1126

Sajana TK (2016) In situ bioremediation using sediment microbial fuel cell. J Hazardous Toxic Radioact Waste 21(2):04016022

Sewwandi BGN, Weragoda SK, Mowjood MIM, Tanaka N, Sasikala S (2011) Effect of submerged and floating plants on dissolved oxygen dynamics and nitrogen removal in constructed wetlands. Trop Agric Res Ser 21:353–360

Strom SL, Fredrickson KA, Bright KJ (2016) Spring phytoplankton in the eastern coastal Gulf of Alaska: photosynthesis and production during high and low bloom years. Deep-Sea Res II Top Stud Oceanogr 132:107–121

Triest L, Stiers I, Van Onsem S (2015) Biomanipulation as a nature-based solution to reduce cyanobacterial blooms. Aquat Ecol 50:461–483

Valipour A, Ahn Y (2016) Constructed wetlands as sustainable ecotechnologies in decentralization practices: a review. Environ Sci Pollut Res 23:180–197

Wang S, Tang D (2014) Preliminary remote sensing observation of sea surface temperature increase during Ulva prolifera blooms. Aquat Ecosyst Health Manag 17(3):299–304

Wang J, Zhu J, Liu S, Liu B, Gao Y, Wu Z (2011) Generation of reactive oxygen species in cyanobacteria and green algae induced by allelochemicals of submerged macrophytes. Chemosphere 85:977–982

Wang Z, Li D, Qin H, Li Y (2012) An integrated method for removal of harmful cyanobacterial blooms in eutrophic lakes. Environ Pollut 160:34–41

Worden AZ, Wilken S (2016) A plankton bloom shifts as the ocean warms. Science 354:287–288

Yan Z et al (2016) Effects of submerged plants on the growth of eutrophic algae and nutrient removal in constructed wetlands. Open Access Libr J 03:1–11

Yanya D (2015) Purification efficiency of different aquatic plants in eutrophic water. Environ Sci Technol 38(8):223–227

Yu H, Song Y, Gao H, Liu L, Yao L, Peng J (2015) Applying fluorescence spectroscopy and multivariable analysis to characterize structural composition of dissolved organic matter and its correlation with water quality in an urban river. Environ Earth Sci 73:5163–5171

Yuda N, Tanaka M, Suzuki M, Asano Y, Ochi H, Iwatsuki K (2012) Polyphenols extracted from black tea (Camellia sinensis) residue by hot-compressed water and their inhibitory effect on pancreatic lipase in vitro. J Food Sci 77(12):254–261

Zhang S, Guo L, Cao J, Chang J (2015) Allelopathic activities of three emergent macrophytes on several monospecific cyanobacterial species and natural phytoplankton assemblages. Pol J Environ Stud 24:397–402

Zhang C, Zhang W, Huang Y, Gao X (2017a) Analysing the correlations of long-term seasonal water quality parameters, suspended solids and total dissolved solids in a shallow reservoir with meteorological factors. Environ Sci Pollut Res 24:6746–6756

Zhang HY, Qi SS, Dai ZC, Zhang M, Sun JF, Du DL (2017b) Allelopathic potential of flavonoids identified from invasive plant Conyza canadensis on Agrostis stolonifera and Lactuca sativa. Allelopath J 41:223–237

Zhou Y et al (2016) Reproduction capacity of Potamogeton crispus fragments and its role in water purification and algae inhibition in eutrophic lakes. Sci Total Environ 580:1421–1428

Zuo S, Zhou S, Ye L, Ying D, Jiang X (2016) Antialgal effects of five individual allelochemicals and their mixtures in low level pollution conditions. Environ Sci Pollut Res 23:15703–15711
Funding
This work is financially supported by the Major Science and Technology Program for Water Pollution Control and Treatment (2018ZX07105-001, 2018ZX07110-004), Chinese National Natural Science Foundation (51672028), and Fundamental Research Funds for the Central Universities (2015ZCQ-HJ-02).
Additional information
Responsible editor: Vitor Manuel Oliveira Vasconcelos
About this article
Cite this article
Zhang, H., Zhao, Y., Yin, H. et al. Effect of aquatic macrophyte growth on landscape water quality improvement. Environ Sci Pollut Res 26, 33791–33803 (2019). https://doi.org/10.1007/s11356-018-2421-4
Received:

Accepted:

Published:

Issue Date:

DOI: https://doi.org/10.1007/s11356-018-2421-4
Keywords
Microalgae bloom

Urban park

Landscape water

Submerged plant

Bioremediation

Macrophyte