Abstract
The ballasting and de-ballasting of ships are two necessary operations with ballast water that provide stability for safe navigation. Empty ships must ballast tanks with water, which contains living organisms and subsequently carries them away from their original distribution. De-ballasting represents an input of still viable zooplankton, phytoplankton, and microorganisms in the destination port, leading to the introduction of alien species, and consequently, the introduction of organisms will alter the local biodiversity. Ballast water treatment is necessary to comply with the International Maritime Organization (IMO) for the maximum viable organisms permitted. It is known that UVC eliminates microorganisms, but there are few studies on the other taxonomical groups, such as phytoplankton and zooplankton. The advance oxidation processes (AOPs) with UV-C can be a good alternative to manage the problem of ballast water, primarily for microorganisms. However, for larger organisms, there is more resistance, and, a stage with filtration (by physical filtration or hydrocyclone) is usually required. The filter can fail, or certain zooplankton organisms can escape across the filter and go to the AOPs or UVC reactor. According to the taxonomic group, there can be a different sensitivity to the treatment, and one could survive and generate a risk. The AOPs tested were natural solar radiation (RAD), UV/H2O2, UV/TiO2, UV/TiO2/H2O2, and UV/TiO2/H2O2/RAD. Natural sea water was pumped and treated with the AOPs. The vital zooplankton organisms counted were polychaetes, cladocerans, ostracods, nauplii and calanoid, cyclopoid, and harpacticoid copepods. For the phytoplankton, the abundance was estimated, and the photosystem II efficiency was determined. To evaluate the phytoplankton regrowth after the treatments, the treated water was stored and populations counted for 20 days. The most effective treatment for the zooplankton groups was UVC/H2O2. Regarding the sensitivity, the cyclopoid copepods were the most resistant. The nauplii and polychaetes were more likely to be killed by the AOPs, greatly decreasing the risk from nauplii due to their abundance and ease of passing through the filters with their smaller size. Phytoplankton regrowth was observed in all treatments, and it even reached abundance values higher than in the intake water. For instance, additional dark conditions and retreatment on days 3 or 5 are suggested for any treatment.
Access options
Buy single article
Instant access to the full article PDF.
US$ 39.95
Tax calculation will be finalised during checkout.
Subscribe to journal
Immediate online access to all issues from 2019. Subscription will auto renew annually.
US$ 79
Tax calculation will be finalised during checkout.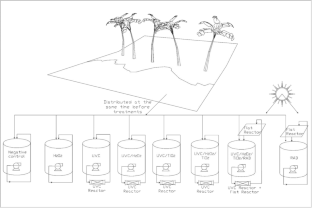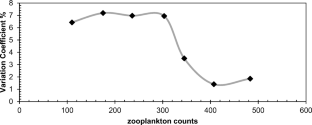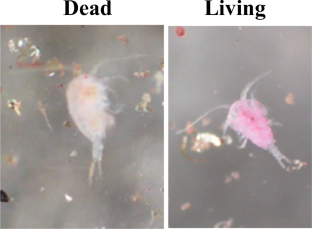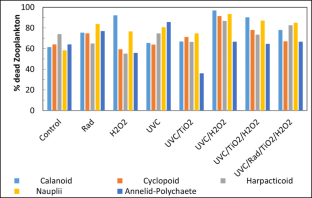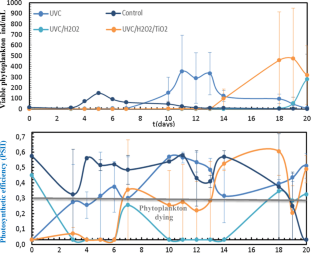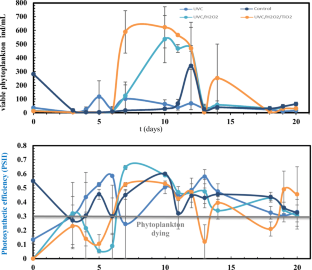 References
Ahrens M, Dorado-Roncancio J, López Sánchez M, Rodríguez C, & Vidal, L (2011) Biodiversidad exótica: presencia de especies marinas no-nativas introducidas por el tráfico marítimo en puertos colombianos. Biota Colombiana., 12(2): 3-14. https://doi.org/10.21068/bc.v12i2.247

Alekseev V, Hwang J, Tseng M (2006) Diapause in aquatic invertebrates: what's known and what's next in research and medical application? J Mar Sci Technol 14(4):269–286

Borrero F, Diaz JM (1998) Introduction of the Indo-Pacific Pteriid bivalve Electroma sp. to the Tropical Western Atlantic. Bull Mar Sci 62(1):291–296

Da Rosa C, Bianchini A, Monserrat J (2008) Hydrogen peroxide effects on Laeonereis Acuta (Polychaeta). Braz J Med Biol Res 41:117–121

Elliott D, Tang K (2009) Simple staining method for differentiating live and dead marine zooplankton in field samples. Limnol Oceanogr Methods 7:585–594

Ferreira-Cravo M, Reinhardt F, Barros T, Ribas J, Salomão D, Dornelles M, Geracitano L, Monserrat J (2007) Antioxidant responses and reactive oxygen species generation in different body regions of the estuarine polychaeta Laeonereis acuta (Nereididae). Chemosphere 66(7):1367–1374

Franco-Herrera A (2005) Oceanografía de la ensenada de Gaira: El Rodadero, más que un centro turístico en el Caribe. Servigraphics Ltda, Bogotá, p 58

Fryer G, Smyly W (1954) Some remarks on the resting stages of some fresh water cyclopoid and harpacticoid copepods. Ann Mag Nat Hist 7:65–72

Gollasch S, Matej D, Francé J, Mozetic P (2015) Quantifying indicatively living phytoplankton cells in ballast water samples—recommendations for port state control. Mar Pollut Bull 101(2):768–775

IMO (2004) Convenio internacional para el control y la gestión del agua de lastre y los sedimentos de los buques. Conferencia internacional sobre la gestión del agua. Organización Marítima Internacional

IMO (2016) International maritime organization-IMO, status of multilateral conventions and instruments in respect of functions which the international maritime organization or its secretary-general performs depositary or other (as at 8 Sept 2016). IMO, London

Llabrés M (2008) Phytoplankton cell death induced by solar ultraviolet radiation. PhD thesis Universitat de les Illes Balears. Departament de Biologia España p 124

McCarthy S, Khambaty F (1994) International dissemination of epidemic Vibrio cholerae by cargo ship ballast and other nonpotable waters. Appl Environ Microbiol 60:2597–2601

Montoya M, Calero M, Uribe C (2008) Zooplankton characterization in ballast water from international vessels arriving at Santa Marta port (Colombian Caribbean). Bol Cient CIOH 26:164–178

Moreno-Andrés J, Romero-Martinez L, Acevedo A, Nebot-Sanz E (2016) Determination of disinfection efficiency on E. faecalis in saltwater by photolysis of H2O2: implications for ballast water treatment. Chem Eng J 283:1339–1348

Rhee J, Kim B, Choi B, Lee J (2012) Expression pattern analysis of DNArepair-related and DNA damage response genes revealed by 55 K oligomicroarrayupon UV-B irradiation in the intertidal copepod, Tigriopus japonicus. Comp Biochem Physiol 155:359–368

Sarvala J (1979) Bentic resting periods of pelagic cyclopods in an oligotrophic Lake. Holarct Ecol 2:88–100

Stehouwer P, Buma A, Peperzak L (2015) A comparison of six different ballast water treatment systems based on UV radiation, electrochlorination and chlorine dioxide. Environ Technol 36:2094–2104

Tang K, Gladyshev M, Dubovskaya P, Kirillin G, Grossart H (2014) Zooplankton carcasses and non-predatory mortality in freshwater and inland sea environments. J Plankton Res 36(3):597–612

Won EJ, Lee Y, Han J, Hwang UK, Shin KH, Park HG, Lee JS (2014) Effects of UV radiation on hatching, lipid peroxidation, and fatty acid composition in the copepod Paracyclopina nana. Comp Biochem Physiol C Toxicol Pharmacol. 165:60–66

Zetsche E, Meysman F (2012) Dead or alive? Viability assessment of micro and mesoplankton. J Plankton Res 34(6):493–509
Acknowledgments
The authors are also grateful to Pedro Lecompte, Ana Pelaez, Victoria Castillo, Katherine Mejia, Laura Rodriguez and Hoverth Cardona for their support.
Funding
The authors are grateful to Biohidroingeniería, the Center in Marine Sciences-CEMARIN, Jorge Tadeo University, and the Marine Science Interinstitutional Doctoral Program for providing financial support.
Additional information
Responsible editor: Vítor Pais Vilar
About this article
Cite this article
García-Garay, J., Franco-Herrera, A. & Machuca-Martinez, F. Zooplankton sensitivity and phytoplankton regrowth for ballast water treatment with advanced oxidation processes. Environ Sci Pollut Res 25, 35008–35014 (2018). https://doi.org/10.1007/s11356-018-2308-4
Received:

Accepted:

Published:

Issue Date:
Keywords
Ballast water

Treatment

Zooplankton

Phytoplankton

Regrowth

Advanced oxidation process

Sterilization