Abstract
The effectiveness of environmental protection measures is based on the early identification and diagnosis of anthropogenic pressures. Similarly, restoration actions require precise monitoring of changes in the ecological quality of ecosystems, in order to highlight their effectiveness. Monitoring the ecological quality relies on bioindicators, which are organisms revealing the pressures exerted on the environment through the composition of their communities. Their implementation, based on the morphological identification of species, is expensive because it requires time and experts in taxonomy. Recent genomic tools should provide access to reliable and high-throughput environmental monitoring by directly inferring the composition of bioindicators' communities from their DNA (metabarcoding). The French-Swiss program SYNAQUA (INTERREG France-Switzerland 2017–2019) proposes to use and validate the tools of environmental genomic for biomonitoring and aims ultimately at their implementation in the regulatory bio-surveillance. SYNAQUA will test the metabarcoding approach focusing on two bioindicators, diatoms, and aquatic oligochaetes, which are used in freshwater biomonitoring in France and Switzerland. To go towards the renewal of current biomonitoring practices, SYNAQUA will (1) bring together different actors: scientists, environmental managers, consulting firms, and biotechnological companies, (2) apply this approach on a large scale to demonstrate its relevance, (3) propose robust and reliable tools, and (4) raise public awareness and train the various actors likely to use these new tools. Biomonitoring approaches based on such environmental genomic tools should address the European need for reliable, higher-throughput monitoring to improve the protection of aquatic environments under multiple pressures, guide their restoration, and follow their evolution.
Access options
Buy single article
Instant access to the full article PDF.
USD 39.95
Price excludes VAT (USA)
Tax calculation will be finalised during checkout.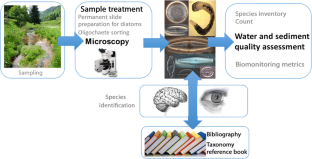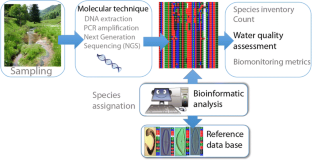 References
AFNOR (2016) NF T 90-393 Qualité de l'eau – Echantillonnage, Traitement et Analyse Des Oligochètes Dans Les Sédiments Des Eaux de Surface Continentales. pp.1–14+ annexes

Apothéloz-Perret-Gentil L, Cordonier A, Straub F, Iseli J, Esling P, Pawlowsk J (2017) Taxonomy-free molecular diatom index for high-throughput EDNA biomonitoring. Mol Ecol Resour 17(6):1231–1242. https://doi.org/10.1111/1755-0998.1266

Baird D, Hajibabei M (2012) Biomonitoring 2.0: a new paradigm in ecosystem assessment made possible by next-generation DNA sequencing. Mol Ecol 21:2039–2044

Carpenter S, Stanley EH, Vander Zanden MF (2011) State of the world's freshwater ecosystems: physical, chemical, and biological changes. Annu Rev Environ Resour 36:75–99

Cordier T, Esling P, Lejzerowicz F, Visco J, Ouadahi A, Martins C, Cedhagen T, Pawlowski P (2017) Predicting the ecological quality status of marine environments from EDNA metabarcoding data using supervised machine learning. Environ Sci Technol 51(16):9118–9126. https://doi.org/10.1021/acs.est.7b01518

Coste M, Boutry S, Tison-Rosebery J, Delmas F (2009) Improvements of the Biological Diatom Index (BDI): description and efficiency of the new version (BDI-2006). Ecol Indic 9:621–650. https://doi.org/10.1016/j.ecolind.2008.06.003

Creer S (2010) Second-generation sequencing derived insights into the temporal biodiversity dynamics of freshwater protists. Mol Ecol 19:2829–2831

European Commission (2000) Directive 2000/60/EC of the European Parliament and of the council of 23rd October 2000 establishing a framework for community action in the field of water policy. Off J Eur Communities 327:1–72

Holt EA, Miller SW (2011) Bioindicators: using organisms to measure environmental impacts. Nat Educ Knowl 3(10):8

Hürlimann J, Niederhauser P (2007) Méthodes d'Analyse et d'Appreçiation Des Cours d'Eau. Diatoméés Niveau R (Region); Etat de l'environnement N° 0740. Office Fédéral de l'Environnement, Berne 132p

Keck F, Vasselon V, Tapolczai K, Rimet F, Agnès Bouchez A (2017) Freshwater biomonitoring in the information age. Front Ecol Environ 15(5):266–274. https://doi.org/10.1002/fee.1490

Kermarrec L, Franc A, Rimet F (2014) A next-generation sequencing approach to river biomonitoring using benthic diatoms. Freshw Sci 33:349–363

Kermarrec L, Bouchez A, Rimet F, & Humbert JF (2012) First evidence of the existence of semi-cryptic species and of a phylogeographic structure in the Gomphonema parvulum (Kützing) Kützing complex (Bacillariophyta). Protist 164:686–705

Kermarrec L, Franc A, Rimet F, Chaumeil P, Humbert JF, Bouchez A, (2013) Next-generation sequencing to inventory taxonomic diversity in eukaryotic communities: a test for freshwater diatoms. Mol Ecol Resour 13(4):607–619

Kolkwitz R, Marson M (1908) Okologie Der Pflanzliche Saprobien. Berichte Der Deutsche Botanische Gesellschaften 26:505–519

Lafont M (1989) Contribution à La Gestion Des Eaux Continentales: Utilisation Des Oligochètes Comme Descripteurs de l'état Biologique et Du Degré de Pollution Des Eaux et Des Sédiments. Thèse de Doctorat ès Sciences, Université de Lyon I

Lafont M, Vivier A (2006) Oligochaete assemblages in the hyporheic zone and coarse surface sediments: their importance for understanding of ecological functioning of watercourses. Hydrobiologia 564:171–181

Lafont M, Jézéquel C, Vivier A, Breil P, Schmitt L, Bernoud S (2010) Refinement of biomonitoring of urban watercourses by combining descriptive and ecohydrological approaches. Ecohydrol Hydrobiol 10:3–11

Lafont M, Tixier G, Marsalek J, Jézéquel C, Breil P, Schmitt L (2012) From research to operational biomonitoring of freshwaters: a suggested conceptual framework and practical solutions. Ecohydrol Hydrobiol 12:9–20

Lang C (1997) Oligochaetes, organic sedimentation, and trophic state: how to assess the biological recovery of sediments in lakes? Aquat Sci 59:26–33

Lang C (2009) Indices Basé Sur Les Oligochètes et Les Chironomes Indiquant La Restauration Écologique Des Sédiments Du Léman. Bulletin de La Société Vaudoise Des Sciences Naturelles 91:283–300

Leese F, Altermatt F, Bouchez A, Ekrem T, Hering D, Meissner K, Mergen P, Pawlowski J, Piggott J, Rimet F, Steinke D, Taberlet P, Weigand A, Abarenkov K, Beja P, Bervoets L, Björnsdóttir S, Boets P, Boggero A, Bones A, Borja Á, Bruce K, Bursić V, Carlsson J, Čiampor F, Čiamporová-Zatovičová Z, Coissac E, Costa F, Costache M, Creer S, Csabai Z, Deiner K, DelValls Á, Drakare S, Duarte S, Eleršek T, Fazi S, Fišer C, Flot JF, Fonseca V, Fontaneto D, Grabowski M, Graf W, Guðbrandsson J, Hellström M, Hershkovitz Y, Hollingsworth P, Japoshvili B, Jones J, Kahlert M, Kalamujic Stroil B, Kasapidis P, Kelly M, Kelly-Quinn M, Keskin E, Kõljalg U, Ljubešić Z, Maček I, Mächler E, Mahon A, Marečková M, Mejdandzic M, Mircheva G, Montagna M, Moritz C, Mulk V, Naumoski A, Navodaru I, Padisák J, Pálsson S, Panksep K, Penev L, Petrusek A, Pfannkuchen M, Primmer C, Rinkevich B, Rotter A, Schmidt-Kloiber A, Segurado P, Speksnijder A, Stoev P, Strand M, Šulčius S, Sundberg P, Traugott M, Tsigenopoulos C, Turon X, Valentini A, van der Hoorn B, Várbíró G, Vasquez Hadjilyra M, Viguri J, Vitonytė I, Vogler A, Vrålstad T, Wägele W, Wenne R, Winding A, Woodward G, Zegura B, Zimmermann J (2016) DNAqua-Net: developing new genetic tools for bioassessment and monitoring of aquatic ecosystems in Europe. Res Ideas Outcomes 2:e11321. https://doi.org/10.3897/rio.2.e11321

Lenoir A, Coste M (1996) Development of a practical diatom index of overall water quality applicable to the French National Water Board Network. Use of algae for monitoring rivers, Vol. II. In: Whitton BA, Rott E (Eds.) edition, sec. Studia Student, GmbH

Liechti P, Sieber U, Bundi U, Frutiger A, Hütte M, Peter A, von Blücher U, Willi AP, Göldi C, Kupper U, Meier W, Niederhauser P, (1998) Méthodes d'analyse et d'appréciation des cours d'eau. Système Modulaire Gradué. Informations concernant la protection des eaux n°26. Office fédéral de l'environnement, Berne, p 43

Prygiel J, Rosso-Darmet A, Lafont M, Durbec A, Ouddane B (2000) Use of oligochaete communities for assessment of ecotoxicological risk in fine sediment of rivers and canals of the Artois-Picardie Water Basin (France). Hydrobiologia 410:25–37

Rimet F (2012) Recent views on river pollution and diatoms. Hydrobiologia 683:1–24. https://doi.org/10.1007/s10750-011-0949-0

Rimet F, Chaumeil P, Keck F (2016) R-Syst::diatom: an open-access and curated barcode database for diatoms and freshwater monitoring. Database 2016:Baw016

Rimet F, Vasselon V, Keszte B, Bouchez A (2018) Do We Similarly Assess Diversity with Microscopy and High-Throughput Sequencing? Case of Microalgae in Lakes. Org Divers Evol 18:51. https://doi.org/10.1007/s13127-018-0359-5

Rivera SF, Vasselon V, Jacquet S, Bouchez A, Ariztegui D, Rimet F (2018) Metabarcoding of Lake Benthic diatoms: from structure assemblages to ecological assessment. Hydrobiologia 807(1):37–51. https://doi.org/10.1007/s10750-017-3381-2

Rodriguez P, Reynoldson TB (2011) The Pollution Biology of Aquatic Oligochaetes. Springer Science+Business Media B.V. 2011. https://doi.org/10.1007/978-94-007-1718-3_1

Taberlet P, Croissac E, Pompanon F, Brochmann C, Willerslev E (2012) Towards next-generation biodiversity assessment using DNA metabarcoding. Mol Ecol 21(8):2045–2050

Vasselon V, Rimet F, Tapolczai K, Bouchez A (2017) Assessing ecological status with diatoms DNA metabarcoding: scaling-up on a WFD monitoring network (Mayotte Island, France). Ecol Indic 82(November):1–12. https://doi.org/10.1016/j.ecolind.2017.06.024

Vasselon V, Bouchez A, Rimet F, Jacquet S, Trobajo R, Corniquel M, Tapolczai K, Domaizon I (2018) Avoiding quantification bias in metabarcoding: application of a cell biovolume correction factor in diatom molecular biomonitoring. Methods Ecol Evol 00:1–10. https://doi.org/10.1111/2041-210X.12960

Visco JA, Apothéloz-Perret-Gentil L, Cordonier A, Esling P, Pillet L, Pawlowski J (2015) Environmental monitoring: inferring the diatom index from next-generation sequencing data. Environ Sci Technol 49(13):7597–7605. https://doi.org/10.1021/es506158m

Vivien R, Tixier G, Lafont M (2014) Use of oligochaete communities for assessing the quality of sediments in watercourses of the Geneva area (Switzerland) and Artois-Picardie Basin (France): proposition of heavy metal toxicity thresholds. Ecohydrology & Hydrobiology 14:142–151

Vivien R, Lafont M, Ferrari BJD (2015a) Utilisation Des Communautés d'oligochètes Pour l'évaluation de La Qualité Biologique et Du Fonctionnement Des Cours d'eau : Un Bilan à Partir de Données Genevoises (Suisse). Arch Des Sci 68:105–116

Vivien R, Wyler S, Lafont M, Pawlowski J (2015b) Molecular Barcoding of Aquatic Oligochaetes: Implications for Biomonitoring. PLoS ONE 10(4):e0125485

Vivien R, Holzmann M, Werner I, Pawlowski J, Lafont M, Ferrari BJD (2017) Cytochrome c oxidase barcodes for aquatic oligochaete identification: development of a Swiss reference database. PeerJ 5:e4122. https://doi.org/10.7717/peerj.4122

Vörösmarty CJ, Mcintyre PB, Gessner MO, Dudgeon D, Prusevitch A, Green P, Glidden S et al (2010) Global threats to human water security and river biodiversity. Nature 467:555–561

Wasson JG, Blanc L, Chandesris A, Pella H (2002) Définition Des Hydro-Écoregions de France Métroplolitaine. Approche Regionale de Typologie Des Eaux Courantes et Éléments Pour La Définition Des Peuplements de Référence d'invertébrés. Lyon BEA/LH: Cemagref

WPO (1998) Water Protection Ordinance of 28 October 1998 (814.201). UNECE, Geneve.

Zelinka M, Marvan P (1961) Zur Prazisierung Der Biologischen Klassifikation Des Reinheit Fliessender Gewasser. Arch Hydrobiol 57:389–407
Funding
The SYNAQUA project is supported by the European Cross-Border Cooperation Program (Interreg France-Switzerland 2014-2020) and has thus received a European (European Regional Development Fund) and a Swiss Federal grant covering respectively 60% of the French total cost and 29% of the Swiss total cost. Funding was also provided by Swiss cantons (Valais, Geneva, Vaud).
Additional information
Responsible editor: Philippe Garrigues
About this article
Cite this article
Lefrançois, E., Apothéloz-Perret-Gentil, L., Blancher, P. et al. Development and implementation of eco-genomic tools for aquatic ecosystem biomonitoring: the SYNAQUA French-Swiss program. Environ Sci Pollut Res 25, 33858–33866 (2018). https://doi.org/10.1007/s11356-018-2172-2
Received:

Accepted:

Published:

Issue Date:

DOI: https://doi.org/10.1007/s11356-018-2172-2
Keywords
Metabarcoding

Bioindication

Water quality assessment

Diatoms

Aquatic oligochaetes