Abstract
Simulation experiments were conducted using sediments collected from the Taihu Lake to determine the combined effects of submerged macrophytes Ceratophyllum demersum and phosphate-solubilizing bacteria (PSB) strain XMT-5 (Rhizobium sp.) on phosphorus (P) concentrations in overlying waters and sediments. After 30 days of experimental incubation, the total phosphorus (TP) and dissolved total phosphorus (DTP) concentrations of the overlying water subjected to AMB and AHMB treatments (both with the combined effects of PSB cells and submerged macrophytes) were generally lower than those of the AM (with individual effects of inoculated C. demersum) and AB (with individual effects of a smaller amount of inoculated PSB cells) control treatments but higher than that of the A (with no effects of inoculated PSB cells or C. demersum) and AHB (with individual effects of a larger amount of inoculated PSB) control treatments. The TP contents of the sediment in the AMB and AHMB treatments were significantly lower than those of the other control treatments. The TP contents of the C. demersum cocultured with the PSB strain XMT-5 cells in the AMB and AHMB treatments were all significantly higher than that of the AM treatment, indicating the enhancement of P uptake by submerged plants inoculated with PSB. The bacterial diversity structures of the rhizosphere sediment subjected to different treatments were also analyzed by the high-throughput sequencing method. According to the ACE and Chao 1 indices, the bacterial diversity in the AMB and AHMB treatments were the highest. Although many sources contributed to the decrease in the nutrient loads of the lake sediment, harvesting macrophytes inoculated with PSB cells prior to their senescence might constitute a significant in-lake measure for reducing internal P load.
Access options
Buy single article
Instant access to the full article PDF.
USD 39.95
Price excludes VAT (USA)
Tax calculation will be finalised during checkout.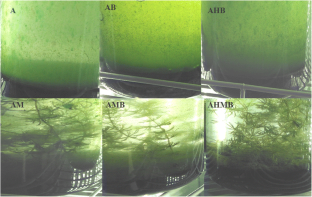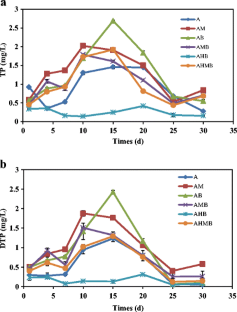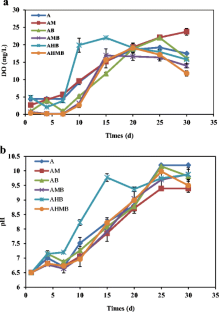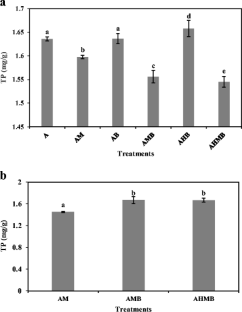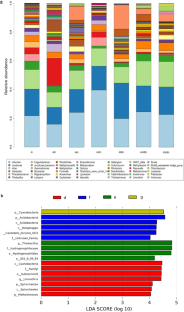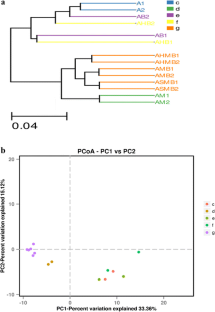 References
American Public Health Association (2005) Standard methods for theexamination of water and wastewater, 21th ed. Washington, DC

Anzuay MS, Frola O, Angelini JG, Ludueña LM, Ibañez F, Fabra A, Taurian T (2015) Effect of pesticides application on peanut (Arachis hypogaea L.) associated phosphate solubilizing soil bacteria. Appl Soil Ecol 9:531–537

Bao SD (2000) Soil argri-chemistry analysis, 3rd edn. China Agriculture Press, Beijing

Barbara L, Clelia LM, Elena F, Matteo M, Valentina S, Pietro F, Jӧrg I et al (2016) The contribution of Potamogeton crispus to the phosphorus budget of an urban shallow lake: Lake Monger, Western Australia. Limnology 17:175–182

Caporaso JG, Kuczynski J, Stombaugh J, Bittinger K, Bushman FD, Costello EK, Fierer N, Peña AG, Goodrich JK, Gordon JI, Huttley GA, Kelley ST, Knights D, Koenig JE, Ley RE, Lozupone CA, McDonald D, Muegge BD, Pirrung M, Reeder J, Sevinsky JR, Turnbaugh PJ, Walters WA, Widmann J, Yatsunenko T, Zaneveld J, Knight R (2010) QIIME allows analysis of high-throughput community sequencing data. Nat Methods 7:335–336

Chen N, Yang JS, Qu JH, Li HF, Liu WJ, Li BZ, Wang ET, Yuan HL (2015) Sediment prokaryote communities in different sites of eutrophic Lake Taihu and their interactions with environmental factors. World J Microbiol Biotechnol 31:883–896

Christophoridis C, Fytianos K (2006) Conditions affecting the release of phosphorus from surface lake sediments. J Environ Qual 35:1181–1192

Dai YR, Tang HB, Chang JJ, Wu ZB, Liang W (2014) What's better, Ceratophyllum demersum L. or Myriophyllum verticillatum L., individual or combined? Ecol Eng 70:397–401

de-Bashan LE, Bashan Y (2004) Recent advances in removing phosphorus from wastewater and its future use as fertilizer (1997-2003). Water Res 38:4222–4246

Declerck SAJ, Bakker ES, van Lith B, Kersbergen A, van Donk E (2011) Effects of nutrient additions and macrophyte composition on invertebrate community assembly and diversity in experimental ponds. Basic Appl Ecol 12:466–475

Dong YX, Tan ZW, Guo YY (2012) The preliminary study on phytoplankton in Lugu Lake. J Hydroecol 33(3):46–52 (in Chinese)

Gao JQ, Xiong ZT, Zhang JD, Zhang WH, Mba FO (2009) Phosphorus removal from water of eutrophic Lake Donghu by five submerged macrophytes. Desalination 242:193–204

Gao HL, Qian X, Wu HF, Li HM, Pan H, Han CM (2017) Combined effects of submerged macrophytes and aquatic animals on the restoration of a eutrophic water body—a case study of Gonghu Bay, Lake Taihu. Ecol Eng 102:15–23

Granéli W, Solander D (1988) Influence of aquatic macrophytes on phosphorus cycling in lakes. Hydrobiologia 170:245–266

Grice EA, Kong HH, Conlan S, Deming CB, Davis J, Young AC, Bouffard GG et al (2009) Topographical and temporal diversity of the human skin microbiome. Science 324:1190–1192

Gu SL, Chen F, Sun JL (2011) Analysis of cyanobacteria monitoring and algal blooms in Taihu Lake. Water Resour Prot 27(3):28–32 (in Chinese)

Gu J, Jin H, He H, Ning XY, Yu JL, Tan BC, Jeppesen E, Li K (2016) Effects of small-sized crucian carp (Carassius carassius) on the growth of submerged macrophytes: implications for shallow lake restoration. Ecol Eng 95:567–573

Huang L, Fang HW, He GJ, Jiang HL, Wang CH (2016a) Effects of internal loading on phosphorus distribution in the Taihu Lake driven by wind waves and lake currents. Environ Pollut 219:760–773

Huang LD, Li ZX, Bai XL, Li RY, Wu HS, Wei DY, Yu LJ (2016b) Laboratory study of phosphorus retention and release by eutrophic lake sediments: modeling and implications for P release assessments. Ecol Eng 95:438–446

Istina IN, Widiastuti H, Joy B, Antralina M (2015) Phosphate-solubilizing microbe from Saprists Peat soil and their potency to enhance oil palm growth and P uptake. Procedia Food Sci 3:426–435

Jiang X, Jin XC, Yao Y, Li LH, Wu FC (2008) Effects of biological activity, light, temperature and oxygen on phosphorus release processes at the sediment and water interface of Taihu Lake, China. Water Res 42:2251–2259

Jiang XT, Peng X, Deng GH, Sheng HF, Wang Y, Zhou HW, Tam NFY (2013) Illumina sequencing of 16S rRNA tag revealed spatial variations of bacterial communities in a mangrove wetland. Microbiol Ecol 66:96–104

Jukka H, Leena N (2003) Effects of submerged macrophytes on sediment resuspension and internal phosphorus loading in Lake Hiidenvesi (southern Finland). Water Res 37:4468–4474

Lauridsen TL, Jeppesen E, Declerck SAJ, De Meester L, Conde-Porcuna JM, Rommens W, Brucet S (2015) The importance of environmental variables for submerged macrophyte community assemblage and coverage in shallow lakes: differences between northern and southern Europe. Hydrobiologia 744:49–61

Li YP, Tang CY, Yu ZB, Acharya K (2014) Correlations between algae and water quality: factors driving eutrophication in Lake Taihu, China. Int J Environ Sci Technol 11:169–182

Li HF, Li ZJ, Qu JH, Wang JS (2017a) Bacterial diversity in traditional Jiaozi and sourdough revealed by high-throughput sequencing of 16S rRNA amplicons. LWT Food Sci Technol 81:319–325

Li HF, Zhang YY, Li ZJ, Qu JH, Tian HL (2017b) Isolation, identification and characteristics of a phosphate-solubilizing bacterium XMT-5 under oligotrophic culture conditions. J Henan Agric Sci 46(8):67–71 (in Chinese)

Liu ZG, Li YCC, Zhang SA, Fu YQ, Fan XH, Patel JS, Zhang M (2015) Characterization of phosphate-solubilizing bacteria isolated from calcareous soils. Appl Soil Ecol 96:217–224

Lozupone C, Knight R (2005) UniFrac: a new phylogenetic method for comparing microbial communities. Appl Environ Microbiol 71:8228–8235

Murphy J, Riley JP (1962) A modified single-solution method for determination of phosphate in natural waters. Anal Chim Acta 27:31–36

Niewolak S (1980) Occurrence of microorganism in fertilized lakes. II. Lecithin-mineralizing microorganisms. Pol Arch Hydrobiol 27:53–71

Penn MR, Aucr MT, Doerr SM, Driscoll CT, Brooks CM, Effler SW (2000) Seasonality in phosphorus release rates from sediments of a hypereutrophic lake under a matrix of pH and redox condition. Can J Fish Aquat Sci 57:1033–1041

Qian YC, Liang XQ, Chen YX, Lou LP, Cui XY, Tang J, Li PF, Cao R (2011) Significance of biological effects on phosphorus transformation processes at the water-sediment interface under different environmental conditions. Ecol Eng 37:816–825

Qin BQ, Xu PZ, Wu QL, Luo LC, Zhang YL (2007) Environmental issues of Lake Taihu, China. Hydrobiologia 581:3–14

Qu JH, Li HF, Chen N, Yuan HL (2013) Biogeochemical function of phosphorus-solubilising bacteria on cycling of phosphorus at the water-sediment interface under laboratorial simulated conditions. Int J Environ Pollut 52:104–116

Quigley L, O'Sullivan O, Beresford TP, Ross RP, Fitzgerald GF, Cotter PD (2012) High-throughput sequencing for detection of subpopulations of bacteria not previously associated with artisanal cheeses. Appl Environ Microbiol 78(16):5717–5723

Schindler DW, Hecky RE, Findlay DL, Stainton MP, Parker BR, Paterson MJK, Beaty G et al (2008) Eutrophication of lakes cannot be controlled by reducing nitrogen input: results of a 37-year whole-ecosystem experiment. Proc Natl Acad Sci U S A 105:11254–11258

Schloss PD, Westcott SL, Ryabin T, Hall JR, Hartmann M, Hollister EB, Lesniewski RA, Oakley BB, Parks DH, Robinson CJ, Sahl JW, Stres B, Thallinger GG, van Horn DJ, Weber CF (2009) Introducing mothur: open-source, platform-independent, community-supported software for describing and comparing microbial communities. Appl Environ Microbiol 75(23):7537–7541

Song XX, Wang Z, Xiao BD, Li EH, Wang XL (2017) Growth of Potamogeton crispus L. from turions in darkness: implications for restoring submerged plants in eutrophic lakes. Ecol Eng 101:255–260

Tao GC, Tian SJ, Cai MY, Xie GH (2008) Phosphate-solubilizing and -mineralizing abilities of bacteria isolated from soils. Pedosphere 18(4):515–523

Wang SR, Jin XC, Bu QY, Jiao LX, Wu FC (2008) Effects of dissolved oxygen supply level on phosphorus release from lake sediments. Colloids Surf A Physicochem Eng Asp 316:245–252

Wang YB, Hou ZY, Ye BB, Cao J, Chu ZS, Zeng QR (2015) The characteristics of spatial and temporal variation of phytoplankton in Poyang Lake and their influencing factors. Acta Sci Circumst 35(5):1310–1317 (in Chinese)

Wang CH, He R, Wu Y, Lürling M, Cai HY, Jiang HL, Liu X (2017) Bioavailable phosphorus (P) reduction is less than mobile P immobilization in lake sediment for eutrophication control by inactivating agents. Water Res 109:196–206

Wei ZH, Zhang LX, Yang SK, Lv XJ, Zhu J, Dou JH (2012) Community structure and seasonal succession of phytoplankton in Erhai Lake. J Hydroecol 33(4):21–25 (in Chinese)

Wu QH, Zhang RD, Huang S, Zhang HJ (2008) Effects of bacteria on nitrogen and phosphorus release from river sediment. J Environ Sci 20:404–412

Zhang WQ, Zhu XL, Jin X, Meng X, Tang WZ, Shan BQ (2017) Evidence for organic phosphorus activation and transformation at the sediment-water interface during plant debris decomposition. Sci Total Environ 583:458–465
Acknowledgments
This research was supported by the projects of the National Natural Science Foundation of China (No. 31400103 and No. 31370147), the Fundamental Research Funds for the Henan Provincial Colleges and Universities (No. 2014YWQQ18 and 2015QNJH01), and supported by Program for Innovative Research Team (in Science and Technology) in University of Henan Province (No. 15IRTSTHN019).
Additional information
Responsible editor: Philippe Garrigues
About this article
Cite this article
Li, H., Li, Z., Qu, J. et al. Combined effects of phosphate-solubilizing bacterium XMT-5 (Rhizobium sp.) and submerged macrophyte Ceratophyllum demersum on phosphorus release in eutrophic lake sediments. Environ Sci Pollut Res 25, 18990–19000 (2018). https://doi.org/10.1007/s11356-018-2022-2
Received:

Accepted:

Published:

Issue Date:

DOI: https://doi.org/10.1007/s11356-018-2022-2
Keywords
Phosphate-solubilizing bacteria

Submerged macrophytes

Eutrophication

Sediment

Phosphorus release