Development of Fe/Nb-based solar photocatalysts for water treatment: impact of different synthesis routes on materials properties
New Challenges in the Application of Advanced Oxidation Processes
Abstract
Semiconductors based on Fe/Nb oxides can present both solar sensitivity and high catalytic activity. However, there is still a lack regarding the comparison between different routes to produce Fe/Nb-based solar photocatalysts and the evaluation of the impact of the synthesis operating conditions on the material properties. In this work, Fe/Nb2O5 ratio, type of precipitating agent, presence/absence of washing stage, and temperature of calcination were verified to be the most relevant parameters in the synthesis by the co-precipitation method. These factors led to remarkable differences in the properties and performance of the photocatalysts produced by each distinct synthesis route. Composition, iron species present in the materials, crystallinity characteristics, and pH of the catalysts were affected, leading to different photocatalytic activities under UV-Vis light. Due to their characteristics, the synthesized materials are potential photocatalysts for application in solar processes.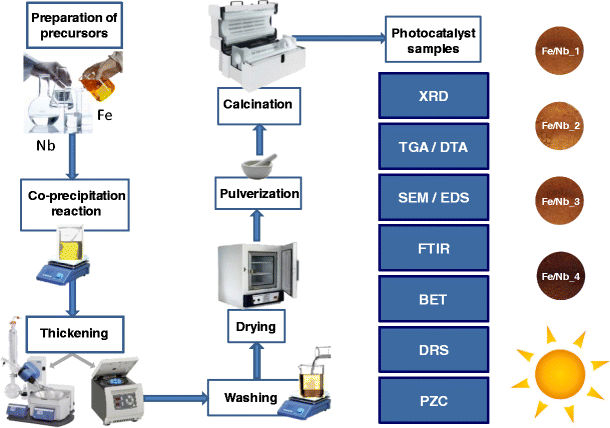 Keywords
Iron 
Niobium 
Synthesis 
Characterization 
Solar photocatalysis 
Notes
Acknowledgements
The authors thank the Department of Metallurgical and Materials Engineering, Department of Chemistry, and Microscopy Centre of UFMG for the analytical results and CBMM for granting the HY-340 sample. The authors also express their gratitude to Prof. Herman S. Mansur from the Center of Nanoscience, Nanotechnology and Innovation—CeNano2I/CEMUCASI/UFMG for the FTIR analysis.
Funding information
The authors acknowledge the Brazilian Funding Agencies CNPq, CAPES, and FAPEMIG for supporting this project and PRPq/UFMG for the financial support.
Copyright information
© Springer-Verlag GmbH Germany, part of Springer Nature 2018