Abstract
Agricultural utilization of sewage sludge (SS) and fly ash (FA) has become both, a common practice and an alternative disposal method for these wastes all around the world. The present study was conducted to assess the effect and viability of co-application of SS and FA (SLASH) in four mixing ratios denoted as A [4 (SS): 1(FA)], B [4 (SS): 2 (FA)], C [4 (SS): 3 (FA)] and D [4 (SS): 4(FA)] at three application rates viz. 20, 40 and 60% (w/w) with agricultural soil on biochemical, physiological and growth response of Palak (Beta vulgaris L. var. Allgreen H-1), a commonly used green leafy vegetable. SLASH amendment modified the physico-chemical properties of soil and increased the concentration of heavy metals (Cd, Cr, Cu, Fe, Ni, Pb, Zn) in soil and plant parts however, within the Indian permissible limit except for Cr, Cd and Zn in shoot. Experimental results revealed decrease in morphological and growth parameters such as root and shoot length, leaf area, root, shoot biomass etc. Lipid peroxidation, ascorbic acid, proline and protein content increased however, total chlorophyll and carotenoid content decreased indicating towards heavy metal stress induced biochemical and physiological response in Palak plants. Significant increase in yield was seen in some of the treatments viz. three mixing ratios B, C and D, with maximum increment shown by mixture D at 20 and 40% amendment rate. The results of this study suggest that though SLASH amendment for growing Palak improved the physico-chemical properties of soil amended and also the yield of the plants in some treatments, it may not be a good option due to risk of contamination of heavy metals such as Cr, Cd and Zn showing higher accumulation.
Access options
Buy single article
Instant access to the full article PDF.
US$ 39.95
Tax calculation will be finalised during checkout.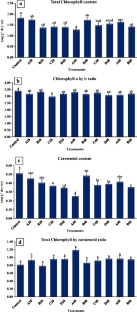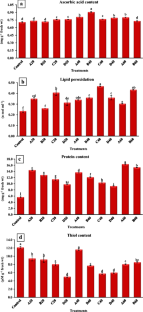 References
Adriano DC, Page AL, Elseewi AA, Chang AC, Straughan I (1980) Utilization and disposal of fly ash and other coal residues in terrestrial ecosystems: a review. J Environ Qual 9(3):333–344

Allen SE, Grimshaw HM, Rowland AP (1986) Chemical analysis. In: Moore PD, Chapman SB (eds) Methods in plant ecology. Blackwell Scientific Publication, Oxford, pp 285–344

Allison FE (1973) Soil organic matter and its role in crop production. Elsevier, (Vol. 3), pg-634, ISBN 0080869696, 9780080869698

Alvarenga P, Mourinha C, Farto M, Santos T, Palma P, Sengo J, Morais MC, Cunha-Queda C (2015) Sewage sludge, compost and other representative organic wastes as agricultural soil amendments: benefits versus limiting factors. Waste Manag 40:44–52

Alvarenga P, Palma P, Mourinha C, Farto M, Dôres J, Patanita M, Cunha-Queda C, Natal-da-Luz T, Renaud M, Sousa JP (2017) Recycling organic wastes to agricultural land as a way to improve its quality: a field study to evaluate benefits and risks. Waste Manag 61:582–592

Antolín MC, Pascual I, García C, Polo A, Sánchez-Díaz M (2005) Growth, yield and solute content of barley in soils treated with sewage sludge under semiarid Mediterranean conditions. Field Crop Res 94(2):224–237

Antolín MC, Muro I, Sánchez-Díaz M (2010) Application of sewage sludge improves growth, photosynthesis and antioxidant activities of nodulated alfalfa plants under drought conditions. Environ Exp Bot 68(1):75–82

Antonkiewicz J, Kołodziej B, Bielińska EJ (2016) The use of reed canary grass and giant miscanthus in the phytoremediation of municipal sewage sludge. Environ Sci Pollut Res 23(10):9505–9517

Awashthi SK (2000) Prevention of Food Adulteration Act no 37 of 1954, Central and state rules as amended for 1999, 3rd edn. Ashoka Law House, New Delhi

Bączek-Kwinta R, Bartoszek A, Kusznierewicz B et al (2011) Physiological response of plants and cadmium accumulation in heads of two cultivars of white cabbage. J Elem 16(3):355–364

Bates LS, Waldren RP, Teare ID (1973) Rapid determination of free proline for water-stress studies. Plant Soil 39(1):205–207

Bhat MA, Kirmani NA, Agrawal HP, Bhat MI, Wani MA (2011) Heavy metal phytotoxicity to radish (Raphanus sativus L.) in a digested sludge-amended gangetic alluvium. Soil Sediment Contam Int J 20(6):733–743

Bray HG, Thorpe WV (1954) Analysis of phenolic compounds of interest in metabolism. Methods Biochem Anal 1:27–52

Bricker TJ, Pichtel J, Brown HJ, Simmons M (2001) Phytoextraction of Pb and cd from a superfund soil: effects of amendments and croppings. J Environ Sci Health A 36(9):1597–1610

Britton C, Mehley AC (1955) Assay of catalase and peroxidase. In: Colowick SP, Kalpan NO (eds) Methods in enzymology, vol II. Academic Press Inc., New York, p 764

CEA (2016) Report on fly ash generation at coal/lignite based thermal power stations and its utilization in the country for the year 2015–16 (October, 2016). Central Electricity Authority, New Delhi

Chaudhary SK, Rai UN, Mishra K, Huang HG, Yang XE, M.Inouhe, Gupta DK (2011) Growth and metal accumulation potential of Vigna radiata L. grown under fly-ash amendments. Ecol Eng 37(10):1583–1588

CPCB (2015) Inventorization of sewage treatment plants (March 2015). Control of Urban pollution series: CUPS//2015. Central Pollution Control Board, Ministry of Environment & Forest, Government of India, New Delhi

De Vos CR, Vonk MJ, Vooijs R et al (1992) Glutathione depletion due to copper-induced phytochelatin synthesis causes oxidative stress in Silene cucubalus. Plant Physiol 98(3):853–858

Dietz KJ (2005) Plant thiol enzymes and thiol homeostasis in relation to thiol-dependent redox regulation and oxidative stress. In: Smrinoff N (ed) Antioxidants and reactive oxygen species in plants. Blackwell Publishing Ltd, pp 25–52

Duxbury AC, Yentsch CS (1956) Plankton pigment monographs. J Mar Res 15:91–101

Dwivedi S, Tripathi RD, Srivastava S, Mishra S, Shukla MK, Tiwari KK, Singh R, Rai UN (2007) Growth performance and biochemical responses of three rice (Oryza sativa L.) cultivars grown in fly-ash amended soil. Chemosphere 67(1):140–151

Eid EM, Sulaiman AA, Ahmed FE et al (2017) The effects of different sewage sludge amendment rates on the heavy metal bioaccumulation, growth and biomass of cucumbers (Cucumis sativus L.) Environ Sci Pollut Res 24:16371–16382

Fahey RC, Brown WC, Adams WB, Worsham MB (1978) Occurrence of glutathione in bacteria. J Bacteriol 133(3):1126–1129

Fernández JM, Plaza C, García-Gil JC, Polo A (2009) Biochemical properties and barley yield in a semiarid Mediterranean soil amended with two kinds of sewage sludge. Appl Soil Ecol 42(1):18–24

Gallego SM, Benavides MP, Tomaro ML (1996) Oxidative damage caused by cadmium chloride in sunflower (Helianthus annuus L) plants. Phyton 58:41–52

Gupta AK, Sinha S (2009) Growth and metal accumulation response of Vigna radiata L. var PDM 54 (mung bean) grown on fly ash-amended soil: effect on dietary intake. Environ Geochem Health 31(4):463–473

Gupta M, Kumar A, Yunus M (2000) Effect of fly-ash on metal composition and physiological responses in Leucaena Leucocephala (Lamk.) de. Wit. Environ Monit Assess 61(3):399–406

Gupta AK, Dwivedi S, Sinha S, Tripathi RD, Rai UN, Singh SN (2007) Metal accumulation and growth performance of Phaseolus vulgaris grown in fly ash amended soil. Bioresour Technol 98(17):3404–3407

Gupta AK, Mishra RK, Sinha S, Lee BK (2010) Growth, metal accumulation and yield performance of Brassica campestris L. (cv. Pusa Jaikisan) grown on soil amended with tannery sludge/fly ash mixture. Ecol Eng 36(8):981–991

Gupta AK, Singh RP, Ibrahim MH & Lee BK (2012) Fly ash for agriculture: implications for soil properties, nutrients, heavy metals, plant growth and pest control. In: Agroecology and Strategies for Climate Change. Springer, Netherlands, pp 269–286

Halliwell B, Gutteridge JMC (1993) Free radicals in biology and medicine. Clarendon Press, Oxford

Heath RL, Packer L (1968) Photoperoxidation in isolated chloroplasts: I Kinetics and stoichiometry of fatty acid peroxidation. Arch Biochem Biophys 125(1):189–198

Hooda PS, Alloway BJ (1993) Effects of time and temperature on the bioavailability of Cd and Pb from sludge-amended soils. Eur J Soil Sci 44(1):97–110

Keller T, Schwager H (1977) Air pollution and ascorbic acid. For Pathol 7(6):338–350

Kenneth E, Pallet KE, Young J (2000) Carotenoids. Antioxidants in higher plants in Taiwan. Bull Environ Contam Toxicol 61:497–504

Khan A, Khan S, Khan MA, Qamar Z, Waqas M (2015) The uptake and bioaccumulation of heavy metals by food plants, their effects on plants nutrients, and associated health risk: a review. Environ Sci Pollut Res 22(18):13772–13799

Koutroubas SD, Antoniadis V, Fotiadis S, Damalas CA (2014) Growth, grain yield and nitrogen use efficiency of Mediterranean wheat in soils amended with municipal sewage sludge. Nutr Cycl Agroecosyst 100(2):227–243

Kupper H, Kupper F, Spiller M (1998) In situ detection of heavy metal substituted chlorophylls in water plants. Phytosynth Res 58:123–133

Kupper H, Setlik I, Spiller M et al (2002) Heavy metal-induced inhibition of photosynthesis: targets of in vivo heavy metal chlorophyll formation. J Phycol 38:429–441

Latare AM, Kumar O, Singh SK, Gupta A (2014) Direct and residual effect of sewage sludge on yield, heavy metals content and soil fertility under rice–wheat system. Ecol Eng 69:17–24

Liu X, Wuxing L, Qingling W et al (2017) Soil properties and microbial ecology of a paddy field after repeated applications of domestic and industrial sewage sludges. Environ Sci Pollut Res 24(9):8619–8628

Lopareva-Pohu A, Verdin A, Garçon G, Lounès-Hadj Sahraoui A, Pourrut B, Debiane D, Waterlot C, Laruelle F, Bidar G, Douay F, Shirali P (2011) Influence of fly ash aided phytostabilisation of Pb, Cd and Zn highly contaminated soils on Lolium perenne and Trifolium repens metal transfer and physiological stress. Environ Pollut 159(6):1721–1729

Lou LQ, Shen ZG, Li XD (2004) The copper tolerance mechanisms of Elsholtzia haichowensis, a plant from copper-enriched soils. Environ Exp Bot 51(2):111–120

Lowry OH, Rosebrough NJ, Farr AL et al (1951) Protein measurement with the Folin phenol reagent. J Boil Chem 193(1):265–275

Maclachlan S, Zalik S (1963) Plastid structure, chlorophyll concentration, and free amino acid composition of a chlorophyll mutant of barley. Can J Bot 41(7):1053–1062

Masto RE, Sunar KK, Sengupta T, Ram LC, Rout TK, Selvi VA, George J, Sinha AK (2012) Evaluation of the co-application of fly ash and sewage sludge on soil biological and biochemical quality. Environ Technol 33(8):897–905

Mishra M, Sahu RK, Padhy RN (2007) Growth, yield and elemental status of rice (Oryza sativa) grown in fly ash amended soils. Ecotoxicology 16(2):271–278

Nawab J, Li G, Khan S, Sher H, Aamir M, Shamshad I, Khan A, Khan MA (2016) Health risk assessment from contaminated foodstuffs: a field study in chromite mining-affected areas northern Pakistan. Environ Sci Pollut Res 23(12):12227–12236

Neales TF (1956) Components of the total magnesium content within the leaves of white clover and perennial ryegrass. Nature 177:388–389

Niu H, Li S, Shen J, Yao M (2012) Characteristics of heavy metal accumulation on fly ash-and sewage sludge-amended calcific soil. Chin J Geochem 31(2):181–186

Oliveira JA, Oliva MA, Cambraia J (1994) Effects of cadmium on chlorophyll contents and on peroxidase activity in soybean. Rev Bras Fisiol Veg 6(2):97–101

Olsen SR, Sommers LE (1982) Phosphorus. In: Page AL et al (eds) Methods of soil analysis. Part 2, Agronomy Monogr. 9, 2nd edn. ASA and SSSA, Madison, pp 403–430

Pandey VC, Singh N (2010) Impact of fly ash incorporation in soil systems. Agric Ecosyst Environ 136(1):16–27

Pandey VC, Abhilash PC, Upadhyay RN, Tewari DD (2009) Application of fly ash on the growth performance and translocation of toxic heavy metals within Cajanus cajan L.: implication for safe utilization of fly ash for agricultural production. J Hazard Mater 166(1):255–259

Pandey VC, Singh JS, Kumar A, Tewari DD (2010) Accumulation of heavy metals by chickpea grown in fly ash treated soil: effect on antioxidants. CLEAN–Soil Air Water 38(12):1116–1123

Pascual I, Azcona I, Aguirreolea J et al (2010) Growth, yield, and fruit quality of pepper plants amended with two sanitized sewage sludges. J Agric Food Chem 58(11):6951–6959

Pesci P, Reggiani R (1992) The process of abscisic acid-induced proline accumulation and the levels of polyamines and quaternary ammonium compounds in hydrated barley leaves. Physiol Plant 84(1):134–139

Price GW, Astatkie T, Gillis JD, Liu K (2015) Long-term influences on nitrogen dynamics and pH in an acidic sandy soil after single and multi-year applications of alkaline treated biosolids. Agric Ecosyst Environ 208:1–11

Rai V, Vajpayee P, Singh SN, Mehrotra S (2004) Effect of chromium accumulation on photosynthetic pigments, oxidative stress defense system, nitrate reduction, proline level and eugenol content of Ocimum tenuiflorum L. Plant Sci 167(5):1159–1169

Rigueiro-Rodríguez A, Mosquera-Losada MR, Ferreiro-Domínguez N (2012) Pasture and soil zinc evolution in forest and agriculture soils of Northwest Spain three years after fertilisation with sewage sludge. Agric Ecosyst Environ 150:111–120

Roig N, Sierra J, Martí E, Nadal M, Schuhmacher M, Domingo JL (2012) Long-term amendment of Spanish soils with sewage sludge: effects on soil functioning. Agric Ecosyst Environ 158:41–48

Romero-Puertas MC, Palma JM, Gómez M et al (2002) Cadmium causes the oxidative modification of proteins in pea plants. Plant Cell Environ 25(5):677–686

Sajwan KS, Paramasivam S, Alva AK, Adriano DC, Hooda PS (2003) Assessing the feasibility of land application of fly ash, sewage sludge and their mixtures. Adv Environ Res 8(1):77–91

Sajwan KS, Paramasivam S, Alva AK, Sahi SV (2006) Fly ash-organic byproduct mixture as soil amendment. In: Soil and Water Pollution Monitoring, Protection and Remediation. Springer, Dordrecht, pp 387–399

Sánchez-Monedero MA, Mondini C, De Nobili M et al (2004) Land application of biosolids. Soil response to different stabilization degree of the treated organic matter. Waste Manag 24(4):325–332

Sharma SS, Schat H, Vooijs R (1998) In vitro alleviation of heavy metal-induced enzyme inhibition by proline. Phytochemistry 49(6):1531–1535

Sharma RK, Agrawal M, Marshall F (2007) Heavy metal contamination of soil and vegetables in suburban areas of Varanasi, India. Ecotoxicol Environ Saf 66(2):258–266

Sharma B, Sarkar A, Singh P, Singh RP (2017) Agricultural utilization of biosolids: a review on potential effects on soil and plant grown. Waste Manag 64:117–132

Sheoran IS, Singal HR, Singh R (1990) Effect of cadmium and nickel on photosynthesis and enzymes of the photosynthetic carbon reduction cycle in pigeon pea (Cajanus cajan L.) Photosynth Res 23:345–351

Shu W, Price GW, Sharifi M, Cade-Menun BJ (2016) Impact of annual and single application of alkaline treated biosolids on soil extractable phosphorus and total phosphorus. Agric Ecosyst Environ 219:111–118

Silva JD, Leal TT, Araújo AS et al (2010) Effect of different tannery sludge compost amendment rates on growth, biomass accumulation and yield responses of capsicum plants. Waste Manag 30(10):1976–1980

Singh RP, Agrawal M (2007) Effects of sewage sludge amendment on heavy metal accumulation and consequent responses of Beta vulgaris plants. Chemosphere 67(11):2229–2240

Singh RP, Agrawal M (2008) Potential benefits and risks of land application of sewage sludge. Waste Manag 28(2):347–358

Singh RP, Agrawal M (2009) Use of sewage sludge as fertiliser supplement for Abelmoschus esculentus plants: physiological, biochemical and growth responses. Int J Environ Waste Manag 3(1–2):91–106

Singh RP, Agrawal M (2010a) Biochemical and physiological responses of rice (Oryza sativa L.) grown on different sewage sludge amendments rates. Bull Environ Contam Toxicol 84(5):606–612

Singh RP, Agrawal M (2010b) Variations in heavy metal accumulation, growth and yield of rice plants grown at different sewage sludge amendment rates. Ecotoxicol Environ Saf 73(4):632–641

Singh RP, Agrawal M (2010c) Effect of different sewage sludge applications on growth and yield of Vigna radiata L. field crop: metal uptake by plant. Ecol Eng 36(7):969–972

Singh A, Agrawal SB (2010d) Response of mung bean cultivars to fly ash: growth and yield. Ecotoxicol Environ Saf 73(8):1950–1958

Singh LP, Siddiqui ZA (2003) Effects of fly ash and Helminthosporium oryzae on growth and yield of three cultivars of rice. Bioresour Technol 86(1):73–78

Singh A, Sharma RK, Agrawal SB (2008) Effects of fly ash incorporation on heavy metal accumulation, growth and yield responses of Beta vulgaris plants. Bioresour Technol 99(15):7200–7207

Singh RP, Singh P, Araujo AS et al (2011) Management of urban solid waste: vermicomposting a sustainable option. Resour Conserv Recycl 55(7):719–729

Singh RP, Singh P, Ibrahim MH & Hashim R (2012a) Land application of sewage sludge: physicochemical and microbial response. In: Reviews of environmental contamination and toxicology. Springer, New York, 214:41–61

Singh A, Sarkar A, Agrawal SB (2012b) Assessing the potential impact of fly ash amendments on Indian paddy field with special emphasis on growth, yield, and grain quality of three rice cultivars. Environ Monit Assess 184(8):4799–4814

Singh RP, Sharma B, Sarkar A, Sengupta C, Singh P & Ibrahim MH (2014) Biological responses of agricultural soils to fly-ash amendment. In: Reviews of environmental contamination and toxicology. Springer International Publishing, 232:45–60

Sinha S, Gupta AK (2005) Translocation of metals from fly ash amended soil in the plant of Sesbania cannabina L. Ritz: effect on antioxidants. Chemosphere 61(8):1204–1214

Sinha S, Saxena R, Singh S (2005) Chromium induced lipid peroxidation in the plants of Pistia stratiotes L.: role of antioxidants and antioxidant enzymes. Chemosphere 58(5):595–604

Sinha S, Mallick S, Misra RK, Singh S, Basant A, Gupta AK (2007) Uptake and translocation of metals in Spinacia oleracea L. grown on tannery sludge-amended and contaminated soils: effect on lipid peroxidation, morpho-anatomical changes and antioxidants. Chemosphere 67(1):176–187

Smirnoff N, Cumbes QJ (1989) Hydroxyl radical scavenging activity of compatible solutes. Phytochemistry 28(4):1057–1060

Somashekaraiah BV, Padmaja K, Prasad ARK (1992) Phytotoxicity of cadmium ions on germinating seedlings of mung bean (Phaseolus vulgaris): involvement of lipid peroxides in chlorphyll degradation. Physiol Plant 85(1):85–89

Srivastava V, Ismail SA, Singh P, Singh RP (2015) Urban solid waste management in the developing world with emphasis on India: challenges and opportunities. Rev Environ Sci Biotechnol 14(2):317–337

Su DC, Wong JWC (2002) The growth of corn seedlings in alkaline coal fly ash stabilized sewage sludge. Water Air Soil Pollut 133(1):1–13

Thakur S, Singh L, Ab Wahid Z et al (2016) Plant-driven removal of heavy metals from soil: uptake, translocation, tolerance mechanism, challenges, and future perspectives. Environ Monit Assess 188(4):1–11

Thind HS, Sharma S, Vashistha M et al (2012) Land application of rice husk ash, bagasse ash and coal fly ash: effects on crop productivity and nutrient uptake in rice–wheat system on an alkaline loamy sand. Field Crop Res 135:137–144

Tripathi RD, Vajpayee P, Singh N, Rai UN, Kumar A, Ali MB, Kumar B, Yunus M (2004) Efficacy of various amendments for amelioration of fly-ash toxicity: growth performance and metal composition of Cassia siamea Lamk. Chemosphere 54(11):1581–1588

Truter WF, Rethman NF, Reynolds KA & Kruger RA (2001, October). The use of a soil ameliorant based on fly ash and sewage sludge. In: Proceedings of the 2001 International Ash Utilization Symposium, Lexington

Vajpayee P, Tripathi RD, Rai UN, Ali MB, Singh SN (2000) Chromium (VI) accumulation reduces chlorophyll biosynthesis, nitrate reductase activity and protein content in Nymphaea alba L. Chemosphere 41(7):1075–1082

Veeresh H, Tripathy S, Chaudhuri D et al (2003) Changes in physical and chemical properties of three soil types in India as a result of amendment with fly ash and sewage sludge. Environ Geol 43(5):513–520

Vieira RF, Moriconi W, Pazianotto RAA (2014) Residual and cumulative effects of soil application of sewage sludge on corn productivity. Environ Sci Pollut Res 21(10):6472–6481

Vollmer AT, Turner FB, Straughan IR, Lyons CL (1982) Effects of coal precipitator ash on germination and early growth of desert annuals. Environ Exp Bot 22(4):409–413

Wollgieh R, Newmann D (1995) Stress response of tomato cell cultures to toxic metals and heat shock: differences and similarities. J Plant Physiol 146:736–742

Wong JWC (1995) The production of artificial soil mix from coal fly ash and sewage sludge. Environ Technol 16(8):741–751

Wong MH, Bradshaw AD (1982) A comparison of the toxicity of heavy metals, using root elongation of rye grass, Lolium perenne. New Phytol 91:255–261

Wong JWC, Selvam A (2009) Growth and elemental accumulation of plants grown in acidic soil amended with coal fly ash–sewage sludge co-compost. Arch Environ Contam Toxicol 57(3):515–523

Wong JWC, Su DC (1997) The growth of Agropyron elongatum in an artificial soil mix from coal fly ash and sewage sludge. Bioresour Technol 59(1):57–62

Wong MH, Wong JWC (1989) Germination and seedling growth of vegetable crops in fly ash-amended soils. Agric Ecosyst Environ 26(1):23–35

Wong JWC, Jiang RF, Su DC (1996) Boron availability in ash-sludge mixture and its uptake by corn seedlings (zea mays l). Soil Sci 161(3):182–187

Xu JQ, Yu RL, Dong XY et al (2012) Effects of municipal sewage sludge stabilized by fly ash on the growth of Manilagrass and transfer of heavy metals. J Hazard Mater 217:58–66

Xue D, Huang X (2013) The impact of sewage sludge compost on tree peony growth and soil microbiological, and biochemical properties. Chemosphere 93(4):583–589

Yadav SK (2010) Heavy metals toxicity in plants: an overview on the role of glutathione and phytochelatins in heavy metal stress tolerance of plants. S Afr J Bot 76(2):167–179

Yoon J, Cao X, Zhou Q, Ma LQ (2006) Accumulation of Pb, Cu, and Zn in native plants growing on a contaminated Florida site. Sci Total Environ 368(2):456–464
Acknowledgements
Authors are thankful to Farm Incharge, Institute of Agricultural Sciences, Banaras Hindu University, for providing field facilities and to Head, Department of Environment and Sustainable Development, Director, Institute of Environment and Sustainable Development, Banaras Hindu University for providing necessary facilities during the research work. Authors also gratefully acknowledge the support and guidance provided by Prof. A. S Raghubanshi and Dr. P.C Abhilash. RPS is thankful to University Grants Commission for providing financial assistance (UGC P-01/679). BS is grateful to University Grants Commission for awarding Junior Research Fellowship.
Additional information
Responsible editor: Elena Maestri
About this article
Cite this article
Sharma, B., Kothari, R. & Singh, R.P. Growth performance, metal accumulation and biochemical responses of Palak (Beta vulgaris L. var. Allgreen H-1) grown on soil amended with sewage sludge-fly ash mixtures. Environ Sci Pollut Res 25, 12619–12640 (2018). https://doi.org/10.1007/s11356-018-1475-7
Received:

Accepted:

Published:

Issue Date:
Keywords
Sewage sludge

Fly ash

SLASH

Beta vulgaris

Biochemical response

Chlorophyll

Heavy metals