Effects of lanthanum and silicon stress on bio-sequestration of lanthanum in phytoliths in rice seedlings
Abstract
Plant phytoliths are important for silicon (Si) cycling in natural ecosystems; however, their role in lanthanum (La) sequestration in plants is still unclear. In the present study, we elucidated the mechanism of La-induced damage to the growth of rice (Oryza sativa L.) seedling from the viewpoint of the La sequestration by phytoliths (PhytLa). The phytoliths were extracted by using the microwave digestion method. La concentrations within the plants and phytoliths were determined by a modified lithium metaborate fusion method. Analysis showed that pretreatment with low La concentration not only promoted photosynthesis and transpiration in rice but also enhanced the sequestration ability of phytoliths on La. Conversely, high La concentration inhibited photosynthesis and transpiration in rice and the ability of phytoliths to sequester La. Moreover, high Si concentrations promoted the sequestration ability of phytoliths during these processes. Promotion of combined stress of La and Si on the ability of rice seedling was stronger than that of the single La stress. The sequestration ability of phytoliths in different parts of rice varied significantly, following the order: stem > leaf > root. This pattern could be attributed to factors such as the production of various phytolith morphotypes (such as tubes) and PhytLa, PhytLa efficiency, La accumulation, and the rate of photosynthesis and transpiration in different parts of rice seedlings. This study demonstrated that La uptake in rice seedlings was affected by the presence of Si in the medium, and phytolith played a crucial role in the bio-sequestration of La and assuaged the damage caused by La in rice seedlings.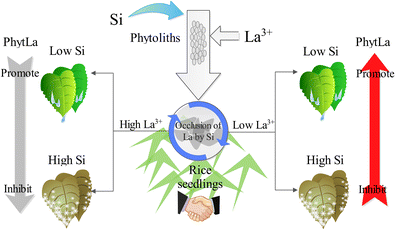 Keywords
Lanthanum 
Phytolith 
Rice 
Silicon 
Photosynthesis 
Transpiration 
Abbreviations
PhytLa

La sequestrated by phytoliths

REE

Rare earth element

Ca + b/Ca/b

Chlorophyll a + b/chlorophyll a/b

EDTA

Ethylenediaminetetraacetic acid

ICP-AES

Inductively coupled plasma-atomic emission spectroscopy

PLCO

PhytLa content of organs

PLSA

Sequestration ability of phytoliths on La

Pn

Net photosynthetic rate

Gs

Stomatal conductance

Tr

Transpiration rate

DMSO

Dimethyl sulfoxide

BSi

Biogenic silicon
Notes
Acknowledgements
This research was supported by a Research and Innovation Project for Postgraduates of Higher Education Institutions of Jiangsu Province (KYLX15_1164) and a grant of the National Natural Science Foundation of China (Grant No. 31170477, 21371100, 21501068).
Author contributions
Y.S. performed the experiment and wrote the paper. Y.S. and L.H.W. analyzed the data. Q.Z., X.H.H. and Y.S. designed the study. All authors discussed the results and commented on the manuscript.
Compliance with ethical standards
Conflict of interest
The authors declare that they have no competing interests.
Copyright information
© Springer-Verlag GmbH Germany, part of Springer Nature 2018