Abstract
Hospital and urban effluents are a source of diverse pollutants such as organic compounds, heavy metals, detergents, disinfectants, pharmaceuticals, and microorganisms resistant to antibiotics. Usually, these two types of effluent are mixed in the sewage network, but a pilot site in France now allows studying them separately or mixed to understand more about their characteristics and the phenomena that occur following their mixing. In this study, their ecotoxicity (Daphnia magna mobility, Pseudokirchneriella subcapitata growth, Brachionus calyciflorus reproduction, and SOS Chromotest) and antibiotic resistance (integron quantification) were assessed during mixing and treatment steps. The main results of this study are (i) the ecotoxicity and antibiotic resistance potentials of hospital wastewater are higher than in urban wastewater and (ii) mixing two different effluents does not lead to global synergistic or antagonistic effects on ecotoxicity and antibiotic resistance potential. The global additivity effect observed in this case must be confirmed by other studies on hospital and urban effluents on other sites to improve knowledge relating to this source of pollution and its management.
This is a preview of subscription content, log in to check access.
Access options
Buy single article
Instant access to the full article PDF.
US$ 39.95
Price includes VAT for USA
Subscribe to journal
Immediate online access to all issues from 2019. Subscription will auto renew annually.
US$ 99
This is the net price. Taxes to be calculated in checkout.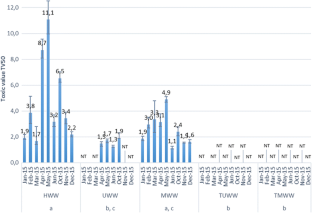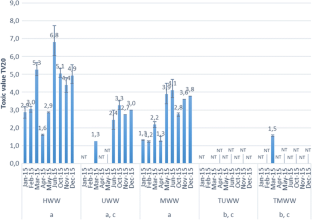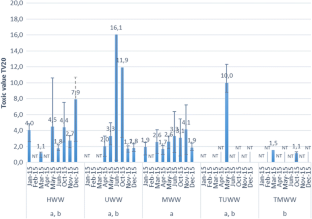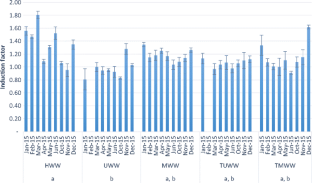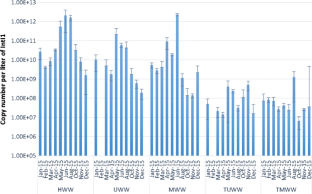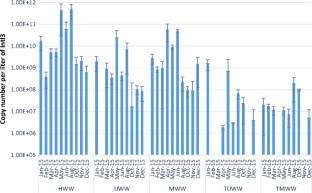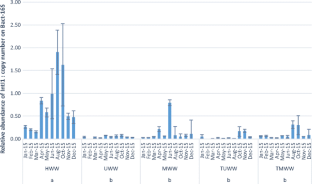 References
AFNOR (2009) Qualité de l'eau - Détermination de la toxicité chronique vis-à-vis de Brachionus calyciflorus en 48 h. NF ISO 20666

AFNOR (2012a) Qualité de l'eau—détermination de l'inhibition de la mobilité de Daphnia magna Straus (Cladocera, Crustacea). NF EN ISO 6341, 24

AFNOR (2012b) Qualité de l'eau—essai d'inhibition de la croissance des algues d'eau douce avec des algues vertes unicellulaires. NF EN ISO 8692, 201

Allen HK, Donato J, Wang HH, Cloud-Hansen KA, Davies J, Handelsman J (2010) Call of the wild: antibiotic resistance genes in natural environments. Nat Rev Microbiol 8:251–259. doi:10.1038/nrmicro2312

Amos GC, Gozzard E, Carter CE, Mead A, Bowes MJ, Hawkey PM, Zhang L, Singer AC, Gaze WH, Wellington EMH (2015) Validated predictive modelling of the environmental resistome. ISME J 9:1467–1476. doi:10.1038/ismej.2014.237

Barraud O, Baclet MC, Denis F, Ploy MC (2010) Quantitative multiplex real-time PCR for detecting class 1, 2 and 3 integrons. J Antimicrob Chemother 65:1642–1645. doi:10.1093/jac/dkq167

Boillot C, Perrodin Y (2008) Joint-action ecotoxicity of binary mixtures of glutaraldehyde and surfactants used in hospitals: use of the toxicity index model and isoblogram representation. Ecotoxicol Environ Saf 71:252–259. doi:10.1016/j.ecoenv.2007.08.010

Boillot C, Bazin C, Tissot-Guerraz F, Droguet J, Perraud M, Cetre JC, Trepo D, Perrodin Y (2008) Daily physicochemical, microbiological and ecotoxicological fluctuations of a hospital effluent according to technical and care activities. Sci Total Environ 403:113–129. doi:10.1016/j.scitotenv.2008.04.037

Chèvre N, Coutu S, Margot J, Bader HP, Scheidegger R, Rossi L (2013) Substance flow analysis as a tool for mitigating the impact of pharmaceuticals on the aquatic system. Water Res 47:2995–3005. doi:10.1016/j.watres.2013.03.004

Chonova T, Keck F, Labanowski J, Montuell B, Rimet F, Bouchez A (2016) Separate treatment of hospital and urban wastewaters: a real scale comparison of effluents and their effect on microbial communities. Sci Total Environ 542:965–975. doi:10.1016/j.scitotenv.2015.10.161

Chonova T, Lecomte V, Bertrand-Krajewski JL, Dagot C, Lévi Y, Perrodin Y, Wiest L, Gonzalez-Ospina A, Bouchez A, Cournoyer B, Labanowski J, Sebastian C (2017) The study site SIPIBEL: scientific opportunities and lessons learned by the treatment of hospital effluents into the urban wastewater treatment plant. Environmental science and pollution research (accepted)

Cleuvers M (2003) Aquatic ecotoxicity of pharmaceuticals including the assessment of combination effects. Toxicol Lett 142:185–194. doi:10.1016/S0378-4274(03)00068-7

Coutu S, Rossi L, Barry DA, Rudaz S, Vernez N (2013) Temporal variability of antibiotics fluxes in wastewater and contribution from hospitals. PLoS One 8:e53592. doi:10.1371/journal.pone.0053592

Da Silva MF, Tiago I, Veríssimo A, Boaventura RAR, Nunes OC, Manaia CM (2006) Antibiotic resistance of enterococci and related bacteria in an urban wastewater treatment plant. FEMS Microbiol Ecol 55:322. doi:10.1111/j.1574-6941.2005.00032.x

Deneer JW (2000) Toxicity of mixtures of pesticides in aquatic systems. Pest Manag Sci 56:516–520. doi:10.1002/(SICI)1526-4998(200006)56:6<516::AID-PS163>3.0.CO;2-0

EIFAC (1987) Revised report on combined effects on freshwater fish and other aquatic life of mixtures of toxicants in water, EIFAC technical paper 37

Emmanuel E, Keck G, Blanchard J-M, Vermande P, Perrodin Y (2004) Toxicological effects of disinfections using sodium hypochlorite on aquatic organisms and its contribution to AOX formation in hospital wastewater. Environ Int 30:891–900. doi:10.1016/j.envint.2004.02.004

Emmanuel E, Hanna K, Bazin C, Keck G, Clément B, Perrodin Y (2005) Fate of glutaraldehyde in hospital wastewater and combined effects of glutaraldehyde and surfactants on aquatic organisms. Environ Int 31:399–406. doi:10.1016/j.envint.2004.08.011

Ge F, Xu Y, Zhu R, Yua F, Zhua M, Wong M (2010) Joint action of binary mixtures of cetyltrimethyl ammonium chloride and aromatic hydrocarbons on Chlorella vulgaris. Ecotoxicol Environ Saf 73:1689–1695. doi:10.1016/j.ecoenv.2010.06.003

Gillings MR, Gaze WH, Pruden A, Smalla K, Tiedje JM, Zhu YG (2015) Using the class 1 integron-integrase gene as a proxy for anthropogenic pollution. ISME J 9:1269–1279. doi:10.1038/ismej.2014.226

Jabbour J-F, Farah J, Abdel-Massih RM (2016) Hospital wastewater genotoxicity: a comparison study between an urban and rural university hospital with and without metabolic activation. J Environ Eng Ecol Sci 5:2

Jolibois B, Guerbet M, Vassal S (2003) Detection of hospital wastewater genotoxicity with the SOS chromotest and Ames fluctuation test. Chemosphere 51:539–543. doi:10.1016/S0045-6535(02)00867-6

Joss A, Keller E, Alder AC, Göbel A, McArdell CS, Ternes T, Siegrist H (2005) Removal of pharmaceuticals and fragrances in biological wastewater treatment. Water Res 39:3139–3152. doi:10.1016/j.watres.2005.05.031

Klappenbach JA, Saxman PR, Cole JR, Schmidt TM (2001) Rrndb: the ribosomal RNA operon copy number database. Nucleic Acids Res 29:181. doi:10.1093/nar/29.1.181

Koivunen J, Siitonen A, Heinonen-Tanski H (2003) Elimination of enteric bacteria in biological–chemical wastewater treatment and tertiary filtration units. Water Res 37:690–698. doi:10.1016/S0043-1354(02)00305-6

Kümmerer K (2001) Drugs in the environment: emission of drugs, diagnostic aids and disinfectants into wastewater by hospitals in relation to other sources—a review. Chemosphere 45:957–969. doi:10.1016/S0045-6535(01)00144-8

Langford KH, Thomas KV (2009) Determination of pharmaceutical compounds in hospital effluents and their contribution to wastewater treatment works. Environ Int 35:766–770. doi:10.1016/j.envint.2009.02.007

Lewis MA (1992) The effects of mixtures and other environmental modifying factors on the toxicities of surfactants to freshwater and marine life. Water Res 26:1013–1023. doi:10.1016/0043-1354(92)90136-R

Luo Y, Mao D, Rysz M, Zhou Q, Zhang H, Xu L, Alvarez PJJ (2010) Trends in antibiotic resistance genes occurrence in the Haihe River, China. Environ Sci Technol 44:7220–7225

Lupo A, Coyne S, Berendonk TU (2012) Origin and evolution of antibiotic resistance: the common mechanisms of emergence and spread in water bodies

Makowska N, Koczura R, Mokracka J (2016) Class 1 integrase, sulfonamide and tetracycline resistance genes in wastewater treatment plant and surface water. Chemosphere 144:1665–1673. doi:10.1016/j.chemosphere.2015.10.044

Marking LL (1977) Method for assessing additive toxicity of chemical mixtures. doi: 10.1520/STP32392S

Mokracka J, Koczura R, Kaznowski A (2012) Multiresistant Enterobacteriaceae with class 1 and class 2 integrons in a municipal wastewater treatment plant. Water Res 46:3353–3363. doi:10.1016/j.watres.2012.03.037

Orias F, Perrodin Y (2013) Characterisation of the ecotoxicity of hospital effluents: a review. Sci Total Environ 454:250–276. doi:10.1016/j.scitotenv.2013.02.064

Orias F, Perrodin Y (2014) Pharmaceuticals in hospital wastewater: their ecotoxicity and contribution to the environmental hazard of the effluent. Chemosphere 115:31–39. doi:10.1016/j.chemosphere.2014.01.016

Otitoloju AA (2002) Evaluation of the joint-action toxicity of binary mixtures of heavy metals against the mangrove periwinkle Tympanotonus fuscatus var radula (L.) Ecotoxicol Environ Saf 53:404–415. doi:10.1016/S0147-6513(02)00032-5

Panouillères M, Boillot C, Perrodin Y (2007) Study of the combined effects of a peracetic acid-based disinfectant and surfactants contained in hospital effluents on Daphnia magna. Ecotoxicology 16:327–340. doi:10.1007/s10646-007-0136-2

Partridge SR, Tsafnat G, Coiera E, Iredell JR (2009) Gene cassettes and cassette arrays in mobile resistance integrons. FEMS Microbiol Rev 33:757. doi:10.1111/j.1574-6976.2009.00175.x

Pharmaceutical Input and Elimination from local sources (2012) Final report of the European cooperation project PILLS

Quillardet P, Hofnung M (1985) The SOS Chromotest, a colorimetric bacterial assay for genotoxins: procedures. Mutat Res/Environ Mutagen Relat Subj 147:65–78. doi:10.1016/0165-1161(85)90020-2

R Development Core Team (2005) R: a language and environment for statistical computing. The R Foundation for Statistical Computing, Vienna ISBN 3-900051-07-0., http://www.R-project.org

Rizzo L, Manaia C, Merlin C, Schwartz T, Dagot C, Ploy MC, Michael I, Fatta-Kassinos D (2013) Urban wastewater treatment plants as hotspots for antibiotic resistant bacteria and genes spread into the environment: a review. Sci Total Environ 447:345–360. doi:10.1016/j.scitotenv.2013.01.032

Ross H, Warne M (1997) Most chemical mixtures have additive aquatic toxicity. In: Proceedings of the third annual conference of the Australasian Society for Ecotoxicology. pp 17–19

Santos L, Gros M, Rodriguez-Mozaz S, Delerue-Matos C, Pena A, Barcelo D, Montenegro MC (2013) Contribution of hospital effluents to the load of pharmaceuticals in urban wastewaters: identification of ecologically relevant pharmaceuticals. Sci Total Environ 461:302–316. doi:10.1016/j.scitotenv.2013.04.077

Sharma P, Mathur N, Singh A, Sogani M, Bhatnagar P, Atri R, Pareek S (2015) Monitoring hospital wastewaters for their probable genotoxicity and mutagenicity. Environ Monit Assess 187:1

Stalder T, Barraud O, Casellas M, Dagot C, Ploy MC (2012) Integron involvement in environmental spread of antibiotic resistance. Front Microbiol. doi:10.3389/fmicb.2012.00119

Stalder T, Barraud O, Jové T, Casellas M, Gaschet M, Dagot C, Ploy MC (2014) Quantitative and qualitative impact of hospital effluent on dissemination of the integron pool. ISME J 8:768–777. doi:10.1038/ismej.2013.189

Stumpf M, Ternes TA, Wilken R-D, Rodrigues SV, Baumann W (1999) Polar drug residues in sewage and natural waters in the state of Rio de Janeiro, Brazil. Sci Total Environ 225:135–141. doi:10.1016/S0048-9697(98)00339-8

Szczepanowski R, Linke B, Krahn I, Gartemann KH, Gützkow T, Eichler W, Pühler A, Schlüter A (2009) Detection of 140 clinically relevant antibiotic-resistance genes in the plasmid metagenome of wastewater treatment plant bacteria showing reduced susceptibility to selected antibiotics. Microbiology 155:2306–2319. doi:10.1099/mic.0.028233-0

Tennstedt T, Szczepanowski R, Braun S, Pühler A, Schlüter A (2003) Occurrence of integron-associated resistance gene cassettes located on antibiotic resistance plasmids isolated from a wastewater treatment plant. FEMS Microbiol Ecol 45:239. doi:10.1016/S0168-6496(03)00164-8

Ternes TA (1998) Occurrence of drugs in German sewage treatment plants and rivers1 Dedicated to Professor Dr. Klaus Haberer on the occasion of his 70th birthday.1. Water Res 32:3245–3260. doi:10.1016/S0043-1354(98)00099-2

Vasquez MI, Lambrianides A, Schneider M, Kümmerer K, Fatta-Kassinos D (2014) Environmental side effects of pharmaceutical cocktails: what we know and what we should know. J Hazard Mater 279:169–189. doi:10.1016/j.jhazmat.2014.06.069

Verlicchi P, Galletti A, Masotti L (2010a) Management of hospital wastewaters: the case of the effluent of a large hospital situated in a small town. Water Sci Technol 61:2507–2519. doi:10.2166/wst.2010.138

Verlicchi P, Galletti A, Petrovic M, Barceló D (2010b) Hospital effluents as a source of emerging pollutants: an overview of micropollutants and sustainable treatment options. J Hydrol 389:416–428. doi:10.1016/j.jhydrol.2010.06.005

Verlicchi P, Al Aukidy M, Galletti A, Petrovic M, Barceló D (2012) Hospital effluent: investigation of the concentrations and distribution of pharmaceuticals and environmental risk assessment. Sci Total Environ 430:109–118. doi:10.1016/j.scitotenv.2012.04.055

Verlicchi P, Al Aukidy M, Zambello E (2015) What have we learned from worldwide experiences on the management and treatment of hospital effluent?—an overview and a discussion on perspectives. Sci Total Environ 514:467–491. doi:10.1016/j.scitotenv.2015.02.020

Wellington EM, Boxall AB, Cross P, Feil E, Gaze W, Hawkey P, Johnson-Rollings A, Jones D, Lee N, Otten W, Thomas C, Williams AP (2013) The role of the natural environment in the emergence of antibiotic resistance in gram-negative bacteria. Lancet Infect Dis 13:155–165. doi:10.1016/S1473-3099(12)70317-1

White PA, Rasmussen JB, Blaise C (1996) A semi-automated, microplate version of the SOS Chromotest for the analysis of complex environmental extracts. Mutat Res/Environ Mutagen Relat Subj 360:51–74. doi:10.1016/S0165-1161(96)90237-X

Wiest L, Chonova T, Bergé A, Baudot R, Barbier F, Ayouni-Derouiche L, Vulliet E (2017) Two years survey of specific hospital wastewater treatment at the SIPIBEL site (France): impact on pharmaceutical discharges. Environ Sci Pollut Res (in press)

Wigh A, Devaux A, Brosselin V, Gonzalez-Ospina A, Domenjoud B, Aït-Aïssa S, Creusot N, Gosset A, Bazin C, Bony S (2016) Proposal to optimize ecotoxicological evaluation of wastewater treated by conventional biological and ozonation processes. Environ Sci Pollut Res Int 23:3008

World Health Organization (2014) Antimicrobial resistance: global report on surveillance

Zhang X-X, Zhang T, Zhang M, Fang HHP, Cheng SP (2009) Characterization and quantification of class 1 integrons and associated gene cassettes in sewage treatment plants. Appl Microbiol Biotechnol 82:1169–1177
Acknowledgements
This research work was carried out on the SIPIBEL experimental site, a field observatory on hospital and urban wastewater treatment plant effluents coordinated by the Bellecombe "Syndicat" (the organization managing the sewage treatment plant) and the Graie, the Rhone-Alps Infrastructures and Water Research Group. SIPIBEL received financial assistance from the Rhone-Mediterranean Water Agency, the Rhone-Alps Region, the European Union, the French Ministries of Ecology and Health, the Haute-Savoie General Council, and the Rhone-Alps regional public health authority. The authors thank all the partners in the study, in particular the local partners, without whose help this work would not have been accomplished.
Additional information
Responsible editor: Philippe Garrigues
About this article
Cite this article
Laquaz, M., Dagot, C., Bazin, C. et al. Ecotoxicity and antibiotic resistance of a mixture of hospital and urban sewage in a wastewater treatment plant. Environ Sci Pollut Res 25, 9243–9253 (2018). https://doi.org/10.1007/s11356-017-9957-6
Received:

Accepted:

Published:

Issue Date:
Keywords
Ecotoxicity

Antibiotic resistance

Hospital wastewater

Urban wastewater

Combined effects