Abstract
Natural pozzolan is an amorphous silicate-based material of volcanic origin. In this work, the natural pozzolan was modified by using 3-aminopropyltriethoxysilane (APTES) as a grafting agent. This material was characterized by pHpzc, N2 adsorption/desorption curves, FTIR, TGA/DTG, DRUV, SEM, and elementary analysis. The functionalized materials were used for the removal of Reactive Black 5 (RB-5) and Brilliant Green 1 (BG-1) dyes from aqueous solutions using batch-contact adsorption. The characterization of modified pozzolan by FTIR, TGA/DTG, BET, and DRUV–vis revealed the effectiveness of grafting of amine functional group on pozzolan structure. The kinetic adsorption data were better fitted with general order for both dyes while for equilibrium models were better fitted by the Liu isotherm model. The maximum sorption capacities Q max (at 50 °C) obtained with the modified pozzolan were 350.6 and 300.9 mg g−1 for BG-1 and RB-5, at pH 9.0 and 2.0, respectively. The thermodynamic parameters show that the removal of dyes was spontaneous and endothermic. The modified material was also tested for the treatment of simulated dye house effluents showing very high efficiency.
This is a preview of subscription content, log in to check access.
Access options
Buy single article
Instant access to the full article PDF.
US$ 39.95
Tax calculation will be finalised during checkout.
Subscribe to journal
Immediate online access to all issues from 2019. Subscription will auto renew annually.
US$ 99
Tax calculation will be finalised during checkout.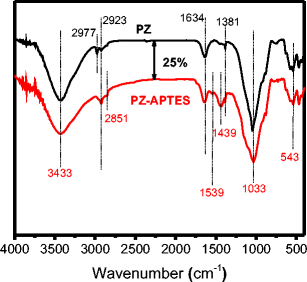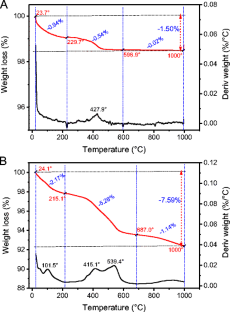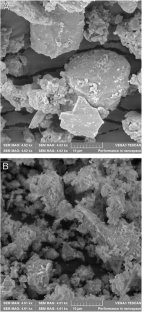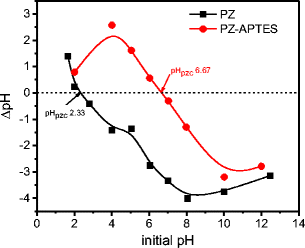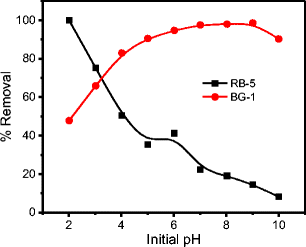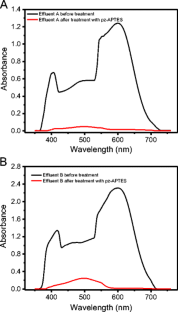 References
Alencar WS, Lima EC, Royer B, dos Santos BD, Calvete T, da Silva EA, Alves CN (2012) Application of aqai stalks as biosorbents for the removal of the dye Procion Blue MX-R from aqueous solution. Sep Sci Technol 47:513–526

Babaei AA, Lima EC, Takdastan A, Alavi N, Goudarzi G, Vosoughi M, Hassani G, Shirmardi M (2016) Removal of tetracycline antibiotic from contaminated water media by multi-walled carbon nanotubes: operational variables, kinetics, and equilibrium studies. Water Sci Technol 74:1202–1216

Barbosa-Jr F, Krug FJ, Lima EC (1999) On-line coupling of electrochemical preconcentration in tungsten coil Electrothermal atomic absorption spectrometry for determination of lead in natural waters. Spectrochim Acta B 54:1155–1166

Barbosa-Jr F, Lima EC, Krug FJ (2000) Determination of arsenic in sediment and soil slurries by electrothermal atomic absorption spectrometry using W-Rh permanent modifier. Analyst 125:2079–2083

Bertuoli PT, Piazza D, Scienza LC, Zattera AJ (2014) Preparation and characterization of montmorillonite modified with 3-aminopropyltriethoxysilane. Appl Clay Sci 87:46–51

Billong N, Melo UC, Njopwouo N, Louvet F, Bonnet JP (2013) Physicochemical characteristics of some Cameroonian pozzolans for use in sustainable cement like materials. Mater Sci Appl 4:14–21

Calvete T, Lima EC, Cardoso NF, Dias SLP, Ribeiro ES (2010) Removal of Brilliant Green dye from aqueous solutions using home made activated carbons. CLEAN Soil Air Water 38:521–532

Carey FA, Sundberg RJ (2007) Advanced organic chemistry, part a: structure and mechanism, 5th edn. Springer, New York

Chequer FMD, de Oliveira GAR, Anastacio Ferraz ER, Carvalho J, Zanoni MVB, Oliveira DP (2013) Textile dyes: dyeing process and environmental impact. In: M. Gunay (ed) Eco-friendly textile dyeing and finishing. InTech. https://doi.org/10.5772/53659

dos Reis GS, Mahbub MKB, Wilhelm M, Lima EC, Sampaio CH, Saucier C, Dias SLP (2016a) Activated carbon from sewage sludge for removal of sodium diclofenac and nimesulide from aqueous solutions. Korean J Chem Eng 33:3149–3161

dos Reis GS, Sampaio CH, Lima EC, Wilhelm M (2016b) Preparation of novel adsorbents based on combinations of polysiloxanes and sewage sludge to remove pharmaceuticals from aqueous solutions. Colloids Surf A: Physicochem Eng Asp 497:304–315

dos Reis GS, Wilhelm M, Silva TCA, Rezwan K, Sampaio CH, Lima EC, Souza SMAGU (2016c) The use of design of experiments for the evaluation of the production of surface—rich activated carbon from sewage sludge via microwave and conventional pyrolysis. Appl Therm Eng 93:590–597

dos Reis GS, Adebayo MA, Sampaio CH, Lima EC, Thue PS, de Brum IAS, Dias SLP, Pavan FA (2017) Removal of phenolic compounds from aqueous solutions using sludge-based activated carbons prepared by conventional heating and microwave-assisted pyrolysis. Water Air Soil Pollut 228(33):1–17

Dotto GL, Santos JMN, Tanabe EH, Bertuol DA, Foletto EL, Lima EC, Pavan FA (2017) Chitosan/polyamide nanofibers prepared by Force spinning® technology: a new adsorbent to remove anionic dyes from aqueous solutions. J Clean Prod 144:120–129

Gadhi TA, Hernández-Gordillo A, Bizarro M, Jagdale P, Tagliaferro A, Rodil SE (2016) Efficient α/β-Bi2O3 composite for the sequential photodegradation of two-dyes mixture. Ceram Int 42:13065–13073

Gilberto TJ, Marçal L, Silva JM, Rocha LA, Ciuffi KJ, Faria EH, Nassar EJ (2016) Hybrid materials based on bentonite functionalized with amine groups via the hydrolytic sol-gel method. J Braz Chem Soc 27:933–940

Kofa GP, NdiKoungou S, Kayema GJ, Kamg R (2015) Adsorption of arsenic by natural pozzolan in a fixed bed: determination of operating conditions and modeling. J Water Process Eng 6:166–173

Leite AJB, Sophia AC, Thue PS, dos Reis GS, Dias SLP, Lima EC, Vaghetti JCP, Pavan FA, de Alencar WS (2017) Activated carbon from avocado seeds for the removal of phenolic compounds from aqueous solutions. Desalin Water Treat 71:168–181

Li H, Liu S, Zhao J, Feng N (2016) Removal of reactive dyes from wastewater assisted with kaolin clay by magnesium hydroxide coagulation process. Colloids Surf Physicochem Eng Asp 494:222–227

Lima EC, Barbosa F, Krug FJ (2001) Lead determination in biological material slurries by ETAAS using W-Rh permanent modifier. Fresenius J Anal Chem 369:496–501

Lima EC, Brasil JL, Santos AHDP (2003) Evaluation of Rh, Ir, Ru, W-Rh, W-Ir, and W-Ru as permanent modifiers for the determination of lead in ashes, coals, sediments, sludges, soils, and freshwaters by electrothermal atomic absorption spectrometry. Anal Chim Acta 484:233–242

Lima EC, Adebayo MA, Machado FM (2015) Kinetic and equilibrium models of adsorption. In: Bergmann CP, Machado FM (eds) Carbon Nanomaterials as adsorbents for environmental and biological applications, vol 2015. Springer, Berlin, pp 33–69

Liu M, Chen Q, Lu K, Huang W, Lü Z, Zhou C, Yu S, Gao C (2017) High efficient removal of dyes from aqueous solution through nanofiltration using diethanolamine-modified polyamide thin-film composite membrane. Sep Purif Technol 173:135–143

Machado FM, Sophia AC, Lima EC, Dias SLP, Prola LDT, Saucier C, Jauris IM, Zanella I, Fagan SB (2016) Adsorption of Alizarin Red S dye by carbon nanotubes—an experimental and theoretical investigation. J Phys Chem C 120:18296–18306

Moreira MA, Ciuffi KJ, Rives V, Vicente MA, Trujillano R, Gil A, Korili SA, de Faria EH (2017) Effect of chemical modification of palygorskite and sepiolite by 3-aminopropyltriethoxisilane on adsorption of cationic and anionic dyes. Appl Clay Sci 135:394–404

Ndi KS, Mbundapong NL, Tatsadjieu NL, Ali A, Kayem GJ (2010) Retention of E. coli on natural Pozzolan beds. J Eng Appl Sci 5:430–434

Peixoto AF, Fernandes AC, Pereira C, Cristina JP (2016) Physicochemical characterization of organosilylated halloysite clay nanotubes. Microporous Mesoporous Mater 219:145–154

Prola LDT, Machado FM, Bergmann CP, de Souza FE, Gally CR, Lima EC, Adebayo MA, Dias SLP, Calvete T (2013a) Adsorption of Direct Blue 53 dye from aqueous solutions by multi-walled carbon nanotubes and activated carbon. J Environ Manag 130:166–175

Prola LDT, Machado FM, Bergmann CP, de Souza FE, Gally CR, Lima EC, Adebayo MA, Dias SLP, Calvete T (2013b) Comparison of Jatropha curcas shells in natural form and treated by non-thermal plasma as biosorbents for removal of Reactive Red 120 textile dye from aqueous solution. Ind Crop Prod 46:328–340

Puchana-Rosero MJ, Adebayo MA, Lima EC, Machado FM, Thue PS, Vaghetti JCP, Umpierres CS, Gutterres M (2016) Microwave-assisted activated carbon obtained from the sludge of tannery-treatment effluent plant for removal of leather dyes. Colloids Surfaces A: Physicochem Eng Asp 504:105–115

Puchana-Rosero MJ, Lima EC, Ortiz-Monsalve S, Mella B, da Costa D, Poll E, Gutterres M (2017) Fungal biomass as biosorbent for the removal of Acid Blue 161 dye in aqueous solution. Environ Sci Pollut Res 24:4200–4209

Punzi M, Nilsson F, Anbalagan A, Svensson BM, Jönsson K, Mattiasson B, Jonstrup M (2015) Combined anaerobic–ozonation process for treatment of textile wastewater: removal of acute toxicity and mutagenicity. J Hazard Mater 292:52–60

Ribas MC, Adebayo MA, Prola LDT, Lima EC, Cataluña R, Feris LA, Puchana-Rosero MJ, Machado FM, Pavan FA, Calvete T (2014) Comparison of a homemade cocoa shell activated carbon with commercial activated carbon for the removal of reactive violet 5 dye from aqueous solutions. Chem Eng J 248:315–326

Rovani S, Rodrigues AG, Medeiros LF, Cataluña R, Lima EC, Fernandes AN (2016) Synthesis and characterisation of activated carbon from agroindustrial waste—preliminary study of 17β-estradiol removal from aqueous solution. J Environ Chem Eng 4:2128–2137

Saucier C, Adebayo MA, Lima EC, Cataluna R, Thue PS, Prola LDT, Puchana-Rosero MJ, Machado FM, Pavan FA, Dotto GL (2015) Microwave-assisted activated carbon from cocoa shell as adsorbent for removal of sodium diclofenac and nimesulide from aqueous effluents. J Hazard Mater 289:18–27

Saucier C, Karthickeyan P, Ranjithkumar V, Lima EC, dos Reis GS, de Brum IAS (2017) Efficient removal of amoxicillin and paracetamol from aqueous solutions using magnetic activated carbon. Environ Sci Pollut Res 24:5918–5932

Sinkó K (2010) Influence of chemical conditions on the nanoporous structure of silicate aerogels. Materials 3:704–740

Soares PA, Souza R, Soler J, Silva TFCV, Souza SMAGU, Boaventura RAR, Vilar VJP (2017) Remediation of a synthetic textile wastewater from polyester-cotton dyeing combining biological and photochemical oxidation processes. Sep Purif Technol 172:450–462

Stawiński W, Węgrzyn A, Freitas O, Chmielarz L, Mordarski G, Figueiredo S (2017) Simultaneous removal of dyes and metal cations using an acid, acid-base and base modified vermiculite as a sustainable and recyclable adsorbent. Sci Total Environ 576:398–408

Sun CL, Wang CS (2010) Estimation on the intramolecular hydrogen-bonding energies in proteins and peptides by the analytic potential energy function. J Mol Struct 956:38–43

Tao Q, Fang Y, Li T, Zhang D, Chen M, Ji S, He H, Komarneni S, Zhang H, Dong Y, Noh YD (2016) Silylation of saponite with 3-aminopropyltriethoxysilane. Appl Clay Sci 132–133:133–139

Thommes M, Kaneko K, Neimark AV, Olivier JP, Rodriguez-Reinoso F, Rouquerol J, Sing KSW (2015) Physisorption of gases, with special reference to the evaluation of surface area and pore size distribution (IUPAC Technical Report). Pure Appl Chem 87:1051–1069

Thue PS, Adebayo MA, Lima EC, Sieliechi JM, Machado FM, Dotto GL, Vaghetti JCP, Dias SLP (2016) Preparation, characterization and application of microwave-assisted activated carbons from wood chips for removal of phenol from aqueous solution. J Mol Liq 223:1067–1080

Thue PS, dos Reis GS, Lima EC, Sieliechie JM, Dotto GL, Wamba AGN, Dias SLP, Pavan FA (2017a) Activated carbon obtained from sapelli wood sawdust by microwave heating for o-cresol adsorption. Res Chem Intermed 43:1063–1087

Thue PS, Lima EC, Sieliechi JM, Saucier C, Dias SLP, Vaghetti JCP, Rodembusch FS, Pavan FA (2017b) Effects of first-row transition metals and impregnation ratios on the physicochemical properties of microwave-assisted activated carbons from wood biomass. J Colloid Interface Sci 486:163–175

Tian G, Wang W, Zong L, Wang A (2017) MgO/palygorskite adsorbent derived from natural Mg-rich brine and palygorskite for high-efficient removal of Cd(II) and Zn(II) íons. J Environ Chem Eng 5:1027–1036

Tonle IK, Ngameni E, Njopwouo D, Carteret C, Walcarius A (2003) Functionalization of natural smectite-type clays by grafting with organosilanes: physico-chemical characterization and application to mercury(II) uptake. Phys Chem Chem Phys 5:4951–4961

US Department of the interior and US Geological Survey (2010) Minerals yearbook, metals and minerals, vol 1. Government Printing Office, Washington DC

Vafaei M, Allahverdi A (2016) Influence of calcium aluminate cement on geopolymerization of natural pozzolan. Constr Build Mater 114:290–296

Vaghetti JCP, Zat M, Bentes KRS, Ferreira LS, Benvenutti EV, Lima EC (2003) 4-Phenylenediaminepropylsilica Xerogel as a sorbent for copper determination in waters by slurry-sampling ETAAS. J Anal At Spectrom 18:376–380

Villabona-Estupiñán S, Rodrigues JA, Nascimento RSV (2017) Understanding the clay-PEG (and hydrophobic derivatives) interactions and their effect on clay hydration and dispersion: a comparative study. Appl Clay Sci 143:89–100

Vizcayno C, de Gutiérrez RM, Castello R, Rodriguez E, Guerrero CE (2010) Pozzolan obtained by mechanochemical and thermal treatments of kaolin. Appl Clay Sci 49:405–413

Zhu L, Guo J, Liu P, Zhao S (2016) Novel strategy for palygorskite/poly(acrylic acid) nanocomposite hydrogels from bi-functionalized palygorskite nanorods as easily separable adsorbent for cationic basic dye. Appl Clay Sci 121–122:29–35
Acknowledgments
The authors gratefully thank the Academy of Sciences for Developing World (TWAS, Italy), the National Council for Scientific and Technological Development (CNPq, Brazil), and the Coordination of Improvement of Higher Education Personnel (CAPES, Brazil) for financial support of this work. We are also grateful to Chemaxon for giving us an academic research license for the Marvin Sketch software, Version 17.13.0,(http://www.chemaxon.com), 2017, used for dye physical–chemical properties.
Additional information
Responsible editor: Guilherme L. Dotto
Electronic supplementary material
About this article
Cite this article
Wamba, A.G.N., Lima, E.C., Ndi, S.K. et al. Synthesis of grafted natural pozzolan with 3-aminopropyltriethoxysilane: preparation, characterization, and application for removal of Brilliant Green 1 and Reactive Black 5 from aqueous solutions. Environ Sci Pollut Res 24, 21807–21820 (2017). https://doi.org/10.1007/s11356-017-9825-4
Received:

Accepted:

Published:

Issue Date:
Keywords
Natural pozzolan

3-Aminopropyltriethoxysilane (APTES)

Dyes

Adsorption

Nonlinear fitting

Thermodynamic of adsorption