Abstract
One of the main pursuits, yet most difficult, in monitoring studies is to identify the sources of environmental pollution. In this study, we have identified health-care facilities from south European countries as an important source of pharmaceuticals in the environment. We have estimated that compounds consumed in by the elderly and released from effluents of senior residences can reach river waters at a concentration higher than 0.01 μg/L, which is the European Medicines Agency (EMA) threshold for risk evaluation of pharmaceuticals in surface waters. This study has been based on five health institutions in Portugal, Spain, and France, with 52 to 130 beds. We have compiled the pharmaceuticals dispensed on a daily base and calculated the consumption rates. From 54.9 to 1801 g of pharmaceuticals are consumed daily, with laxatives, analgesics, antiepileptics, antibiotics, and antidiabetic agents being the main drug families administered. According to excretion rates, dilution in the sewerage system, and elimination in wastewater treatment plants, macrogol, metformin, paracetamol, acetylcysteine, amoxicillin, and gabapentin, among others, are expected to reach river waters. Finally, we discuss the risk management actions related to the discharge of pharmaceuticals from senior residences to surface waters.
Access options
Buy single article
Instant access to the full article PDF.
US$ 39.95
Tax calculation will be finalised during checkout.
Subscribe to journal
Immediate online access to all issues from 2019. Subscription will auto renew annually.
US$ 79
Tax calculation will be finalised during checkout.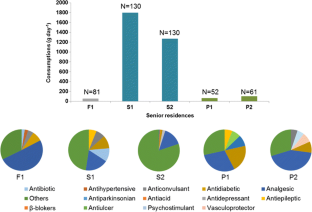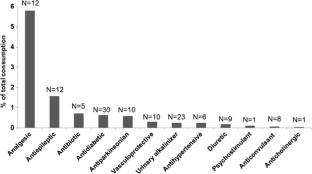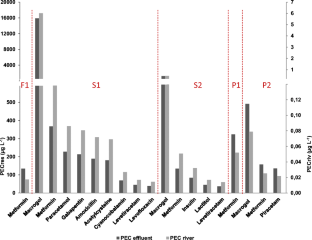 References
Al-Khazrajy OSA, Boxall ABA (2016) Risk-based prioritization of pharmaceuticals in the natural environment in Iraq. Environ Sci Pollut Res 23:15712–15726

Amiel ML, Husson MC (1994) The Theriaque database and information on side effects of drugs. Therapie 49:455–459

Banjac Z, Ginebreda A, Kuzmanovic M, Marcé R, Nadal M, Riera JM, Barceló D (2015) Emission factor estimation of ca. 160 emerging organic microcontaminants by inverse modeling in a Mediterranean river basin (Llobregat, NE Spain). Sci Total Environ 520:241–252

Barnett J, Breakwell GM (2003) The social amplification of risk and the hazard sequence: the October 1995 oral contraceptive pill scare. Health Risk Soc 5:301–313

Besse JP, Kausch-Barreto C, Garric J (2008) Exposure assessment of pharmaceuticals and their metabolites in the aquatic environment: application to the French situation and preliminary prioritization. Hum Ecol Risk Assess 14:665–695

Booker V, Halsall C, Llewellyn N, Johnson A, Williams R (2014) Prioritising anticancer drugs for environmental monitoring and risk assessment purposes. Sci Total Environ 473-474:159–170

Bouder F (2011) Benefit/risk communication by the European Medicines Agency: a study of influential stakeholders' expectations and attitudes

Carlsson C, Johansson AK, Alvan G, Bergman K, Kühler T (2006) Are pharmaceuticals potent environmental pollutants? Part I: Environmental risk assessments of selected active pharmaceutical ingredients. Sci Total Environ 364:67–87

Chartier Y (2014): Safe management of wastes from health-care activities. World Health Organization

Donnachie RL, Johnson AC, Sumpter JP (2016) A rational approach to selecting and ranking some pharmaceuticals of concern for the aquatic environment and their relative importance compared with other chemicals. Environ Toxicol Chem 35:1021–1027

EPA US (2013) Exposure assessment tools and models. EPI Suite v4.1. 2013: https://www.epa.gov/tsca-screening-tools/epi-suitetm-estimation-program-interface

European Medicines Agency (EMA) (2006) EMEA/CHMP/SWP/4447/00 http://www.ema.europa.eu/docs/en_GB/document_library/Scientific_guideline/2009/10/WC500003978.pdf

Fent K, Weston AA, Caminada D (2006) Ecotoxicology of human pharmaceuticals. Aquat Toxicol 76:122–159

Fick J, Lindberg RH, Tysklind M, Larsson DGJ (2010) Predicted critical environmental concentrations for 500 pharmaceuticals. Regul Toxicol Pharmacol 58:516–523

Franquet-Griell H, Gómez-Canela C, Ventura F, Lacorte S (2015) Predicting concentrations of cytostatic drugs in sewage effluents and surface waters of Catalonia (NE Spain). Environ Res 138:161–172

García-Santiago X, Franco-Uría A, Omil F, Lema JM (2016) Risk assessment of persistent pharmaceuticals in biosolids: dealing with uncertainty. J Hazard Mater 302:72–81

Gaspar R, Barnett J, Seibt B (2015) Crisis as seen by the individual: the norm deviation approach/La crisis vista por el individuo: el Enfoque de la Desviación de la Norma. Psyecology 6:103–135

Gómez-Canela C, Cortés-Francisco N, Oliva X, Pujol C, Ventura F, Lacorte S, Caixach J (2012) Occurrence of cyclophosphamide and epirubicin in wastewaters by direct injection analysis-liquid chromatography-high-resolution mass spectrometry. Environ Sci Pollut Res 19:3210–3218

Gómez-Canela C, Ventura F, Caixach J, Lacorte S (2014) Occurrence of cytostatic compounds in hospital effluents and wastewaters, determined by liquid chromatography coupled to high-resolution mass spectrometry. Anal Bioanal Chem 406:3801–3814

Herrmann M, Olsson O, Fiehn R, Herrel M, Kümmerer K (2015) The significance of different health institutions and their respective contributions of active pharmaceutical ingredients to wastewater. Environ Internat 85:61–76

Kahan DM (2009) Nanotechnology and society: the evolution of risk perceptions. Nat Nanotechnol 4:705–706

Keller VDJ, Williams RJ, Lofthouse C, Johnson AC (2014) Worldwide estimation of river concentrations of any chemical originating from sewage-treatment plants using dilution factors. Environ Toxicol Chem 33:447–452

Kümmerer K, Al-Ahmad A (2010) Estimation of the cancer risk to humans resulting from the presence of cyclophosphamide and ifosfamide in surface water. Environ Sci Pollut Res 17:486–496

Langford KH, Thomas KV (2009) Determination of pharmaceutical compounds in hospital effluents and their contribution to wastewater treatment works. Environ Int 35:766–770

Lichtenstein S, Slovic P (2006): The construction of preference. Cambridge University Press

Naidu R, Espana VAA, Liu Y, Jit J (2016) Emerging contaminants in the environment: risk-based analysis for better management. Chemosphere 154:350–357

Oldenkamp R, Huijbregts MAJ, Hollander A, Versporten A, Goossens H, Ragas AMJ (2013) Spatially explicit prioritization of human antibiotics and antineoplastics in Europe. Environ Int 51:13–26

Oosterhuis M, Sacher F, ter Laak TL (2013) Prediction of concentration levels of metformin and other high consumption pharmaceuticals in wastewater and regional surface water based on sales data. Sci Total Environ 442:380–388

Ortiz de García S, Pinto Pinto G, García Encina P, Irusta Mata R (2013) Consumption and occurrence of pharmaceutical and personal care products in the aquatic environment in Spain. Sci Total Environ 444:451–465

Pidgeon N, Harthorn B, Satterfield T (2011) Nanotechnology risk perceptions and communication: emerging technologies, emerging challenges. Risk Anal 31:1694–1700

Rabiet M, Togola A, Brissaud F, Seidel JL, Budzinski H, Elbaz-Poulichet F (2006) Consequences of treated water recycling as regards pharmaceuticals and drugs in surface and ground waters of a medium-sized mediterranean catchment. Environ Sci Technol 40:5282–5288

Riva F, Zuccato E, Castiglioni S (2015) Prioritization and analysis of pharmaceuticals for human use contaminating the aquatic ecosystem in Italy. J Pharm Biomed Anal 106:71–78

Santos LHMLM, Gros M, Rodriguez-Mozaz S, Delerue-Matos C, Pena A, Barceló D, Montenegro MCBSM (2013) Contribution of hospital effluents to the load of pharmaceuticals in urban wastewaters: identification of ecologically relevant pharmaceuticals. Sci Total Environ 461-462:302–316

Touraud E, Roig B, Sumpter JP, Coetsier C (2011) Drug residues and endocrine disruptors in drinking water: risk for humans? Int J Hyg Environ Health 214:437–441

van Leeuwen CJ, Vermeire TG (2007): Risk assessment of chemicals: an introduction. Springer Science & Business Media

van Nuijs ALN, Covaci A, Beyers H, Bervoets L, Blust R, Verpooten G, Neels H, Jorens PG (2015) Do concentrations of pharmaceuticals in sewage reflect prescription figures? Environ Sci Pollut Res 22:9110–9118

Verlicchi P, Galletti A, Petrovic M, Barceló D (2010) Hospital effluents as a source of emerging pollutants: an overview of micropollutants and sustainable treatment options. J Hydrol 389:416–428

Verlicchi P, Al Aukidy M, Zambello E (2012) Occurrence of pharmaceutical compounds in urban wastewater: removal, mass load and environmental risk after a secondary treatment—a review. Sci Total Environ 429:123–155

WHO (2017) ATC/DDD Index 2017. https://www.whocc.no/atc_ddd_index/

Zhang J, Chang VWC, Giannis A, Wang JY (2013) Removal of cytostatic drugs from aquatic environment: a review. Sci Total Environ 445-446:281–298
Acknowledgements
This study has been financed by the SUDOE program with the project Innovec'EAU (2016-2019)/Project SOE1/P1/F0173 Interreg Sudoe funded by FEDER (http://innovec-eau.univ-perp.fr). We would like to acknowledge the associated partners of the project: Syndicat National des Établissements et Résidences Privés pour Personnes Âgées (SYNERPA), Jordi Cayetano and Marc Antoni Rovira from Sant Joan de Deu (SJD), Cinta Pascual and Arnald Pannocchia from Llars d'Avis de Catalunya (L'Onada), and Marisa Cristino, Filomena Gerardo, and Sónia Pereira da Silva from Santa Casa da Misericórdia de Lisboa (SCML). We would also like to thank the personnel from the elderly who are acknowledged for their assistance and guidance and for providing consumption data of pharmaceuticals. Silvia Sachetti, Emanuella Scudellaro, and Martina Lula, Erasmus students from the University Federico II in Naples, are gratefully thanked for compiling data and advice on the toxicity of pharmaceuticals.
Additional information
Responsible editor: Ester Heath
About this article
Cite this article
Lacorte, S., Luis, S., Gómez-Canela, C. et al. Pharmaceuticals released from senior residences: occurrence and risk evaluation. Environ Sci Pollut Res 25, 6095–6106 (2018). https://doi.org/10.1007/s11356-017-9755-1
Received:

Accepted:

Published:

Issue Date:
Keywords
Health care institutions

Pharmaceuticals

Predicted environmental concentrations

Risk management