Abstract
The complex bio-geochemistry of soil allows pollutant to persist for a longer period of time which further decreased the fertility and natural composition of land. Nickel, an inorganic pollutant, coming from a wide range of industrial and manufacturing units possesses serious threat to soil degradation and crop productivity around the world. The present study was carried to evaluate the combined role of microwave irradiation (MR) and citric acid (CA) on the phytoextraction potential of Brassica napus L. under Ni stress. An initial seed germination test was conducted to select effective time scale of MR exposure. Highest seed germination was observed at exposure of 2.45 GHz frequency for 30 s. Healthy seeds of B. napus L. genotype Faisal Canola (RBN-03060) treated with MR at 2.45 GHz for 30 s were sown in plastic pots filled with 5 kg of soil. Nickel and CA applied exogenously in solution form with different combinations to both MR-treated and untreated B. napus plants. The MR-treated plants showed higher growth, biomass, photosynthetic pigments (Chl a, b, total, and carotenoids) and activities of antioxidant enzymes (SOD, POD, APX, CAT) as compared to untreated plants who showed higher reactive oxygen species (MDA, H2O2) and electrolyte leakage. Increasing Ni concentration significantly decreased the physiological and biochemical attributes of B. napus both in MR-treated and untreated plants. The addition of CA alleviated Ni-induced toxic effects in both MR-treated and untreated plants by improving antioxidant defense system. The degree of Ni stress mitigation was higher in MR-treated plants. The Ni concentration was higher in root, stem, and leaves of MR-treated plants under CA application as compared to untreated plants. The present study concluded that seeds treated with MR before sowing showed higher accumulation and concentration of Ni from soil, and this phenomenon boosted with the application of CA.
Access options
Buy single article
Instant access to the full article PDF.
US$ 39.95
Tax calculation will be finalised during checkout.
Subscribe to journal
Immediate online access to all issues from 2019. Subscription will auto renew annually.
US$ 79
Tax calculation will be finalised during checkout.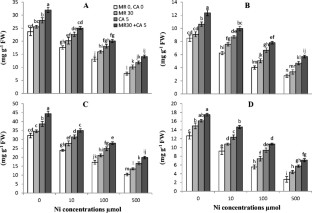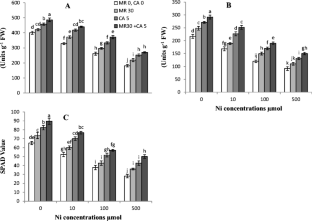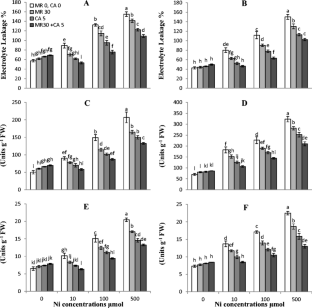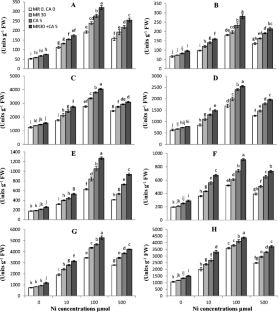 References
Abbey L, Udenigwe C, Mohan A, Anom E (2017) Microwave irradiation effects on vermicasts potency, and plant growth and antioxidant activity in seedlings of Chinese cabbage (Brassica rapa subsp. pekinensis). J Radiat res Appl Sci. doi: 10.1016/j.jrras.2017.01.002 (in press)

Adrees M, Ali S, Rizwan M, Zia-ur-Rehman M, Ibrahim M, Abbas F, Farid M, Qayyum MF, Irshad MK (2015) Mechanisms of silicon-mediated alleviation of heavy metal toxicity in plants: a review. Ecotoxicol Environ Safe 119:186–197

Adrees M, Saleem F, Jabeen F, Rizwan M, Ali S, Khalid S, Ibrahim M, Iqbal N, Abbas F (2016) Effects of ambient gaseous pollutants on photosynthesis, growth, yield and grain quality of selected crops grown at different sites varying in pollution levels. Arch Agron Soil Sci 62:1195–1207

Aebi H (1984) Catalase in vitro. Method Enzymol 105:121–126

Afshan S, Ali S, Bharwana SA, Rizwan M, Farid M, Abbas F, Ibrahim M, Mehmood MA, Abbasi GH (2015) Citric acid enhances the phytoextraction of chromium, plant growth, and photosynthesis by alleviating the oxidative damages in Brassica napus L. Environ Sci Pollut Res 22:11679–11689

Ahmad MS, Ashraf M (2012) Essential roles and hazardous effects of nickel in plants. Rev Environ Contam Toxicol, Springer New York 125–167

Ali MA, Ashraf M, Athar HR (2009) Influence of nickel stress on growth and some important physiological/biochemical attributes in some diverse canola (Brassica napus L.) cultivars. J Hazard Mater 172:964–969

Ali B, Xu X, Gill RA, Yang S, Ali S, Tahir M, Zhou W (2014) Promotive role of 5-aminolevulinic acid on mineral nutrients and antioxidative defense system under lead toxicity in Brassica napus. Ind Crop Prod 52:617–626

Ali S, Chaudhary A, Rizwan M, Anwar HT, Adrees M, Farid M, Irshad MK, Hayat T, Anjum SA (2015a) Alleviation of chromium toxicity by glycinebetaine is related to elevated antioxidant enzymes and suppressed chromium uptake and oxidative stress in wheat (Triticum aestivum L.) Environ Sci Pollut Res 22:10669–10678

Ali S, Bharwana SA, Rizwan M, Farid M, Kanwal S, Ali Q, Ibrahim M, Gill RA, Khan MD (2015b) Fulvic acid mediates chromium (Cr) tolerance in wheat (Triticum aestivum L.) through lowering of Cr uptake and improved antioxidant defense system. Environ Sci Pollut Res 22:10601–10609

Ali B, Gill RA, Yang S, Gill MB, Farooq MA, Liu D, Daud MK, Ali S, Zhou W (2015c) Regulation of cadmium-induced proteomic and metabolic changes by 5-aminolevulinic acid in leaves of Brassica napus L. PLoS One 10(4):e0123328

Alloway BJ (1995) Heavy metal in soils in: Alloway BJ (ed). Blackie Academic and Professional, London

Ansari MK, Ahmad A, Umar S, Zia MH, Iqbal M, Owens G (2015) Genotypic variation in phytoremediation potential of Indian mustard exposed to nickel stress: a hydroponic study. Int J Phytorem 17:135–144

Arshad M, Ali S, Noman A, Ali Q, Rizwan M, Farid M, Irshad MK (2016) Phosphorus amendment decreased cadmium (Cd) uptake and ameliorates chlorophyll contents, gas exchange attributes, antioxidants, and mineral nutrients in wheat (Triticum aestivum L.) under Cd stress. Arch Agron Soil Sci 62:533–546

Bakhshabadi H, Mirzaei H, Ghodsvali A, Jafari SM, Ziaiifar AM, Farzaneh V (2017) The effect of microwave pretreatment on some physico-chemical properties and bioactivity of black cumin seeds' oil. Ind Crop Prod 97:1–9

Balint CV, Surducan V, Surducan E, Oroian IG (2016) Plant irradiation device in microwave field with controlled environment. Comput Electron Agric 121:48–56

Bareen FE (2012) Chelate assisted phytoextraction using oil seed brassicas. Environ Pollut 21:289–311

Bo LI, Liu JF, Yang JX, Chen SB (2015) Comparison of phytotoxicity of copper and nickel in soils with different Chinese plant species. J Integer Agric 14:1192–1201

Bradford MM (1976) A rapid and sensitive method for the quantitation of microgram quantities of protein utilizing the principle of protein-dye binding. Anal Biochem 72:248–254

da Silva AC, Sarturi HJ, Dall'Oglio EL, Soares MA, de Sousa PT, de Vasconcelos LG, Kuhnen CA (2016) Microwave drying and disinfestation of Brazil nut seeds. Food Control 70:119–129

Deng TH, Tang YT, van der Ent A, Sterckeman T, Echevarria G, Morel JL, Qiu RL (2016) Nickel translocation via the phloem in the hyperaccumulator Noccaea caerulescens (Brassicaceae). Plant Soil 404:35–45

Dhindsa RS, Plumb-Dhindsa P, Thorpe TA (1981) Leaf senescence: correlated with increased level of membrane permeability and lipid peroxidation, and decreased levels of superoxide dismutase and catalase. J Exp Bot 32:93–101

Dionisio-Sese ML, Tobita S (1998) Antioxidant responses of rice seedlings to salinity stress. Plant Sci 135:1–9

Ehsan S, Ali S, Noureen S, Mahmood K, Farid M, Ishaque W, Shakoor MB, Rizwan M (2014) Citric acid assisted phytoremediation of cadmium by Brassica napus L. Ecotoxicol Environ Safe 106:164–172

Farid M, Ali S, Ishaque W, Shakoor MB, Niazi NK, Bibi I, Dawood M, Gill RA, Abbas F (2015) Exogenous application of ethylenediamminetetraacetic acid enhanced phytoremediation of cadmium by Brassica napus L. Int J Environ Sci Technol 12:3981–3992

Farid M, Ali S, Rizwan M (2016) Citric acid assisted phytoremediation of copper by Brassica napus L. Arsenic Research and Global Sustainability. Proceedings of the Sixth International Congress on Arsenic in the Environment (As2016), June 19–23, 2016, Stockholm, Sweden. doi:10.1201/b20466-277

Farid M, Ali S, Akram NA, Rizwan M, Abbas F, Bukhari SAH, Saeed R (2017) Phyto-management of Cr-contaminated soils by sunflower hybrids: physiological and biochemical response and metal extractability under Cr stress. Environ Sci Pollut Res. doi:10.1007/s11356-017-9247-3

Ghasemi R, Chavoshi ZZ, Boyd RS, Rajakaruna N (2014) A preliminary study of the role of nickel in enhancing flowering of the nickel hyperaccumulating plant Alyssum inflatum Nyár (Brassicaceae). South Afr J Bot 92:47–52

Gill SS, Tuteja N (2010) Reactive oxygen species and antioxidant machinery in abiotic stress tolerance in crop plants. Plant Physiol Biochem 48:909–930

Gill RA, Hu XQ, Ali B, Yang C, Shou JY, Wu YY, Zhou WJ (2014) Genotypic variation of the responses to chromium toxicity in four oilseed rape cultivars. Biol Plant 58:539–550

Gill RA, Ali B, Islam F, Farooq MA, Gill MB, Mwamba TM, Zhou W (2015) Physiological and molecular analyses of black and yellow seeded Brassica napus regulated by 5-aminolivulinic acid under chromium stress. Plant Physiol Biochem 94:130–143

Gill RA, Zhang N, Ali B, Farooq MA, Xu J, Gill MB, Mao B, Zhou W (2016) Role of exogenous salicylic acid in regulating physio-morphic and molecular changes under chromium toxicity in black-and yellow-seeded Brassica napus L. Environ Sci Pollut Res 23:20483–20496

Guo XY, Zuo YB, Wang BR, Li JM, Ma YB (2010) Toxicity and accumulation of copper and nickel in maize plants cropped on calcareous and acidic field soils. Plant Soil 333:365–373

Gupta A, Singh R, Singh JB, Lehana P (2013a) Investigation of the effect of microwaves on mustard seeds fertility. Int J Adv Res Electric Electron Instrument Eng 2:1956–1962

Gupta A, Singh R, Lehana P (2013b) Effect of microwaves treated soil on growth of mustard plants. Int J Eng Adv Technol 2:808–812

Habiba U, Ali S, Farid M, Shakoor MB, Rizwan M, Ibrahim M, Abbasi GH, Hayat T, Ali B (2015) EDTA enhanced plant growth, antioxidant defense system, and phytoextraction of copper by Brassica napus L. Environ Sci Pollut Res 22:1534–1544

Heath RL, Packer L (1968) Photoperoxidation in isolated chloroplasts: I. Kinetics and stoichiometry of fatty acid peroxidation. Arch Biochem Biophys 125:189–198

Jabeen N, Abbas Z, Iqbal M, Rizwan M, Jabbar A, Farid M, Ali S, Ibrahim M, Abbas F (2016) Glycinebetaine mediates chromium tolerance in mung bean through lowering of Cr uptake and improved antioxidant system. Arch Agron Soil Sci 62:648–662

Kacálková L, Tlustoš P, Száková J (2014) Chromium, nickel, cadmium, and lead accumulation in maize, sunflower, willow, and poplar. Pol J Environ Stud 23:753–761

Kamran MA, Eqani SA, Bibi S, Xu RK, Monis MF, Katsoyiannis A, Bokhari H, Chaudhary HJ (2016) Bioaccumulation of nickel by E. sativa and role of plant growth promoting rhizobacteria (PGPRs) under nickel stress. Ecotoxicol Environ Saf 126:256–263

Kanwal U, Ali S, Shakoor MB, Farid M, Hussain S, Yasmeen T, Adrees M, Bharwana SA, Abbas F (2014) EDTA ameliorates phytoextraction of lead and plant growth by reducing morphological and biochemical injuries in Brassica napus L. under lead stress. Environ Sci Pollut Res 21:9899–9910

Kazemi N, Khavari-Nejad RA, Fahimi H, Saadatmand S, Nejad-Sattari T (2010) Effects of exogenous salicylic acid and nitric oxide on lipid peroxidation and antioxidant enzyme activities in leaves of Brassica napus L. under nickel stress. Sci Hortic 126:402–407

Khalafallah AA, Sallam SM (2009) Response of maize seedlings to microwaves at 945 MHz. Rom J Biophys 19:49–62

Khaliq A, Ali S, Hameed A, Farooq MA, Farid M, Shakoor MB, Mahmood K, Ishaque W, Rizwan M (2016) Silicon alleviates nickel toxicity in cotton seedlings through enhancing growth, photosynthesis, and suppressing Ni uptake and oxidative stress. Arch Agron Soil Sci 62:633–647

Khan MU, Shahbaz N, Waheed S, Mahmood A, Shinwari ZK, Malik RN (2016) Comparative health risk surveillance of heavy metals via dietary foodstuff consumption in different land-use types of Pakistan. Hum Ecol Risk Assess 22:168–186

Kotapati KV, Palaka BK, Ampasala DR (2016) Alleviation of nickel toxicity in finger millet (Eleusine coracana L.) germinating seedlings by exogenous application of salicylic acid and nitric oxide. Crop J. doi:10.1016/j.cj.2016.09.002 (in press)

Kozlow MV (2005) Pollution resistance of mountain birch, Betulapubescenssubsp. Szerepanovii, near the copper-nickel smelter: natural selection or phenotypic acclimation. Chemosphere 59:189–197

Lichtenthaler HK (1987) Chlorophyll and carotenoids: pigments of photosynthetic biomembranes. Method Enzymol 148:331–382

Lin JC (2004) Evaluating scientific literature on biological effects of microwave radiation. IEEE Microw Mag 5:34–37

Mahmood T, Ejaz-ul-Hasan MA, Hussain M (2012) Faisal canola: a new high yielding canola variety for general cultivation in Punjab. J Agric Res 50:321–328

Marwa EM, Meharg AA, Rice CM (2012) Risk assessment of potentially toxic elements in agricultural soils and maize tissues from selected districts in Tanzania. Sci Total Environ 416:180–186

Matraszek R, Hawrylak-Nowak B, Chwil S, Chwil M (2016) Macronutrient composition of nickel-treated wheat under different sulfur concentrations in the nutrient solution. Environ Sci Pollut Res 23:5902–5914

Meng H, Hua S, Shamsi IH, Jilani G, Li Y, Jiang L (2009) Cd-induced stress on the seed germination and seedling growth of Brassica napus L. and its alleviation through exogenous plant growth regulators. Plant Growth Regul 58:47–59

Metzner H, Rau H, Senger H (1965) Untersuchungen zur Synchronisierbakeit einzelner Pigmentmangel-Mutation von Chlorella. Planta 65:186–194 (in German)

Mosa A, El-Banna MF, Gao B (2016) Biochar filters reduced the toxic effects of nickel on tomato (Lycopersicon esculentum L.) grown in nutrient film technique hydroponic system. Chemosphere 149:54–262

Najeeb U, Jilani G, Ali S, Sarwar M, Xu L, Zhou W (2011) Insight into cadmium induced physiological and ultra-structural disorders in Juncus effusus L. and its remediation through exogenous citric acid. J Hazard Mater 186:565–574

Najeeb U, Atwell BJ, Bange MP, Tan DK (2015) Aminoethoxyvinylglycine (AVG) ameliorates waterlogging-induced damage in cotton by inhibiting ethylene synthesis and sustaining photosynthetic capacity. Plant Growth Regul 76:83–98

Nakano Y, Asada K (1981) Hydrogen peroxide scavenged by ascorbate specific peroxidase in spinach chloroplasts. Plant Cell Physiol 22:867–880

Nazir H, Asghar HN, Zahir ZA, Akhtar MJ, Saleem M (2016) Judicious use of kinetin to improve growth and yield of rice in nickel contaminated soil. Int J Phytoremediation 18:651–655

Pessel FD, Lecomte J, Emeriau V, Krouti M, Messean A, Gouyon PH (2001) Persistence of oilseed rape (Brassica napus L.) outside of cultivated fields. Theor Appl Genet 102:841–846

Pietak AM (2012) Structural evidence for electromagnetic resonance in plant morphogenesis. Biosystems 109:367–380

Putwattana N, Kruatrachue M, Kumsopa A, Pokethitiyook P (2015) Evaluation of organic and inorganic amendments on maize growth and uptake of Cd and Zn from contaminated paddy soils. Int J Phytoremediation 17:165–174

Radzevičius A, Sakalauskiene S, Dagys M, Simniškis R, Karkleliene R, Bobinas Č, Duchovskis P (2013) The effect of strong microwave electric field radiation on:(1) vegetable seed germination and seedling growth rate. ZEMDIRBYSTE 100:179–184

Ragha L, Mishra S, Ramachandran V, Bhatia MS (2011) Effects of low-power microwave fields on seed germination and growth rate. J Electromagn Anal Appl 3:165–171

Ramezani VF, Majd A, Nejadsattari T, Arbabian S (2012) Effects of electromagnetic field radiation on inducing physiological and biochemical changes in Satureja Bachtiarica L. Int J Sci Technol Res 1:77–82

Rehman MZU, Rizwan M, Ali S, Fatima N, Yousaf B, Naeem A, Sabir M, Ahmad HR, Ok YS (2016) Contrasting effects of biochar, compost and farm manure on alleviation of nickel toxicity in maize (Zea mays L.) in relation to plant growth, photosynthesis and metal uptake. Ecotoxicol Environ Saf 133:218–225

Rękas A, Ścibisz I, Siger A, Wroniak M (2017) The effect of microwave pretreatment of seeds on the stability and degradation kinetics of phenolic compounds in rapeseed oil during long-term storage. Food Chem 222:43–52

Rizwan M, Ali S, Rizvi H, Rinklebe J, Tsang DC, Meers E, Ok YS, Ishaque W (2016) Phytomanagement of heavy metals in contaminated soils using sunflower: a review. Crit Rev Environ Sci Technol 46:1498–1528

Rizwan M, Ali S, Abbas F, Adrees M, Zia-ur-Rehman M, Farid M, Gill RA, Ali B (2017a) Role of organic and inorganic amendments in alleviating heavy metal stress in oil seed crops. Oil seed crops: yield and adaptations under environmental stress, first edition. Edited by Parvaiz Ahmad. Wiley, Ltd. published 2017 by Wiley, Ltd.12:224-235

Rizwan M, Ali S, Qayyum MF, Ok YS, Adrees M, Ibrahim M, Zia-ur-Rehman M, Farid M, Abbas F (2017b) Effect of metal and metal oxide nanoparticles on growth and physiology of globally important food crops: a critical review. J Hazard Mater 322:2–16

Sallah-Ud-Din R, Farid M, Saeed R, Ali S, Rizwan M, Tauqeer HM, Bukhari SAH (2017) Citric acid enhanced the antioxidant defense system and chromium uptake by Lemna minor L. grown in hydroponics under Cr stress. Environ Sci Pollut Res doi:10.1007/s11356-017-9290-0

Shakoor MB, Ali S, Hameed A, Farid M, Hussain S, Yasmeen T, Najeeb U, Bharwana SA, Abbasi GH (2014) Citric acid improves lead (Pb) phytoextraction in Brassica napus L. by mitigating Pb-induced morphological and biochemical damages. Ecotoxicol Environ Saf 109:38–47

Sinhal VK, Srivastava A, Singh VP (2010) EDTA and citric acid mediated phytoextraction of Zn, Cu, Pb and Cd through marigold (Tageteserecta). J Environ Biol 31:255–259

Sirhindi G, Mir MA, Sharma P, Gill SS, Kaur H, Mushtaq R (2015) Modulatory role of jasmonic acid on photosynthetic pigments, antioxidants and stress markers of Glycine max L. under nickel stress. Physiol Mol Biol Plants 21:559–565

Stefi AL, Margaritis LH, Christodoulakis NS (2017) The effect of the non ionizing radiation on exposed, laboratory cultivated upland cotton (Gossypium hirsutum L.) plants. Flora-Morphol Distribut Funct Ecol Plants 226:55–64

Sun Y, Sun G, Xu Y, Liu W, Liang X, Wang L (2016) Evaluation of the effectiveness of sepiolite, bentonite, and phosphate amendments on the stabilization remediation of cadmium-contaminated soils. J Environ Manag 166:204–210

Tanvir MA, Gul S, Nawaz MF, Rizwan M, Haq Z (2014) Magnetic field application as pre-sowing seed treatment enhances the seed germination potential of Shisham (Dalbergia sissoo). World Appl Sci J 32:792–796

Ungureanu E, Maniu CL, Cretescu I (2009) Consideration on the peroxidase activity during Hippophae rhamnoides seeds germination exposed to radiofrequency electromagnetic field influence. Analele Stiintifice ale Universitatii "Al. I. Cuza" Din Iasi.(Serie Noua). Sectiunea 2. a. Genetica si Biol Molecul 10(2)

Vashisth A, Singh R, Joshi DK (2013) Effect of static magnetic field on germination and seedling attributes in tomato (Solanum lycopersicum). J Argic Physic 13:182–185

Vian A, Davies E, Gendraud M, Bonnet P (2016) Plant responses to high frequency electromagnetic fields. Biomed Res Int 2016:1830262. doi:10.1155/2016/1830262

Wang W, Li M, Zeng Q (2015) Adsorption of chromium (VI) by strong alkaline anion exchange fiber in a fixed-bed column: experiments and models fitting and evaluating. Sep Purif Technol 149:16–23

Yusuf M, Fariduddin Q, Hayat S, Ahmad A (2011) Nickel: an overview of uptake, essentiality and toxicity in plants. Bull Environ Contam Toxicol 86:1–17

Zafar A, Eqani SA, Bostan N, Cincinelli A, Tahir F, Shah ST, Hussain A, Alamdar A, Huang Q, Peng S, Shen H (2015) Toxic metals signature in the human seminal plasma of Pakistani population and their potential role in male infertility. Environ Geochem Health 37:515–527

Zaheer IE, Ali S, Rizwan M, Farid M, Shakoor MB, Gill RA, Najeeb U, Iqbal N, Ahmad R (2015) Citric acid assisted phytoremediation of copper by Brassica napus L. Ecotoxicol Environ Saf 120:310–317

Zhang J, Kirkham MB (1994) Drought stress-induced changes in activities of superoxide dismutase, catalase, and peroxidase in wheat species. Plant Cell Physiol 35:785–791
Acknowledgments
The authors are highly thankful to the Government College University, Faisalabad, Pakistan; University of Gujrat, Gujrat, Pakistan; and Higher Education Commission of Pakistan for financial and technical support in this study.
Additional information
Responsible editor: Elena Maestri
About this article
Cite this article
Farid, M., Ali, S., Rizwan, M. et al. Microwave irradiation and citric acid assisted seed germination and phytoextraction of nickel (Ni) by Brassica napus L.: morpho-physiological and biochemical alterations under Ni stress. Environ Sci Pollut Res 24, 21050–21064 (2017). https://doi.org/10.1007/s11356-017-9751-5
Received:

Accepted:

Published:

Issue Date:
Keywords
Accumulation

Brassica napus

Citric acid

Microwave radiation

Nickel

Phytoextraction

Electrolyte leakage