Abstract
Surface ozone is mainly produced by photochemical reactions involving various anthropogenic pollutants, whose emissions are increasing rapidly in India due to fast-growing anthropogenic activities. This study estimates the losses of wheat and rice crop yields using surface ozone observations from a group of 17 sites, for the first time, covering different parts of India. We used the mean ozone for 7 h during the day (M7) and accumulated ozone over a threshold of 40 ppbv (AOT40) metrics for the calculation of crop losses for the northern, eastern, western and southern regions of India. Our estimates show the highest annual loss of wheat (about 9 million ton) in the northern India, one of the most polluted regions in India, and that of rice (about 2.6 million ton) in the eastern region. The total all India annual loss of 4.0–14.2 million ton (4.2–15.0%) for wheat and 0.3–6.7 million ton (0.3–6.3%) for rice are estimated. The results show lower crop loss for rice than that of wheat mainly due to lower surface ozone levels during the cropping season after the Indian summer monsoon. These estimates based on a network of observation sites show lower losses than earlier estimates based on limited observations and much lower losses compared to global model estimates. However, these losses are slightly higher compared to a regional model estimate. Further, the results show large differences in the loss rates of both the two crops using the M7 and AOT40 metrics. This study also confirms that AOT40 cannot be fit with a linear relation over the Indian region and suggests for the need of new metrics that are based on factors suitable for this region.
Access options
Buy single article
Instant access to the full article PDF.
US$ 39.95
Tax calculation will be finalised during checkout.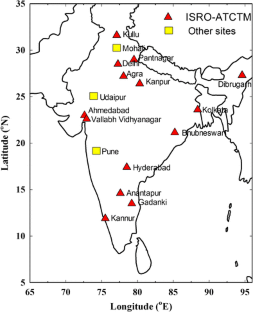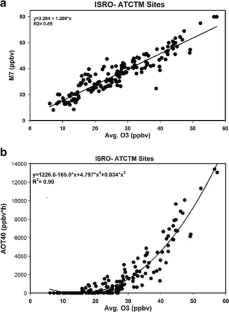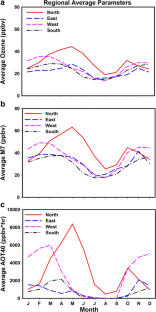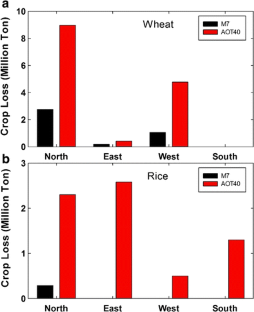 References
Adams RM, Glyer JD, Johnson SL, McCarl BA (1989) Assessment of the economic effects of ozone on United States agriculture. JAPCA J Air Waste Ma 39:960–968

Avnery S, Mauzerall DL, Liu J, Horowitz LW (2011) Global crop yield reductions due to surface ozone exposure 1: year 2000 crop production losses and economic damage. Atmos Environ 45:2284–2296

Beig G, Ghude SD, Polade SD, Tyagi B (2008) Threshold exceedances and cumulative ozone exposure indices at tropical suburban site. Geophys Res Lett 35:L02802. doi:10.1029/2007GL031434

Bhuyan PK, Bharali C, Pathak B, Kalita G (2014) The role of precursor gases and meteorology on temporal evolution of O3 at a tropical location in northeast India. Environ Sci Pollut Res 21:6696–6713. doi:10.1007/s11356-014-2587-3

Burney J, Ramanathan V (2014) Recent climate and air pollution impacts on Indian agriculture. PNAS 111:16319–16324

Chameides WL et al (1999) Is ozone pollution affecting crop yields in China. Geophys Res Lett 26:867–870

Chand D, Modh KS, Naja M, Venkataramani S, Lal S (2001) Latitudinal trend in O3, CO, CH4, SF6, over the Indian Ocean during the Indoex IFP-1999 ship cruise. Curr Sci 80:100–104

Chand D, Lal S (2003) High ozone at rural sites in India. Atmos Chem Phys Discuss 4:3359–3380

Crutzen P (1995) Ozone in the troposphere, in Composition, chemistry, and climate of the atmosphere, Editor H. International Thomson Publishing Inc, B. Singh

Debaje PK (2014) Estimated crop yield losses due to surface ozone exposure and economic damages in India. Environ Sci Pollut Res 21:7329–7338

Dingenen RV, Dentener FJ, Raes F, Krol MC, Emberson L, Cofala J (2009) The global impact of ozone on agricultural crop yields under current and future air quality legislation. Atmos Environ 43:604–618

Emberson LD, Buker P, Ashmore M, Mills G, Jackson L, Agrawal M, Atikuzzaman M, Cinderby S, Engardt M, Jamir C, Kobayashi K, Oanh N, Quadir Q, Wahid A (2009) A comparison of North-American and Asian exposure-response data for ozone effects on crop yields. Atmos Environ 43:1945–1953

Gaur A, Tripathi SN, Kanawade VP, Tare V, Shukla SP (2014) Four-year measurements of trace gases (SO2, NOx, CO, and O3) at an urban location, Kanpur, in Northern India. J Atmos Chem 71:283–301

Ghosh D, Lal S, Sarkar U (2013) High nocturnal ozone levels at a surface site in Kolkata, India: Trade-off between meteorology and specific nocturnal chemistry. Urban Climate 5:82–103

Ghude SD, Jena C, Chate DM, Beig G, Pfister GG, Kumar R, Ramanathan V (2014) Reduction in Indian crop yield due to ozone. Geophys Res Lett 41:51971. doi:10.1002/2014GL060930

Hollaway MJ, Arnold SR, Challinor AJ, Emberson LD (2012) Intercontinental trans-boundary contributions to ozone-induced crop yield losses in the Northern Hemisphere. Biogeosciences 9:271–292. doi:10.5194/bg-9-271-2012

Klingberg J, Engardt M, Karlsson PE, Langner J, Pleijel H (2014) Declining ozone exposure of European vegetation under climate change and reduced precursor emissions. Biogeosciences 11:5269–5283

Krupa SV, Nosal M, Legge AH (1994) Ambient ozone and crop loss: establishing a cause–effect relationship. Environ Pollut 83:269–276

Kumar R, Naja M, Pfister GG, Barth MC, Brasseur GP (2013) Source attribution of carbon monoxide in India and surrounding region during wintertime. J Geophys Res 118. doi:10.1002/jgrd.50134

Lal S, Venkataramani S, Chandra N, Cooper OR, Brioude J, Naja M (2014) Transport effects on the vertical distribution of tropospheric ozone over western India. J Geophys Res Atmos 119:10,012–10,026. doi:10.1002/2014JD021854

Lal S, Venkataramani S, Srivastava S, Gupta S, Mallik C, Naja M, Sarangi T, Acharya YB, Liu X (2013) Transport effects on the vertical distribution of tropospheric ozone over the tropical marine regions surrounding India. J Geophys Res 118:1513–1524. doi:10.1002/jgrd.50180

Lesser VM, Rawlings JO, Spruill SE, Somerville MC (1990) Ozone effects on agricultural crops: statistical methodologies and estimated dose–response relationships. Crop Sci 30:148–155

Mahapatra PS, Panda S, Walvekar PP, Kumar R, Das T, Gurjar BR (2014) Seasonal trends, meteorological impacts, and associated health risks with atmospheric concentrations of gaseous pollutants at an Indian coastal city. Environ Sci Pollut Res 21:11418–11432. doi:10.1007/s11356-014-3078-2

Mallik C, Lal S, Venkataramani S (2015) Trace gases at a semi-arid urban site in western India: variability and inter-correlations. J Atm Chem 72:143–164

Mallik C, Lal S (2013) Seasonal characteristics of SO2, NO2 and CO emissions in and around the Indo-Gangetic Plain. Environ Monit Assess 186(2):1295–1310

Mills G, Buse A, Gimeno B, Bermejo V, Holland M, Emberson L, Pleijel H (2007) A synthesis of AOT40-based response functions and critical levels for ozone for agricultural and horticultural crops. Atmos Environ 41:2630–2643

Naja M, Lal S (1996) Changes in surface ozone amount and its diurnal and seasonal patterns from 1954-55 to 1991–93 measured at Ahmedabad (23N), India. Geophys Res Lett 23:81–84

Naja M, Chand D, Sahu L, Lal S (2004) Trace gases over marine regions around India. Indian J Geo-Mar Sci 33

Nishanth T., K. M. Praseed, M. K. S. Kumar, K. T. Valsaraj (2014) Influence of ozone precursors and PM10 on the variation of surface O3 over Kannur, India, Atmos. Res., 138, 112–124, doi.org/10.1016/j.atmosres.2013.10.022

Ohara T, Akimoto H, Kurokawa J, Horii N, Yamaji K, Yan X, Hayasaka T (2007) An Asian emission inventory of anthropogenic emission sources for the period 1980–2020. Atmos Chem Phys 7:4419–4444

Ojha N, Naja M, Singh KP, Sarangi T, Kumar R, Lal S, Lawrence MG, Butler TM, Chandola HC (2012) Variabilities in ozone at a semi-urban site in the Indo-Gangetic Plain region: association with the meteorology and regional processes. J Geophys Res 117:D20301. doi:10.1029/2012JD017716

Pierre S, Alessandro A, Alessandra DM, Elena P (2017) Projected global tropospheric ozone impacts on vegetation under different emission and climate scenarios. ACPD. doi:10.5194/acp-2017-74

Rai R, Agrawal M, Agrawal SB (2007) Assessment of yield losses in tropical wheat using open top chambers, agriculture. Atmos Environ 41:9543–9554

Reddy BSK, Kumar KR, Balakrishnaiah G, Rama Gopal K, Reddy RR, Sivakumar V, Lingaswamy AP, Arafath SM, Umadevi K, Kumari SP, Ahammed YN, Lal S (2012) Analysis of diurnal and seasonal behavior of surface ozone and its precursors (NO x) at a semi-arid rural site in southern India. Aerosol Air Qual Res 12:1081–1094

Renuka K, Gadhavi H, Jayaraman A, Lal S, Naja M, Rao SVB (2014) Study of ozone and NO2 over Gadanki–a rural site in South India. J Atmos Chem 71:95–112. doi:10.1007/s10874-014-9284-y

Seinfeld J. H. and S. N. Pandis (2006) Atmospheric chemistry and physics: from air pollution to climate change, Wiley Publisher

Sharma P, Kuniyal JC, Chand K, Guleria RP, Dhyani PP, Chauhan C (2013) Surface ozone concentration and its behaviour with aerosols in the northwestern Himalaya, India. Atmos Environ 71:44–53

Sharma SK, Datta A, Saud T, Mandal TK, Ahammed YN, Arya BC, Tiwari MK (2010) Study on concentration of ambient NH3 and interactions with some other ambient trace gases. Environ Monit Assess 162:225–235

Singla V, Satsangi A, Pachauri T, Lakhani A, Kumari KM (2011) Ozone formation and destruction at a sub-urban site in North Central region of India. Atmos Res 101:373–385

Sinha B, Sangwan KS, Maurya Y, Kumar V, Sarkar C, Chandra BP, Sinha V (2015) Assessment of crop yield losses in Punjab and Haryana using 2 years of continuous in situ ozone measurements. Atmos Chem Phys 15:9555–9576

Stevenson DS et al (2013) Tropospheric ozone changes, radiative forcing and attribution to emissions in the Atmospheric Chemistry and Climate Model Intercomparison Project (ACCMIP). Atmos Chem Phys 13:3063–3085. doi:10.5194/acp-13-3063-2013

Streets DG et al (2013) Emissions estimation from satellite retrievals: a review of current capability. Atmos Environ 77:1011–1042

Tong DQ, Mathur R, Kang DW, Yu SC, Schere KL, Pouliot G (2009) Vegetation exposure to ozone over the continental United States: assessment of exposure indices by the Eta-CMAQ air quality forecast model. Atmos Environ 43:724–733

Venkanna R, Nikhil GN, Siva Rao T, Sinha PR, Swamy YV (2015) Environmental monitoring of surface ozone and other trace gases over different time scales: chemistry, transport and modelling. Int J Environ Sci Technol 12(5):1749–1758

Wang X, Mauzerall DL (2004) Characterizing distributions of surface ozone and its impact on grain production in China, Japan and South Korea: 1990 and 2020. Atmos Environ 38:4383–4402

Wild O, Fiore AM, Shindell DT, Doherty RM, Collins WJ, Dentener FJ, Schultz MG, Gong S, MacKenzie IA, Zeng G, Hess P, Duncan BN, Bergmann DJ, Szopa S, Jonson JE, Keating TJ, Zuber A (2012) Modelling future changes in surface ozone: a parametrized approach. ACP. doi:10.5194/acp-12-2037-2012

Yadav R, Sahu LK, Jaaffrey SNA, Beig G (2014) Distributions of ozone and related trace gases at an urban site in western India. J Atmos Chem 71:125–144
Acknowledgements
These measurements at ATCTM locations have been supported under the 'Atmospheric Trace Gases-Chemistry, Transport and Modelling (ATCTM)' project of ISRO's Geosphere Biosphere Program (ISRO-GBP), and we are grateful to ISRO-GBP for the financial support. We thank R. R. Navalgund, C. B. S. Dutt, P. P. N. Rao and D. V. A. Raghava Murthy of ISRO-GBP and the Director of PRL for their encouragement and support throughout this project. We also thank all the institutional heads of these ATCTM sites for their support in successfully running this project. S. L. and S. Venkataramani are grateful to T. K. Sunil Kumar of PRL for his continuous support in the measurements at Ahmedabad and Vallabh Vidhyanagar. Fruitful comments and suggestions from C. Mallik (MPIC, Germany) and P. K. Patra (JAMSTEC, Japan) and crop yields information from V. S. Suganthy (TNAU, Ooty) are highly acknowledged. We are thankful to the Department of Agriculture and Cooperation, Government of India for making available crop yield data.
Additional information
Responsible editor: Philippe Garrigues
About this article
Cite this article
Lal, S., Venkataramani, S., Naja, M. et al. Loss of crop yields in India due to surface ozone: an estimation based on a network of observations. Environ Sci Pollut Res 24, 20972–20981 (2017). https://doi.org/10.1007/s11356-017-9729-3
Received:

Accepted:

Published:

Issue Date:
Keywords
Crop yield loss

Wheat and rice

Surface ozone

Crop loss

Loss metrics

India