Abstract
The accelerated growth trajectory of waste electrical and electronic equipment (WEEE) is a matter of concern for governments worldwide. In developing countries, the problem is more complex because municipal waste management is still a challenge for municipalities. Fernando de Noronha Island, an environmentally protected area, has a transfer station for solid waste before it is sent to the final destination abroad, which is different waste management model to most urban areas. In order to check the specifics of management of WEEE, this study aimed to qualitatively and quantitatively evaluate the generation of this type of waste on the main island of Fernando de Noronha, taking into consideration aspects related to consumption habits and handling of waste. During the in situ research, a questionnaire was applied to a sample of 83 households. The results provide a picture of the generation of WEEE for a period of 1 year, when a production of 1.3 tons of WEEE was estimated. Relationships between education level and monthly income and between education level and number of plasma/LCD TVs and washing machines were confirmed. Another important result is that only two socioeconomic variables (monthly income and education level) are related to two recycling behavior variables. In addition, the population and government treat WEEE as ordinary waste, ignoring its contaminant potential. Despite the existence of relevant legislation concerning the treatment and disposal of WEEE, additional efforts will be required by the government in order to properly manage this type of waste on the island.
Access options
Buy single article
Instant access to the full article PDF.
US$ 39.95
Tax calculation will be finalised during checkout.
Subscribe to journal
Immediate online access to all issues from 2019. Subscription will auto renew annually.
US$ 79
Tax calculation will be finalised during checkout.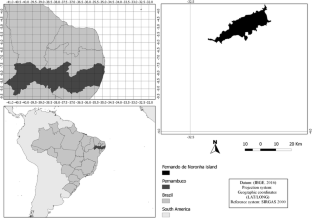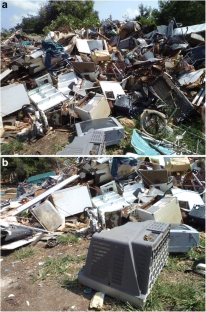 References
Alumur SA, Nickel S, Saldanha-da-Gama F, Verter V (2012) Multi-period reverse logistics network design. Eur J Oper Res 220:67–78. doi:10.1016/j.ejor.2011.12.045

Araújo M, Magrini A, Mahler C, Bilitewski B (2012) A model for estimation of potential generation of waste electrical and electronic equipment in Brazil. Waste Manag 32:335–342. doi:10.1016/j.wasman.2011.09.020

Asante KA, Agusa T, Biney CA, Agyekum WA, Bello M, Otsuka M, Itai T, Takahashi S, Tanabe S (2012) Multi-trace element levels and arsenic speciation in urine of e-waste recycling workers from Agbogbloshie, Accra in Ghana. Sci Total Environ 424:63–73. doi:10.1016/j.scitotenv.2012.02.072

Betts K (2008) Producing usable materials from e-waste. Environ Sci Technol 42:6782–6783. doi:10.1021/es801954d

Brasil (2010) Lei n° 12305—Institui a Política Nacional de Resíduos Sólidos; altera a Lei n° 9605, de 12 de fevereiro de 1998; e dá outras providências [Law nr. 12305/2010. The institution of a National Solid Waste Policy, modifications of Law nr. 9605 of February 12, 1998 and other measures]. (Brasilia, Brazil: The Republic Presidency). (in Portuguese)

Cabral Neto J, Silva MM, Santos SM (2016) A time series model for estimating the generation of lead acid battery scrap. Clean Techn Environ Policy 18:1931. doi:10.1007/s10098-016-1121-3

Carvalho L, Korossy N (2012) Diagnóstico da oferta turística do Arquipélago de Fernando de Noronha. [Tourist diagnosis of Fernando de Noronha] Volume I: Meios de Hospedagem. UFPE/ADMFN. (in Portuguese)

Chancerel P, Meskers CEM, Hageluken C, Rotter VS (2009) Assessment of precious metal flows during preprocessing of waste electrical and electronic equipment. J Ind Ecol 13:791–810. doi:10.1111/j.1530-9290.2009.00171.x

Chen D, Bi X, Zhao J, Chen L, Tan J, Mai B, Sheng G, Fu J, Wong M (2009) Pollution characterization and diurnal variation of PBDEs in the atmosphere of an e-waste dismantling region. Environ Pollut 157:1051–1057. doi:10.1016/j.envpol.2008.06.005

Chung S, Lau K, Zhang C (2011) Generation of and control measures for, e-waste in Hong Kong. Waste Manag 31:544–554. doi:10.1016/j.wasman.2010.10.003

Cobbing M (2008) Not in our backyard. Uncovering the hidden flows of e-waste. Report from Greenpeace International. http://www.greenpeace.org/raw/content/belgium/fr/press/reports/toxic-tech.pdf (accessed 20.10.15)

Darby L, Obara L (2005) Household recycling behaviour and attitudes towards the disposal of small electrical and electronic equipment. Resour Conserv Recycl 44:17–35. doi:10.1016/j.resconrec.2004.09.002

Demajorovic J, Migliano JE (2013) Política nacional de resíduos sólidos e suas implicações na cadeia da logística reversa de microcomputadores no Brasil [National policy on solid waste and its implications in the reverse logistics flow of microcomputers in Brazil]. Gest Reg 29:64–80 (in Portuguese)

EU (2012) Directive 2012/19/EU of the European Parliament and of the Council of 4 July 2012 on waste electrical and electronic equipment (WEEE) http://eur-lex.europa.eu/legal-content/EN/TXT/?uri=celex%3A32012L0019 (accessed 25.05.17)

Gidarakos E, Havas G, Ntzamilis P (2006) Municipal solid waste composition determination supporting the integrated solid waste management system in the island of Crete. Waste Manag 26:668–679. doi:10.1016/j.wasman.2005.07.018

Gouveia M (2014) Diagnóstico sobre o saneamento básico no Arquipélago de Fernando de Noronha/PE: questões sobre o abastecimento de água potável e efluentes líquidos [Diagnosis on basic sanitation in the Archipelago of Fernando de Noronha/PE: questions on the supply of drinking water and sewage]. In: XV Semana de Geografia e X Encontro de Estudantes de Licenciatura em Geografia, 2014, Presidente Prudente/SP. Anais da XV Semana de Geografia e X Encontro de Estudantes de Licenciatura em Geografia, p. 250–256 (in Portuguese)

Gutiérrez E, Adenso-Díaz B, Lozano S, González-Torre P (2011) Lifetime of household appliances: empirical evidence of users' behaviour. Waste Manag Res 29:622–633. doi:10.1177/0734242x10377914

Hagelüken C, Corti CW (2010) Recycling of gold from electronics: cost-effective use through 'Design for Recycling'. Gold Bull 43:209. doi:10.1007/BF03214988

He K, Wang S, Zhang J (2009) Blood lead levels of children and its trend in China. Sci Total Environ 407:3986–3993. doi:10.1016/j.scitotenv.2009.03.018

Hoffmann JE (1992) Recovering precious metals from electronic scrap. J-J Mines Met Mater Soc (JOM) 44:43–48. doi:10.1007/bf03222275

IBGE (2010) Instituto Brasileiro de Geografia Estatística. Índice de Desenvolvimento Humano [Human development Index] http://www.cidades.ibge.gov.br/xtras/temas.php?lang=&codmun=260545&idtema=118&search=pernambuco|fernando-de-noronha|%C3%8Dndice-de-desenvolvimento-humano-municipal-idhm (accessed 13.02.15) (in Portuguese)

IBGE (2014) Instituto Brasileiro de Geografia e Estatística. Cidades. Estimativa de população [Estimated population]. http://www.ibge.gov.br (accessed 20.07.15). (in Portuguese)

Leite NK, Cordeiro ID, Selva VSF (2008) Turismo e desenvolvimento sustentável em Fernando de Noronha-Pernambuco-Brasil: uma análise a partir do consumo da água [Tourism and sustainable development in Fernando de Noronha-Pernambuco, Brazil: an analysis from the water consumption]. Rev Turismo Desenvolv Universidade de Aveiro 10:107–121 (in Portuguese)

Li J, Liu L, Ren J, Zheng HDL (2012) Behavior of urban residents toward the discarding of waste electrical and electronic equipment: a case study in Baoding, China. Waste Manag Res 30:1187–1197. doi:10.1177/0734242x12456728

Mateu-Sbert J, Ricci-Cabello I, Villalonga-Olives E, Cabeza-Irigoyen E (2013) The impact of tourism on municipal solid waste generation: the case of Menorca Island (Spain). Waste Manag 33:2589–2593. doi:10.1016/j.wasman.2013.08.007

Motta M, Silva V, Montenegro A, Montenegro S, Correa M (2008) Avaliação da qualidade da água dos mananciais na ilha de Fernando de Noronha. Ambi-Agua 3:114–127. doi:10.4136/ambi-agua.66 (in Portuguese)

Nixon H, Saphores JD (2007) Financing electronic waste recycling Californian households' willingness to pay advanced recycling fees. J Environ Manag 84:547–559. doi:10.1016/j.jenvman.2006.07.003

Nnorom IC, Ohakwe J, Osibanj O (2009) Survey of willingness of residents to participate in electronic waste recycling in Nigeria e a case study of mobile phone recycling. J Clean Prod 17:1629–1637. doi:10.1016/j.jclepro.2009.08.009

Oguchi M, Sakanakura H, Terazono A, Takigami H (2012) Fate of metals contained in waste electrical and electronic equipment in a municipal waste treatment process. Waste Manag 32:96–103. doi:10.1016/j.wasman.2011.09.012

Oliveira U, Marins F, Muniz Junior J (2016) Reverse logistics and product identification: theoretical review for electroelectronic industry. Rev Prod online 16:633–677. doi:10.14488/1676-1901.v16i2.2049 (in Portuguese)

Perez-Belis V, Bovea MD, Simó A (2015) Consumer behaviour and environmental education in the field of waste electrical and electronic toys: a Spanish case study. Waste Manag 36:277–288. doi:10.1016/j.wasman.2014.10.022

Robinson BH (2009) E-waste: an assessment of global production and environmental impacts. Sci Total Environ 408:183–191. doi:10.1016/j.scitotenv.2009.09.044

Santana C, Azevedo D, Santana N, Silva H (2014) Coleta seletiva de resíduos sólidos no Arquipélago de Fernando de Noronha. Anais do Congresso Brasileiro de Gestão Ambiental e Sustentabilidade. (in Portuguese)

Saphores JD, Nixon H, Ogunseitan OA, Shapiro AA (2006) Household willingness to recycling electronic waste: an application to California. Environ Behav 38:183–208. doi:10.1177/0013916505279045

Saphores JD, Nixon H, Ogunseitan OA, Shapiro AA (2007) California households' willingness to pay for 'green' electronics'. J Environ Plan Manag 50:113–133. doi:10.1080/09640560601048549

Saphores JD, Nixon H, Ogunseitan OA, Shapiro AA (2009) How much e-waste is there in US basements and attics? Results from a national survey. J Environ Manag 90:3322–3331. doi:10.1016/j.jenvman.2009.05.008

Saphores JD, Ogunseitan OA, Shapiro AA (2012) Willingness to engage in a pro-environmental behavior: an analysis of e-waste recycling based on a national survey of US households. Resour Conserv Recycl 60:49–63. doi:10.1016/j.resconrec.2011.12.003

Shamshiry E, Nadi B, Mokhtar M, Komoo I, Hashim H, Yahaya N (2011) Integrated models for solid waste management in tourism regions: Langkawi Island, Malaysia. J Environ Public Health 2011:1–5. doi:10.1155/2011/709549

Siegel S (1975) Estatística não paramétrica para as ciências do comportamento. McGraw-Hill do Brasil, São Paulo (in Portuguese)

Silveira EF, Oliveira TF, Brasil Junior ACP (2015) Hybrid energy scenarios for Fernando de Noronha archipelago. Energy Procedia 75:2833–2838. doi:10.1016/j.egypro.2015.07.564

Song Q, Wang Z, Li J (2012) Residents' behaviors, attitudes, and willingness to pay for recycling e-waste in Macau. J Environ Manag 106:8–16. doi:10.1016/j.jenvman.2012.03.036

Song Q, Wang Z, Li J (2016) Exploring residents' attitudes and willingness to pay for solid waste management in Macau. Environ Sci Pollut Res 23:16456–16462. doi:10.1007/s11356-016-6590-8

Souza R, Clímaco J, Sant'Anna A, Rocha T, Valle R, Quelhas O (2016) Sustainability assessment and prioritisation of e-waste management options in Brazil. Waste Manag 57:46–56. doi:10.1016/j.wasman.2016.01.034

Umair S, Björklund A, Petersen E (2015) Social impact assessment of informal recycling of electronic ICT waste in Pakistan using UNEP SETAC guidelines. Resour Conserv Recycl 95:46–57. doi:10.1016/j.resconrec.2014.11.008

Wang Z, Zhang B, Yin J, Zhang X (2011) Willingness and behavior towards e-waste recycling for residents in Beijing City, China. J Clean Prod 19:977–984. doi:10.1016/j.jclepro.2010.09.016

Wang X, Miller G, Ding G, Lou X, Cai D, Chen Z, Meng J, Tang J, Chu C, Mo Z, Han J (2012) Health risk assessment of lead for children in tinfoil manufacturing and e-waste recycling areas of Zhejiang Province, China. Sci Total Environ 426:106–112. doi:10.1016/j.scitotenv.2012.04.002

WHO (1995) World Health Organization. Environmental Health Criteria 165–inorganic lead. International Programme on Chemical Safety, World Health Organization, Geneva

Zhang W, Yang J, Wua X, Hu Y, Yu W, Wang J, Dong J, Li M, Liang S, Hu J, Kumar R (2016) A critical review on secondary lead recycling technology and its prospect. Renew Sust Energ Rev 61:108–122. doi:10.1016/j.rser.2016.03.046
Additional information
Responsible editor: Philippe Garrigues
About this article
Cite this article
Araujo, D.R.R., de Oliveira, J.D., Selva, V.F. et al. Generation of domestic waste electrical and electronic equipment on Fernando de Noronha Island: qualitative and quantitative aspects. Environ Sci Pollut Res 24, 19703–19713 (2017). https://doi.org/10.1007/s11356-017-9648-3
Received:

Accepted:

Published:

Issue Date:
Keywords
Waste management

WEEE generation

Robinson's approach method

Island environment

Touristic site

Environmentally protected areas