Abstract
In rural populations, the proximity to areas with intensive pesticide application represents a risk factor of xenobiotic exposure. Here, we investigated whether newborns born to mothers residing in an area with intensive pesticide application show alterations in placental and neonatal morphometric standards, umbilical cord blood (UCB) biochemical parameters, and/or biomarkers related to oxidative stress and oxidative damage. Samples were collected from 151 healthy pregnant women residing in a rural area (rural group; RG) during the pesticide spraying (SS) and nonspraying (NSS) seasons, as well as from women from an urban population (control group; CG), and grouped according to the delivery type (vaginal or cesarean). In the vaginal delivery group, the placental weight and placental index were higher in the RG groups than in the CG (p = 0.01), whereas in the cesarean delivery group, newborn weight was lower in the RG-SS group than in the CG. In the RG-SS group, UCB erythrocyte osmotic fragility and the DNA damage index (DI) were higher, and superoxide dismutase (SOD) activity was lower than in the RG-NSS group. Acetylcholinesterase and SOD activities were found to be inversely correlated with the DI.
Access options
Buy single article
Instant access to the full article PDF.
USD 39.95
Price excludes VAT (USA)
Tax calculation will be finalised during checkout.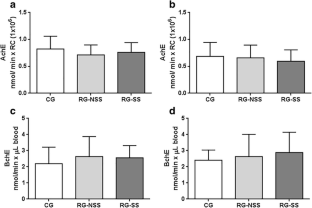 References
Acosta-Maldonado B, Sánchez-Ramírez B, Reza-López S, Levario-Carrillo M (2009) Effects of exposure to pesticides during pregnancy on placental maturity and weight of newborns: a cross-sectional pilot study in women from the Chihuahua State, Mexico. Hum Exp Toxicol 28(8):451–459. doi:10.1177/0960327109107045

Ambali SF, Ayo JO, Ojo SA, Esievo KAN (2010) Vitamin E protects Wistar rats from chlorpyrifos-induced increase in erythrocyte osmotic fragility. Food Chem Toxicol 48(12):3477–3480. doi:10.1016/j.fct.2010.09.026

Angerer J, Ewers U, Wilhelm M (2007) Human biomonitoring: state of the art. Int J Hyg Environ Health 210(3):201–228. doi:10.1016/j.ijheh.2007.01.024

Argentin G, Divizia M, Cicchetti R (2015) Oxidative stress, cytotoxicity, and genotoxicity induced by methyl parathion in human gingival fibroblasts: protective role of epigallocatechin-3-gallate. J Toxicol Environ Health A 78(19):1227–1240. doi:10.1080/15287394.2015.1079582

Bal R, Türk G, Yılmaz Ö, Etem E, Kuloğlu T, Baydaş G, Naziroğlu M (2012) Effects of clothianidin exposure on sperm quality, testicular apoptosis and fatty acid composition in developing male rats. Cell Biol Toxicol 28(3):187–200. doi:10.1007/s10565-012-9215-0

Bautista MLG, Altaf W, Lall R, Wapnir RA (2003) Cord blood red cell osmotic fragility: a comparison between preterm and full-term newborn infants. Early Hum Develop 72(1):37–46. doi:10.1016/S0378-3782(03)00009-4

Ben Amara I, Karray A, Hakim A, Ben Ali Y, Troudi A, Soudani N, Boudawara T, Zeghal K, Zeghal N (2013) Dimethoate induces kidney dysfunction, disrupts membrane-bound ATPases and confers cytotoxicity through DNA damage. Protective effects of vitamin E and selenium. Biol Trace Elem Res 156(1–3):230–242. doi:10.1007/s12011-013-9835-0

Bhuiyan M, Murad F, Fant M (2006) The placental cholinergic system: localization to the cytotrophoblast and modulation of nitric oxide. Cell Commun Signal 4:4. doi:10.1186/1478-811X-4-4

Bulgaroni V, Lombardo P, Rivero-Osimani V, Vera B, Dulgerian L, Cerbán F, Guiñazú N (2013) Environmental pesticide exposure modulates cytokines, arginase and ornithine decarboxylase expression in human placenta. Reprod Toxicol 39:23–32. doi:10.1016/j.reprotox.2013.03.010

Burkhardt T, Schäffer L, Schneider C, Zimmermann R, Kurmanavicius J (2006) Reference values for the weight of freshly delivered term placentas and for placental weight-birth weight ratios. Eur J Obstet Gyn R B 128(1–2):248–252. doi:10.1016/j.ejogrb.2005.10.032

Camkurt MA, Fındıkl E, İnanç Tolun F, Bakacak M, Gül Bal N, Sakall H, Güneş M (2016) Probable preventive effects of placenta from oxidative stress; evaluation of total antioxidant status, total oxidant status and oxidative stress index in fetal cord blood during the delivery. Psychiatry Res 240:222–225. doi:10.1016/j.psychres.2016.03.054

Cecchi A, Rovedatti MG, Sabino G, Magnarelli GG (2012) Environmental exposure to organophosphate pesticides: assessment of endocrine disruption and hepatotoxicity in pregnant women. Ecotox Environ Safe 80:280–287. doi:10.1016/j.ecoenv.2012.03.008

Chiapella G, Flores-Martín J, Ridano ME, Reyna L, Magnarelli De Potas G, Panzetta-Dutari GM, Genti-Raimondi S (2013) The organophosphate chlorpyrifos disturbs redox balance and triggers antioxidant defense mechanisms in JEG-3 cells. Placenta 34(9):792–798. doi:10.1016/j.placenta.2013.06.007

Cindrova-Davies T, Yung HW, Johns J, Spasic-Boskovic O, Korolchuk S, Jauniaux E, Burton GJ, Charnock-Jones DS (2007) Oxidative stress, gene expression, and protein changes induced in the human placenta during labor. Am J Pathol 171(4):1168–1179. doi:10.2353/ajpath.2007

Davidsohn I, Henry, JB (1978) Clinical diagnosis by the laboratory. Todd - Sandford (Salvat), 6th edition. Barcelona, (in spanish)

Ding F, Peng W (2015) Biological assessment of neonicotinoids imidacloprid and its major metabolites for potentially human health using globular proteins as a model. J Photochem Photobiol B 147:24–36 doi:10.1016/j.jphotobiol.2015.03.010

Dusinska M, Collins AR (2008) The comet assay in human biomonitoring: gene-environment interactions. Mutagenesis 23(3):191–205. doi:10.1093/mutage/gen007

El-Bini Dhouib I, Lasram MM, Annabi A, Gharbi N, El-Fazaa S (2015) A comparative study on toxicity induced by carbosulfan and malathion in Wistar rat liver and spleen. Pestic Biochem Physiol 124:21–28. doi:10.1016/j.pestbp.2015.03.012

Ertabak A, Kutluay T, Ünlü A, Türközkan N, Çimen B, Yaman H (2004) The effect of desferrioxamine on peroxynitrite-induced oxidative damage in erythrocytes. Cell Biochem Funct 22(3):149–152. doi:10.1002/cbf.1056

Eskenazi B, Harley K, Bradman A, Weltzien E, Jewell NP, Barr DB, Furlong CE, Holland NT (2004) Association of in utero organophosphate pesticide exposure and fetal growth and length of gestation in an agricultural population. Environ Health Perspect 112:1116–1124. doi:10.1289/ehp.8423

Flaskos J (2012) The developmental neurotoxicity of organophosphorus insecticides: a direct role for the oxon metabolites. Toxicol Lett 209(1):86–93. doi:10.1016/j.toxlet.2011.11.026

Grandi C, Veiga A, Mazzitelli N, Cavalli Rde C, Cardoso V (2016) Placental growth measures in relation to birth weight in a latin american population. Rev Bras Ginecol Obstet 38(8):373–80. doi:10.1055/s-0036-1586721

Huerga M, San Juan S (2009) Pest control in Argentine agriculture (in Spanish). FAO Investment Centre Report

Loewy RM, Monza LB, Kirs VE, Savini MC (2011) Pesticide distribution in an agricultural environment in Argentina. J Environ Sci Health B 46(8):662–670. doi:10.1080/03601234.2012.592051

Londero A, Bertozzi S, Visentin S, Fruscalzo A, Driul L, Marchesoni D (2013) High placental index and poor pregnancy outcomes: a retrospective study of 18 386 pregnancies. Gynecol Endocrinol 29(7):666–669. doi:10.3109/09513590.2013.798273

López O, Hernández AF, Rodrigo L, Gil F, Pena G, Serrano JL, Pla A (2007) Changes in antioxidant enzymes in humans with long-term exposure to pesticides. Toxicol Lett 171(3):146–153. doi:10.1016/j.toxlet.2007.05.004

Lowry OH, Rosebrough NJ, Farr AL, Randall RJ (1951) Protein measurement with the Folin phenol reagent. J Biol Chem 193:265–275

Lukaszewicz-Hussain A (2010) Role of oxidative stress in organophosphate insecticide toxicity—short review. Pest Biochem Physiol 98(2):145–150. doi:10.1016/j.pestbp.2010.07.006

Macdonald EM, Natale R, Regnault TR, Koval JJ, Campbell MK (2014) Obstetric conditions and the placental weight ratio. Placenta 35(8):582–586. doi:10.1016/j.placenta.2014.04.019

Mohorovic L, Petrovic O, Haller H, Micovic V (2010) Pregnancy loss and maternal methemoglobin levels: an indirect explanation of the association of environmental toxics and their adverse effects on the mother and the fetus. Int J Environ Res Public Health 7(12):4203–4212. doi:10.3390/ijerph7124203

Mostafalou S, Abdollahi M (2013) Pesticides and human chronic diseases: evidences, mechanisms, and perspectives. Toxicol App Pharmacol 268(2):157–161

Mwila K, Burton MH, Van Dyk JS, Pletschke BI (2013) The effect of mixtures of organophosphate and carbamate pesticides on acetylcholinesterase and application of chemometrics to identify pesticides in mixtures. Environ Mon Assess 185(3):2315–2327

Naksen W, Prapamontol T, Mangklabruks A, Chantara S, Thavornyutikarn P, Srinual N, Barr DB (2015) Associations of maternal organophosphate pesticide exposure and PON1 activity with birth outcomes in SAWASDEE birth cohort. Thailand Environ Res 142:288–296. doi:10.1016/j.envres.2015.06.035

Noh E, Kim Y, Cho M (2014) Comparison of oxidative stress markers in umbilical cord blood after vaginal and cesarean delivery. Obstet Gynecol Sci 57(2):109–114. doi:10.5468/ogs.2014.57.2.109

Prouillac C, Lecoeur S (2010) The role of the placenta in fetal exposure to xenobiotics: importance of membrane transporters and human models for transfer studies. Drug Metabol Dispos 38(10):1623–1635. doi:10.1124/dmd.110.033571

Raghunath G, Vijayalakshmi, Shenoy V (2011) A study on the morphology and the morphometry of the human placenta and its clinical relevance in a population in Tamilnadu. J Clin Diagn Res 5(2):282–286

Raijmakers MT, Roes EM, Steegers EA, van der Wildt B, Peters WH (2003) Umbilical glutathione levels are higher after vaginal birth than after cesarean section. J Perinat Med 31(6):520–522. doi:10.1515/JPM.2003.079

Rivero Osimani VL, Valdez SR, Guiñazú N, Magnarelli G (2016) Alteration of syncytiotrophoblast mitochondria function and endothelial nitric oxide synthase expression in the placenta of rural residents. Reprod Toxicol 61:47–57. doi:10.1016/j.reprotox.2016.02.018

Rowe C, Gunier R, Bradman A, Harley KG, Kogut K, Parra K, Eskenazi B (2016) Residential proximity to organophosphate and carbamate pesticide use during pregnancy, poverty during childhood, and cognitive functioning in 10-year-old children. Environ Res 150:128–137. doi:10.1016/j.envres.2016.05.048

Saphier O, Schneid-Kofman N, Silberstein E, Silberstein T (2013) Does mode of delivery affect neonate oxidative stress in parturition? Review of literature. Arch Gynecol Obstet 287(3):403–406. doi:10.1007/s00404-012-2619-5

Simoniello MF, Kleinsorge MF, Carballo EC (2010) Evaluación bioquímica de trabajadores rurales expuestos a pesticidas. Medicina (B. Aires) 70 (6): 489–498 [in Spanish]. Retrieved from http://www.scielo.org.ar/scielo.php?script=sci_arttext&pid=S0025-76802010000600001&lang=pt

Souza MS, Magnarelli GG, Rovedatti MG, Santa-Cruz S, Pechen de D'Angelo AM (2005) Prenatal exposure to pesticides: analysis of human placental acetylcholinesterase, glutathione-S-transferase and catalase as biomarkers of effect. Biomarkers 10(5):376–389. doi:10.1080/13547500500272614

Uchendu C, Ambali SF, Ayo JO, Esievo KAN, Umosen AJ (2014) Erythrocyte osmotic fragility and lipid peroxidation following chronic co-exposure of rats to chlorpyrifos and deltamethrin, and the beneficial effect of alpha-lipoic acid. Toxicol Rep 1:373–378. doi:10.1016/j.toxrep.2014.07.002

Vera B, Santa Cruz S, Magnarelli G (2012) Plasma cholinesterase and carboxylesterase activities and nuclear and mitochondrial lipid composition of human placenta associated with maternal exposure to pesticides. Reprod Toxicol 34(3):402–407. doi:10.1016/j.reprotox.2012.04.007

Voss G, Sachsse K (1970) Red cell and plasma cholinesterase activities in microsamples of human and animal blood determined simultaneously by a modified acetylcholine/DTNB procedure. Toxicol App Pharmacol 16:764–772

Watanabe K, Iwasaki A, Mori T, Kimura C, Matsushita H, Shinohara K, Wakatsuki A (2013) Differences in levels of oxidative stress in mothers and neonate: the impact of mode of delivery. J Matern Fetal Neonatal Med 26(16):1649–1652. doi:10.3109/14767058.2013.794209

Whyatt RM, Barr DB, Camann DE, Kinney PL, Barr JR, Andrews HF, Perera FP (2003) Contemporary-use pesticide in personal air samples during pregnancy and blood samples at delivery among urban minority mothers and newborns. Environ Health Perspect 111(5):749–756. doi:10.1289/ehp.5768

Yusa V, Millet M, Coscolla C, Roca M (2015) Analytical methods for human biomonitoring of pesticides. A review. Anal Chim Acta 891:15–31. doi:10.1016/j.aca.2015.05.032
Acknowledgements
Funding was provided by the National University of Comahue [I004/3, 2009–2012], the Argentine Scientific and Technological Research Fund (FONCyT) [PICT-Redes 2007-00214, 2008–2012], and the Argentine Ministry of Health through the Ramón Carrillo-Arturo Oñativia Program [NRU: CONV09/00064, 2009–2011]. We would like to thank Silvia Santa Cruz, Natalia Quidel, and the health personnel of the Neuquén Public Hospital for their collaboration in the collection of the samples. We also would like to thank all the study participants.
Additional information
Responsible editor: Philippe Garrigues
About this article
Cite this article
Quintana, M.M., Vera, B., Magnarelli, G. et al. Neonatal, placental, and umbilical cord blood parameters in pregnant women residing in areas with intensive pesticide application. Environ Sci Pollut Res 24, 20736–20746 (2017). https://doi.org/10.1007/s11356-017-9642-9
Received:

Accepted:

Published:

Issue Date:

DOI: https://doi.org/10.1007/s11356-017-9642-9
Keywords