Abstract
Yearly, huge amounts of sock refuse are discarded into the environment. Socks contain many molecules, and worn ones, which are rich in smell-causing bacteria, have a strong influence on animals' behaviors. But the impacts of sock odor on the oviposition behavior of dengue vectors are unknown. We assessed whether Aedes albopictus changes its oviposition activity in response to the presence of used socks extract (USEx) in potential breeding grounds, using choice and no-choice bioassays (NCB). When furnished even chances to oviposit in two sites holding USEx and two others containing water (control), Ae. albopictus deposited significantly less eggs in USEx than in water sites. A similar pattern of oviposition preference was also observed when there were more oviposition options in water. When there were greater oviposition opportunities in USEx sites, Ae. albopictus oviposited preferentially in water. Females laid significantly more eggs during the NCB involving water than USEx. Also, significantly more mature eggs were retained by females in the NCB with USEx than in that with water. These observations strongly suggest the presence of molecules with either repellent or deterrent activities against Ae. albopictus females and provide an impetus to advocate the integration of used socks in dengue control programs. Such applications could be a realistic end-of-life recourse to reroute this waste from landfills.
Access options
Buy single article
Instant access to the full article PDF.
USD 39.95
Price excludes VAT (USA)
Tax calculation will be finalised during checkout.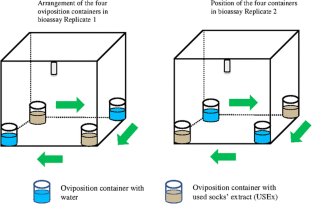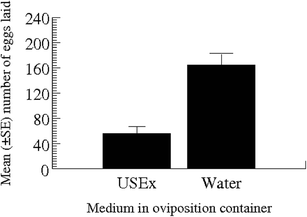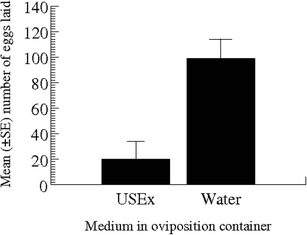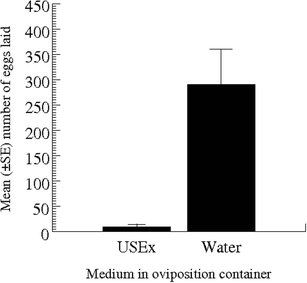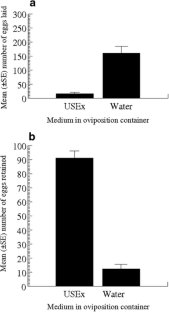 References
Abd El-Hady RAM (2014) Investigation of the thermal properties and anti-microbial behavior of socks knitted from conductive yarns. Asian J Textil 4:1–17

Afify A, Horlacher B, Roller J, Galizia CG (2014) Different repellents for Aedes aegypti against blood-feeding and oviposition. PLoS One 9: e103765

Allan SA, Kline DL (1995) Evaluation of organic infusions and synthetic compounds mediating oviposition in Aedes albopictus and Aedes aegypti (Diptera: Culicidae). J Chem Ecol 21:1847–1860

Ara K, Hama M, Akiba S, Koike K, Okisaka K, Hagura T, Kamiya T, Tomita F (2006) Foot odor due to microbial metabolism and its control. Canadian J Microbiol 52(4):357–364

Autran ES, Neves IA, da Silva CSB, Santos GKN, da Câmara CA, Navarro DMAF (2009) Chemical composition, oviposition deterrent and larvicidal activities against Aedes aegypti of essential oils from Piper marginatum Jacq. (Piperaceae). Bioresour Technol 100:2284–2288

Benn TM, Westerhoff P (2008) Nanoparticle silver released into water from commercially available sock fabrics. Environ Sci Technol 42(11):4133–4139

Bohbot J, Vogt RG (2005) Antennal expressed genes of the yellow fever mosquito (Aedes aegypti L.); characterization of odorant-binding protein 10 and takeout. Insect Biochem Mol Biol 35:961–979

Braks MA, Scholte EJ, Takken W, Dekker T (2000) Microbial growth enhances the attractiveness of human sweat for the malaria mosquito, Anopheles gambiae sensu stricto (Diptera: Culicidae). Chemoecol 10:129–134

Brinkman SF (2009) Chronic toxicity of ammonia to early life stage rainbow trout. Trans Am Fish Soc 138:433–440

Browne MA, Crump P, Nivens SJ, Teuten E, Tonkin A, Galloway T, Thompson R (2011) Accumulation of microplastics on shorelines worldwide: sources and sinks. Environ Sci Technol 45(21):9175e9179

Browne MA, Niven SJ, Galloway T, Rowland SJ, Thompson R (2013) Microplastic moves pollutants and additives to worms, reducing functions linked to health and biodiversity. Curr Biol 23(23):2388–2392

Canyon DV (2001) Irritancy and repellency of Aedes aegypti (Diptera: Culicidae) to insecticides and implications for vector control operations. In: Canyon DV, Speare RS (eds) Rural and remote environmental health I. The Australasian College of Tropical Medicine, Townsville, Australia

Cardé RT, Gibson G (2010) Host finding by female mosquitoes: mechanisms of orientation to host odours and other cues. In: Takken W, Knols BGJ (eds) Olfaction in vector-host interactions. Wageningen Academic Publishers, Wageningen, pp 115–140

Chadee DD, Lakhan A, Ramdath WR, Persad RC (1993) Oviposition response of Aedes aegypti to different concentrations of hay infusion in Trinidad, West Indies. J Am Mosq Cont Assoc 9:346–348

Cross FR, Jackson RR (2011) Olfaction-based anthropophily in a mosquito-specialist predator. Biol Lett 7:510–512

Dahlberg AK (2010) Chemical analysis of organic compounds in footwear. http://www.chemitecs.se/download/18.71afa2f11269da2a40580002700/1350484089661/Chemical+Analysis+of+Organic+Compounds+in+Footwear.pdf+-+Adobe+Acrobat+Pro.pdf. Accessed 17 July 2016

DeJong R, Knols BGJ (1995) Selection of biting sites on man by two malaria mosquito species. Experientia 51:80–84

Dieng H, Boots M, Tuno N, Tsuda Y, Takagi M (2003) A laboratory oviposition study in Aedes albopictus with reference to habitat size, leaf litter and habitat size-leaf litter interactions. Med Entomol Zool 54:43–50

Dieng H, Norrafiza BR, Ahmad AH, Che Salmah R, Hamdan A, Satho T, Miake F, Zuharah WF, FuKumitsu Y, Saad AR, Rajasaygar S, Vargas RE, Majid AH, Fadzly N, Ghani IA, AbuBakar S (2013a) Colonized Aedes albopictus and its sexual performance in the wild: implications for SIT technology and containment. Parasit Vectors 6:206

Dieng H, Rajasaygar S, Ahmad AH, Md Rawi CS, Ahmad H, Satho T, Miake F, Zuharah WF, Fukumitsu Y, Saad AR, Abdul Hamid S, Vargas RE, Ab Majid AH, Fadzly N, Abu Kassim NF, Hashim NA, Ghani IA, Abang FB, AbuBakar S (2014) Indirect effects of cigarette butt waste on the dengue vector Aedes aegypti (Diptera: Culicidae). Acta Trop 130C:123–130

Dieng H, Ruziena BMZ, Nur Intan SBMY, Abu Hassan A, Fatimah A, Idris AG, Satho T, Ahmad H, Zuharah WF, Majid AHA, Latip NSA, Hipolito CN, Noweg GT (2016) Green tea and its waste attract workers of formicine ants and kill their workers—implications for pest management. Ind Crop Prod 89:157–166

Dusfour I, Carinci R, Gaborit P, Issaly J, Girod R (2010) Evaluation of four methods for collecting malaria vectors in French Guiana. J Econ Entomol 103:973–976

Eng RC (2010) Mountaineering the freedom of the hills, 8th edn. The Mountainers Books, Seattle

EPodiatry.com (2016) Smelly feet (foot odor); http://wwwepodiatrycom/smelly-foothtm. Accessed 10 Aug 2016

Ethio Embassy UK (2016) Profile on the production of socks and stocking. http://wwwethioembassyorguk/trade_and_investment/Investment%20Profiles%20EIA/Garment%20Industry%20Profiles/Socks%20and%20stockingspdf. Accessed 10 Aug 2016

Fares RCG, Souza KPR, Añez G, Rios M (2015) Epidemiological scenario of dengue in Brazil. BioMed Res Intl 2015: Article ID 321873

Farjana T, Tuno N (2012) Effect of body size on multiple blood feeding and egg retention of Aedes aegypti (L.) and Aedes albopictus (Skuse) (Diptera: Culicidae). Med Entomol Zool 63:1–9

Foltynowicz Z, Gwiazdowska D, Rodewald D, Nowaczyk A, Filipiak M (2013) Antimicrobial properties of socks protected with silver nanoparticles. Fibr Textil Eastern Eur 21(5):91–96

Gill V (2011) Mosquito-eating spider likes smelly socks. http://newsbbccouk/earth/hi/earth_news/newsid_9398000/ 9398408stm. Accessed 14 Aug 2016

Green Eco Services (2011) Top 62 ways to reuse socks. http://wwwgreenecoservicescom/top-62-ways-to-reuse-socks/. Accessed 15 Aug 2016

Greenpeace (2015) Eleven hazardous chemicals which should be eliminated. http://www.greenpeace.org/international/en/campaigns/detox/fashion/about/eleven-flagship-hazardous-chemicals/. Accessed 15 Aug 2016

Groce DF (1999) Cotton, nylon, spandex and allergies http://latexallergyresourcesorg/articles/cotton-nylon-spandex-and-allergies. Accessed 17 Aug 2016

Hall NM, Berry KLE, Rintoul L, Hoogenboom MO (2015) Microplastic ingestion by scleractinian corals. Mar Biol 162:725–732

Hennessey M, Fischer M, Staples JE (2016) Zika virus spreads to new areas—region of the Americas, May 2015–January 2016. Morb Mort Weekl Rep 65:55–58

Hopley D (2010) Encyclopedia of modern coral reefs: structure, form and process. Springer, Dordrecht

Horton JM (2001) Sock for detection of pressure points in feet. http://wwwgooglecom/patents/WO2001043638A1?cl=en Accessed 20 Aug 2016

Huang CT, Chen ML, Huang LL, Mao IF (2002) Uric acid and urea in human sweat. Chinese J Physiol 45(3):109–115

Hwang YS, Kramer WL, Mulla MS (1980) Oviposition attractants and repellents of mosquitoes. Isolation and identification of oviposition repellents for Culex mosquitoes. J Chem Ecol 6:71–80

Ikeshoji T, Saito K, Yano A (1975) Bacterial production of the ovipositional attractants for mosquitoes on fatty acid substrates. Appl Entomol Zool 10:302–308

Jones E (2015) Recycle socks; http://wwwgreeniacscom/GreeniacsGuides/Recycling/Recycle-Sockshtml. Accessed 28 Aug 2016

Kanda F, Yagi E, Fukuda M, Nakajima K, Ohta T, Nakata O (1990) Elucidation of chemical compounds responsible for foot malodor. British J Dermatol 122:771–776

Kanlayavattanakul M, Lourith N (2011) Body malodours and their topical treatment agents. Intl J Cosm Sci 33(4):298–311

Kim MN, Lee BY, Lee IM, Lee HS, Yoon JS (2001) Toxicity and biodegradation of products from polyester hydrolysis. J Environ Sci Health A Tox Hazard Subst Environ Eng 36(4):447–463

Kimbrough RD (1976) Toxicity and health effects of selected organotin compounds: a review. Environ Health Persp 14:51–56

Knols BG (1996) On human odour, malaria mosquitoes, and limburger cheese [letter; comment]. Lancet 348:1322

Knols BGJ, van Loon JJA, Cork A, Robinson RD, Adam W, Meijerink J, De Jong R, Takken W (1997) Behavioural and electrophysiological responses of the female malaria mosquito Anopheles gambiae (Diptera: Culicidae) to limburger cheese volatiles. Bull Entomol Res 87:151–159

Kramer WL, Mulla MS (1979) Oviposition attractants and repellents of mosquitoes: ovipostion response of Culex mosquitoes to organic infusions. Environ Entomol 8:1111–1117

Kutyshenko VP, Molchanov M, Beskaravayny P, Uversky VN, Timchenko MA (2011) Analyzing and mapping sweat metabolomics by high-resolution NMR spectroscopy. PLoS One 6(12):e28824

Lacey ES, Cardé RT (2011) Activation, orientation and landing of female Culex quinquefasciatus in response to carbon dioxide and odour from human feet: 3-D flight analysis in a wind tunnel. Med Vet Entomol 25:94–103

Laing DG, Francis GW (1989) The capacity of humans to identify odors in mixtures. Physiol Behav 46:809–814

Lin DY, Zhang S-Z, Block E, Katz LC (2005) Encoding social signals in the mouse main olfactory bulb. Nature 434:470–477

Lindsay SR (2001) Handbook of applied dog behavior and training: etiology and assessment of behavior problems, volume 2 of handbook of applied dog behavior and training. Wiley, Hoboken, pp 1–328

Lukacs A, Korting HC, Ruckdeschel G, Ehret W (1991) Do cutaneous coryneform bacteria produce short-chain fatty acids in vitro? Dermatol 182(1):32–34

Matowo NS, Moore J, Mapua S, Madumla EP, Moshi IR, Kaindoa EW, Mwangungulu SP, Kavishe DR, Sumaye RD, Lwetoijera DW, Okumu FO (2013) Using a new odour-baited device to explore options for luring and killing outdoor-biting malaria vectors: a report on design and field evaluation of the mosquito landing box. Parasit Vectors 6:137

Maureen C (2001) Not even the deer like old, smelly socks, The Sun; http://articlesbaltimoresuncom/2001-08-05/news/0108040083_1_socks-deer-problem-cary-grant. Accessed 15 Sept 2016

McGeer JC, Playle RC, Wood CM, Galvez FA (2000) Physiologically based biotic ligand model for predicting the acute toxicity of waterborne silver to rainbow trout in freshwaters. Environ Sci Technol 34(19):4199–4207

Messina JP, Brady OJ, Scott TW, Zou C, Pigott DM, Duda KA, Bhatt S, Katzelnick L, Howes RE, Battle KE, Simmons CP, Hay SI (2013) Global spread of dengue virus types: mapping the 70 year history. Trends Microbiol 22(3):138–146

Mickelsen O, Keys A (1943) The composition of sweat, with special reference to the vitamins. J Biol Chem 149:479–490

Millar JG, Chaney JD, Mulla MS (1982) Identification of oviposition attractants for Culex quinquefasciatus from fermented Bermuda grass infusions. J Am Mosq Cont Assoc 8:11–17

Mmbando AS, Okumu FO, Mgando JP, Sumaye RD, Matowo NS, Madumla E, Kaindoa E, Kiware SS, Lwetoijera DW (2015) Effects of a new outdoor mosquito control device, the mosquito landing box, on densities and survival of the malaria vector, Anopheles arabiensis, inside controlled semi-field settings. Malar J 14:494

Morones JR, Elechiguerra JL, Camacho A, Holt K, Kouri JB, Ramirez JT, Yacaman MJ (2005) The bactericidal effect of silver nanoparticles. Nanotechnol 16(10):2346–2353

Myriam T (2009) The biosynthetic pathway of sulfur-containing molecules in human axillary malodor: from precursors to odorous volatiles. Doctoral thesis dissertation, 'Université de Genève, Switzerland; Accessed 10 August 2016; file:///C:/Users/Owner/Downloads/unige_4563_attachment01.pdf

Napper IE, Thompson RC (2016) Release of synthetic microplastic plastic fibres from domestic washing machines: effects of fabric type and washing conditions. Marine Poll Bull 112(1–2):39–45

Navarro-Silva MA, Marques FA, Duque LJ (2009) Review of semiochemicals that mediate the oviposition of mosquitoes: a possible sustainable tool for the control and monitoring of Culicidae. Revista Brasileira de Entomologia 53:1–6

Nerio LS, Olivero-Verbel J, Stashenko E (2010) Repellent activity of essential oils: a review. Bioresour Technol 101:372–378

Njiru BN, Mukabana WR, Takken W, Knols BG (2006) Trapping of the malaria vector Anopheles gambiae with odour-baited MM-X traps in semi-field conditions in western Kenya. Malar J 5:39

Obenauer PJ, Allan SA, Kaufman PE (2010) Aedes albopictus (Diptera: Culicidae) oviposition response to organic infusions from common flora of suburban Florida. J Vector Ecol 35:301–306

Okumu F, Biswaro L, Mbeleyela E, Killeen GF, Mukabana RW, Moore SJ (2010) Using nylon strips to dispense mosquito attractants for sampling the malaria vector Anopheles gambiae s.s. J Med Entomol 47:274–282

Opie J, Lee A, Frowen K, Fewings J, Nixon R (2003) Foot dermatitis caused by the textile dye Basic Red 46 in acrylic blend socks. Contact Dermat 49(6):297–303

Pommerville JC (2016) Body Systems. Fundamentals of microbiology. Jones and Bartlett Learning, Burlington

Ponnusamy L, Wesson DM, Arellano C, Schal C, Apperson CS (2010) Species composition of bacterial communities influences attraction of mosquitoes to experimental plant infusions. Microb Ecol 59(1):158–173

Potera C (2010) Transformation of silver nanoparticles in sewage sludge. Environ Health Persp 118:a526–a527

Prajapati V, Tripathi AK, Aggarwal KK, Khanuja SPS (2005) Insecticidal, repellent and oviposition-deterrent activity of selected essential oils against Anopheles stephensi, Aedes aegypti and Culex quinquefasciatus. Bioresour Technol 96(16):1749–1757

Reyes-Villanueva F, Juarez-Eguia M, Flores-Leal A (1990) Effects of sublethal dosages of Abate upon adult fecundity and longevity of Aedes aegypti. J Am Mosq Cont Assoc 6:739–741

Rosato DV, Rosato DV, Rosato MV (2004) Plastic product material and process selection handbook. Elsevier, Oxford, p 85

Santos NDL, de Moura KS, Napoleão TH, GKN S, LCBB C, Navarro DMAF, PMG P (2012) Oviposition-stimulant and ovicidal activities of Moringa oleifera lectin on Aedes aegypti. PLoS One 7(9):e44840

Satho T, Dieng H, Muhammad Hishamuddin IA, Salbiah BE, Abu Hassan A, Fatimah A, Ghani IA, Miake F, Ahmad H, Fukumitsu Y, Zuharah WF, Majid AHA, Abu Kassim NF, Hashim NA, Ajibola OO, Al-Khayyat FA, Hipolito CN (2015) Coffee and its waste repel gravid Aedes albopictus females and inhibit the development of their embryos. Parasit Vectors 8:272

Sato K, Kang WH, Saga K, Sato KT (1989a) Biology of sweat glands and their disorders. I. Normal sweat gland function. J Am Acad Dermatol 20:537–563

Sato K, Kang WH, Saga K, Sato KT (1989b) Biology of sweat glands and their disorders: II Disorders of sweat gland function. J Am Acad Dermatol 20:713–726

Seenivasagan T, Sharma KR, Ganesan K, Prakash S (2010) Electrophysiological, flight orientation and oviposition responses of three species of mosquito vectors to hexadecyl pentanoate: residual oviposition repellent activity. J Med Entomol 47(3):329–337

Sharquie KE, Noaimi AA, Hameed SD (2013) Topical 15% zinc sulfate solution is an effective therapy for feet odor. J Cosm Dermatol Sci Appl 3:203–208

Shelley WWB, Hurley HHJ Jr, AAC N (1953) Axillary odor: experimental study of the role of bacteria, apocrine sweat, and deodorants. AMA Arch Dermatol Syphilol 198:430–446

Sherwood L (2011) Human physiology: from cells to systems. Cengage Learning, Belmont

Shirai Y, Funada F, Kamimura K, Seki T, Morohashi M (2002) J Am Mosq Cont Assoc 18(2):97–99

Shortney JR (1976) Reusing things: 100 ideas of how to reuse commonly thrown away items. http://www.Motherearthnews.Com/Homesteading-and-livestock/reusing-things-zmaz76mazhar. Accessed 5 June 2017

Smith D (2006) Backcountry bear basics: the definitive guide to avoiding unpleasant encounters. The Mountainers Books, Seattle

Staikos T (2006) End-of-life management of shoes and the role of biodegradable materials; http://wwwmechkuleuvenbe/lce2006/177pdf. Accessed 19 July 2016

Systat Software Inc (2004) Systat 11 data. Systat for windows: statistics. (Richmond, Canada)

Tarbuk A, Grancarić AM, Kovacek I, Kolarić T (2011) Cotton socks for antimicrobial protection. In: Book of Proceedings Textile Science and Economy, Zagreb, Croatia

Tarbuk A, Grancarić AM, Magaš S (2015) Modified cotton socks—possibility to protect from diabetic foot infection. Collegium Antropologicum 39(1):177–183

The Guardian (2012) Sock City's decline may reveal an unravelling in China's economy. http://wwwtheguardiancom/business/2012/sep/09/sock-city-decline-china-economy. Accessed 20 July 2016

Tikar SN, Yadav R, Mendki MJ, Rao AN, Sukumaran D, Parashar BD (2014) Oviposition deterrent activity of three mosquito repellents diethyl phenyl acetamide (DEPA), diethyl m toluamide (DEET), and diethyl benzamide (DEB) on Aedes aegypti, Aedes albopictus, and Culex quinquefasciatus. Parasitol Res 113:101–106

Transparency Market Research (2016) Socks market—global industry analysis, size, share, growth, trends and forecast 2015–2023. http://www.reportlinker.com/p03711182-summary/Socks-Market-Global-Industry-Analysis-Size-Share-Growth-Trends-and-Forecast.html. Accessed 19 July 2016

Trexler JD, Apperson CS, Zurek L, Gemeno C, Schal C, Kaufman M, Walker E, Watson DW, Wallace L (2003) Role of bacteria in mediating the oviposition responses of Aedes albopictus (Diptera: Culicidae). J Med Entomol 40:841–848

U.S. Environmental Protection Agency (2016) 2,4-Toluene diisocyanate; https://www3epagov/airtoxics/hlthef/toluene2html. Accessed 20 July 2016

Verhulst NO, Qiu YT, Beijleveld H, Maliepaard C, Knights D, Schulz S, Berg-Lyons D, Lauber CL, Verduijn W, Haasnoot GW, Mumm R, Bouwmeester HJ, Claas FHJ, Dicke M, van Loon JJA, Takken W, Knight R, Smallegange RC (2011) Composition of human skin microbiota affects attractiveness to malaria mosquitoes. PLoS One 6(12):e28991

Verma KVS (1986) Deterrent effect of synthetic pyrethroids on the oviposition of mosquitoes. Curr Sci 55:373–375

Vogler H (2013) Wettstreit um die polyamidfasern. Chemie in unserer Zeit 47:62–63

Von Windeguth DL, Eliason DA, Schoof HF (1971) The efficacy of carbaryl, propoxur, Abate and methoxychlor as larvicides against field infestations of Aedes aegypti. Mosq News 31:91–95

Wang J (2009) New phenomena and challenges of clusters in China in the new era of globalization. In: Ganne B, Lecler Y (eds) Asian industrial clusters, global competitiveness and new policy initiatives. World Scientific Publishing, Singapore, pp 195–212

Warikoo R, Wahab N, Kumar S (2011) Oviposition-altering and ovicidal potentials of five essential oils against female adults of the dengue vector, Aedes aegypti L. Parasitol Res 109:1125–1131

Wasserberg G, White L, Bullard A, King J, Maxwell R (2013) Oviposition site selection in Aedes albopictus (Diptera: Culicidae): are the effects of predation risk and food level independent? J Med Entomol 50:1159–1164

Whalon ME, Mota-Sanchez D, Hollingworth RM (2008) Global pesticide resistance in arthropods. Oxford University Press, Oxfordshire

Wilke ABB, Marrelli MT (2015) Paratransgenesis: a promising new strategy for mosquito vector control. Parasit Vectors 8:342

World Health Organization (2016) WHO statement on the first meeting of the International Health Regulations (2005) (IHR 2005) Emergency Committee on Zika virus and observed increase in neurological disorders and neonatal malformations. http://www.who.int/mediacentre/news/statements/2016/1st-emergency-committee-zika/en. Accessed 22 July 2016

World Health Organization/Western Pacific Region (2010) Dengue in the western Pacific region. http://wwwwhoint/mediacentre/factsheets/fs117/en/. Accessed 22 July 2016

Woskow SA (1991) Improved production of propionic acid by strains of Propionibacterium. Thesis dissertation, Iowa State University, Ames

Xue RD, Barnard DR, Ali A (2001) Laboratory and field evaluation of insect repellents as oviposition deterrents against the mosquito Aedes albopictus. Med Vet Entomol 15:126–131

Xue RD, Ali A, Barnard DR (2005) Effects of forced egg-retention on adult survival and reproduction following application of DEET as an oviposition deterrent. J Vector Ecol 30:45–48

Zettel Nalen CM, Allan SA, Becnel JJ, Kaufman PE (2013) Oviposition substrate selection by Florida mosquitoes in response to pathogen-infected conspecific larvae. J Vector Ecol 38(1):182–187
Additional information
Responsible editor: Philippe Garrigues
About this article
Cite this article
Dieng, H., Satho, T., Abang, F. et al. Anti-oviposition activities of used sock media against a dengue vector: prospects of eco-friendly control and solutions to pollution. Environ Sci Pollut Res 24, 21375–21385 (2017). https://doi.org/10.1007/s11356-017-9624-y
Received:

Accepted:

Published:

Issue Date:

DOI: https://doi.org/10.1007/s11356-017-9624-y
Keywords