Abstract
The objective of this study was to establish the prevalence, contamination level, and public health significance of Giardia duodenalis and Cryptosporidium spp. in the primary rivers of western Romania. A total of 53 sampling points in the 24 most important western Romanian rivers in four counties (Arad, Bihor, Caraș-Severin, and Timiș) were investigated from March to September 2016. Surface water samples were collected by microfiber filtration. Cryptosporidium and Giardia (oo)cysts were isolated using immunomagnetic separation (IMS) according to the USEPA 1623 method and, after staining with fluorescently labeled (FITC) monoclonal antibodies, were identified and counted under a microscope. The Cryptosporidium and Giardia (oo)cysts were identified to species and assemblage/sub-assemblage level through the nested PCR–RFLP procedure targeting the 18S ribosomal RNA and gdh genes, respectively. PCR-based techniques were utilized for all water samples. Overall, 22 samples (41.5%) were determined to be positive for Giardia cysts (ranging from 0.05 to 300 cysts per liter), and four samples (7.5%) tested positive for Cryptosporidium oocysts (0.17–48 oocysts/l). G. duodenalis was molecularly identified in 13 water samples (24.5%), indicating the presence of the sub-assemblage A-II (n = 12) and assemblage E (n = 1). PCR–RFLP showed that two samples (3.8%) contained Cryptosporidium DNA, and the identified species were Cryptosporidium parvum and Cryptosporidium canis. All positive results were successfully confirmed by DNA sequencing. Subtyping of the zoonotic C. parvum isolate based on sequence analysis of the GP60 gene revealed the occurrence of the IIaA16G1R1 subtype. The results of this study highlight considerable contamination of river waters with pathogenic Giardia spp. and Cryptosporidium spp., suggesting a potential risk for the public and animal health. This report presents the first extended published description of the presence of Giardia spp. and Cryptosporidium spp. in the aquatic environment in Romania.
This is a preview of subscription content, log in to check access.
Access options
Buy single article
Instant access to the full article PDF.
US$ 39.95
Price includes VAT for USA
Subscribe to journal
Immediate online access to all issues from 2019. Subscription will auto renew annually.
US$ 99
This is the net price. Taxes to be calculated in checkout.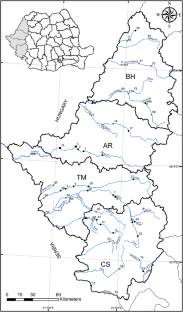 References
Alonso JL, Amorós I, Guy RA (2014) Quantification of viable Giardia cysts and Cryptosporidium oocysts in wastewater using propidium monoazide quantitative real-time PCR. Parasitol Res 113:2671–2678

Alves M, Xiao L, Sulaiman I, Lal AA, Matos O, Antunes F (2003) Subgenotype analysis of Cryptosporidium isolates from humans, cattle, and zoo ruminants in Portugal. J Clin Microbiol 41:2744–2747

Baldursson S, Karanis P (2011) Waterborne transmission of protozoan parasites: review of worldwide outbreaks—an update 2004–2010. Water Res 45:6603–6614

Briancesco R, Bonadonna L (2005) An Italian study on Cryptosporidium and Giardia in wastewater, fresh water and treated water. Environ Monit Asses 104:445–457

Campbell AT, Robertson LJ, Smith V (1992) Viability of Cryptosporidium parvum oocysts: correlation of in vitro excystation with inclusion or exclusion of fluorogenic vital dyes. Appl Environ Microbiol 58:3499–3493

Castro-Hermida JA, García-Presedo I, Almeida A, González-Warleta M, Correia da Costa M, Mezo M (2009) Detection of Cryptosporidium spp. and Giardia duodenalis in surface water: a health risk for humans and animals. Water Res 43:4133–4142

Chalmers RM (2012) Waterborne outbreaks of cryptosporidiosis. Ann Ist Super Sanità 48:429–446

Chalmers RM, Robinson G, Elwin K, Hadfield SJ, Xiao L, Ryan U, Modha D, Mallaghan C (2009) Cryptosporidium rabbit genotype, a newly identified human pathogen [letter]. Emerg Infect Dis 15:829–830

Coupe S, Delabre K, Pouillot R, Houdart S, Santillana-Hayat M, Derouin F (2006) Detection of Cryptosporidium, Giardia and Enterocytozoon bieneusi in surface water, including recreational areas: one year prospective study. FEMS Immunol Med Microbiol 47:351–359

EPA (2005) Environmental Protection Agency U.S. Method 1623: Cryptosporidium and Giardia in water by Filtration/IMS/FA. https://www.epa.gov/sites/production/files/2015-07/documents/epa-1623.pdf

Feng Y, Xiao L (2011) Zoonotic potential and molecular epidemiology of Giardia species and giardiasis. Clin Microbiol Rev 24:110–140

Gallas-Lindemann C, Sotiridou I, Plutzer J, Karanis P (2013) Prevalence and distribution of Cryptosporidium and Giardia in wastewater and the surface, drinking and ground waters in the Lower Rhine, Germany. Epidemiol Infect 141:9–21

Galván AL, Magnet A, Izquierdo F, Fernández Vadillo C, Peralta RH, Angulo S, Fenoy S, del Águila C (2014) A year-long study of Cryptosporidium species and subtypes in recreational, drinking and wastewater from the central area of Spain. Sci Total Environ 468:368–375

Gómez-Couso H, Méndez-Hermida F, Castro-Hermida JA, Ares-Mazás E (2005) Giardia in shellfish-farming areas: detection in mussels, river water and waste waters. Vet Parasitol 133:13–18

Györke A, Kalmár ZS, Dumitrache MO, Gherman CM, Mircean V (2016) Giardia duodenalis genotypes in domestic and wild animals from Romania identified by PCR-RFLP targeting the gdh gene. Vet Parasitol 217:71–75

Imre K, Lobo LM, Matos O, Popescu C, Genchi C, Dărăbuș G (2011) Molecular characterisation of Cryptosporidium isolates from pre-weaned calves in Romania: is there an actual risk of zoonotic infections? Vet Parasitol 181:321–324

Imre K, Luca C, Costache M, Sala C, Morar A, Morariu S, Ilie MS, Imre M, Dărăbuş G (2013) Zoonotic Cryptosporidium parvum in Romanian newborn lambs (Ovis aries). Vet Parasitol 191:119–122

Jiang J, Alderisio KA, Singh A, Xiao L (2005) Development of procedures for direct extraction of Cryptosporidium DNA from water concentrates and for relief of PCR inhibitors. Appl Environ Microbiol 71:1135–1141

Karanis P, Papadopoulou C, Kimua A, Economou E, Kourenti C, Sakkas H (2002) Cryptosporidium and Giardia in natural, drinking and recreational water of northwestern Greece. Acta Hydrochim Hydrobiol 30:49–58

Karanis P, Sotiriadou I, Kartashev V, Kourenti C, Tsvetkova N, Stojanova K (2006) Occurrence of Giardia and Cryptosporidium in water supplies of Russia and Bulgaria. Environ Res 102:260–271

Lobo ML, Xiao L, Antunes F, Matos O (2009) Occurrence of Cryptosporidium and Giardia genotypes and subtypes in raw and treated water in Portugal. Lett Appl Microbiol 48:732–737

MacKenzie WR, Hoxie NJ, Proctor ME, Gradus MS, Blair KA, Peterson DE, Kazmierczak JJ, Addiss DG, Fox KR, Rose JB, Davis JP (1994) A massive outbreak in Milwaukee of Cryptosporidium infection transmitted through the public water supply. N Engl J Med 331:161–167

Mahmoudi MR, Nazemalhosseini-Mojarad E, Kazemi B, Haghighi A, Mirzaei A, Mohammadiha A, Jahantab S, Xio L, Karanis P (2015) Cryptosporidium genotypes and subtypes distribution in river water in Iran. J Water Health 13:600–606

Montemayor M, Valero F, Cofre J, Lucena F (2005) Occurrence of Cryptosporidium spp. oocysts in raw and treated sewage and river water in north-eastern Spain. J Appl Microbiol 99:1455–1462

Nygård K, Schimmer B, Søbstad Ø, Tveit I (2004) Waterborne outbreak of giardiasis in Bergen, Norway. Euro Surveill 8:46

Plutzer J, Karanis P, Domokos K, Törökné A, Márialigeti K (2008) Detection and characterization of Giardia and Cryptosporidium in Hungarian raw, surface and sewage water samples by IFT, PCR and sequence analysis of the SSurRNA and GDH genes. Int J Hyg Environ Health 211:524–533

Plutzer J, Törökné A, Karanis P (2010) Combination of Arad microfiber filtration and LAMP methodology for simple, rapid and cost-effective detection of human pathogenic Giardia duodenalis and Cryptosporidium spp. in drinking water. Lett Appl Microbiol 50:82–88

Read CM, Monis PT, Thompson RCA (2004) Discrimination of all genotypes of Giardia duodenalis at the glutamate dehydrogenase locus using PCR-RFLP. Infect Genet Evol 4:125–130

Robertson LJ, Hermansen L, Gjerde BK (2006) Occurrence of Cryptosporidium oocysts and Giardia cysts in sewage in Norway. Appl Environ Microbiol 72:5297–5303

Ryan U, Fayer R, Xiao L (2014) Cryptosporidium species in humans and animals: current understanding and research needs. Parasitology 141:1667–1685

Slifko TR, Smith HV, Rose JB (2000) Emerging parasite zoonoses associated with water and food. Int J Parasitol 30:1379–1393

Vieira PM, Mederle N, Lobo LM, Imre K, Mederle O, Xiao L, Dărăbuş G, Matos O (2015) Molecular characterization of Cryptosporidium (Apicomplexa) in children and cattle in Romania. Folia Parasitol 62:002

Xiao L, Ryan UM (2008) Molecular epidemiology. In: Fayer R, Xiao L (eds) Cryptosporidium and Cryptosporidiosis, second edn. CRC Press, Boca Raton, pp 119–172
Acknowledgments
This work was supported by a grant from the Romanian National Authority for Scientific Research and Innovation, CNCS–UEFISCDI, project number PN-II-RU-TE-2014-4-1300. The authors are extremely grateful to Ing. Anca Deac, Dr. Doru Morar, veterinary students, and water authorities for their indispensable contribution during sample collection and processing. The research was partially funded by the POSCCE Project SMIS No. 2669. Part of this work has been previously published as an abstract in Journal of Biotechnology 2016, 231(Suppl S): S84.
Ethics declarations
Competing interests
The authors declare that they have no conflicts of interest.
Additional information
Responsible editor: Vitor Manuel Oliveira Vasconcelos
About this article
Cite this article
Imre, K., Sala, C., Morar, A. et al. Giardia duodenalis and Cryptosporidium spp. as contaminant protozoa of the main rivers of western Romania: genetic characterization and public health potential of the isolates. Environ Sci Pollut Res 24, 18672–18679 (2017). https://doi.org/10.1007/s11356-017-9543-y
Received:

Accepted:

Published:

Issue Date:
Keywords
River water

Giardia
Cryptosporidium

Western Romania

Public health