Removal of the emerging contaminant bisphenol A by an ureasil–PEO hybrid membrane: experimental study and molecular dynamic simulation
Abstract
This work reports the use of a cross-linked ureasil–PEO hybrid matrix (designated PEO800) as an efficient adsorbent to retain the emerging contaminant bisphenol A (BPA) from an aqueous medium. The in-deep experimental and theoretical results provide information about the interactions between PEO800 and BPA. The in situ UV-vis spectroscopy data and the pseudo-first order, pseudo-second order, Elovich, and Morris–Webber intraparticle diffusion models allowed us to propose a three-step mechanism for the adsorption of BPA onto PEO800. The results indicate that the pseudo-first-order kinetic model effectively describes the adsorption of BPA onto PEO800. Differential scanning calorimetry (DSC) and Fourier transform infrared (FTIR) spectroscopy confirmed the interaction of PEO800 with BPA, showing an alteration in the chemical environment of the polymer ether oxygen atoms present in the hybrid matrix. The molecular dynamic simulation provides further evidence that the BPA molecules interact preferentially with PEO. The amount of desorbed BPA depended on the pH and solvent used in the assays. This work provides new opportunities for using the hydrophilic ureasil–PEO matrix which has demonstrated its abilities in being a fast and easy alternative to successfully removing organic contaminants from aqueous mediums and therefore having potential applications in water remediation.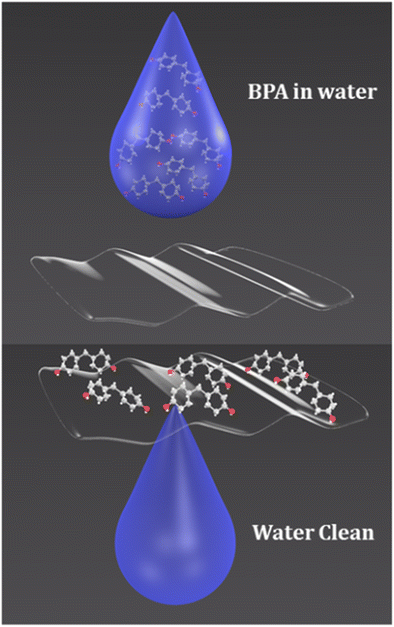 Keywords
Organic–inorganic hybrid 
Bisphenol A 
Adsorption 
Notes
Acknowledgements
We acknowledge the financial support received from the Brazilian agencies CAPES, CNPq, and FAPESP (Project 2013/20455-2 and 2016/01501-1). We would like to thank Huntsman Performed Products for donating Jeffamines. We thank Dr. Fábio L. Pissetti (Departamento de Ciências Exatas Universidade Federal de Alfenas—Unifal-MG) for helping in DSC data collection efforts.
Compliance with ethical standards
Conflict of interest
The authors declare that they have no conflict of interest.
Copyright information
© Springer-Verlag GmbH Germany 2017