Abstract
A significant geographic variation of breast cancer incidence exists, with incidence rates being much higher in industrialized regions. The objective of the current study was to assess the role of environmental factors such as exposure to ambient air pollution, specifically carcinogenic polycyclic aromatic hydrocarbons (PAHs) that may be playing in the geographic variations in breast cancer incidence. Female breast cancer incidence and ambient air emissions of PAHs were examined in the northeastern and southeastern regions of the USA by analyzing data from the Surveillance, Epidemiology, and End Results (SEER) Program and the State Cancer Profiles of the National Cancer Institute and from the Environmental Protection Agency. Linear regression analysis was conducted to evaluate the association between PAH emissions and breast cancer incidence in unadjusted and adjusted models. Significantly higher age-adjusted incidence rates of female breast cancer were seen in northeastern SEER regions, when compared to southeastern regions, during the years of 2000–2012. After adjusting for potential confounders, emission densities of total PAHs and four carcinogenic individual PAHs (benzo[a]pyrene, dibenz[a,h]anthracene, naphthalene, and benzo[b]fluoranthene) showed a significantly positive association with annual incidence rates of breast cancer, with a β of 0.85 (p = 0.004), 58.37 (p = 0.010), 628.56 (p = 0.002), 0.44 (p = 0.041), and 77.68 (p = 0.002), respectively, among the northeastern and southeastern states. This study suggests a potential relationship between ambient air emissions of carcinogenic PAHs and geographic variations of female breast cancer incidence in the northeastern and southeastern US. Further investigations are needed to explore these interactions and elucidate the role of PAHs in regional variations of breast cancer incidence.
Access options
Buy single article
Instant access to the full article PDF.
US$ 39.95
Tax calculation will be finalised during checkout.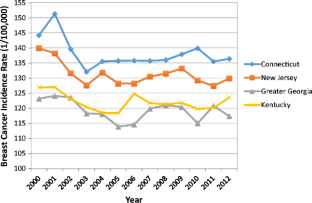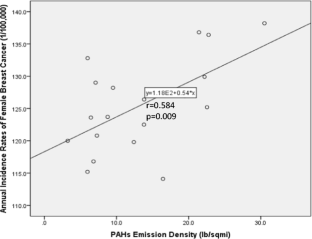 References
[CDC] Centers for Disease Control and Prevention (2016) State Tobacco Activities Tracking and Evaluation (STATE) system. http://nccd.cdc.gov/STATESystem/rdPage.aspx?rdReport=OSH_State.CustomReports. Accessed 8 Jan 2016

[EPA] Environmental Protection Agency (2015) 2008 National Emissions Inventory (NEI) data. https://www.epa.gov/air-emissions-inventories/2008-national-emissions-inventory-nei-data. Accessed 12 Aug 2015

[IARC] International Agency for Research on Cancer (2010) Some non-heterocyclic polycyclic aromatic hydrocarbons and some related exposures. IARC Monogr Eval Carcinog Risks Hum 92:1–853

[IARC] International Agency for Research on Cancer (2015) Agents classified by the IARC monographs, volumes 1–117. http://monographs.iarc.fr/ENG/Classification/. Accessed 27 Oct 2015

[NCI] National Cancer Institute (2015) State cancer profiles. http://statecancerprofiles.cancer.gov/incidencerates/index.php. Accessed 3 Aug 2015

[SEER] Surveillance, Epidemiology, and End Results Program (2015) SEER*Stat database: incidence—SEER 18 Regs Limited-Use, Nov 2014 Sub (2000–2012)

Bensyl DM, Iuliano DA, Carter M, Santelli J, Gilbert BC (2005) Contraceptive use—United States and territories, behavioral risk factor surveillance system, 2002. MMWR Surveill Summ 54:1–72

Binachon B, Dossus L, Danjou AM, Clavel-Chapelon F, Fervers B (2014) Life in urban areas and breast cancer risk in the French E3N cohort. Eur J Epidemiol 29:743–751

Bonner MR, Han D, Nie J, Rogerson P, Vena JE, Muti P et al (2005) Breast cancer risk and exposure in early life to polycyclic aromatic hydrocarbons using total suspended particulates as a proxy measure. Cancer Epidemiol Biomark Prev 14:53–60

Brody JG, Rudel RA (2003) Environmental pollutants and breast cancer. Environ Health Perspect 111:1007–1019

Brody JG, Moysich KB, Humblet O, Attfield KR, Beehler GP, Rudel RA (2007) Environmental pollutants and breast cancer. Cancer 109:2667–2711

Grant WB, Garland CF (2005) Air pollution and breast cancer. Epidemiology 16:421

Jeffy BD, Chirnomas RB, Romagnolo DF (2002) Epigenetics of breast cancer: polycyclic aromatic hydrocarbons as risk factors. Environ Mol Mutagen 39:235–244

Kelsey JL, Berkowitz GS (1988) Breast cancer epidemiology. Cancer Res 48:5615–5623

Key TJ, Verkasalo PK, Banks E (2001) Epidemiology of breast cancer. Lancet Oncol 2:133–140

Kulldorff M, Freuer EJ, Miller BA, Freedman LS (1997) Breast cancer clusters in the northeastern United States: a geographic analysis. Am J Epidemiol 146:161–170

Laden F, Spiegelman D, Neas LM, Colditz GA, Hankinson SE, Manson JE et al (1997) Geographic variation in breast cancer incidence rates in a cohort of U.S. women. J Natl Cancer Inst 89:1373–1378

Li D, Wang M, Dhingra K, Hittelman WN (1996) Aromatic DNA adducts in adjacent tissues of breast cancer patients: clues to breast cancer etiology. Cancer Res 56:287–293

Marchant J (1967) The effects of different social conditions on breast cancer induction in three genetic types of mice by dibenz[a,h]anthracene and a comparison with breast carcinogenesis by 3-methylcholanthrene. Br J Cancer 21:576–585

Mordukhovich I, Beyea J, Herring AH, Hatch M, Stellman SD, Teitelbaum SL et al (2016a) Vehicular traffic-related polycyclic aromatic hydrocarbon exposure and breast cancer incidence: the Long Island breast cancer study project (LIBCSP). Environ Health Perspect 124:30–38

Mordukhovich I, Beyea J, Herring AH, Hatch M, Stellman SD, Teitelbaum SL et al (2016b) Polymorphisms in DNA repair genes, traffic-related polycyclic aromatic hydrocarbon exposure and breast cancer incidence. Int J Cancer 139:310–321

Nie J, Beyea J, Bonner MR, Han D, Vena JE, Rogerson P et al (2007) Exposure to traffic emissions throughout life and risk of breast cancer: the Western New York Exposures and Breast Cancer (WEB) study. Cancer Causes Control 18:947–955

Parikh PV, Wei Y (2016) PAHs and PM2.5 emissions and female breast cancer incidence in metro Atlanta and rural Georgia. Int J Environ Health Res 26:458–466

Parkin DM, Bray F, Ferlay J, Pisani P (2005) Global cancer statistics, 2002. CA Cancer J Clin 55:74–108

Perera FP, Estabrook A, Hewer A, Channing K, Rundel A, Mooney LA et al (1995) Carcinogen-DNA adducts in human breast tissue. Cancer Epidemiol Biomark Prev 4:233–238

Pouns O, Mangas A, Covenas R, Geffard M (2009) Circulating antibodies directed against "polycyclic aromatic hydrocarbon-like" structures in the sera of cancer patients. Cancer Epidemiol 33:3–8

Reynolds P, Hurley S, Goldberg DE, Anton-Cilver H, Bernstein L, Deapen D et al (2004) Regional variations in breast cancer among California teachers. Epidemiology 15:746–754

Roepstorff V, Ostenfeldt N, Autrup H (1990) Extracts of airborne particulates collected at different locations in the Copenhagen area induce the expression of cytochrome P-4501A1. J Toxicol Environ Health 30:225–237

US Census Bureau (2015) http://quickfacts.census.gov/qfd/states/13000.html. Accessed 23 June 2015

Wei Y, Davis J, Bina WF (2012) Ambient air pollution is associated with the increased incidence of breast cancer in US. Int J Environ Health Res 22:12–21

White AJ, Chen J, McCullough LE, Xu X, Cho YH, Teitelbaum SL et al (2015) Polycyclic aromatic hydrocarbon (PAH)-DNA adducts and breast cancer: modification by gene promoter methylation in a population-based study. Cancer Causes Control 26:1791–1802

Ziegler RG, Hoover RN, Pike MC, Hildesheim A, Nomura AM, West DW et al (1993) Migration patterns and breast cancer risk in Asian-American women. J Natl Cancer Inst 85:1819–1827
Ethics declarations
Conflict of interest
The authors declare that they have no conflicts of interest.
Additional information
Responsible editor: Philippe Garrigues
About this article
Cite this article
Large, C., Wei, Y. Geographic variations in female breast cancer incidence in relation to ambient air emissions of polycyclic aromatic hydrocarbons. Environ Sci Pollut Res 24, 17874–17880 (2017). https://doi.org/10.1007/s11356-017-9395-5
Received:

Accepted:

Published:

Issue Date:
Keywords
Air emission

Breast cancer incidence

Geographic variations

Polycyclic aromatic hydrocarbons