Abstract
The wide diffusion of Emerging Organic Micropollutants (EOMs) in the environment is receiving increasing attention due to their potential toxicological effects on living organisms. So far, the Wastewater Treatment Plants (WWTPs) have not been designed with the purpose to remove these contaminants; therefore, they can represent the major source of release into the environment both through the effluent and the wasted sludge. The fate of EOMs in the WWTPs is still not completely known; further investigations are therefore needed to assess if it is possible to exploit the existing treatment units to reduce EOM concentrations or which processes must be implemented to this purpose. Among the wide class of EOMs, the present study focused on the following drugs of abuse: amphetamine (AM), methamphetamine (MET), 11-nor-Δ9-THC-9carboxy (THC-COOH) and benzoylecgonine (BEG). Presence and removal efficiency of these drugs in the activated sludge tank of a WWTP for domestic sewage was investigated through analyses at both full-scale and laboratory scale. Determinations conducted in the full-scale WWTP highlighted that, among the searched drugs, AM was found to be the most abundant in the influent and effluent of the biological oxidation tank, while 11-nor-Δ9-THC-9carboxy was present at the lowest concentration. Some removal took place in the units prior to the oxidation tank, although the main reduction was observed to occur in the biological oxidation reactor. All the drugs showed a wide variability of the measured concentrations during the week and the day. Taking into account results from both full-scale observations and batch tests, removals in the biological reactor were found within the following ranges: 33–84% for AM, 33–97% for MET, 33–57% for BEG and 29–83% for THC-COOH. These removals were due to a combination of adsorption and biodegradation mainly, while volatilization did not play a significant role. Other processes, e.g. hydrolysis, were likely to occur.
This is a preview of subscription content, log in to check access.
Access options
Buy single article
Instant access to the full article PDF.
US$ 39.95
Price includes VAT for USA
Subscribe to journal
Immediate online access to all issues from 2019. Subscription will auto renew annually.
US$ 99
This is the net price. Taxes to be calculated in checkout.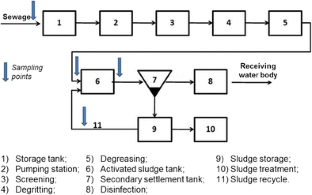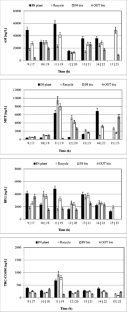 References
APHA, AWWA, WEF (2005) Standard methods for the examination of water and wastewater, 21st edn, Washington DC

Bijlsma L, Sancho JV, Pitarch E, Ibáñez M, Hernádez F (2009) Simultaneous ultra-high-pressure liquid chromatography-tandem mass spectrometry determination of amphetamine-like stimulants, cocaine and its metabolites, and a cannabis metabolite in surface water and urban wastewater. J Chromatogr A 1216:3078–3089

Bodík I, Mackuľak T, Fáberová M, Ivanová L (2016) Occurrence of illicit drugs and selected pharmaceuticals in Slovak municipal wastewater. Environ Sci Pollut Res 23:21098–21105

Boles TM, Wells MJM (2010) Analysis of amphetamine and methamphetamine as emerging pollutants in wastewater and wastewater-impacted streams. J Chromatogr A 1217(16):2561–2568

Castiglioni S, Zuccato E, Chiabrando C, Fanelli R, Bagnati R (2006) Identification and measurement of illicit drugs and their metabolites in urban wastewater by liquid chromatography-tandem mass spectrometry. Anal Chem 78:8421–8429

Chiaia AC, Banta-Green C, Field J (2008) Eliminating solid phase extraction with large volume injection LC/MS/MS: analysis of illicit and legal drugs and human urine indicators in US wastewaters. Environ Sci Technol 42:8841–8848

Chiavola A, Tedesco P, Boni MR (2016) Fate of some endocrine disruptors in batch experiments using activated and inactivated sludge. Water Air Soil Pollut 227:424

Clara M, Strenn B, Saracevis E, Kreuzinger N (2004) Adsorption of bisphenol-A, 17β-estradiol and 17α-ethinylestradiol to sewage sludge. Chemosphere 56:843–851

Collivignarelli C, Bertanza G, Bina S (1995) La verifica idrodinamica nel trattamento delle acque. Basi teoriche. Procedure di applicazione. Esempi. Collana Ambiente, vol. 8. CIPA Editore, Italy (in Italian)

Daughton CG (2011) Illicit drugs: contaminants in the environment and utility in forensic epidemiology. In: Reviews of Environmental Contamination and Toxicology 210, Springer Science+Business Media, LLC 2011

Díaz-Cruz MS, García-Galán MJ, Guerra P, Jelic A, Postigo C, Eljarrat E, Farré M, López de Alda MJ, Petrovic M, Barceló D (2009) Analysis of selected emerging contaminants in sewage sludge. Trends Anal Chem 28(11):1263

Evgenidou EN, Konstantinou IK, Lambropoulou DA (2015) Occurrence and removal of transformation products of PPCPs and illicit drugs in wastewaters: a review. Sci Total Environ 505:925–926

Hall W, Degenhardt L, Sindicich N (2008) In: Heggenhougen K, Quah S (eds) Illicit drug use and the burden of disease. International encyclopedia of public health, Elsevier, pp 523–530

Huerta-Fontela M, Galceran MT, Martin-Alonso J, Ventura F (2008) Occurrence of psychoactive stimulatory drugs in wastewaters in north-eastern Spain. Sci Total Environ 397:31–40

Kaleta A, Ferdig M, Buchberger W (2006) Semiquantitative determination of residues of amphetamine in sewage sludge samples. J Sep Sci 29:1662–1666

Kasprzyk-Hordern B, Dinsdale RM, Guwy AJ (2009) The removal of pharmaceuticals, personal care products, endocrine disruptors and illicit drugs during wastewater treatment and its impact on the quality of receiving waters. Water Res 43:363–380

Kasprzyk-Hordern B, Kondakal VVR, Baker DR (2010) Enantiomeric analysis of drugs of abuse by chiral liquid chromatography coupled with tandem mass spectrometry. J Chromatogr A 1217:4575–4586

Lai FY, O'Brien J, Bruno R, Hall W, Prichard J, Kirkbride P, Gartner C, Thai P, Carter S, Lloydh B, Burns L, Mueller J (2016) Spatial variations in the consumption of illicit stimulant drugs across Australia: a nationwide application of wastewater-based epidemiology. Sci Total Environ 568:810–818

Loganathan B, Phillips M, Mowery H, Jones-Lepp TL (2009) Contamination profiles and mass loadings of macrolide antibiotics and illicit drugs from a small urban wastewater treatment plant. Chemosphere 75:70–77

Loos R, Carvalho R, António DC, Comero S, Locoro G, Tavazzi S, Paracchini B, Ghiani M, Lettieri T, Blaha L, Jarosova B, Voorspoels S, Servaes K, Haglund P, Fick J, Lindberg RH, Schwesig D, Gawlik BM (2013) EU-wide monitoring survey on emerging polar organic contaminants in wastewater treatment plant effluents. Water Res 47:6475

Pal R, Megharaj M, Kirkbride KP, Naidu R (2013) Illicit drugs and the environment—a review. Sci Total Environ 463-464:1079–1082

Pomati F, Orlandi C, Clerici M, Luciani F, Zuccato E (2008) Effects and interactions in an environmentally relevant mixture of pharmaceuticals. Toxicol Sci 102:129

Postigo C, de Alda MJL, Barceló D (2010) Drugs of abuse and their metabolites in the Ebro River basin: occurrence in sewage and surface water, sewage treatment plants removal efficiency, and collective drug usage estimation. Environ Int 36(1):75–84

Saito T, Mase H, Takeich S, Inokuchi S (2007) Rapid simultaneous determination of ephedrines, amphetamines, cocaine, cocaine metabolites, and opiates in human urine by GC/MS. J Pharm Biomed Anal 43:358–363

Taewoo Y, Willie FH Jr (2007) The effect of biomass characteristics on partitioning and sorption hysteresis of 17α-ethinylestradiol. Water Res 41:1543–1553

USEPA (2011) Estimation program Interface Suite™ for Microsoft ®Windows, v. 4.10. United States Environmental Protection Agency, Washington DC

van Nuijs ALN, Castiglioni S, Tarcomnicu I, Postigo C, de Alda ML, Neels H, Zuccato E, Barceló D, Covaci A (2011) Illicit drug consumption estimations derived from wastewater analysis: a critical review. Sci Total Environ 409:3564–3577

van Nujis ALN, Tarcomincu I, Bervoets L, Blust R, Jorens PG, Neels H, Covaci A (2009a) Analysis of drugs of abuse in wastewater by hydrophilic interaction liquid chromatography-tandem mass spectrometry. Anal Bioanal Chem 395:819–828

van Nujis ALN, Pecceu B, Theunis L, Dubois N, Charlier C, Jorens PG, Bervoets L, Blust R, Meulemans H, Neels H, Covaci A (2009b) Can cocaine use be evaluated through analysis of wastewater? A nation-wide approach conducted in Belgium. Addiction 104:734–741

Zuccato E, Castiglioni S (2009) Illicit drugs in the environment. Phil Trans R Soc A 367:3965–3978
Additional information
Responsible editor: Ester Heath
About this article
Cite this article
Chiavola, A., Tedesco, P. & Boni, M.R. Fate of selected drugs in the wastewater treatment plants (WWTPs) for domestic sewage. Environ Sci Pollut Res 26, 1113–1123 (2019). https://doi.org/10.1007/s11356-017-9313-x
Received:

Accepted:

Published:

Issue Date:
Keywords
Biodegradation

Emerging organic micropollutants

Illicit drugs

Wastewater treatment plants