Abstract
In the recent years, residual antibiotics are considered to be emerging environmental pollutants due to their continuous input and persistence into the aquatic ecosystem even at low concentrations. Therefore, these are necessary to develop efficient methods for the wastewater treatment. The present paper describes the efficiency of several types of multi-walled carbon nanotubes (MWCNTs) for the retention of the selected antibiotics (ampicillin, ceftazidime, cefepime, imipenem, piperacillin, tazobactam, tetracycline, erythromycin, ciprofloxacin, norfloxacin, vancomycin, gentamicin, sulfamethoxazole, and thrimetoprim) from aqueous (synthetic) solutions and wastewater samples. The functionalized MWCNTs were characterized by Fourier transform infrared spectroscopy (FT-IR), scanning electron microscopy (SEM), and transmission electron microscopy (TEM). The obtained antibiotic percentage of retention was evaluated by quantitative assessment using high-performance liquid chromatography coupled with the diode array, fluorescence, and mass spectrometer detector (HPLC-DAD/FD/MS), after the solid-phase extraction (SPE) with Oasis HLB cartridges. The retention percentages of the selected antibiotics from waters ranged between ∼40 and 97%, with the exception of sulfamethoxazole and trimethoprim. The best percentages of retention were obtained for norfloxacin 97.03% and ciprofloxacin 97.10%. The suspensions of the MWCNTs improved the antibiotics removal from wastewaters. Removal of antibiotics from wastewaters using nanotechnology, in order to reduce their negative effects and antibiotic resistance, is a promising tool in the future wastewaters treatment.
This is a preview of subscription content, log in to check access.
Access options
Buy single article
Instant access to the full article PDF.
US$ 39.95
Price includes VAT for USA
Subscribe to journal
Immediate online access to all issues from 2019. Subscription will auto renew annually.
US$ 99
This is the net price. Taxes to be calculated in checkout.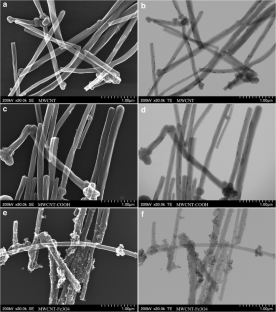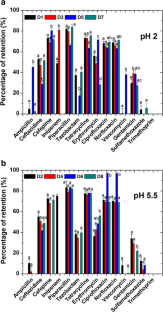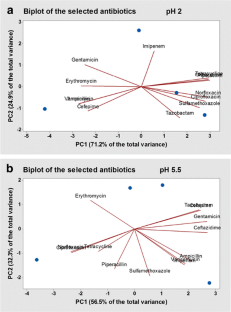 References
Ahmed MB, Zhou JL, Ngo HH, Guo W (2015) Adsorptive removal of antibiotics from water and wastewater: progress and challenges. Sci Total Environ 532:112–126

An Q, Lu N, Dong Y (2013) Chromatographic fingerprint coupled with hierarchical clustering analysis and principal component analysis for quality evaluation and original discrimination of rhizomes of Helleborus thibetanus Franch by HPLC-DAD. Anal Methods 5:5775–5784

Awolu OO, Obafaye RO, Ayodele BS (2013) Optimization of solvent extraction of oil from neem (Azadirachta indica) and its characterization. J Sci Res Rep 2(1):304–314

Baquero F, Martinez JL, Carton R (2008) Antibiotics and antibiotic resistance in water environment. Curr Opin Biotechnol 19:260–265

Batt AL, Aga DS (2005) Simultaneous analysis of multiple classes of antibiotics by ion trap LC/MS/MS for assessing surface water and groundwater contamination. Anal Chem 77:2940–2947

Baykal A, Senel M, Unal B, Karaoglu E, Sozeri H, Toprak MS (2013) Acid functionalized multiwall carbon nanotube/magnetite (MWCNT)-COOH/Fe3O4 hybrid: synthesis, characterization and conductivity evaluation. J Inorg Organomet Polym 23:726–735

Beale Jr JM (2004) Chapter 10—antibacterial antibiotics. In: Block, JH, Beale Jr JM (eds) Wilson and Gisvold's textbook of organic medicinal and pharmaceutical chemistry, Eleventh edn. Lippincott Williams & Wilkins. pp 299–366

Benito-Peña E, Partal-Rodera AI, León-González ME, Moreno-Bondi MC (2006) Evaluation of mixed mode solid phase extraction cartridges for the preconcentration of beta-lactam antibiotics in wastewater using liquid chromatography with UV-DAD detection. Anal Chim Acta 556:415–422

Clauβen M, Bahmann D, Schmidt S (2013) Detection of antibiotic residues in food—pitfalls and optimization of agar diffusion tests in comparison with commercial test kits. In: Méndez-Vilas A (ed) Microbial pathogens and strategies for combating them: science, technology and education. FORMATEX 2013

Claver PC, Zhang H, Li Q, Kexue Z, Zhou H (2010) Optimization of ultrasonic extraction of polysaccharides from Chinese malted sorghum using response surface methodology. Pak J Nutr 9(4):336–342

Dahl EL, Shock JL, Shenai BR, Gut J, DeRisi JL, Rosenthal PJ (2006) Tetracyclines specifically target the apicoplast of the malaria parasite Plasmodium falciparum. Antimicrob Agents Chemother 50:3124–3131

Dong WW, Au D, Cao XW, Li XB, Yang DJ (2011) Discriminating Astragali radix from adulterants using HPLC coupled with chemometric clustering technique. J Food Drug Anal 19(4):495–501

Gaspard S, Ncibi MC (2013) Biomass for sustainable applications: pollution remediation and energy. RSC Publishing, Green Chemistry Series, Cambridge, p 430

Her S-C, Lai C-Y (2013) Dynamic behavior of nanocomposites reinforced with multi-walled carbon nanotubes (MWCNTs). Mater 6:2274–2284

Kostopoulou M, Nikolau A (2008) Analytical problems and need for sample preparation in the determination of pharmaceuticals and their metabolites in aqueous environmental matrices. Trends Anal Chem 27:1023–1035

Kümmerer K (2009) Antibiotics in the aquatic environment—a review—part I. Chemosphere 75:417–434

Landers TF, Cohen B, Wittum TE, Larson EL (2012) A review of antibiotic use in food animals: perspective, policy, and potential. Public Health Rep 127:4–22

Li L, Sun M, Zhou H, Zhou Y, Chen P (2015) Response surface optimization of a rapid ultrasound-assisted extraction method for simultaneous determination of tetracycline antibiotics in manure. J Anal Methods Chem, Article ID 290903, 10 pages

Martinez JL (2009) Environmental pollution by antibiotics and by antibiotic resistance determinants. Environ Pollut 157:2893–2902

Mitróová Z, Tomašovičová N, Lancz G, Kováč J, Vávra I, Kopčanský P (2010) Preparation and characterization of carbon nanotubes functionalized by magnetite nanoparticles. 12.–14. 10. Olomouc, Czech Republic, EU

Mohammadi A, Kazemipour M, Ranjbar H, Walker RB, Ansari M (2015) Amoxicillin removal from aqueous media using multi-walled carbon nanotubes. Fullerenes Nanotubes Carbon Nanostruct 23(2):165–169

Nghiem LD, Schafer AI, Elimelech M (2005) Pharmaceutical retention mechanisms by nanofiltration membranes. Environ Sci Technol 39:7698–7705

Opriş O, Coman V, Copaciu F, Vlassa M (2012) Solid phase extraction and high performance thin layer chromatography quantification of some antibiotics from surface waters. J Planar Chromatogr - Mod TLC 25(6):516–522

Opriş O, Soran ML, Coman V, Copaciu F, Ristoiu D (2013) Determination of some frequently used antibiotics in waste waters using solid phase extraction followed by high performance liquid chromatography with diode array and mass spectrometry detection. Cent Eur J Chem 11(8):1343–1351

Opriş O, Soran ML, Lung I, Truşcă MRC, Szoke-Nagy T, Coman C (2016) The optimization of the antibiotics extraction from wastewaters and manure using Box-Behnken experimental design. Int J Environ Sci Technol. doi:10.1007/s13762-016-1165-2

Qui P, Cui M, Kang K, Park B, Son Y, Khim E, Jang M, Khim J (2014) Application of Box-Behnken design with response surface methodology for modeling and optimizing ultrasonic oxidation of arsenite with H2O2. Cent Eur J Chem 12(2):164–172

Ravanchi MT, Kaghazchi T, Kargari A (2009) Application of membrane separation processes in petrochemical industry: a review. Desalination 235:199–244

Seifrtová M, Nováková L, Lino C, Pena A, Solich P (2009) An overview of analytical methodologies for the determination of antibiotics in environmental waters. Anal Chim Acta 649:158–179

Sillanpää M, Kurniawan TA, Lo WH (2011) Degradation of chelating agents in aqueous solution using advanced oxidation process (AOP). Chemosphere 83:1443–1460

Sing KSW (2014) Adsorption by active carbons, In: Adsorption by powders and porous solids—principles, methodology and applications, 2nd edition, Academic Press, Massachusetts, US, 2014, pp. 321–391

Soran ML, Lung I, Opriş O, Floare-Avram V, Coman C (2016) Determination of antibiotics in surface water by solid-phase extraction and high-performance liquid chromatography with diode array and mass spectrometry detection. Anal Lett. doi:10.1080/00032719.2016.1209516

Ternes TA, Stüber J, Herrmann N, McDowell D, Ried A, Kampmann M, Teiser B (2003) Ozonation: a tool for removal of pharmaceuticals, contrast media and musk fragrances from wastewater? Water Res 37:1976–1982

Tiwari DK, Behari J, Sen P (2008) Application of nanoparticles in waste water treatment. World App Sci J 3:417–433

Tong L, Li P, Wang Y, Zhu K (2009) Analysis of veterinary antibiotic residues in swine wastewater and environmental water samples using optimized SPE-LC/MS/MS. Chemosphere 74:1090–1097

Vaisman L, Wagner HD, Marom G (2006) The role of surfactants in dispersion of carbon nanotubes. Adv Colloid Interf Sci 128–130:37–46

Watanabe N (2010) Use and environmental occurrence of antibiotics in freestall dairy farms with manured forage fields. Environ Sci Technol 44:6591–6600

Zhang L, Song X, Liu X, Yang L, Pan F, Lv J (2011) Studies on the removal of tetracycline by multi-walled carbon nanotubes. Chem Eng J 178:26–33
Acknowledgments
This work was funded through the EEA 2009-2014 Financial Mechanism under the RO04—Reduction of hazardous substances scheme [grant number 3499/20.05.2015].
Additional information
Responsible editor: Philippe Garrigues
About this article
Cite this article
Soran, M., Opriş, O., Lung, I. et al. The efficiency of the multi-walled carbon nanotubes used for antibiotics removal from wastewaters generated by animal farms. Environ Sci Pollut Res 24, 16396–16406 (2017). https://doi.org/10.1007/s11356-017-9238-4
Received:

Accepted:

Published:

Issue Date:
Keywords
Antibiotic

Box–Behnken design

Decontamination

Nanomaterial

Removal

Environmental sample