Abstract
The detailed analysis of columnar optical and microphysical properties of aerosols obtained from the AErosol RObotic NETwork (AERONET) Cimel sun photometer operated at Skukuza (24.98° S, 31.60° E, 150 m above sea level), South Africa was carried out using the level 2.0 direct sun and inversion products measured during 1999–2010. The observed aerosol optical depth (AOD) was generally low over the region, with high values noted in late winter (August) and mid-spring (September and October) seasons. The major aerosol types found during the study period were made of 3.74, 69.63, 9.34, 8.83, and 8.41% for polluted dust (PD), polluted continental (PC), non-absorbing (NA), slightly absorbing (SA), and moderately absorbing (MA) aerosols, respectively. Much attention was given to the aerosol fine- and coarse-modes deduced from the particle volume concentration, effective radius, and fine-mode volume fraction. The aerosol volume size distribution pattern was found to be bimodal with the fine-mode showing predominance relative to coarse-mode during the winter and spring seasons, owing to the onset of the biomass burning season. The mean values of total, fine-, and coarse-mode volume particle concentrations were 0.07 ± 0.04, 0.03 ± 0.03, and 0.04 ± 0.02 μm3 μm−2, respectively, whereas the mean respective effective radii observed at Skukuza for the abovementioned modes were 0.35 ± 0.17, 0.14 ± 0.02, and 2.08 ± 0.02 μm. The averaged shortwave direct aerosol radiative forcing (ARF) observed within the atmosphere was found to be positive (absorption or heating effect), whereas the negative forcing in the surface and TOA depicted significant cooling effect due to more scattering type particles.
Access options
Buy single article
Instant access to the full article PDF.
USD 39.95
Price includes VAT (USA)
Tax calculation will be finalised during checkout.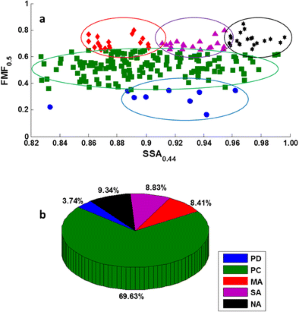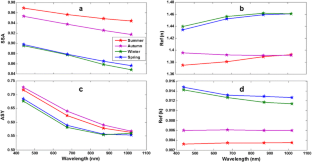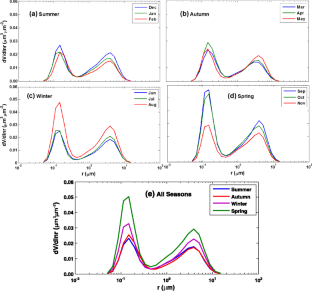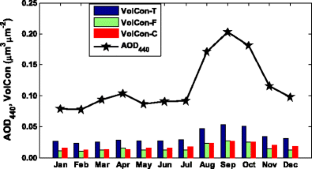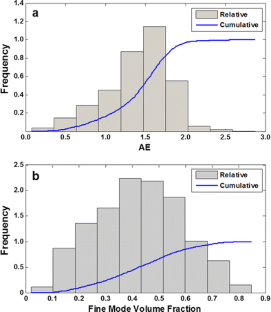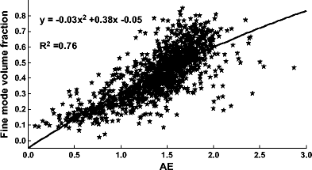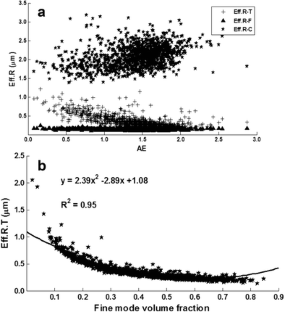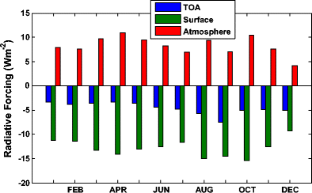 References
Adesina AJ, Kumar KR, Sivakumar V, Griffith D (2014) Direct radiative forcing of urban aerosols over Pretoria (25.75°S, 28.28°E) using AERONET Sunphotometer data: first scientific results and environmental impact. J Environ Sci 26:2459–2474

Adesina AJ, Kumar KR, Sivakumar V (2015) Variability in aerosol optical properties and radiative forcing over Gorongosa (18.97°S, 34.35°E) in Mozambique. Meteorog Atmos Phys 127:217–228

Adesina AJ, Kumar KR, Sivakumar V, Piketh SJ (2016) Intercomparison and assessment of long-term (2004-2013) multiple satellite aerosol products over two contrasting sites in South Africa. J Atmos Solar Terres Phys 148:82–95

Alam K, Trautmann T, Blaschke T, Majid H (2012) Aerosol optical and radiative properties during summer and winter season over Lahore and Karachi. Atmos Environ 50:234–245

Alam K, Trautmann T, Blaschke T, Subhan F (2014) Changes in aerosol optical properties due to dust storms in the Middle East and Southwest Asia. Remote Sens Environ 143:216–227

Ångström A (1964) The parameters of atmospheric turbidity. Tellus 16:64–75

Bergstrom RW, Pilewskie P, Russell P, Redemann J, Bond T, Quinn P, Sierau B (2007) Spectral absorption properties of atmospheric aerosols. Atmos Chem Phys 7(23):5937–5943

Bibi H, Alam K, Bibi S (2016) In-depth discrimination of aerosol types using multiple clustering techniques over four locations in indo-Gangetic plains. Atmos Res 181:106–114

Cachorro V, Vergaz R, De Frutos A (2001) A quantitative comparison of α−Å turbidity parameter retrieved in different spectral ranges based on spectroradiometer solar radiation measurements. Atmos Environ 35(30):5117–5124

Charlson RJ, Schwartz S, Hales J, Cess RD, Coakley J, Hansen J, Hofmann D (1992) Climate forcing by anthropogenic aerosols. Science 255(5043):423–430

Dubovik O, King MD (2000) A flexible inversion algorithm for retrieval of aerosol optical properties from sun and sky radiance measurements. J Geophys Res-Atmos 105(D16):20673–20696

Dubovik O, Holben BN, Eck TF, Smirnov A, Kaufman YJ, King MD, Tanré D, Slutsker I (2002) Variability of absorption and optical properties of key aerosol types observed in worldwide locations. J Atmos Sci 59:590–608

Eck TF, Holben BN, Reid J, Dubovik O, Smirnov A, O'neill N, Slutsker I, Kinne S (1999) Wavelength dependence of the optical depth of biomass burning, urban, and desert dust aerosols. J Geophys Res-Atmos 104(D24):31333–31349

Eck TF, Holben BN, Reid J, O'Neill N, Schafer J, Dubovik O, Smirnov A, Yamasoe M, Artaxo P (2003a) High aerosol optical depth biomass burning events: a comparison of optical properties for different source regions. Geophys Res Letts 30(2). doi:10.1029/2003GL017861

Eck TF, Holben BN, Ward D, Mukelabai M, Dubovik O, Smirnov A, Schafer J, Hsu N, Piketh S, Queface A (2003b) Variability of biomass burning aerosol optical characteristics in southern Africa during the SAFARI 2000 dry season campaign and a comparison of single scattering albedo estimates from radiometric measurements. J Geophys Res Atmos 108(D13). doi:10.1029/2002JD002321

El-Metwally M, Alfaro SC, Wahab AMM, Favez O, Mohamed Z, Chatenet B (2011) Aerosol properties and associated radiative effects over Cairo (Egypt). Atmos Res 99:263–276

Freiman M, Piketh S (2003) Air transport into and out of the industrial Highveld region of South Africa. J Appl Meteorol 42(7):994–1002

García O, Díaz J, Expósito F, Díaz A, Dubovik O, Derimian Y, Dubuisson P, Roger J-C (2012) Shortwave radiative forcing and efficiency of key aerosol types using AERONET data. Atmos Chem Phys 12(11):5129–5145

Giles DM, Holben BN, Eck TF, Sinyuk A, Smirnov A, Slutsker I, Dickerson R, Thompson A, Schafer J (2012) An analysis of AERONET aerosol absorption properties and classifications representative of aerosol source regions. J Geophys Res Atmos 117(D17). doi:10.1029/2012JD018127

Hersey SP, Garland R, Crosbie E, Shingler T, Sorooshian A, Piketh S, Burger R (2015) An overview of regional and local characteristics of aerosols in South Africa using satellite, ground, and modeling data. Atmos Chem Phys 15:4259–4278

Holben BN, Eck TF, Slutsker I, Tanré D, Buis JP, Setzer A, Vermote E, Reagan JA, Kaufman Y, Nakajima T, Lavenu F, Jankowiak I, Smirnov A (1998) AERONET-A federated instrument network and data archive for aerosol characterization. Remote Sens Environ 66:1–16

Ichoku C, Remer LA, Kaufman YJ, Levy R, Chu DA, Tanré D, Holben BN (2003) MODIS observation of aerosols and estimation of aerosol radiative forcing over southern Africa during SAFARI 2000. J Geophys Res-Atmos 108(D13)

IPCC (2013) In: Stocker TF, Qin D, Plattner GK, Tignor M, Allen SK, Boschung J, Nauels A, Xia Y, Bex V, Midgley PM (eds) Climate change 2013: the physical science basis: contribution of Working Group I to the Fifth Assessment Report of the Intergovernmental Panel on Climate Change (IPCC). Cambridge University Press, Cambridge, p 1535

Jacobson MZ (2001) Strong radiative heating due to the mixing state of black carbon in atmospheric aerosols. Nature 409(6821):695–697

Kalapureddy M, Kaskaoutis DG, Raj PE, Devara P, Kambezidis H, Kosmopoulos P, Nastos P (2009) Identification of aerosol type over the Arabian Sea in the premonsoon season during the Integrated Campaign for Aerosols, Gases and Radiation Budget (ICARB). J Geophys Res Atmos 114(D17). doi:10.1029/2009JD011826

Kang N, Kumar KR, Yu X, Yin Y (2016) Column-integrated aerosol optical properties and direct radiative forcing over the urban-industrial megacity Nanjing in the Yangtze River Delta, China. Environ Sci Pollut Res 23:17532–17552

Kaskaoutis DG, Kambezidis H, Hatzianastassiou N, Kosmopoulos P, Badarinath KVS (2007) Aerosol climatology: on the discrimination of aerosol types over four AERONET sites. Atmos Chem Phys Discuss 7(3):6357–6411

Kaskaoutis DG, Badarinath KVS, Kharol SK, Sharma AR, Kambezidis H (2009) Variations in the aerosol optical properties and types over the tropical urban site of Hyderabad, India. J Geophys Res Atmos 114(D22). doi:10.1029/2009JD012423

Kumar KR, Sivakumar V, Reddy RR, Gopal KR, Adesina AJ (2013) Inferring wavelength dependence of AOD and Ångström exponent over a sub-tropical station in South Africa using AERONET data: influence of meteorology, long-range transport and curvature effect. Sci Total Environ 461:397–408

Kumar KR, Sivakumar V, Reddy RR, Gopal KR, Adesina AJ (2014) Identification and classification of different aerosol types over a subtropical rural site in Mpumalanga, South Africa: seasonal variations as retrieved from the AERONET Sunphotometer. Aerosol Air Qual Res 14(1):108–123

Kumar KR, Yin Y, Sivakumar V, Kang N, Yu X, Diao Y, Adesina AJ, Reddy RR (2015) Aerosol climatology and discrimination of aerosol types retreived from MODIS, MISR, and OMI over Durban (29.88S, 31.02E), South Africa. Atmos Environ 117:9–18

Lee J, Kim J, Song CH, Kim SB, Chun Y, Sohn BJ, Holben BN (2010) Characteristics of aerosol types from AERONET sunphotometer measurements. Atmos Environ 44:3110–3117

Mateos D, Anton M, Toledano C, Cachorro VE, Alados-Arboledas L et al (2014) Aerosol radiative effects in the ultraviolet, visible, and near-infrared spectral ranges using long-term aerosol data series over the Iberian peninsula. Atmos Chem Phys 14:13497–13514

Nyeki S, Wehril C, Grobner, Kouremeti N, Wacker S, Labuschagne C, Mbatha N, Brunke EG (2015) The GAW-PFR aerosol optical depth network: the 2008-2013 time series at Cape point station, South Africa. J Geophys Res-Atmos 120:5070–5084

O'Neill N, Eck TF, Smirnov A, Holben BN, Thulasiraman S (2003) Spectral discrimination of coarse and fine mode optical depth. J Geophys Res Atmos 108(D17). doi:10.1029/2002JD002975

Pace G, Sarra AD, Meloni D, Piacentino S, Chamard P (2006) Aerosol optical properties at Lampedusa (Central Mediterranean). 1. Influence of transport and identification of different aerosol types. Atmos Chem Phys 6(3):697–713

Piketh S, Annegarn H, Tyson P (1999) Lower tropospheric aerosol loadings over South Africa: the relative contribution of aeolian dust, industrial emissions, and biomass burning. J Geophys Res-Atmos 104(D1):1597–1607

Prats N, Cachorro V, Berjón A, Toledano C, de Frutos A (2011) Column-integrated aerosol microphysical properties from AERONET sun photometer over southwestern Spain. Atmos Chem Phys 11(24):12535–12547

Queface AJ, Piketh SJ, Eck TF, Tsay S-C, Mavume AF (2011) Climatology of aerosol optical properties in southern Africa. Atmos Environ 45(17):2910–2921

Russell P, Bergstrom R, Shinozuka Y, Clarke A, DeCarlo P, Jimenez J, Livingston J, Redemann J, Dubovik O, Strawa A (2010) Absorption Angstrom exponent in AERONET and related data as an indicator of aerosol composition. Atmos Chem Phys 10(3):1155–1169

Schuster GL, Dubovik O, Holben BN (2006) Angstrom exponent and bimodal aerosol size distributions. J Geophys Res Atmos 111(D7). doi:10.1029/2005JD006328

Schwartz SE, Benkovitz CM (2002) Influence of anthropogenic aerosol on cloud optical depth and albedo shown by satellite measurements and chemical transport modeling. Proc National Acad Sci 99(4):1784–1789

Singh RP, Dey S, Tripathi S, Tare V, Holben BN (2004) Variability of aerosol parameters over Kanpur, northern India. J Geophys Res 109(D23206). doi:10.1029/2004JD004966

Sivakumar V, Tesfaye M, Alemu W, Sharma A, Bollig C, Mengistu G (2010) Aerosol measurements over South Africa using satellite, sun-photometer and LIDAR. Adv Geosci 16:253–264

Smirnov A, Holben BN, Eck TF, Dubovik O, Slutsker I (2000) Cloud screening and quality control algorithms for the AERONET database. Remote Sens Environ 73:337–349

Srivastava A, Tripathi S, Dey S, Kanawade V, Tiwari S (2012) Inferring aerosol types over the indo-Gangetic Basin from ground based sunphotometer measurements. Atmos Res 109:64–75

Tesfaye M, Sivakumar V, Botai J, Mengistu TG (2011) Aerosol climatology over South Africa based on 10 years of Multiangle Imaging Spectroradiometer (MISR) data. J Geophys Res Atmos ​116(D20). doi:10.1029/2011JD016023

Yu XN, Kumar KR, Lu R, Ma J (2016a) Changes in column aerosol optical properties during extreme haze-fog episodes in January 2013 over urban Beijing. Environ Pollut 210:217–226

Yu XN, Lu R, Kumar KR, Ma J, Zhang Q, Jiang Y, Kang N, Yang S, Wang J, Li M (2016b) Dust aerosol properties and radiative forcing observed in spring during 2001-2014 over urban Beijing, China. Environ Sci Pollut Res 23:15432–15442

Zhang X, Wang Y, Niu T, Zhang X, Gong S, Zhang Y, Sun J (2012) Atmospheric aerosol compositions in China: spatial/temporal variability, chemical signature, regional haze distribution and comparisons with global aerosols. Atmos Chem Phys 12(2):779–799
Acknowledgements
The present work is supported by the French Centre National de la Recherche Scientifique (CNRS), the South African National Research Foundation (NRF-UID: 81659), the National Natural Science Foundation of China (Grant No. 91644224), the NUIST Key Laboratory for Aerosol-Cloud-Precipitation of China Meteorological Administration (Grant No. KDW1404), and the National Research Foundation of South Africa bi-lateral research grant (UID: 78682). The authors wish to acknowledge the support of the AERONET team for the availability of online data which is used in this paper. The authors would like to acknowledge Prof. Gerhard Lammel, the Editor-in-Chief of journal, and the three anonymous reviewers for their helpful comments and constructive suggestions towards the improvement of an earlier version of the manuscript.
Additional information
Responsible editor: Gerhard Lammel
About this article
Cite this article
Adesina, A.J., Piketh, S., Kanike, R.K. et al. Characteristics of columnar aerosol optical and microphysical properties retrieved from the sun photometer and its impact on radiative forcing over Skukuza (South Africa) during 1999–2010. Environ Sci Pollut Res 24, 16160–16171 (2017). https://doi.org/10.1007/s11356-017-9211-2
Received:

Accepted:

Published:

Issue Date:
Keywords
Aerosol optical depth

Single scattering albedo

Effective radius

Fine-mode volume fraction

Shortwave aerosol radiative forcing