Abstract
Brassinosteroids (BRs) are steroidal plant hormones involved in regulation of physiological and molecular processes to ameliorate various biotic and abiotic stresses. Exogenous application of BRs to improve stress tolerance in plants has recently become a high research priority. Several studies have revealed the involvement of these steroidal hormones in upregulation of stress-related defense genes and their cross talk with other metabolic pathways. This is likely to stimulate research on many unanswered questions regarding their role in enhancing the ability of plants to tolerate adverse environmental conditions. Thus, this review appraises new insights on mechanisms mediating BR-regulated changes in plants, focused mainly on their involvement in regulation of physiological and molecular mechanisms under stress conditions. Herein, examples of BR-stimulated modulation of antioxidant defense system and upregulation of transcription factors in plants exposed to various biotic (bacterial, viral, and fungal attack) and abiotic stresses (drought, salinity, heat, low temperature, and heavy metal stress) are discussed. Based on these insights, future research in the current direction can be helpful to increase our understanding of BR-mediated complex and interrelated processes under stress conditions.
This is a preview of subscription content,
to check access.
Access this article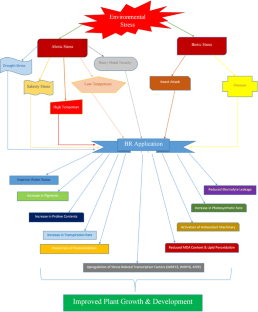 Similar content being viewed by others
References
Aghdam MS, Mohammadkhani N (2014) Enhancement of chilling stress tolerance of tomato fruit by postharvest brassinolide treatment. Food Bioprocess Tech 7:909–914

Aghdam MS, Asghari M, Farmani B, Mohayeji M, Moradbeygi H (2012b) Impact of postharvest brassinosteroids treatment on PAL activity in tomato fruit in response to chilling stress. Scientia Horti 144:116–120

Ahammed GJ, Choudhary SP, Chen S, Xia X, Shi K, Zhou Y, Yu J (2013) Role of brassinosteroids in alleviation of phenanthrene–cadmium co-contamination-induced photosynthetic inhibition and oxidative stress in tomato. J Exp Bot 64:199–213

Albrecht C, Boutrot F, Segonzac C, Schwessinger B, Ibanez SG, Chinchilla D, Rathjen JP, de- Vries SC, Zipfel C (2012) Brassinosteroids inhibit pathogen-associated molecular pattern–triggered immune signaling independent of the receptor kinase BAK1. Plant Bio 109:303–308

Ali MS, Kang G, Yang H, Jeong J, Hwang Y, Park G, Joo S (2007) A comparison of meat characteristics between duck and chicken breast. Asian Australasian J Animal Sci 20:1002

Ali SS, Kumar GS, Khan M, Doohan FM (2013) Brassinosteroid enhances resistance to fusarium diseases of barley. Phytopathology 103:1260–1267

Ali SS, Gunupuru LR, Kumar GS, Khan M, Scofield S, Nicholson P, Doohan FM (2014) Plant disease resistance is augmented in uzu barley lines modified in the brassinosteroid receptor BRI1. BMC Plant Bio 14:227

Allagulova CR, Maslennikova DR, Avalbaev AM, Fedorova KA, Yuldashev RA, Shakirova FM (2015) Influence of 24-epibrassinolide on growth of wheat plants and the content of dehydrins under cadmium stress. Russian J Plant Physiol 62:465–471

Anjum SA, Xie XY, Wang LC, Saleem MF, Man C, Lei W (2011) Morphological, physiological and biochemical responses of plants to drought stress. African J Agric Res 6:2026–2032

Anusha P, Shahana T, Sujatha E (2016) Germination, growth and oxidative responses of maize seedlings to salt and/or cadmium stress: mechanism of toxicity amelioration by 28-homobrassinolide. Int J Current Microbio Appl Sci 4:442–453

Arora P, Bhardwaj R, Kanwar MK (2012) Effect of 24-epibrassinolide on growth, protein content and antioxidative defense system of Brassica juncea L. subjected to cobalt ion toxicity. Acta Physiol Plantar 34:2007–2017

Asgher M, Khan MI, Anjum NA, Khan NA (2015) Minimising toxicity of cadmium in plants—role of plant growth regulators. Protoplasma 252:399–413

Bai MY, Shang JX, Oh E, Fan M, Bai Y, Zentella R, Sun TP, Wang ZY (2012) Brassinosteroid, gibberellin and phytochrome impinge on a common transcription module in Arabidopsis. Nature Cell Bio 14:810–817

Bajguz A, Hayat S (2009) Effects of brassinosteroids on the plant responses to environmental stresses. Plant Physiol Biochem 47:1–8

Bajguz A, Piotrowska-Niczyporuk A (2014) Interactive effect of brassinosteroids and cytokinins on growth, chlorophyll, monosaccharide and protein content in the green alga Chlorella vulgaris (Trebouxio phyceae). Plant Physiol Biochem 80:176–183

Behnamnia M (2015) Protective roles of brassinolide on tomato seedlings under drought stress. Int J Agri Crop Sci 8:552–559

Belkhadir Y, Jaillais Y, Epple P, Balsemão-Pires E, Dangl JL, Chory J (2012) Brassinosteroids modulate the efficiency of plant immune responses to microbe-associated molecular patterns. Proc Nat Acad Sci 109:297–302

Bell EM, Lin WC, Husbands AY, Yu L, Jaganatha V, Jablonska B, Mangeon A, Neff MM, Girke T, Springer PS (2012) Arabidopsis lateral organ boundaries negatively regulates brassinosteroid accumulation to limit growth in organ boundaries. Proc Nat Acad Sci 109:21146–21151

Cheng W, Huang Y, Meng C, Zhang N, Zeng H, Ren J, Li Y, Sun Y (2015) Effect of exogenous 24-epibrassinolide on salt resistance of watermelon (Citrullus lanatus L.) under salinity stress. Proceedings of the 5th International Conference on Advanced Design and Manufacturing Engineering (ICADME 2015), pp. 68–75.

Chung Y, Kwon SI, Choe S (2014) Antagonistic regulation of Arabidopsis growth by brassinosteroids and abiotic stresses. Molecules cells 37:795–803

Clouse SD (2011) Brassinosteroids. The Arabidopsis book. pp. 151.

Coll Y, Coll F, Amorós A, Pujol M (2015) Brassinosteroids roles and applications: an up-date. Biologia 70:726–732

Cubasch U, Chen D, Facchini MC, Frame D, Mahowald N, Winther J (2013) Intergovernmental panel for climate change. Fifth Assessment Report:130–139

Cui F, Liu L, Zhao Q, Zhang Z, Li Q, Lin B, Wu Y, Tang S, Xie Q (2012) Arabidopsis ubiquitin conjugase UBC32 is an ERAD component that functions in brassinosteroid-mediated salt stress tolerance. Plant Cell 24:233–244

Dalio RJ, Pinheiro HP, Sodek L, Haddad CR (2013) 24-epibrassinolide restores nitrogen metabolism of pigeon pea under saline stress. Bot Stud 54:9

Deng XG, Zhu T, Zhang DW, Lin HH (2015) The alternative respiratory pathway is involved in brassinosteroid-induced environmental stress tolerance in Nicotiana benthamiana. J Exp Bot 66:6219–6232

Depuydt S, Hardtke CS (2011) Hormone signalling crosstalk in plant growth regulation. Current Bio 21:365–373

Dong WA, Ya-he LI, Nian-jun XU, Xiao-ting XU (2016) Combined effects of 24-epibrassinolide and salinity on the growth and physiological performance of Ulva prolifera. Yingyong Shengtai Xuebao (In Chinese) 27:946–952

Fàbregas N, Caño-Delgado AI (2014) Turning on the microscope turret: a new view for the study of brassinosteroid signaling in plant development. Physiol Plantar 151:172–183

Fan XY, Sun Y, Cao DM, Bai MY, Luo XM, Yang HJ, Wei CQ, Zhu SW, Sun Y, Chong K, Wang ZY (2012) BZS1, a B-box protein, promotes photomorphogenesis downstream of both brassinosteroid and light signaling pathways. Mol Plant 5:591–600

Fariduddin Q, Khalil RR, Mir BA, Yusuf M, Ahmad A (2013) 24-epibrassinolide regulates photosynthesis, antioxidant enzyme activities and proline content of Cucumis sativus under salt and/or copper stress. Environ Monit Ass 185:7845–7856

Fariduddin Q, Yusuf M, Ahmad I, Ahmad A (2014) Brassinosteroids and their role in response of plants to abiotic stresses. Biologia Plantar 58:9–17

Fariduddin Q, Ahmed M, Mir BA, Yusuf M, Khan TA (2015) 24-epibrassinolide mitigates the adverse effects of manganese induced toxicity through improved antioxidant system and photosynthetic attributes in Brassica juncea. Environ Sci Pollut Res 22:11349–11359

Filová A (2014) The responses of Helianthus annuus L. to foliar application of 28-homobrassinolide. Res J Agric Sci 46:226–235

Gallego-Bartolomé J, Minguet EG, Grau-Enguix F, Abbas M, Locascio A, Thomas SG, Alabadí D, Blázquez MA (2012) Molecular mechanism for the interaction between gibberellin and brassinosteroid signaling pathways in Arabidopsis. Proc Nat Acad Sci 109:13446–13451

Gao W, Long L, Zhu LF, Xu L, Gao WH, Sun LQ, Liu LL, Zhang XL (2013) Proteomic and virus-induced gene silencing (VIGS) analyses reveal that gossypol, brassinosteroids, and jasmonic acid contribute to the resistance of cotton to Verticillium dahliae. Mol Cellular Proteom 12:3690–3703

Gao H, Kang L, Liu Q, Cheng N, Wang B, Cao W (2015) Effect of 24-epibrassinolide treatment on the metabolism of eggplant fruits in relation to development of pulp browning under chilling stress. J Food Sci Tech 52:3394–3401

Gao H, Zhang Z, Lv X, Cheng N, Peng B, Cao W (2016) Effect of 24-epibrassinolide on chilling injury of peach fruit in relation to phenolic and proline metabolisms. Postharvest Bio Tech 111:390–397

Geetika S, Harpreet K, Renu B, Spal KN, Poonam S (2014) Thermo-protective role of 28-homobrassinolide in Brassica juncea plants. American J Plant Sci 5:2431

Gendron JM, Liu JS, Fan M, Bai MY, Wenkel S, Springer PS, Barton MK, Wang ZY (2012) Brassinosteroids regulate organ boundary formation in the shoot apical meristem of Arabidopsis. Proc Nat Acad Sci 109:21152–21157

González-García MP, Vilarrasa-Blasi J, Zhiponova M, Divol F, Mora-García S, Russinova E, Caño-Delgado AI (2011) Brassinosteroids control meristem size by promoting cell cycle progression in Arabidopsis roots. Development 138:849–859

Grove MD, Spencer GF, Rohwedder WK, Mandava N, Worley JF, Warthen JD, Steffens GL, Flippen-Anderson JL, Cook JC (1979) Brassinolide, a plant growth-promoting steroid isolated from Brassica napus pollen. Nature 281:216–217

Gudesblat GE, Schneider-Pizoń J, Betti C, Mayerhofer J, Vanhoutte I, van Dongen W, Boeren S, Zhiponova M, de Vries S, Jonak C, Russinova E (2012) SPEECHLESS integrates brassinosteroid and stomata signalling pathways. Nature Cell Biol 14:548–554

Hacham Y, Holland N, Butterfield C, Ubeda-Tomas S, Bennett MJ, Chory J, Savaldi-Goldstein S (2011) Brassinosteroid perception in the epidermis controls root meristem size. Development 138:839–848

Hao J, Yin Y, Fei SZ (2013) Brassinosteroid signaling network: implications on yield and stress tolerance. Plant Cell Rep 32:1017–1030

Hasan SA, Hayat S, Ahmad A (2011) Brassinosteroids protect photosynthetic machinery against the cadmium induced oxidative stress in two tomato cultivars. Chemosphere 84:1446–1451

Hasanuzzaman M, Nahar K, Alam MM, Roychowdhury R, Fujita M (2013) Physiological, biochemical, and molecular mechanisms of heat stress tolerance in plants. Int J Mol Sci 14:9643–9684

Haubrick LL, Assmann SM (2006) Brassinosteroids and plant function: some clues, more puzzles. Plant Cell Environ 29:446–457

Hayat S, Ahmad A, Fariduddin Q (2003) Brassinosteroids: a regulator of 21st century. Springer, Netherlands

Hayat S, Hasan SA, Hayat Q, Ahmad A (2010) Brassinosteroids protect Lycopersicon esculentum from cadmium toxicity applied as shotgun approach. Protoplasma 239:3–14

Hayat S, Alyemeni MN, Hasan SA (2012) Foliar spray of brassinosteroid enhances yield and quality of Solanum lycopersicum under cadmium stress. Saudi J Biol Sci 19:325–335

Hu WH, Yan XH, Xiao YA, Zeng JJ, Qi HJ, Ogweno JO (2013) 24-Epibrassinosteroid alleviate drought-induced inhibition of photosynthesis in Capsicum annuum. Scientia Hortic 150:232–237

Hu WH, Zan XH, Yan XH, Wan XM, Huang LF (2015) Effects of 24-epibrassinolide on antioxidant system and drought-tolerance relative genes in pepper seedlings under drought stress. Scientia Hortic 150:232–237

Huang HY, Jiang WB, Hu YW, Wu P, Zhu JY, Liang WQ, Wang ZY, Lin WH (2013) BR signal influences Arabidopsis ovule and seed number through regulating related genes expression by BZR1. Mol Plant 6:456–469

Huang X, Ouyang X, Deng XW (2014) Beyond repression of photomorphogenesis: role switching of COP/DET/FUS in light signaling. Current Opinion Plant Biol 21:96–103

Hussein K, Calvosa C, Roy R and the Global Environmental Facility Unit/IFAD (2008) The effects of climate change on small holder farmers in West and Central Africa. 10th meeting of the Africa Partnership Forum, April 2008, Tokyo, Japan

Iqbal N, Umar S, Khan NA, Khan MIR (2014) A new perspective of phytohormones in salinity tolerance: regulation of proline metabolism. Environ Exp Bot 100:34–42

Irani SR, Pettingill P, Kleopa KA et al (2012) Morvan syndrome: clinical and serological observations in 29 cases. Ann Neuro 72:241–255

Janeczko A, Gullner G, Skoczowski A, Dubert F, Barna B (2007) Effects of brassinosteroid infiltration prior to cold treatment on ion leakage and pigment contents in rape leaves. Biol Plantar 51:355–358

Janeczko A, Hura K, Skoczowski A (2008) Temperature-dependent impact of 24-epibrassinolide on the fatty acid composition and sugar content in winter oilseed rape callus. Acta Physiol Plant 31:71–79

Jiang YP, Huang LF, Cheng F, Zhou YH, Xia XJ, Mao WH, Shi K, Yu JQ (2013) Brassinosteroids accelerate recovery of photosynthetic apparatus from cold stress by balancing the electron partitioning, carboxylation and redox homeostasis in cucumber. Physiol Plantar 148:133–145

Jin SH, Li XQ, Wang GG, Zhu XT (2015) Brassinosteroids alleviate high-temperature injury in Ficus concinna seedlings via maintaining higher antioxidant defence and glyoxalase systems. AoB plants 7:plv009.

Kanwar MK, Bhardwaj R, Chowdhary SP, Arora P, Sharma P, Kumar S (2013) Isolation and characterization of 24-epibrassinolide from Brassica juncea L. and its effects on growth, Ni ion uptake, antioxidant defense of Brassica plants and in vitro cytotoxicity. Acta Physiol Plantar 35:1351–1362

Kapoor D, Rattan A, Gautam V, Kapoor N, Bhardwaj R (2014) 24-epibrassinolide mediated changes in photosynthetic pigments and antioxidative defence system of radish seedlings under cadmium and mercury stress. J Stress Physiol Biochem 10:110–121

Kaur H, Sirhindi G, Bhardwaj R, Sharma P, Mudasir M (2014) 28-homobrassinolide modulate antenna complexes and carbon skeleton of Brassica juncea L. under temperature stress. J Stress Physiol Biochem 10:315–327

Kaur RA, Ohri PU, Bhardwaj RE (2014) Brassinosteroid-mediated changes in root-knot nematode susceptible and resistant tomato cultivars. Int J Pharma Sci 5:1085–93

Kazan K (2013) Auxin and the integration of environmental signals into plant root development. Ann Bot 112:1655–1665

Keskin BC, Sarikaya AT, Yuksel B, Memon AR (2010) Abscisic acid regulated gene expression in bread wheat. Aust J Crop Sci 4:617–625

Khalid A, Aftab F (2016) Effect of exogenous application of 24-epibrassinolide on growth, protein contents, and antioxidant enzyme activities of in vitro-grown Solanum tuberosum L. under salt stress. In Vitro Cellular Develop Bio Plant 52:81–91

Khan AR, Hui CZ, Ghazanfar B, Khan MA, Ahmad SS, Ahmad I (2015a) Acetyl salicylic acid and 24-epibrassinolide attenuate decline in photosynthesis, chlorophyll contents and membrane thermo-stability in tomato (Lycopersicon esculentum mill.) under heat stress. Pak J Bot 47:63–70

Khan TA, Fariduddin Q, Yusuf M (2015b) Lycopersicon esculentum under low temperature stress: an approach toward enhanced antioxidants and yield. Environ Sci Poll Res 22:14178–14188

Kim TW, Guan S, Sun Y, Deng Z, Tang W, Shang JX, Sun Y, Burlingame AL, Wang ZY (2009) Brassinosteroid signal transduction from cell-surface receptor kinases to nuclear transcription factors. Nature Cell Bio 11:1254–1260

Kim TW, Guan S, Burlingame AL, Wang ZY (2011) The CDG1 kinase mediates brassinosteroid signal transduction from BRI1 receptor kinase to BSU1 phosphatase and GSK3-like kinase BIN2. Mol Cell 43:561–571

Kumar S, Sirhindi G, Bhardwaj R, Kumar M (2014a) Brassinosteroids denigrate the seasonal stress through antioxidant defense system in seedlings of Brassica juncea L. J Stress Physiol Biochem 10:75–83

Kumar R, Khurana A, Sharma AK (2014b) Role of plant hormones and their interplay in development and ripening of fleshy fruits. J Exp Bot 65:4561–4575

Li KR, Feng CH (2011) Effects of brassinolide on drought resistance of Xanthoceras sorbifolia seedlings under water stress. Acta Physiol Plant 33:1293–300

Li QF, Wang C, Jiang L, Li S, Sun SS, He JX (2012) An interaction between BZR1 and DELLAs mediates direct signaling crosstalk between brassinosteroids and gibberellins in Arabidopsis. Science Signal 5:72. doi:10.1126/scisignal.2002908

Li M, Ahammed GJ, Li C, Bao X, Yu J, Huang C, Yin H, Zhou J (2016) Brassinosteroid ameliorates zinc oxide nanoparticles-induced oxidative stress by improving antioxidant potential and redox homeostasis in tomato seedling. Front Plant Sci 7:615

Liu Q, Xi Z, Gao J, Meng Y, Lin S, Zhang Z (2016) Effects of exogenous 24-epibrassinolide to control grey mould and maintain postharvest quality of table grapes. Int J Food Sci Tech 51:1236–1243

Lukatkin AS, Kashtanova NN, Duchovskis P (2013) Changes in maize seedlings growth and membrane permeability under the effect of epibrassinolide and heavy metals. Russ Agric Sci 39:307–310

Luo XM, Lin WH, Zhu S et al (2010) Integration of light-and brassinosteroid-signaling pathways by a GATA transcription factor in Arabidopsis. Dev Cell 19:872–883

Madhan M, Mahesh K, Rao SS (2014) Effect of 24-epibrassinolide on aluminium stress induced inhibition of seed germination and seedling growth of Cajanus cajan (L.) Millsp. Int J Multidiscipl Current Res 2:286–290

Mahesh K, Balaraju P, Ramakrishna B, Rao SS (2013) Effect of brassinosteroids on germination and seedling growth of radish (Raphanus sativus L.) under PEG-6000 induced water stress. Amer J Plant Sci 4:2305–2313

Mazorra LM, Holton N, Bishop GJ, Núñez M (2011) Heat shock response in tomato brassinosteroid mutants indicates that thermotolerance is independent of brassinosteroid homeostasis. Plant Physiol Biochem 9:1420–1428

Mir BA, Khan TA, Fariduddin Q (2015) 24-epibrassinolide and spermidine modulate photosynthesis and antioxidant systems in Vigna radiata under salt and zinc stress. Int J Adv Res 3:592–608

Nafie EM, Khalfallah AA, Mansur RM (2015) Syndrome effects of NaCl and Epibrassinolide on certain molecular and biochemical activities of salt-sensitive Phaseolus vulgaris cv. Brunco L. grown under in vitro condition. Life Sci J 12:119–136

Nahar K, Kyndt T, Hause B, Höfte M, Gheysen G (2013) Brassinosteroids suppress rice defense against root-knot nematodes through antagonism with the jasmonate pathway. Mol Plant-microbe Interactions 26:106–115

Nawaz F, Ahmad R, Ashraf MY, Waraich EA, Khan SZ (2015) Effect of selenium foliar spray on physiological and biochemical processes and chemical constituents of wheat under drought stress. Ecotoxicol Environ Safety 113:191–200

Naz FS, Yusuf M, Khan TA, Fariduddin Q, Ahmad A (2015) Low level of selenium increases the efficacy of 24-epibrassinolide through altered physiological and biochemical traits of Brassica juncea plants. Food Chem 185:441–448

Niu JH, Ahmad AS, Wang R, Li JH, Liu MR, Song JX, Zohaib A, Lv J, Wang SG, Zong XF (2016) Exogenous application of brassinolide can alter morphological and physiological traits of Leymus chinensis (Trin.) Tzvelev under room and high temperatures. Chilean J Agric Res 76:27–33

Nomura T, Kushiro T, Yokota T, Kamiya Y, Bishop GJ, Yamaguchi S (2005) The last reaction producing brassinolide is catalyzed by cytochrome P-450s, CYP85A3 in tomato and CYP85A2 in Arabidopsis. J Biol Chem 280:17873–17879

O'Brien JA, Benkova E (2013) Cytokinin cross-talking during biotic and abiotic stress responses. Front Plant Sci 4:451. doi:10.3389/fpls.2013.00451

Ogweno JO, Hu WH, Song XS, Shi K, Mao WH, Zhou YH, Yu JQ (2010) Photoinhibition-induced reduction in photosynthesis is alleviated by abscisic acid, cytokinin and brassinosteroid in detached tomato leaves. Plant Growth Regul 60:175–182

Oh E, Zhu JY, Wang ZY (2012) Interaction between BZR1 and PIF4 integrates brassinosteroid and environmental responses. Nature Cell Biol 14:802–809

Panda SK, Sahoo L, Katsuhara M, Matsumoto H (2013) Overexpression of alternative oxidase gene confers aluminum tolerance by altering the respiratory capacity and the response to oxidative stress in tobacco cells. Mol Biotechnol 54:551–563

Qayyum B, Shahbaz M, Akram NA (2007) Interactive effect of foliar application of 24-epibrassinolide and root zone salinity on morpho-physiological attributes of wheat (Triticum aestivum L.) Int J Agri Bio 9:584–589

Rady MM (2011) Effect of 24-epibrassinolide on growth, yield, antioxidant system and cadmium content of bean (Phaseolus vulgaris L.) plants under salinity and cadmium stress. Scientia Hortic 129:232–237

Rady MM, Osman SA (2012) Response of growth and antioxidant system of heavy metal-contaminated tomato plants to 24-epibrassinolide. African J Agric Res 7:3249–3254

Ramakrishna B, Rao SS (2015) Foliar application of brassinosteroids alleviates adverse effects of zinc toxicity in radish (Raphanus sativus L.) plants. Protoplasma 252:665–677

Ramegowda V, Senthil-Kumar M (2015) The interactive effects of simultaneous biotic and abiotic stresses on plants: mechanistic understanding from drought and pathogen combination. J Plant Physiol 176:47–54

Rattan A, Kapoor D, Kapoor N, Bhardwaj R (2014) Application of brassionsteroids reverses the inhibitory effect of salt stress on growth and photosynthetic activity of Zea mays plants. Int J Theor Appl Sci 6:13

Sadeghi F, Shekafandeh A (2014) Effect of 24-epibrassinolide on salinity-induced changes in loquat (Eriobotrya japonica Lindl). J Applied Bot Food Quality 87:182–189

Savaliya DD, Mandavia CK, Mandavia MK (2013) Role of brassinolide on enzyme activities in groundnut under water deficit stress. Indian J Agric Biochem 26:92–96

Seif SN, Tafazzoli E, Talaii AR, Aboutalebi A, Abdosi V (2014) Evaluation of two grape cultivars (Vitis vinifera L.) against salinity stress and surveying the effect of methyl jasmonate and epibrassinolide on alleviation the salinity stress. Int J Biosci 5:116–125

Semida WM, Rady MM (2014) Pre-soaking in 24-epibrassinolide or salicylic acid improves seed germination, seedling growth, and anti-oxidant capacity in Phaseolus vulgaris L. grown under NaCl stress. J Hortic Sci Biotechnol 89:338–344

Serna M, Coll Y, Zapata PJ, Botella MÁ, Pretel MT, Amorós A (2015) A brassinosteroid analogue prevented the effect of salt stress on ethylene synthesis and polyamines in lettuce plants. Scientia Hortic 185:105–112

Shahana T, Rao PA, Ram SS, Sujatha E (2015) Mitigation of drought stress by 24-epibarassinolide and 28-homobrassinolide in pigeon pea seedlings. Int J Multidiscipl Current Res 3:904–911

Shahid MA, Balal RM, Pervez MA, Abbas T, Aqeel MA, Riaz A, Mattson NS (2015) Exogenous 24-epibrassinolide elevates the salt tolerance potential of pea (Pisum sativum L.) by improving osmotic adjustment capacity and leaf water relations. J Plant Nutr 38:1050–1072

Sharma I, Pati PK, Bhardwaj R (2011b) Effect of 28-homobrassinolide on antioxidant defence system in Raphanus sativus L. under chromium toxicity. Ecotoxicology 20:862–874

Sharma I, Bhardwaj R, Pati PK (2012) Mitigation of adverse effects of chlorpyrifos by 24-epibrassinolide and analysis of stress markers in a rice variety Pusa Basmati-1. Ecotoxicol Environ Safety 85:72–81

Sharma P, Kumar A, Bhardwaj R (2016) Plant steroidal hormone epibrassinolide regulate–heavy metal stress tolerance in Oryza sativa L. by modulating antioxidant defense expression. Environ Exp Bot 122:1–9

Slathia S, Sharma A, Sikander PC (2013) Co-application of 24-epibrassinolide and putrescine enhances salinity tolerance in Solanum lycopersicum L. by modulating stress indicators and antioxidant system. Int J Pharma BioSci 4:70–85

Soares C, de Sousa A, Pinto A, Azenha M, Teixeira J, Azevedo RA, Fidalgo F (2016) Effect of 24-epibrassinolide on ROS content, antioxidant system, lipid peroxidation and Ni uptake in Solanum nigrum L. under Ni stress. Environ Exp Bot 122:115–125

Stündl U, Schneider B (2001) 3β-Brassinosteroid dehydrogenase activity in Arabidopsis and tomato. Phytochemistry 58:989–994

Sun Y, Fan XY, Cao DM et al (2010) Integration of brassinosteroid signal transduction with the transcription network for plant growth regulation in Arabidopsis. Dev Cell 19:765–777

Surgun Y, Altunlu H, Türkekul S, Bürün B, Yokaş I (2015) Effects of 24-epibrassinolide on growth and some antioxidant enzymes of cotton (Gossypium hirsutum L.) cultivars under NaCl stress. J Appl Biol Sci 9:09–17

Swamy KN, Vardhini BV, Ramakrishna B, Anuradha S, Siddulu N, Rao SS (2014) Role of 28-homobrassinolide on growth biochemical parameters of Trigonella foenu-graecum L. plants subjected to lead toxicity. Int J Multidiscipl Current Res 2:317–321

Symons GM, Ross JJ, Jager CE, Reid JB (2008) Brassinosteroid transport. J Exp Bot 59:17–24

Takatsuto S (1994a) Brassinosteroids: distribution in plants, bioassays and microanalysts by gas chromatography mass spectrometry. J Chromatogr 658:3–15

Talaat NB, Shawky BT (2016) Dual application of 24-epibrassinolide and spermine confers drought stress tolerance in maize (Zea mays L.) by modulating polyamine and protein metabolism. J Plant Growth Regul 35:518–533

Talaat NB, Shawky BT, Ibrahim AS (2015) Alleviation of drought-induced oxidative stress in maize (L.) plants by dual application of 24-epibrassinolide and spermine. Environ Exp Bot 113:47–58

Thussagunpanit J, Jutamanee K, Sonjaroon W, Kaveeta L, Chai-Arree W, Pankean P, Suksamrarn A (2015) Effects of brassinosteroid and brassinosteroid mimic on photosynthetic efficiency and rice yield under heat stress. Photosynth 53:312–320

Upadhyaya CP, Bagri DS, Upadhyay DC (2015) Ascorbic acid and/or 24-epibrassinolide trigger physiological and biochemical responses for the salt stress mitigation in potato (Solanum tuberosum L.) Int J Appl Sci Biotech 3:655–667

Vardhini BV, Anjum NA (2015) Brassinosteroids make plant life easier under abiotic stresses mainly by modulating major components of antioxidant defense system. Front Environ Sci 2:67

Vayner AA, Miroshnichenko NN, Kolupaev YE, Yastreb TO, Khripach VA, Sotnikov YA (2014) The influence of 24-epibrassinolide on heat resistance and productivity of millet (Panicum miliaceum) plants. Вісник Харківського національного аграрного університету. Серія: Біологія 3:35–42

Vázquez MN, Guerrero YR, González LM, de la Noval WT (2013) Brassinosteroids and plant responses to heavy metal stress. An overview. Open J Metal 3:34–41

Villiers F, Jourdain A, Bastien O, Leonhardt N, Fujioka S, Tichtincky G, Parcy F, Bourguignon J, Hugouvieux V (2012) Evidence for functional interaction between brassinosteroids and cadmium response in Arabidopsis thaliana. J Exp Bot 63:1185–1200

Vleesschauwer D, Van Buyten E, Satoh K, Balidion J, Mauleon R, Choi IR, Vera-Cruz C, Kikuchi S, Höfte M (2012a) Brassinosteroids antagonize gibberellin-and salicylate-mediated root immunity in rice. Plant Physiol 158:1833–1846

Vleesschauwer D, Van Buyten E, Satoh K, Balidion J, Mauleon R, Choi IR, Vera-Cruz C, Kikuchi S, Höfte M (2012b) Brassinosteroids antagonize gibberellin-and salicylate-mediated root immunity in rice. Plant Physiol 158:1833–1846

Vriet C, Russinova E, Reuzeau C (2012) Boosting crop yields with plant steroids. Plant Cell 24:842–857

Wang ZY, Nakano T, Gendron J et al (2002) Nuclear-localized BZR1 mediates brassinosteroid-induced growth and feedback suppression of brassinosteroid biosynthesis. Dev Cell 2:505–513

Wang H, Huang J, Liang X, Bi Y (2012a) Involvement of hydrogen peroxide, calcium, and ethylene in the induction of the alternative pathway in chilling-stressed Arabidopsis callus. Planta 235:53–67

Wang ZY, Bai MY, Oh E, Zhu JY (2012b) Brassinosteroid signaling network and regulation of photomorphogenesis. Ann Review Genetics 46:701–724

Wu CY, Trieu A, Radhakrishnan P et al (2008) Brassinosteroids regulate grain filling in rice. Plant Cell 20:2130–2145

Wu XX, Chen JL, Xu S, Zhu ZW, Zha DS (2016) Exogenous 24-epibrassinolide alleviates zinc-induced toxicity in eggplant (Solanum melongena L.) seedlings by regulating the glutathione-ascorbate-dependent detoxification pathway. J Hortic Sci Biotechnol 27:1–9

Xi Z, Wang Z, Fang Y, Hu Z, Hu Y, Deng M, Zhang Z (2013) Effects of 24-epibrassinolide on antioxidation defense and osmoregulation systems of young grapevines (V. vinifera L.) under chilling stress. Plant Growth Regul 71:57–65

Yadava P, Kaushal J, Gautam A, Parmar H, Singh I (2016) Physiological and biochemical effects of 24-epibrassinolide on heat-stress adaptation in maize (Zea mays L.) Natural Sci 8:171–179

Yin Y, Wang ZY, Mora-Garcia S, Li J, Yoshida S, Asami T, Chory J (2002) BES1 accumulates in the nucleus in response to brassinosteroids to regulate gene expression and promote stem elongation. Cell 109:181–191

Yusuf M, Fariduddin Q, Hayat S, Hasan SA, Ahmad A (2011a) Protective response of 28-homobrassinolide in cultivars of Triticum aestivum with different levels of nickel. Arch Environ Contam Toxicol 60:68–76

Yusuf M, Fariduddin Q, Ahmad A (2011b) 28-Homobrassinolide mitigates boron induced toxicity through enhanced antioxidant system in Vigna radiata plants. Chemosphere 85:1574–1584

Yusuf M, Fariduddin Q, Ahmad A (2012) 24-Epibrassinolide modulates growth, nodulation, antioxidant system, and osmolyte in tolerant and sensitive varieties of Vigna radiata under different levels of nickel: a shotgun approach. Plant Physiol Biochem 57:143–153

Yusuf M, Fariduddin Q, Ahmad I, Ahmad A (2014) Brassinosteroid-mediated evaluation of antioxidant system and nitrogen metabolism in two contrasting cultivars of Vigna radiata under different levels of nickel. Physiol Mol Bio Plants 20:449–460

Yusuf M, Khan TA, Fariduddin Q (2016) Interaction of epibrassinolide and selenium ameliorates the excess copper in Brassica juncea through altered proline metabolism and antioxidants. Ecotoxicol Environ Safety 129:25–34

Zhang C, Xu Y, Guo S, Zhu J, Huan Q, Liu H, Wang L, Luo G, Wang X, Chong K (2012) Dynamics of brassinosteroid response modulated by negative regulator LIC in rice. PLoS Genetics:8. doi:10.1371/journal.pgen.1002686

Zhang YP, He J, Yang SJ, Chen YY (2014) Exogenous 24-epibrassinolide ameliorates high temperature-induced inhibition of growth and photosynthesis in Cucumis melo. Biol Plantar 58:311–318

Zhang DW, Deng XG, Fu FQ, Lin HH (2015a) Induction of plant virus defense response by brassinosteroids and brassinosteroid signaling in Arabidopsis thaliana. Planta 241:875–885

Zhang DW, Deng XG, Fu FQ, Lin HH (2015b) Induction of plant virus defense response by brassinosteroids and brassinosteroid signaling in Arabidopsis thaliana. Planta 241:875–885

Zhiponova MK, Vanhoutte I, Boudolf V et al (2013) Brassinosteroid production and signaling differentially control cell division and expansion in the leaf. New Phytol 197:490–502

Zhou J, Wang J, Li X, Xia XJ, Zhou YH, Shi K, Chen Z, Yu JQ (2014) H2O2 mediates the crosstalk of brassinosteroid and abscisic acid in tomato responses to heat and oxidative stresses. J Exp Bot 65:4371–4383

Zhou Y, Xia X, Yu G, Wang J, Wu J, Wang M, Yang Y, Shi K, Yu Y, Chen Z, Gan J (2015) Brassinosteroids play a critical role in the regulation of pesticide metabolism in crop plants. Scientific Reports 12:5. doi:10.1038/srep09018

Zhu Z, Zhang Z, Qin G, Tian S (2010) Effects of brassinosteroids on postharvest disease and senescence of jujube fruit in storage. Postharvest Bio Tech 56:50–55

Zhu JY, Sae-Seaw J, Wang ZY (2013) Brassinosteroid signaling. Development 140:1615–1620

Zhu F, Yun Z, Ma Q, Gong Q, Zeng Y, Xu J, Cheng Y, Deng X (2015) Effects of exogenous 24-epibrassinolide treatment on postharvest quality and resistance of Satsuma mandarin (Citrus unshiu). Postharvest Bio Tech 100:8–15

Zulkarami B, Razi IM, Halimi MS, Mondal MA, Panhwar QA, Islam MR (2014) Effectiveness of different phytohormones on grain filling and yield of rice (Oryza sativa L.) under drought stress. J Food Agri Environ 12:697–700
Acknowledgements
The authors are highly grateful and indebted to Dr. Graham Lyons (Research Associate at School of Agriculture, Food and Wine, University of Adelaide, Australia) for critically reading the manuscript. His cooperation to improve the English language quality of the manuscript is highly acknowledged and appreciated.
Additional information
Responsible editor: Philippe Garrigues
About this article
Cite this article
Nawaz, F., Naeem, M., Zulfiqar, B. et al. Understanding brassinosteroid-regulated mechanisms to improve stress tolerance in plants: a critical review. Environ Sci Pollut Res 24, 15959–15975 (2017). https://doi.org/10.1007/s11356-017-9163-6
Received:

Accepted:

Published:

Issue Date:

DOI: https://doi.org/10.1007/s11356-017-9163-6
Keywords