Abstract
Open biomass burning in Peninsula Malaysia, Sumatra, and parts of the Indochinese region is a major source of transboundary haze pollution in the Southeast Asia. To study the influence of haze on rainwater chemistry, a short-term investigation was carried out during the occurrence of a severe haze episode from March to April 2014. Rainwater samples were collected after a prolonged drought and analyzed for heavy metals and major ion concentrations using inductively coupled plasma mass spectroscopy (ICP-MS) and ion chromatography (IC), respectively. The chemical composition and morphology of the solid particulates suspended in rainwater were examined using a scanning electron microscope coupled with energy-dispersive X-ray spectroscopy (SEM-EDS). The dataset was further interpreted using enrichment factors (EF), statistical analysis, and a back trajectory (BT) model to find the possible sources of the particulates and pollutants. The results show a drop in rainwater pH from near neutral (pH 6.54) to acidic (<pH 4.00) during the haze to non-haze transitional period, suggesting that the deposition rate of sulfate and nitrate in the atmosphere via the precipitation process was relatively lower compared to the mineral components. Zinc, nitrate, and calcium, which were the predominant elements in the first rainwater samples. Besides, the results of the SEM-EDS indicated that the zinc was possibly originated from anthropogenic activities which are consistent with the results obtained from EF. The BT model showed that pollutants transported from the mainland of Indo-China and the marine region in the South China Sea were responsible for the high pollution event in the study area. These findings can be useful in identifying contributions of pollutants from single or multiple sources in rainwater samples during haze episodes.
Access options
Buy single article
Instant access to the full article PDF.
USD 39.95
Price excludes VAT (USA)
Tax calculation will be finalised during checkout.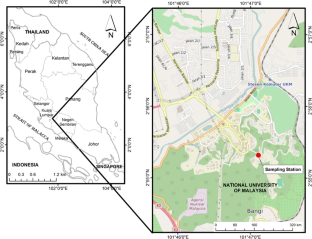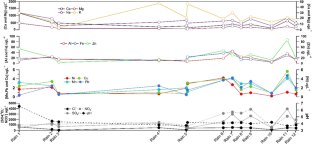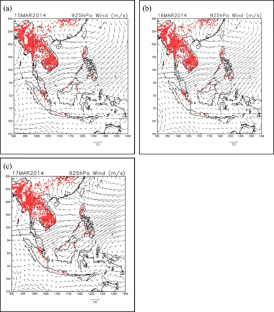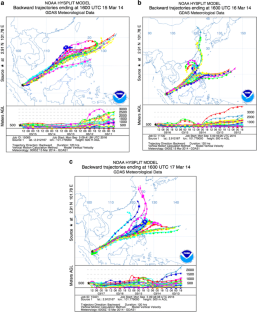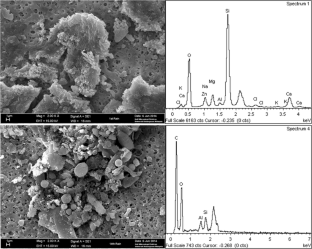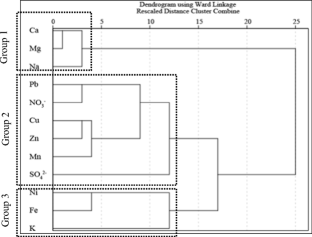 References
Alahmr FOM, Othman M, Wahid NBA, Halim AA, Latif MT (2012) Compositions of dust fall around semi-urban areas in Malaysia. Aerosol Air Qual Res 12:629–642

Al-Momani IF (2003) Trace elements in atmospheric precipitation at northern Jordan measured by ICP-MS: acidity and possible sources. Atmos Environ 37:4507–4515

Amil N, Latif M T, Khan M F, Mohamad M (2016) Seasonal variability of PM2.5 composition and sources in the Klang Valley urban-industrial environment. Atmos Chem Phys 16:5357–5381

Amodio M, Catino S, Dambruoso PR, de Gennaro G, Di Gilio A, Giungato P, Laiola E, Marzocca A, Mazzone A, Sardaro A, Tutino M (2014) Atmospheric deposition: sampling procedures, analytical methods, and main recent findings from the scientific literature. Adv Meteorol 2014:161730, 27 pages. doi:10.1155/2014/161730

APHA (1995) Standard methods for the examination of water and wastewater. American Public Health Association, 19th edn. American Public Health Association, Washington, D.C

Báez A, Belmont R, García R, Padilla H, Torres MC (2007) Chemical composition of rainwater collected at a southwest site of Mexico City, Mexico. Atmos Res 86:61–75

Balasubramanian R, Victor T, Begum R (1999) Impact of biomass burning on rainwater acidity and composition in Singapore. Journal of Geophysical Research: Atmospheres 104:26881–26890

Baptista NA, Smith BJ, Mcallister JJ (2000) Heavy metal concentrations in surface sediments in a nearshore environment, Jurujuba sound, SE Brazil. Environ Pol 109:1–9

Başak B, Alagha O (2004) The chemical composition of rainwater over Büyükçekmece Lake, Istanbul. Atmos Res 71:275–288

Behera SN, Betha R, Huang X, Balasubramanian R (2015) Characterization and estimation of human airway deposition of size-resolved particulate-bound trace elements during a recent haze episode in Southeast Asia. Environ Sci Pollut Res 22:4265–4280

Bove MC, Brotto P, Cassola F, Cuccia E, Massabò D, Mazzino A, Piazzalunga A, Prati P (2014) An integrated PM2.5 source apportionment study: positive matrix factorisation vs. the chemical transport model CAMx. Atmos Environ 94:274–286. doi:10.1016/j.atmosenv.2014.05.039

Budhavant K, Rao P, Safai P, Gawhane R, Raju M, Mahajan C, Satsangi P (2012) Atmospheric wet and dry depositions of ions over an urban location in south-West India. Aerosol Air Qual Res 12:561–570

Budiwati T, Setyawati W, Tanti DA (2016) Chemical characteristics of rainwater in Sumatera, Indonesia, during 2001–2010. Int Journal of Atm Sciences 2016:1876046, 11 pages doi:10.1155/2016/1876046

Cachier, H., Ducret, J., 1991. Influence of biomass burning on equatorial rains. Nature 352: 228 to 230.

Chang D, Song Y (2010) Estimates of biomass burning emissions in tropical Asia based on satellite-derived data. Atmos Chem Phys 10:2335–2351

Cheng M-C, You C-F (2010) Sources of major ions and heavy metals in rainwater associated with typhoon events in southwestern Taiwan. J Geochem Explor 105:106–116

Crutzen PJ, Andreae MO (1990) Biomass burning in the tropics: impacts on atmospheric chemistry and biogeochemical cycles. Science 250:1669–1678

Das R, Das SN, Misra VN (2005) Chemical composition of rainwater and dustfall at Bhubaneswar in the east coast of India. Atmos Environ 39:5908–5916

Fujii Y, Mahmud M, Oda M, Tohno S, Matsumoto J, Mizohata A (2016) A key indicator of transboundary particulate matter pollution derived from Indonesian peatland fires in Malaysia. Aerosol Air Qual Res 16:69–78

Gautam R, Hsu NC, Eck TF, Holben BN, Janjai S, Jantarach T, Tsay S-C, Lau WK (2013) Characterization of aerosols over the Indochina peninsula from satellite-surface observations during biomass burning pre-monsoon season. Atmos Environ 78:51–59

Gorham E (1976) Acid precipitation and its influence upon aquatic ecosystems—an overview. Water Air Soil Pollut 6:457–481

Han NMiM, Latif MT, Othman M, Dominick D, Mohamad N, Juahir H, Tahir NM (2014) Composition of selected heavy metals in road dust from Kuala Lumpur city centre. Environmental Earth Sciences 72:849–859

Hong Y, Ma Y, Li C, Liu N, Gao S, Zhang Y (2011) Elemental size distribution characteristics of atmospheric particles on hazy days during winter in Shenyang. Res Environ Sci 24:637–644

Hu GP, Balasubramanian R, Wu CD (2003) Chemical characterization of rainwater at Singapore. Chemosphere 51:747–755

Hu Z, Wang J, Chen Y, Chen Z, Xu S (2014) Concentrations and source apportionment of particulate matter in different functional areas of Shanghai, China. Atmos Pollut Research 5:138–144

Huang K, Lin S (2003) Consequences and implication of heavy metal spatial variations in sediments of Keelung River drainage basin, Taiwan. Chemosphere 53:1113–1121

Huang K, Fu JS, Hsu NC, Gao Y, Dong X, Tsay S-C, Lam YF (2013) Impact assessment of biomass burning on air quality in Southeast and East Asia during BASE-ASIA. Atmos Environ 78:291–302

Kazi TG, Arain MB, Jamali MK, Jalbani N, Afridi HI, Sarfraz RA, Baig JA, Shah AQ (2009) Assessment of water quality of polluted lake using multivariate statistical techniques: a case study. Ecotoxicol Environ Saf 72:301–309

Kehrwald N, Zangrando R, Gabrielli P, Barbante C, Gambaro A (2012) Levoglucosan as a specific marker of fire events in Greenland snow. Tellus B 64:1–9

Khan MF, Shirasuna Y, Hirano K, Masunaga S (2010) Urban and suburban aerosol in Yokohama, Japan: a comprehensive chemical characterization. Environ Monit Assess 171:441–456

Khan F, Latif MT, Juneng L, Amil N, Mohd Nadzir MS, Syedul Hoque HM (2015a) Physicochemical factors and sources of particulate matter at residential urban environment in Kuala Lumpur. J Air Waste Manage Assoc 65:958–969

Khan MF, Latif MT, Amil N, Juneng L, Mohamad N, Nadzir MSM, Hoque HMS (2015b) Characterization and source apportionment of particle number concentration at a semi-urban tropical environment. Environ Sci Pollut Res 22:13111–13126

Khan MF, Latif MT, Lim CH, Amil N, Jaafar SA, Dominick D, Mohd Nadzir MS, Sahani M, Tahir NM (2015c) Seasonal effect and source apportionment of polycyclic aromatic hydrocarbons in PM2.5. Atmos Environ 106:178–190

Khan MF, Latif MT, Saw WH, Amil N, Nadzir MSM, Sahani M, Tahir NM, Chung JX (2016) Fine particulate matter in the tropical environment: monsoonal effects, source apportionment, and health risk assessment. Atmos Chem Phys 16:597–617

Kim J-E, Han Y-J, Kim P-R, Holsen TM (2012) Factors influencing atmospheric wet deposition of trace elements in rural Korea. Atmos Res 116:185–194

Kyllönen K, Karlsson V, Ruoho-Airola T (2009) Trace element deposition and trends during a ten year period in Finland. Sci Total Environ 407:2260–2269

Latif MT, Ngah SA, Dominick D, Razak IS, Guo X, Srithawirat T, Mushrifah I (2015) Composition and source apportionment of dust fall around a natural lake. J Environ Sci 33:143–155

Lee CK, Low KS (1984) An investigation of the chemical composition of precipitation in the and around Kuala Lumpur. Pertanika 7:43–51

Lin CY, Hsu HM, Lee YH, Kuo CH, Sheng YF, Chu DA (2009) A new transport mechanism of biomass burning from Indochina as identified by modeling studies. Atmos Chem Phys 9:7901–7911

Lu X, Wang L, Lei K, Huang J, Zhai Y (2009) Contamination assessment of copper, lead, zinc, manganese and nickel in street dust of Baoji, NW China. J Hazard Mater 161:1058–1062

Mahmud M (2009) Mesoscale model simulation of low level equatorial winds over Borneo during the haze episode of September 1997. Journal of Earth System Science 118:295–307

Mimura AMS, Almeida JM, Vaz FAS, de Oliveira MAL, Ferreira CM, Silva JCJ (2016) Chemical composition monitoring of tropical rainwater during an atypical dry year. Atmos Res 169:391–399

Mustaffa NIH, Latif MT, Ali MM, Khan MF (2014) Source apportionment of surfactants in marine aerosols at different locations along the Malacca Straits. Environ Sci Pollut Res 21:6590–6602

Norela S, Nurfatihah M, Maimon A, Ismail B (2009) Wet deposition in the residential area of the Nilai Industrial Park in Negeri Sembilan, Malaysia. World Applied Sciences Journal 7:170–179

Norela S, Saidah MS, Mahmud M (2013) Chemical composition of the haze in Malaysia 2005. Atmos Environ 77:1005–1010

Othman J, Sahani M, Mahmud M, Sheikh Ahmad MK (2014) Transboundary smoke haze pollution in Malaysia: inpatient health impacts and economic valuation. Environ Pollut 189:194–201

Page SE, Siegert F, Rieley JO, Boehm H-DV, Jaya A, Limin S (2002) The amount of carbon released from peat and forest fires in Indonesia during 1997. Nature 420:61–65

Possanzini M, Buttini P, Dipalo V (1988) Characterization of rural area in terms of dry and wet deposition. Sci Total Environ 74:111–120

Radojevic M (2003) Chemistry of Forest fires and regional haze with emphasis on southeast Asia. Pure Appl Geophys 160:157–187

Radojevic M, Tan KS (2000) Impacts of biomass burning and regional haze on the pH of rainwater in Brunei Darussalam. Atmos Environ 34:2739–2744

Razak IS, Latif MT, Jaafar SA, Khan MF, Mushrifah I (2015) Surfactants in atmospheric aerosols and rainwater around lake ecosystem. Environ Sci Pollut Res 22:6024–6033

Reimann C, de Caritat P (1998) Chemical elements in the environment—factsheets for the geochemist and environmental scientist. Germany7 Springer-Verlag, Berlin ISBN 3-540-63670-6

Sanhueza E, Elbert W, Rondón A, Arias MC, Hermoso M (1989) Organic and inorganic acids in rain from a remote site of the Venezuelan savannah. Tellus B 41B:170–176

Satsangi GS, Lakhani A, Khare P, Singh SP, Kumari KM, Srivastava SS (1998) Composition of rain water at a semi-arid rural site in India. Atmos Environ 32:3783–3793

Saxena A, Kulshrestha UC, Kumar N, Kumari KM, Srivastava SS (1996) Characterization of precipitation at Agra. Atmos Environ 30:3405–3412

Stein AF, Draxler RR, Rolph GD, Stunder BJB, Cohen MD, Ngan F (2015) NOAA's HYSPLIT atmospheric transport and dispersion modeling system. B Am Meteorol Soc 96:2059–2077

Tay JH, Jaafar S, Mohd Tahir N (2014) Ionic composition of rainwater at selected sites of Kuantan, Pahang, Malaysia: a preliminary study. Bull Environ Contam Toxicol 92:329–333

Taylor SR (1964) Trace element abundances and the chondritic earth model. Geochim Cosmochim Acta 28:1989–1998

Taylor SR, McLennan SM (1995) The geochemical evolution of the continental crust. Rev Geophys 33:241–265

Tsai YI, Sopajaree K, Chotruksa A, Wu H-C, Kuo S-C (2013) Source indicators of biomass burning associated with inorganic salts and carboxylates in dry season ambient aerosol in Chiang Mai Basin, Thailand. Atmos Environ 78:93–104

Uygur N, Karaca F, Alagha O (2010) Prediction of sources of metal pollution in rainwater in Istanbul, Turkey using factor analysis and long-range transport models. Atmos Res 95:55–64

Wetang'ula, G.N., Wamalwa, H. M (2015) Trace elements in rainfall collected around Menengai Area Kenya, Proceedings World Geothermal Congress.

Xu Z, Han G (2009) Chemical and strontium isotope characterization of rainwater in Beijing, China. Atmos Environ 43(12):1954–1961

Yongming H, Peixuan D, Junji C, Posmentier ES (2006) Multivariate analysis of heavy metal contamination in urban dusts of Xi'an, Central China. Sci Total Environ 355:176–186

Zhang X, Hecobian A, Zheng M, Frank NH, Weber RJ (2010) Biomass burning impact on PM2.5 over the southeastern US during 2007: integrating chemically speciated FRM filter measurements, MODIS fire counts and PMF analysis. Atmos Chem Phys 10:6839–6853
Acknowledgements
We would like to thank Universiti Kebangsaan Malaysia for the Research University Grants (GUP-2014-041 and GGPM-2013-080) and the Ministry of Education for the Fundamental Research Grant (ERGS/UM grant ER025-2013A). We would like to thank Mr. Ak. Jalaludin Pg. Awang Besar for assistance in the ICPMS analysis and Mr. Jing Xiang Chung for providing the hot spot and wind direction maps. The authors gratefully acknowledge the NOAA Air Resources Laboratory (ARL) for the provision of the HYSPLIT transport and dispersion model and/or READY website (http://www.ready.noaa.gov) used in this publication. Finally, we also would like to thank Dr. Rose Norman and Dr. Andrew Robinson for proofreading of this manuscript.
Additional information
Responsible editor: Gerhard Lammel
About this article
Cite this article
Nadzir, M.S.M., Lin, C.Y., Khan, M.F. et al. Characterization of rainwater chemical composition after a Southeast Asia haze event: insight of transboundary pollutant transport during the northeast monsoon. Environ Sci Pollut Res 24, 15278–15290 (2017). https://doi.org/10.1007/s11356-017-9131-1
Received:

Accepted:

Published:

Issue Date:

DOI: https://doi.org/10.1007/s11356-017-9131-1
Keywords
Trace elements

Rainwater

Air pollution

Drought

Biomass burning

Malaysia