Abstract
In Switzerland, surface waters are protected by the Swiss Water Protection Ordinance (OEaux; OFEV 1998), which stipulates that the water quality shall be such that the water, suspended matter, and sediments contain no persistent synthetic substances to ensure the protection of aquatic life. Local agencies are in charge of water quality monitoring, using a set of validated methods. Several lists of priority substances have been developed for aquatic microcontaminants for surface water monitoring but not for sediments. Some local agencies have established sediment monitoring programs, but to date, there exists no harmonized methodology for sediment quality assessment in Switzerland. Within the main goal of developing and providing methodologies for monitoring sediment quality in Switzerland, a screening was performed to help prioritize sediment-relevant microcontaminants. The screening approach was largely based on the NORMAN (network of reference laboratories, research centers, and related organizations for monitoring emerging environmental substances) system and was carried out in four steps: (1) identification of candidate substances, (2) selection of sediment relevant substances, (3) classification of substances into different categories based on identified data gaps and envisaged actions, and (4) ranking within each action category. This paper describes the methodology used in the prioritization process for sediment-relevant substances and provides recommendations for monitoring strategies in Switzerland.
This is a preview of subscription content, log in to check access.
Access options
Buy single article
Instant access to the full article PDF.
US$ 39.95
Price includes VAT for USA
Subscribe to journal
Immediate online access to all issues from 2019. Subscription will auto renew annually.
US$ 99
This is the net price. Taxes to be calculated in checkout.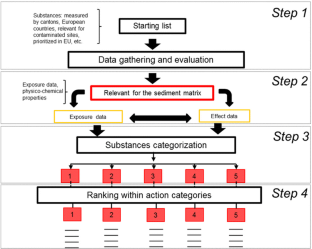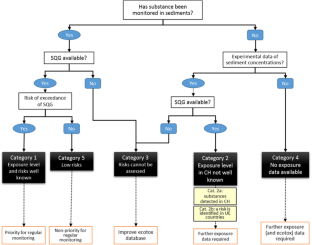 References
Al-Khazrajy OS, Boxall AB (2016) Risk-based prioritization of pharmaceuticals in the natural environment in Iraq. Environ Sci Pollut Res 23:15712–15726

Besse JP, Garric J (2008) Human pharmaceuticals in surface waters. Implementation of a prioritization methodology and application to the French situation. Toxicol Lett 176:104–123

Bu Q, Wang D, Wang Z (2013) Review of screening systems for prioritizing chemical substances. Crit Rev Env Sci Tec 43:1011–1104

Burgess RM, Berry WJ, Mount DR, Di Toro DM (2013) Mechanistic sediment quality guidelines based on contaminant bioavailability: equilibrium partitioning sediment benchmarks. Environ Toxicol Chem 32:102–114

Cavaliere C, Capriotti A-L, Ferraris F, Foglia P, Samperi R, Ventura S, Laganà A (2016) Multiresidue analysis of endocrine-disrupting compounds and perfluorinated sulfates and carboxylic acids in sediments by ultra-high-performance liquid chromatography-tandem mass spectrometry. J Chromatog A 1438:133–142

Daginnus K, Gottardo S, Payá-Pérez A, Whitehouse P, Wilkinson H, Zaldivar JM (2011) A model-based prioritisation exercise for the European Water Framework Directive. Int J Environ Res Public Health 8:435–455

de Deckere E, De Cooman W, Leloup V, Meire P, Schmitt C, von der Ohe PC (2011) Development of sediment quality guidelines for freshwater ecosystems. J Soils Sed 11:504–517

Di Nica V, Menaballi L, Azimonti G, Finizio A (2015) RANKVET: a new ranking method for comparing and prioritizing the environmental risk of veterinary pharmaceuticals. Ecol Indic 52:270–276

Diamond JM, Latimer HA II, Munkittrick KR, Thornton KW, Bartell SM, Kidd KA (2011) Prioritizing contaminants of emerging concern for ecological screening assessments. Environ Toxicol Chem 30:2385–2394

Donnachie RL, Johnson AC, Sumpter JP (2016) A rational approach to selecting and ranking some pharmaceuticals of concern for the aquatic environment and their relative importance compared with other chemicals. Environ Toxicol Chem 35:1021–1027

Dueri S, Castro-Jiménez J, Zaldibar JM (2008) On the use of the portioning approach to the derived Environmental Quality Standards (EQS) for persistent organic pollutants (POPs) in sediments: a review of existing data. Sci Total Environ 403:23–33

Dulio V, Von der Ohe PC (2012) NORMAN prioritisation framework for emerging substances. NORMAN Association, Verneuil en Halatte ISBN: 978-2-9545254-0-2

Environment Canada (2013) Canadian Environmental Protection Act, 1999—federal environmental quality guidelines polybrominated diphenyl ethers (PBDEs), 25

European Chemical Agency (ECHA) (2013) Proceedings of the topical scientific workshop on risk assessment for the sediment compartment, Helsinki May 2013

European Chemical Agency (ECHA) (2014) Guidance on information requirements and chemical safety assessment, chapter R.11: PBT/vPvB assessment, Helsinki 2014

European Commission (EC) (2009) Commission Directive 2009/90/EC of 31 July 2009 laying down, pursuant to Directive 2000/60/EC of the European Parliament and of the Council, technical specifications for chemical analysis and monitoring of water status. Off J Eur Communities L201:36 (01.08.2009)

European Commission (EC) (2010) WFD-CIS guidance document no. 25: guidance on chemical monitoring of sediment and biota under the Water Framework Directive. Office for Official Publications of the European Communities, Luxembourg, p 74

European Commission (EC) (2011) Common implementation strategy for the Water Framework Directive (2000/60/EC). Guidance document No: 27. Technical guidance for deriving Environmental Quality Standards

European Commission (EC) (2012) Report from the Commission to the European Parliament and the Council on the implementation of the Water Framework Directive (2000/60/EC) river basin management plans. COM(2012) 670 Final

European Commission (EC) (2013) Directive 2013/39/EU of the European Parliament and of the Council of 12 August 2013 amending Directives 2000/60/EC and 2008/105/EC as regards priority substances in the field of water policy (24.08.2013). Off J Eur Union L226(2013):1

Flück R, Campiche S, de Alencastro LF, Ferrari BJD, Rossi L, Santiago S, Werner I, Chèvre N (2012) Surveillance de la qualité des sédiments. État actuel des méthodes disponibles et mise en place de recommandations. Aqua & Gas 4, Avril 2012

Götz CW, Stamm C, Fenner K, Singer H, Schärer M, Hollender J (2010) Targeting aquatic microcontaminants for monitoring: exposure categorization and application to the Swiss situation. Environ Sci Pollut Res 17:341–354

Guo J, Sinclair CJ, Selby K, Boxall AB (2016) Toxicological and ecotoxicological risk-based prioritization of pharmaceuticals in the natural environment. Environ Toxicol Chem 35:1050–1059

Homem V, Silva JA, Ratola N, Santos L, Alves A (2015) Prioritisation approach to score and rank synthetic musk compounds for environmental risk assessment. J Chem Technol Biotechnol 90:1619–1630

James A, Bonnomet V, Morin A, Fribourg-Blanc B (2009) Implementation of requirements on priority substances within the context of the Water Framework Directive. Prioritization process: monitoring-based ranking, p. 58

Karahan-Ozgun O, Basak B, Eropak C, Abat S, Kirim G, Girgin E, Hanedar A, Gunes E, Citil E, Görgün E, Yangin-Gomec C, Germirli-Babuna F, Ovez S, Tanik A, Ozturk I, Kinaci C, Karaaslan Y, Mine-Gucver S, Siltu E, Koc-Orhon A (2017) Prioritization methodology of dangerous substances for water quality monitoring with scarce data. Clean Techn Environ Policy 19:105–122

Loos R (2012) Analytical methods for the new proposed priority substances of the European Water Framework Directive (WFD). Revision of the Priority Substance List (2012). JRC Technical Reports

MacDonald DD, Ingersoll CG, Berger TA (2000) Development and evaluation of consensus-based sediment quality guidelines for freshwater ecosystems. Arch Environ Contam Toxicol 39:20–31

Maggi C, Ausili A, Boscolo R, Cacciatore F, Bonometto A, Cornello M, Berto D (2012) Sediment and biota in trend monitoring of contaminants in transitional waters. TrAC Trends Anal Chem 36:82–91

Maruya KA, Schlenk D, Anderson PD, Denslow ND, Drewes JE, Olivieri AW, Scott GI, Snyder SA (2013) An adaptive, comprehensive monitoring strategy for chemicals of emerging concern (CECs) in California's aquatic ecosystems. Integr Environ Assess Manag 10:69–77

Nowell LH, Norman JE, Ingersoll CG, Moran PW (2016) Development and application of freshwater sediment-toxicity benchmarks for currently used pesticides. Sci Tot Environ 550:835–850

Office Fédéral de la Protection de l'Environnement (OFEV) (1998) Ordonnance du 28 octobre 1998 sur la protection des eaux (OEaux). No. RS 814.201. Berne, Switzerland

Olsen LD, Valder JF, Carter JM, Zogorski JS (2013) Prioritization of constituents for national- and regional-scale ambient monitoring of water and sediment in the United States. US Geological Survey Scientific Investigations Report 2012–5218, 203p, plus supplemental tables, http://pubs.usgs.gov/sir/2012/5218/

Perrazzolo C (2008) Détermination d'une liste prioritaire de medicaments. Application à quelques groups de substances. Université de Lausanne, Lausanne, 72 pp

Pintado-Herrera MG, Gonzalez-Mazo E, Lara-Martin PA (2016) In-cell clean-up pressurized liquid extraction and gas chromatography–tandem mass spectrometry determination of hydrophobic persistent and emerging organic pollutants in coastal sediments. J Chrom A 1429:107–118

Pinto MI, Burrows HD, Sontag G, Vale C, Noronha JP (2016) Priority pesticides in sediments of European coastal lagoons: a review. Mar Poll Bull 1-2:6–16

Slobodnik J, Mrafkova L, Carere M, Ferrara F, Pennelli B, Schüürmann G, von der Ohe PC (2012) Identification of river basin specific pollutants and derivation of environmental quality standards: a case study in the Slovak Republic. Trends Anal Chem 41:133–145

Smital T, Terzić S, Lončar J, Senta I, Žaja R, Popović M, Mikac I, Tollefsen KE, Thomas KV, Ahel M (2013) Prioritisation of organic contaminants in a river basin using chemical analyses and bioassays. Environ Sci Pollut Res 20:1384–1395

Tsaboula A, Papadakis EN, Vryzas Z, Kotopoulou A, Kintzikoglou K, Papadopoulou-Mourkidou E (2016) Environmental and human risk hierarchy of pesticides: a prioritization method, based on monitoring, hazard assessment and environmental fata. Environ Int 91:78–93

Von der Ohe PC, Dulio V, Slobodnik J, De Deckere E, Kühne R, Ebert RU, Ginebreda A, De Cooman W, Schüürmann G, Brack W (2011) A new risk assessment approach for the prioritization of 500 classical and emerging organic microcontaminants as potential river basin specific pollutants under the European Water Framework Directive. Sci Total Environ 409:2064–2077

Wenning R, Batley RJ, Ingersoll CG, Moore DW (eds) (2005) Use of sediment quality guidelines and related tools for the assessment of contaminated sediments. Society of Environnemental Toxicology and Chemistry (SETAC), Pensacola 815 p

Wittmer I, Junghans M, Singer H, Stamm C (2014) Micropolluants – Stratégie d'évaluation pour les micropolluants organiques de sources non ponctuelles. Etude réalisée sur mandat de l'OFEV, Eawag, Dübendorf, CH, 104 p
Acknowledgements
The authors wish to thank the advisory group of the project for the development of a module sediment for Switzerland (Marc Babut, Felippe Deallencastro, Nathalie Dubois, Stefan Gautschi, Christian Goetz, Pascal Nirel, Rico Ryser, Serge Santiago, Jurg Sinniger, Nele Schuwirtz) and, in particular, the prioritization working group (Nathalie Chèvre, Juliane Hollender, Robert Kase, Jean-Luc Loizeau, Christian Michel, Irene Wittmer, and Christoph Reusser). We also acknowledge Aurea Chiaia-Hernandez and CIPEL, who provided environmental data, and the anonymous reviewers for their valuable comments and suggestions to improve the quality of the paper.
Additional information
Responsible editor: Philippe Garrigues
Electronic supplementary material
About this article
Cite this article
Casado-Martinez, M., Wildi, M., Ferrari, B.J. et al. Prioritization of substances for national ambient monitoring of sediment in Switzerland. Environ Sci Pollut Res 25, 3127–3138 (2018). https://doi.org/10.1007/s11356-017-9082-6
Received:

Accepted:

Published:

Issue Date:
Keywords
Substance prioritization

Sediment

Monitoring

Risk-based assessment