Abstract
Biosynthesis of nanoparticles has received increasing attention due its effective mode of action, eco-friendly preparation methodology, and less cytotoxicity. In the present study, silver nanoparticles (AgNPs) from aqueous seed extract of Myristica fragrans (nutmeg) were characterized. Gas chromatography–mass spectrometry (GC–MS) analysis revealed the presence of bioactive components acts as effective in reducing and capping agents for converting AgNO3 to AgNPs. The UV-Vis absorption spectrum of the biologically reduced reaction mixture showed the surface plasmon peak at 420 nm, which is the characteristic peak of AgNPs. The functional molecules present in the M. fragrans seed extract and their interaction with the AgNPs were identified by the Fourier transform infrared spectroscopy (FT-IR) analysis. X-ray diffraction (XRD) analysis confirmed the face-centered cubic crystalline structure of metallic silver nanoparticle and diameter was calculated using Scherrer's equation. Transmission electron microscope (TEM) image showed spherical shaped particles with an average size of 25 nm. The scanning electron microscopy–energy dispersive spectroscopy (SEM–EDS) confirmed the presence of elemental silver. The antibacterial activity of biosynthesized AgNPs was evaluated against multidrug-resistant (MDR) Salmonella enterica serovar Typhi (S. Typhi) according to agar well diffusion, MIC (minimum inhibitory concentration), and IC50 (inhibitory concentration 50%). The results confirm that bacterial growth was significantly reduced in a dose-dependent manner. Further, the cytotoxic effect of biosynthesized AgNPs on rat spleenocytes was analyzed. Thus, it is suggested that the nutmeg-biosynthesized AgNPs could be a lead drug and used effectively to control the MDR S. Typhi, thereby reducing public health issues and environmental pollution.
Access options
Buy single article
Instant access to the full article PDF.
USD 39.95
Price excludes VAT (USA)
Tax calculation will be finalised during checkout.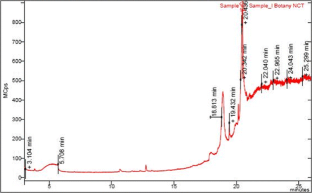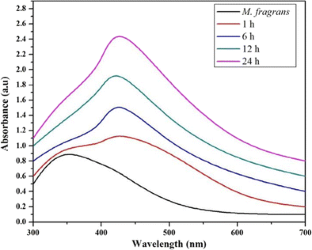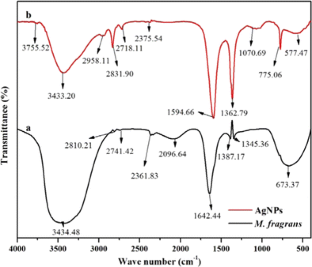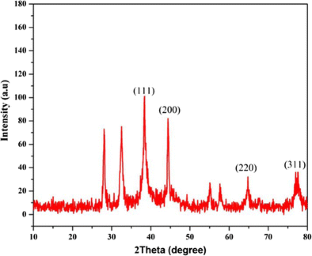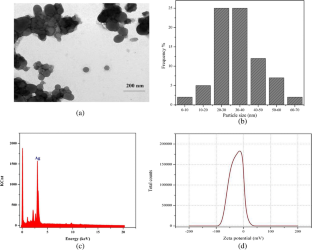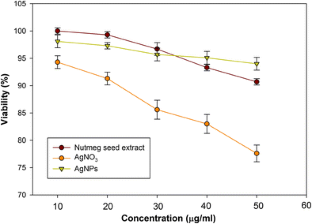 References
Abdul Kareem M, Saayi KG, Althaf HS, Maruthi PE, Lakshmi Devi K (2013) Protective effect of nutmeg aqueous extract against experimentally-induced hepatotoxicity and oxidative stress in rats. J Ayurveda Integr Med 4(4):216–223

Adjene JO, Igbigbi PS (2010) Effect of chronic consumption of nutmeg on the stomach of adult wistar rats. Fooyin J Health Sci 2(2):62–65

Ahluwalia V, Kumar J, Sisodia R, Shakil NA, Walia S (2014) Green synthesis of silver nanoparticles by Trichoderma harzianum and their bio-efficacy evaluation against Staphylococcus aureus and Klebsiella pneumonia. Ind Crop Prod 55:202–206

Ahmad N, Sharma S, Rai R (2012) Rapid green synthesis of silver and gold nanoparticles using peels of Punica granatum. Adv Mater Lett 3:376–380

Ansari MA, Khan HM, Khan AA, Malik A, Sultan A, Shahid M, Shujatullah F, Azam A (2011) Evaluation of antibacterial activity of silver nanoparticles against MSSA and MRSA on isolates from skin infections. Biol Med 3(2):141–146

Aravinthan A, Govarthanan M, Selvam K, Praburaman L, Selvankumar T, Balamurugan R, Kamala-Kannan S, Jong-Hoon K (2015) Sunroot mediated synthesis and characterization of silver nanoparticles and evaluation of its antibacterial and rat splenocyte cytotoxic effects. Int J Nanomedicine 10:1977–1983

Balaji C, Senthilkumar B (2011) Screening, phylogenetic analysis and antibiotic sensitivity pattern of Salmonella enteric serovar Typhi isolates from typhoid asymptomatic carriers. Asian Pac J Trop Med 4(10):769–772

Bhattacharya R, Mukherjee P (2008) Biological properties of naked metal nanoparticles. Adv. Drug Deliv Rev 60:1289–1306

Butler T (2011) Treatment of typhoid fever in the 21st century promises and short comings. Clin Microbiol Infect 17:959–963

Chen S, Tsutsumi T, Takatsuki S, Matsuda R, Kameya H, Nakajima M, Furuta M, Todoriki S (2012) Identification of 2-alkylcyclobutanones in nutmeg (Myristica fragrans). Food Chem 134:359–365

Chladek G, Mertas A, Barszczewska-Rybarek I (2011) Antifungal activity of denture soft lining material modified by silver nanoparticles- a pilot study. Int J Mol Sci 12(7):4735–4744

Chung JY, Choo JH, Lee MH, Hwang JK (2006) Anticariogenic activity of macelignan isolated from Myristica fragrans (nutmeg) against Streptococcus mutans. Phytomedicine 13:261–266

Dipankar C, Murugan S (2012) The green synthesis, characterization, and evaluation of the biological activities of silver nanoparticles synthesized from Iresine herbstii leaf aqueous extracts. Colloids Surf B 98:112–119

El-Sayed MH (2012) Di-(2-ethylhexyl) phthalate, a major bioactive metabolite with antimicrobial and cytotoxic activity isolated from the culture filtrate of newly isolated soil Streptomyces (Streptomyces mirabilisstrain NSQu-25). World Appl Sci J 20(9):1202–1212

Govarthanan M, Cho M, Park JH, Jang JS, Yi YJ, Kamala-Kannan S, Oh BT (2016) Cottonseed oilcake extract mediated green synthesis of silver nanoparticles and its antibacterial and cytotoxic activity. J Nanomater. doi:10.1155/2016/7412431

Grover JK, Khandkar S, Vats V, Dhunnoo Y, Das D (2002) Pharmacological studies on Myristica fragrans—antidiarrheal, hypnotic, analgesic and hemodynamic (blood pressure) parameters. Methods Find Exp Clin Pharmacol 24:675–680

Gupta AD, Bansal VK, Babu V, Maithil N (2013) Chemistry, antioxidant and antimicrobial potential of nutmeg (Myristica fragrans Houtt). J Genet Eng Biotechnol 11:25–31

Gurunathan S, Han JW, Dayem AA (2013) Green synthesis of anisotropic silver nanoparticles and its potential cytotoxicity in human breast cancer cells (MCF-7). J Ind Eng Chem 19(5):1600–1605

Gurunathan S, Han JW, Kwon DN, Kim JH (2014) Enhanced antibacterial and anti-biofilm activities of silver nanoparticles against Gram-negative and Gram-positive bacteria. Nanoscale Res Lett 31:373

Hemali P, Pooja M, Sumitra C (2015) Green synthesis of silver nanoparticles from marigold flower and its synergistic antimicrobial potential. Arab J Chem 8(5):732–741

Huang H, Yang Y (2008) Preparation of silver nanoparticles in inorganic clay suspensions. Compos Sci Technol 68:2948–2953

Ibrahim HMM (2015) Green synthesis and characterization of silver nanoparticles using banana peel extract and their antimicrobial activity against representative microorganisms. J Radiat Res Appl Sci 8:265–275

Ilakkia S, Senbagam D, Senthilkumar B, Sivakumar P (2015) A prevalence study of typhoid fever and convalescent phase asymptomatic typhoid carriers among the schoolchildren in the northern part of Tamil Nadu. J Pub Health DOI. doi:10.1007/s10389-015-0655-x

Ilakkia S, Senbagam D, Senthilkumar B (2016) Analysis of TLR polymorphisms in typhoid patients and asymptomatic typhoid carriers among the schoolchildren. Egy J Med Human Genetics. doi:10.1016/j.ejmhg.2015.12.2010

Jagtap UB, Bapat VA (2013) Green synthesis of silver nanoparticles using Artocarpus heterophyllus L. seed extract and its antibacterial activity. Ind Crop Prod 46:132–137

Jayaseelan C, Ramkumar R, Rahuman AA, Perumal P (2013) Green synthesis of gold nanoparticles using seed aqueous extract of Abelmoschus esculentus and its antifungal activity. Ind Crop Prod 45:423–429

Jin R, Cao YC, Hao E, Metraux GS, Schatz GC, Mirkin CA (2003) Controlling anisotropic nanoparticle growth through plasmon excitation. Nature 425(6957):487–490

Jin DQ, Lim CS, Hwang JK, Ha I, Han JS (2005) Antioxidant and anti-inflammatory activities of mace lignan in murine hippocampal cell line and primary culture of rat microglial cells. Biochem Biophys Res Commun 331:1264–1269

Kalimuthu K, Suresh Babu R, Venkataraman D, Bilal M, Gurunathan S (2008) Biosynthesis of silver nanocrystals by Bacillus licheniformis. Colloids Surf B 65:150–153

Kang K, Lim DH, Choi IH, Kang T, Lee K, Moon EY, Yang Y, Lee MS, Lim JS (2011) Vascular tube formation and angiogenesis induced by polyvinylpyrrolidone-coated silver nanoparticles. Toxicol Lett 205(3):227–234

Kim JS, Kuk E, Yu KN, Kim J, Park SJ, Lee HJ (2007) Antimicrobial effects of silver nanoparticles. Nanomedicine 3:95–101

Kumari J, Ajeet S (2016) Green synthesis of nanostructured silver particles and their catalytic application in dye degradation. J Genet Eng Biotechnol 14(2):311–317

Lallawmawma H, Sathishkumar G, Sarathbabu S, Ghatak S, Sivaramakrishnan S, Gurusubramanian G, Senthil Kumar N (2015) Synthesis of silver and gold nanoparticles using Jasminum nervosum leaf extract and its larvicidal activity against filarial and arboviral vector Culexquinquefasciatus Say (Diptera: Culicidae). Environ Sci Pollut Res DOI. doi:10.1007/s11356-015-5001-x

Lee KJ, Park SH, Govarthanan M (2013) Synthesis of silver nanoparticles using cow milk and their antifungal activity against phytopathogens. Mater Lett 105:128–131

Lok C, Ho C, Chen R, He Q, Yu W, Sun H (2006) Proteomic analysis of the mode of antibacterial action of silver nanoparticles. J Proteome Res 5:916–924

Lu L, Hsieh M, Oriss TB, Morel PA, Starzl TE, Rao AS, Thomson AW (1995) Generation of DC from mouse spleen cell cultures in response to GM-CSF: immmunophenotypic and functional analyses. Immunol 84:127–l34

Mahady GB, Pendland SL, Stoia A, Hamill FA, Fabricant D, Dietz BM, Chadwick LR (2005) In vitro susceptibility of Helicobacter pylori to botanical extracts used traditionally for the treatment of gastrointestinal disorders. Phytother Res 19:988–991

Mahendran G, Ranjitha Kumari BD (2016) Biological activities of silver nanoparticles from Nothapodytes nimmoniana (Graham) Mabb. Fruit extracts Food Science and human Willness. doi:10.1016/j.fshw.2016.10.001

Mallavarapu GR, Ramesh S (1998) Composition of essential oils of nutmeg and mace. J Med Aromat Plant Sci 20:746–748

Martinez-Gutierrez F, Thi EP, Silverman JM, de Oliveira CC, Svensson SL, Vanden Hoek A, Sánchez EM, Reiner NE, Gaynor EC, Pryzdial EL (2012) Antibacterial activity, inflammatory response, coagulation, and cytotoxicity effects of silver nanoparticles. Nanomedicine 8(3):328–336

Mohammed Fayaz A, Ao Z, Girilal M, Chen L, Xiao X, Kalaichelvan PT, Yao X (2012) Inactivation of microbial infectiousness by silver nanoparticles-coated condom: a new approach to inhibit HIV and HSV-transmitted infection. Int J Nanomedicine 7:5007–5018

Murugan K, Selvanayaki K, Kalyanasundaram VB, Al-Sohaibani S (2013) Nanotechnological approach for exploring the antibiofilm a potential of an ethanomedicinal herb Andrographis paniculata for controlling lung infection causing Pseudomonas aeruginosa. Dig J Nanomater Bios 8(1):1117–1126

Murugan K, Senthilkumar B, Senbagam D, Saleh Al S (2014) Biosynthesis of silver nanoparticles using Aacacia leucophloea extract and their antibacterial activity. Int J Nanomedicine 9(1):2431–2438

Palaniyandi V, Jayabrata D, Raman P, Baskaralingam V, Kannaiyan P (2015) Greener approach for synthesis of antibacterial silver nanoparticles using aqueous solution of neem gum (Azadirachta indica L.) Ind Crop Prod 66:103–109

Park Y, Hong YN, Weyers A, Kim YS, Linhardt RJ (2011) Polysaccharides and phytochemicals: a natural reservoir for the green synthesis of gold and silver nanoparticles. IET Nanobiotechnol 5:69–78

Patil SB, Ghadyale VA, Taklikar SS, Kulkarni CR, Arvindekar AU (2011) Insulin secretagogue, alpha-glucosidase and antioxidant activity of some selected spices in streptozotocin-induced diabetic rats. Plant Food Hum Nutr 66:85–90

Perez C, Paul M, Bazerque P (1990) An antibiotic assay by the agar well diffusion method. Acta Biol Med Exp 15:113–115

Praburaman L, Jang JS, Muthusamy G, Sendgottaiyan A (2016) Piper betle mediated synthesis, characterization, antibacterial and rat splenocyte cytotoxic effects of copper oxide nanoparticles. Artif Cells Nanomed Biotechnol 44(6):1400–1405

Ramalingam V, Rajaram R, Premkumar C, Santhanam C, Dhinesh P, Vinothkumar S, Kaleshkumar K (2013) Biosynthesis of silver nanoparticles from deepsea bacterium Pseudomonas aeruginosa JQ989348 for antimicrobial, antibioflim and cytotoxic activity. J Basic Microbiol 53:1–9

Rathi Sre PR, Reka M, Poovazhagi R, Arul Kumar M, Murugesan K (2015) Antibacterial and cytotoxic effect of biologically synthesized silver nanoparticles using aqueous root extract of Erythrina indica L. Spectrochim Acta Part A 135:1137–1144

Raveendran P, Fu J, Wallen SL (2003) Completely "green" synthesis and stabilization of metal nanoparticles. J Am Chem Soc 125:13940–13941

Rowshanul HM, Rezaul KM (2009) Antimicrobial and cytotoxic activity of di-(2-ethylhexyl) phthalate and anhydrosophoradiol-3-acetate isolated from Calotropis gigantea (L) flower. Mycobiology 37(1):31–36

Salem MZM, Abdel-Megeed A, Ali HM (2014) Stem wood and bark extracts of Delonix regia (Boj.Ex.Hook): chemical analysis and antibacterial, antifungal, and antioxidant properties. Bioresources 9(2):2382–2395

Salema WM, Haridy M, Sayed WF, Hassan NH (2014) Antibacterial activity of silver nanoparticles synthesized from latex and leaf extract of Ficus sycomorus. Ind Crop Prod 62:228–234

Sankar R, Karthik A, Prabu A, Karthik S, Shivashangari KS, Ravikumar V (2013) Origanum vulgare mediated biosynthesis of silver nanoparticles for its antibacterial and anticancer activity. Colloid Surf B 108:80–84

Satapathy S, Ahlawat A, Paliwal A, Singh R, Singh MK, Gupta PK (2014) Effect of calcination temperature on nanoparticles morphology and its consequence on optical properties of Nd:Y2O3 transparent ceramics. Cryst Eng Comm 16:2723–2731

Sathishkumar M, Sneha K, Yun YS (2010) Immobilization of silver nanoparticles synthesized using Curcuma longa tuber powder and extract on cotton cloth for bactericidal activity. Bioresour Technol 101(20):7958–7965

Sawsan SA, Ahmad HI, Nik NNAR, Moftah MBN, Amin MSAM, Mohd OAK (2011) The effect of supercritical fluid extraction parameters on the nutmeg oil extraction and its cytotoxic and antiangiogenic properties. Procedia Food Sci 1:1946–1952

Seghal KG, Sabarathnam B, Selvin J (2010) Biofilm disruption potential of a glycolipid biosurfactant from marine Brevibacterium casei. FEMS Immunol Med Microbiol 59(3):432–438

Selvam K, Sudhakar C, Govarthanan M, Thiyagarajan P, Sengottaiyan A, Senthilkumar B, Selvankumar T (2017) Eco-friendly biosynthesis and characterization of silver nanoparticles using Tinospora cordifolia (Thunb.) Miers and evaluate its antibacterial, antioxidant potential. J Radiat Res Appl Sci 10(1):6–12

Senthilkumar B, Prabakaran G (2005) Multidrug resistant Salmonella typhi in asymptomatic typhoid carriers among food handlers in Namakkal District Tamil Nadu. Ind J Med Microbiol 23(2):92–94

Senthilkumar B, Senbagam D, Rajasekarapandian M (2012) An epidemiological surveillance of asymptomatic typhoid carriers associated in respect to socioeconomic status in India. J Pub Health DOI. doi:10.1007/s10389-012-0545-4

Senthilkumar B, Sivakumar P, Madhanraj R, Senbagam D, Ilakkia S (2014) A comparative analysis of TLR5 polymorphism and clinical parameters in typhoid patients and asymptomatic typhoid carriers. J Pub Health DOI. doi:10.1007/s10389-013-0604-5

Severin N, Kirstein S, Sokolov IM, Rabe JP (2009) Rapid trench channeling of graphenes with catalytic silver nanoparticles. Nano Lett 9(1):457–461

Shankar SS, Rai A, Ahmad A, Sastry M (2004) Rapid synthesis of Au, Ag, and bimetallic Au core–Ag shell nanoparticles using Neem Azadirachta indica leaf broth. J Colloid Interface Sci 275:496–502

Singh R, Wagh P, Wadhwani S, Gaidhani S, Kumbhar A, Bellare J, Chopade BA (2013) Synthesis, optimization, and characterization of silver nanoparticles from Acinetobacter calcoaceticus and their enhanced antibacterial activity when combined with antibiotics. Int J Nanomedicine 8:4277–4290

Singh R, Nawale LU, Arkile M, Shedbalkar UU, Wadhwani SA, Sarkar D, Chopade BA (2015) Chemical and biological metal nanoparticles as antimycobacterial agents: a comparative study. Int J Antimicrob Agents 46(2):183–188

Sivalingam P, Antony JJ, Siva D, Achiraman S, Anbarasu K (2012) Mangrove Streptomyces sp. BDUKAS10 as nanofactory for fabrication of bactericidal silver nanoparticles. Colloid Surf B 98:12–17

Skladanowski M, Wypij M, Laskowski D, Golin'ska P, Dahm H, Rai M (2017) Silver and gold nanoparticles synthesized from Streptomyces sp. isolated from acid forest soil with special reference to its antibacterial activity against pathogens. J Clust Sci 28:59–79

Sudhakar C, Selvam K, Govarthanan M, Senthilkumar B, Sengottaiyan A, Stalin M, Selvankumar T (2015) Acorus calamus rhizome extract mediated biosynthesis of silver nanoparticles and their bactericidal activity against human pathogens. J Genet Eng Biotechnol 13:93–99

Sulaiman SF, Ooi KL (2012) Antioxidant and anti food-borne bacterial activities of extracts from leaf and different fruit parts of Myristica fragrans Houtt. Food Control 25:533–536

Suresh AK, Doktycz MJ, Wang W, Moon JW, Gu B, Meyer HM III, Hensley DK, Allison DP, Phelps TJ, Pelletier DA (2011) Monodispersed biocompatible silver sulfide nanoparticles: facile extracellular biosynthesis using the γ-proteobacterium, Shewanella oneidensis. Acta Biomater 7(12):4253–4258

Tricoli A, Pratsinis SE (2010) Dispersed nanoelectrode devices. Nat Nanotechnol 5(1):54–60

Venkatesan J, Kim SK, Shim MS (2016) Antimicrobial, antioxidant, and anticancer activities of biosynthesized silver nanoparticles using marine algae Ecklonia cava. Nano 6(12):235

Vidya V, Daizy P, Joseph M (2016) Essential oil mediated synthesis of silver nanocrystals for environmental, anti-microbial and antioxidant applications. Mater Sci Eng C 61:429–436

Wiegand I, Hilpert K, Hancock REW (2008) Agar and broth dilution methods to determine the minimal inhibitory concentration (MIC) of antimicrobial substances. Nat Protoc 3(2):163–175

Xu N, Fan X, Yan X, Li X, Niu R, Tseng CK (2003) Antibacterial bromophenols from the marine red alga Rhodomela confervoides. Phytochemistry 62:1221–1224

Yang S, Na MK, Jang JP, Kim KA, Kim BY, Sung NJ, Oh WK, Ahn JS (2006) Inhibition of protein tyrosine phosphatase 1B by lignans from Myristica fragrans. Phytother Res 20:680–682

Yi PT, Mashitah MD, Salmaiah U (2011) Media selection for mycelia growth, antifungal activity against wood-degrading fungi, and GC-MS study by Pycnoporus sanguineus. Bioresources 6(3):2719–2731

Zaidi SFH, Yamada K, Kadowaki M, Usmanghani K, Sugiyama T (2009) Bactericidal activity of medicinal plants, employed for the treatment of gastrointestinal ailments, against Helicobacter pylori. J Ethnopharmacol 121:286–291
Acknowledgements
The authors are thankful to the Department of Biotechnology (DBT), New Delhi, Govt. of India, for infrastructural facility and financial assistance in the form of State Biotech Hub (BT/04/NE/2009) to Mizoram University.
Additional information
Responsible editor: Philippe Garrigues
About this article
Cite this article
Balakrishnan, S., Sivaji, I., Kandasamy, S. et al. Biosynthesis of silver nanoparticles using Myristica fragrans seed (nutmeg) extract and its antibacterial activity against multidrug-resistant (MDR) Salmonella enterica serovar Typhi isolates. Environ Sci Pollut Res 24, 14758–14769 (2017). https://doi.org/10.1007/s11356-017-9065-7
Received:

Accepted:

Published:

Issue Date:

DOI: https://doi.org/10.1007/s11356-017-9065-7
Keywords
Nutmeg

Biosynthesis

Silver nanoparticles

GC–MS

Antibacterial activity

MDR Salmonella enterica serovar Typhi

Public health

Environmental pollution