Abstract
Farmers often resort to an occasional tillage (strategic tillage (ST)) operation to combat constraints of no-tillage (NT) farming systems. There are conflicting reports regarding impacts of ST and a lack of knowledge around when, where and how ST is implemented to maximise its benefits without impacting negatively on soil and environment. We established 14 experiments during 2012–2015 on farms with long-term history of continuous NT to (i) quantify the associated risks and benefits to crop productivity, soil and environmental health and (ii) explore key factors that need to be considered in decisions to implement ST in an otherwise NT system. Results showed that introduction of ST reduced weed populations and improved crop productivity and profitability in the first year after tillage, with no impact in subsequent 4 years. Soil properties were not impacted in Vertosols; however, Sodosols and Dermosols suffered short-term negative soil health impacts (e.g. increased bulk density). A Sodosol and a Dermosol also posed higher risks of runoff and associated loss of nutrients and sediment during intense rainfall after ST. The ST reduced plant available water in the short term, which could result in unreliable sowing opportunities for the following crop especially in semi-arid climate that prevails in north-eastern Australia. The results show that generally, there were no significant differences in crop productivity and soil health between tillage implements and tillage frequencies between ST and NT. The study suggests that ST can be a viable strategy to manage constraints of NT systems, with few short-term soil and environmental costs and some benefits such as short-term farm productivity and profitability and reduced reliance on herbicides.
This is a preview of subscription content, log in to check access.
Access options
Buy single article
Instant access to the full article PDF.
US$ 39.95
Price includes VAT for USA
Subscribe to journal
Immediate online access to all issues from 2019. Subscription will auto renew annually.
US$ 99
This is the net price. Taxes to be calculated in checkout.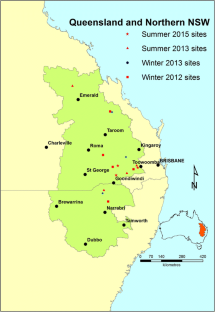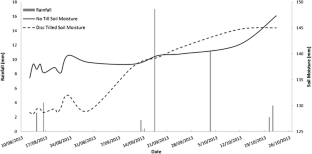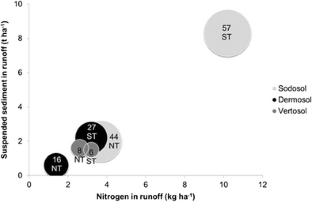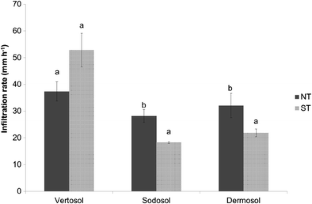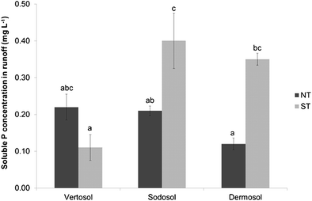 References
Adam G, Duncan H (2001) Development of a sensitive and rapid method for the measurement of total microbial activity using fluorescein diacetate (FDA) in a range of soils. Soil Biol Biochem 33:943–951

Argent S, Wixon A, Dang Y (2013) Farmers thoughts about CTF in Australia's northern grain growing region, First International Controlled Traffic Farming Conference, Toowoomba, 25–27 February 2013 http://www.actfa.net/conferences/ctf2013/CTF2013%20papers%20pdfs/Argent,%20Suzette.pdf

Baan CD, Grevers MCJ, Schoenau JJ (2009) Effects of a single cycle of tillage on long-term no-till prairie soils. Can J Soil Sci 89:521–530

Beck T, Joergensen R, Kandeler E, Makeschin F, Nuss E, Oberholzer H, Scheu S (1997) An inter-laboratory comparison of ten different ways of measuring soil microbial biomass C. Soil Biol Biochem 29:1023–1032

Bell M, Lester D, Smith L, Want P (2012) Increasing complexity in nutrient management on clay soils in the northern grain belt—nutrient stratification and multiple nutrient limitations. In: Yunusa I (Hrsg.) Capturing opportunities and overcoming obstacles in Australian Agronomy. Proceedings of 16th Australian Agronomy Conference 2012, 14–18 October 2012, Armidale, NSW. http://www.regional.org.au/au/asa/2012/nutrition/8045_bellm.htm#TopOfPage

Cambardella CA, Elliot ET (1992) Particulate soil organic-matter changes across a grassland cultivation sequence. Soil Sci Soc Am J 56:777–783

Chadwick DR, Cardenas L, Misselbrook TH, Smith KA, Rees RM, Watson CJ, McGeough KL, Williams JR, Cloy JM, Thorman RE, Dhanoa MS (2014) Optimizing chamber methods for measuring nitrous oxide emissions from plot-based agricultural experiments. Eur J Soil Sci 65:295–307

Chaer G, Fernandes M, Myrold D, Bottomley P (2009) Comparative resistance and resilience of soil microbial communities and enzyme activities in adjacent native forest and agricultural soils. Microb Ecol 58:414–424

Chauhan BS, Singh RG, Mahajan G (2012) Ecology and management of weeds under conservation agriculture: a review. Crop Prot 38:57–65

Conant RT, Easter M, Paustian K, Swan A, Williams S (2007) Impacts of periodic tillage on soil C stocks: a synthesis. Soil Tillage Res 95:1–10

Crawford MH, Rincon-Florez V, Balzer A, Dang YP, Carvalhais LC, Liu H, Schenk PM (2015) Changes in the soil quality attributes of continuous no-till farming systems following a strategic tillage. Soil Research 53:263–273

Dalal RC, Allen DE, Wang WJ, Reeves S, Gibson I (2011) Organic carbon and total nitrogen stocks in a Vertisol following 40 years of no-tillage, crop residue retention and nitrogen fertilisation. Soil Tillage Res 112:133–139

Dang YP et al (2010) Diagnosis, extent, impacts, and management of subsoil constraints in the northern grains cropping region of Australia. Aust J Soil Res 48:105–119

Dang YP, Dalal RC, Pringle MJ, Biggs AJW, Darr S, Sauer B, Moss J, Payne J, Orange D (2011) Electromagnetic induction sensing of soil identifies constraints to the crop yields of north-eastern Australia. Soil Research 49:559–571

Dang YP, Moody PW, Bell MJ, Seymour NP, Dalal RC, Freebairn DM, Walker SR (2015a) Strategic tillage in no-till farming systems in Australia's northern grains-growing regions: II. Implications for agronomy, soil and environment. Soil Tillage Res 152:115–123

Dang YP, Seymour NP, Walker SR, Bell MJ, Freebairn DM (2015b) Strategic tillage in no-till farming systems in Australia's northern grains-growing regions: I. Drivers and implementation. Soil Tillage Res 152:104–114

Dang Y, Balzer A, Bell M (2016) Does strategic tillage undo long term improvement in soils under no-till?, ERM00003 Final Technical Report. Grains Research & Development Corporation, Canberra, Australia

Díaz-Zorita M, Grove JH, Murdock L, Herbeck J, Perfect E (2004) Soil structural disturbance effects on crop yields and soil properties in a no-till production system. Agron J 96:1651–1659

FAO (2016) What is Conservation Agriculture? http://www.fao.org/ag/ca/1a.html

Freebairn DM, Littleboy M, Smith GD, Coughlan KJ (1991) Optimising soil surface management in response to climatic risk. In: Muchow RC, Bellamy JA (eds) Climatic risk in crop production: models and management for semiarid tropics and subtropics. CAB International, Wallingford, pp 283–305

Freebairn DM, Loch RJ, Silburn DM (1996) Soil erosion and soil conservation for vertisols. Dev Soil Sci 24:303–362

Grandy AS, Robertson GP, Thelen KD (2006) Do productivity and environmental trade-offs justify periodically cultivating no-till cropping systems? Agron J 98:1377–1383

Haak MI, Peck DM, Thompson JP (1993) Numbers of Pratylenchus thornei and P. neglectus are altered by frequent tillage and stubble retention. In: Vanstone VA, Taylor SP, Nicol JM (Hrsg.) Proceedings of the 9th Pratylenchus workshop. APPS conference, Hobart, pp. 69–73

Hamza MA, Anderson WK (2005) Soil compaction in cropping systems: a review of the nature, causes and possible solutions. Soil Tillage Res 82:121–145

Hatfield JL, Sauer TJ, Prueger JH (2001) Managing soils to achieve greater water use efficiency: a review. Agron J 93:271–280

Jalota SK, Prihar SS (1990) Bare soil evaporation in relation to tillage. Adv Soil Sci 12:187–216

Kay BD, VandenBygaart AJ (2002) Conservation tillage and depth stratification of porosity and soil organic matter. Soil Tillage Res 66:107–118

Kettler TA, Lyon DJ, Doran JW, Powers WL, Stroup WW (2000) Soil quality assessment after weed-control tillage in a no-till wheat-fallow cropping system. Soil Sci Soc Am J 64:339–346

Kirkegaard JA, Conyers MK, Hunt JR, Kirkby CA, Watt M, Rebetzke GJ (2014) Sense and nonsense in conservation agriculture: principles, pragmatism and productivity in Australian mixed farming systems. Agric Ecosyst Environ 187:133–145

Liu H, Crawford M, Carvalhais LC, Dang YP, Dennis PG, Schenk PM (2016) Strategic tillage on a Grey Vertosol after fifteen years of no-till management had no short-term impact on soil properties and agronomic productivity. Geoderma 267:146–155

Llewellyn RS, D'Emden FH, Kuehne G (2012) Extensive use of no-tillage in grain growing regions of Australia. Field Crop Res 132:204–212

Loch RJ (2000) Effects of vegetation cover on runoff and erosion under simulated rain and overland flow on a rehabilitated site on the Meandu Mine, Tarong, Queensland. Aust J Soil Res 38:299–312

López-Garrido R, Madejón E, Murillo JM, Moreno F (2011) Soil quality alteration by mouldboard ploughing in a commercial farm devoted to no-tillage under Mediterranean conditions. Agric Ecosyst Environ 140:182–190

Marley JM, Litter JW (1989) Winter cereal production on the Darling-Downs—an 11 year study of fallow practices. Aust J Exp Agric 29:455–481

McGarity JW (1975) Soils of the Australian wheat-growing areas. In: Lazenby A, Matheson E (eds) Australian field crops, Volume 1: wheat and other temperate cereals. Angus and Robertson, Sydney, pp 227–255

McGillion T, Storrie A (2006) Integrated weed management in Australian cropping systems: a training resource for farm advisors. Cooperative Research Centre for Australian Weed Management, Adelaide, Australia

Melland AR, Antille DL, Dang YP (2016) Impacts of strategic tillage on short-term erosion, nutrient loss in runoff and greenhouse gas emissions. Soil Research. doi:10.1071/SR16136

Mensah RK, Gregg PC, Del Socorro AP, Moore CJ, Hawes AJ, Watts N (2013) Integrated pest management in cotton: exploiting behaviour-modifying (semiochemical) compounds for managing cotton pests. Crop Pasture Science 64:763–773

Obanor F, Neate S, Simpfendorfer S, Sabburg R, Wilson P, Chakraborty S (2013) Fusarium graminearum and Fusarium pseudograminearum caused the 2010 head blight epidemics in Australia. Plant Pathol 62:79–91

Page KL, Dalal RC, Pringle MJ, Bell M, Dang YP, Radford B, Bailey K (2013) Organic carbon stocks in cropping soils of Queensland, Australia, as affected by tillage management, climate, and soil characteristics. Soil Research 53:596–607

Pierce FJ, Fortin MC, Staton MJ (1994) Periodic plowing effects on soil properties in a no-till farming system. Soil Sci Soc Am J 58:1782–1787

Pratley JE (2000) Tillage and other physical management methods. In: Sindel BM (ed) Australian weed management systems, Melbourne

Quincke JA, Wortmann CS, Mamo M, Franti T, Drijber RA (2007a) Occasional tillage of no-till systems: carbon dioxide flux and changes in total and labile soil organic carbon. Agron J 99:1158–1168

Quincke JA, Wortmann CS, Mamo M, Franti T, Drijber RA, García JP (2007b) One-time tillage of no-till systems: soil physical properties, phosphorus runoff, and crop yield. Agron J 99:1104–1110

Rayment GE, Lyons DJ (2011) Soil chemical methods—Australasia. CSIRO Publishing, Collingwood, Victoria

Rincon-Florez VA, Ng C, Dang YP, Schenk PM, Carvalhais LC (2016) Short-term impact of an occasional tillage on microbial communities in a Vertosol after 43 years of no-tillage or conventional tillage. Eur J Soil Biol 74:32–38

Scheer C, Grace PR, Rowlings DW, Payero J (2013) Soil N2O and CO2 emissions from cotton in Australia under varying irrigation management. Nutr Cycl Agroecosyst 95:43–56

Schwenke G, Herridge DF, Scheer C, Rowlings DW, Haigh BM, McMullen KG (2016) Greenhouse gas (N2O and CH4) fluxes under nitrogen-fertilised dryland wheat and barley on subtropical Vertosols: risk, rainfall and alternatives. Soil Research 54:634–650

Scott BJ, Eberbach P, Evans J, Wade L (2010) Stubble retention in cropping systems in Southern Australia: benefits and challenges. EH Graham Centre Monograph No. 1, Industry and Investment NSW, Australia

Silburn DM, Carroll C, Ciesiolka CAA, DeVoil RC, Burger P (2011) Hillslope runoff and erosion on duplex soils in grazing lands in semi-arid central Queensland. I. Influences of cover, slope, and soil. Soil Research 49:105–117

Spoor G (2006) Alleviation of soil compaction: requirements, equipment and techniques. Soil Use Manag 22:113–122

Standley J, Hunter HM, Thomas GA, Blight GW, Webb AA (1990) Tillage and crop residue management affect Vertisol properties and grain sorghum growth over seven years in the semi-arid sub-tropics. 2. Changes in soil properties. Soil Tillage Res 18:367–388

Stockfisch N, Forstreuter T, Ehlers W (1999) Ploughing effects on soil organic matter after twenty years of conservation tillage in Lower Saxony, Germany. Soil Tillage Res 52:91–101

Thomas GA, Felton WL, Radford BJ (1997) Tillage and crop residue management. In: Clarke AL, Wylie PB (eds) Sustainable crop production in the sub-tropics: an Australian perspective. Queensland Department of Primary Industries, Brisbane, pp 195–213

Thomas GA, Titmarsh GW, Freebairn DM, Radford BJ (2007) No-tillage and conservation farming practices in grain growing areas of Queensland—a review of 40 years of development. Aust J Exp Agric 47:887–898

Thompson JP, Clewett TG, Sheedy JG, Reen RA, O'Reilly MM, Bell KL (2010) Occurrence of root-lesion nematodes (Pratylenchus thornei and P. neglectus) and stunt nematode (Merlinius brevidens) in the northern grain region of Australia. Australas Plant Pathol 39:254–264

Vanden Bygaart AJ, Kay BD (2004) Persistence of soil organic carbon after plowing a long-term no-till field in Southern Ontario, Canada. Soil Sci Soc Am J 68:1394–1402

Wander MM, Bidart MG, Aref S (1998) Tillage impacts on depth distribution of total and particulate organic matter in three Illinois soils. Soil Sci Soc Am J 62:1704–1711

Webb AA, Grundy MJ, Powell B, Littleboy M (1997) The Australian sub-tropical cereal belt: soils, climate and agriculture. In: Clarke AL, Wylie PB (eds) Sustainable crop production in the sub-tropics: an Australian perspective. Queensland Department of Primary Industries, Brisbane, pp 8–23

Wendt JW, Hauser S (2013) An equivalent soil mass procedure for monitoring soil organic carbon in multiple soil layers. Eur J Soil Sci 64:58–65

Wildermuth GB, Thomas GA, Radford BJ, McNamara RB, Kelly A (1997a) Crown rot and common root rot in wheat grown under different tillage and stubble treatments in southern Queensland, Australia. Soil Tillage Res 44:211–224

Wildermuth GB, Thompson JP, Robertson LN (1997b) Biological change: diseases, insects and beneficial organisms. In: Clarke AL, Wylie PB (eds) Sustainable crop production in the sub-tropics: an Australian perspective. Queensland Department of Primary Industries, Brisbane, pp 112–130

Wortmann CS, Drijber RA, Franti TG (2010) One-time tillage of no-till crop land five years post-tillage. Agron J 102:1302–1307

Yang XM, Kay BD (2001) Impacts of tillage practices on total, loose- and occluded-particulate, and humified organic carbon fractions in soils within a field in southern Ontario. Can J Soil Sci 81:149–156
Acknowledgements
The authors would like to thank Grains Research & Development Corporation (Project no. ERM00003) for partial funding. We are also indebted to our collaborative growers, Nev and Ron Boland, Darren and Tanya Jensen, Rod and Sam Hamilton, Paul and Samantha Fulbohm, Brian and Val Gregg, Geoff Manchee, Warakirri Farming Co. and Ken and John Stump, for providing field sites, managing the trials and providing their generous support. Thanks are also due to Paul McNaulty, Paul Caster and Stuart Thorn for their support. The authors would like to thank the DSITI Ecoscience Precinct soil laboratory for their skilful soil analysis and Suzette Argent, Don Browne, Ram Dalal, Maria Harris, Tony King, Phil Moody, Clement Ng, Rod Obels and Micheal Widderick for their substantial contributions to the design, setup, acquisition, analysis or interpretation of data and continuing support of the Strategic Tillage project.
Ethics declarations
Conflict of interest
The authors declare they have no conflict of interest.
Additional information
Responsible editor: Philippe Garrigues
About this article
Cite this article
Dang, Y.P., Balzer, A., Crawford, M. et al. Strategic tillage in conservation agricultural systems of north-eastern Australia: why, where, when and how?. Environ Sci Pollut Res 25, 1000–1015 (2018). https://doi.org/10.1007/s11356-017-8937-1
Received:

Accepted:

Published:

Issue Date:
Keywords
Crop productivity

Environmental impact

No tillage

Soil health

Strategic tillage

Conservation agriculture