Abstract
Chlordecone is an organochlorine pesticide, used in the Lesser Antilles from 1972 to 1993 to fight against a banana weevil. That molecule is very persistent in the natural environment and ends up in the sea with runoff waters. The objective of the present study is to evaluate the level of contamination in several trophic groups of marine animals according to their distance from the source of pollution. Samples of suspended matter, macroalgae, herbivorous fishes, detrivorous crustaceans, zooplanktivorous fishes, first- and second-order of carnivorous fishes, and piscivorous fishes have been collected in two sites, located downstream the contaminated sites (Goyave and Petit-Bourg), in three marine habitats (coastal mangroves, seagrass beds located 1.5 km from the shoreline, and coral reefs at 3 km offshore). Animals collected in mangroves were the most contaminated (mean concentrations 193 μg kg−1 in Goyave and 213 μg kg−1 in Petit-Bourg). Samples from seagrass beds presented intermediate concentrations of chlordecone (85 μg kg−1 in Goyave and 107 μg kg−1 in Petit-Bourg). Finally, samples from coral reefs were the less contaminated (71 μg kg−1 in Goyave and 74 μg kg−1 in Petit-Bourg). Reef samples, collected 3 km offshore, were two to three times less contaminated than those collected in mangroves.
Access options
Buy single article
Instant access to the full article PDF.
USD 39.95
Price excludes VAT (USA)
Tax calculation will be finalised during checkout.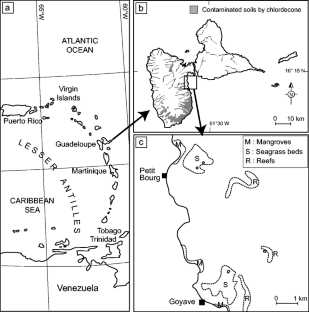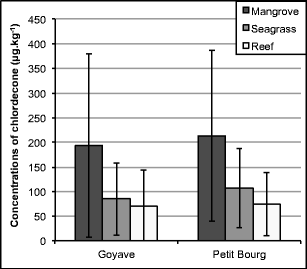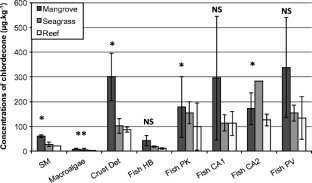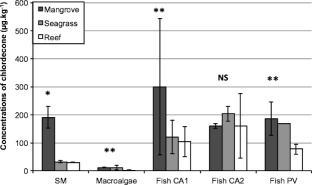 References
Bayen S, Wurl O, Karuppiah S, Sivasothi N, Kee Lee H, Obbard JF (2005) Persistent organic pollutants in mangrove food webs in Singapore. Chemosphere 61:303–313

Bertrand JA, Guyader O, Reynal L (2013) Caractérisation de la contamination de la faune halieutique par la chlordécone autour de la Guadeloupe. Projet CarGual. http://archimer.ifremer.fr/doc/00136/24762/

Bouchon C, Lemoine S (2003) Niveau de contamination par les pesticides des chaînes trophiques des milieu marins côtiers de la Guadeloupe et recherche de biomarqueurs de génotoxicité. Rapport UAG-DIREN, 33 pp

Bouchon C, Lemoine S (2007) Contamination par les pesticides des organisms marins de la baie du Grand Culd-de-Sac Marin (île de la Guadeloupe). Rapport UAG-DIREN, 39 pp

Bouchon C, Lemoine S, Dromard C, Bouchon-Navaro Y (2016) Level of contamination by metallic trace elements and organic molecules in the seagrass beds of Guadeloupe Island. Environ Sci Pollut Res 23:61–72

Briand MJ, Letourneur Y, Bonnet X, Wafo E, Fauvel T, Brischoux F, Guillou G, Bustamante P (2014) Spatial variability of metallic and organic contamination of anguilliform fish in New Caledonia. Environ Sci Pollut Res 21:4576–4591

Cabidoche YM, Achard R, Cattan P, Clermont-Dauphin C, Massat F, Sansoulet J (2009) Long-term pollution by chlordecone of tropical volcanic soils in the French West Indies: a simple leaching model accounts for current residue. Environ Pollut 157:1697–1705

Cabidoche YM, Lesueur Jannoyer M (2011) Pollution durable des sols par la chlordécone aux Antilles: comment la gérer ? Innovations Agronomiques 16:117–133

Cattan P, Cabidoche YM, Lacas JG, Voltz M (2006) Occurrence of runoff on high infiltrability under two banana cropping systems. Soil Till Res 86:38–51

Chapman MR, Kramer DL (2000) Movements of fishes within and among fringing coral reefs in Barbados. Environ Biol Fish 57:11–24

Coat S, Bocquené G, Godard E (2006) Contamination of some aquatic species with the organochlorine pesticide chlordecone in Martinique. Aquat Living Resour 19:181–187

Cocheret de la Morinière E, Pollux BJA, Nagelkerken I, van der Velde G (2002) Post-settlement life cycle migration patterns and habitat preference of coral reef fish that use seagrass and mangrove habitats as nurseries. Estuar Coast Shelf Sci 55:309–321

Dromard CR, Bodiguel X, Lemoine S, Bouchon-Navaro Y, Reynal L, Thouard E, Bouchon C (2016a) Assessment of the contamination of marine fauna by chlordecone in Guadeloupe and Martinique (Lesser Antilles). Environ Sci Pollut Res 23:73–80

Dromard CR, Bouchon-Navaro Y, Cordonnier S, Bouchon C (2016b) The invasive lionfish, Pterois volitans, used as a sentinel species to assess the organochlorine pollution by chlordecone in Guadeloupe (Lesser Antilles). Mar Pollut Bull 107:102–106

Epstein SS (1978) Kepone—hazard evaluation. Sci Total Environ 9:1–62

Glynn PW, Rumbold DG, Snedaker SC (1995) Organochlorine pesticide residues in marine sediment and biota from the Northern Florida Reef Tract. Mar Pollut Bull 30:397–402

Haynes D, Johnson JE (2000) Organochlorine, heavy metal and polyaromatic hydrocarbon pollutant concentrations in the Great Barrier Reef (Australia) environment: a review. Mar Pollut Bull 41:7–12

Haynes D, Muller J, Carter S (2000) Pesticide and herbicide residues in sediments and seagrasses from the Great Barrier Reef World Heritage Area and Queenland Coast. Mar Pollut Bull 41:279–287

Huff JE, Gerstner HB (1978) Kepone: a literature summary. J Environ Pathol Toxicol 1:377–395

Luellen DR, Vadas GG, Unger MA (2006) Kepone in James River fish: 1976-2002. Sci Total Envion 358:286–297

Nichols MM (1990) Sedimentologic fate and cycling of Kepone in an estuarine system: example from the James River estuary. Sci Total Environ 97(98):407–440

Paez-Osuna F, Ruiz-Fernández AC, Botello AV, Ponce-Vélez G, Osuna-López JI, Frías-Espericueta MG, López-López G, Zazueta-Padilla HM (2002) Concentrations of selected trace metals (Cu, Pb, Zn), organochlorines (PCBs, HCB) and total PAHs in mangrove oysters from the Pacific Coast of Mexico: an overview. Mar Pollut Bull 44:1296–1313

Rato M, Sousa A, Quinta R, Langston W, Barroso C (2006) Assessment of inshore/offshore tributylin pollution gradients in the Northwest Portugal continental shelf using Nassarius reticulatus as a bioindicator. Environ Toxicol Chem 25:99–106

Schaffelke B, Mellors J, Duke NC (2005) Water quality in the Great barrier reef region: responses of mangrove, seagrass and macroalgal communities. Mar Pollut Bull 51:279–296

Wilkinson C, Salvat B (2012) Coastal resource degradation in the tropics: does the tragedy of the commons apply for the coral reefs, mangrove forests and seagrass beds. Mar Pollut Bull 6:1096–1105
Acknowledgements
We are grateful to the anonymous reviewer for his valuable suggestions which have enabled us to improve this article. This research was funded by the "Contrat de Recherche Développement CHLOHAL 2" coordinated by the Préfecture of Martinique Island.
Additional information
Responsible editor: Philippe Garrigues
About this article
Cite this article
Dromard, C.R., Guéné, M., Bouchon-Navaro, Y. et al. Contamination of marine fauna by chlordecone in Guadeloupe: evidence of a seaward decreasing gradient. Environ Sci Pollut Res 25, 14294–14301 (2018). https://doi.org/10.1007/s11356-017-8924-6
Received:

Accepted:

Published:

Issue Date:

DOI: https://doi.org/10.1007/s11356-017-8924-6
Keywords
Chlordecone

Trophic food web

Inshore-offshore gradient

Marine fauna

Guadeloupe

Coral reefs

Mangrove

Seagrass beds