Abstract
The use of modelling tools to support decision-makers to plan air quality policies is now quite widespread in Europe. In this paper, the Regional Integrated Assessment Tool (RIAT+), which was designed to support policy-maker decision on optimal emission reduction measures to improve air quality at minimum costs, is applied to the Porto Urban Area (Portugal). In addition to technological measures, some local measures were included in the optimization process. Case study results are presented for a multi-objective approach focused on both NO2 and PM10 control measures, assuming equivalent importance in the optimization process. The optimal set of air quality measures is capable to reduce simultaneously the annual average concentrations values of PM10 and NO2 in 1.7 and 1.0 μg/m3, respectively. This paper illustrates how the tool could be used to prioritize policy objectives and help making informed decisions about reducing air pollution and improving public health.
Access options
Buy single article
Instant access to the full article PDF.
USD 39.95
Price excludes VAT (USA)
Tax calculation will be finalised during checkout.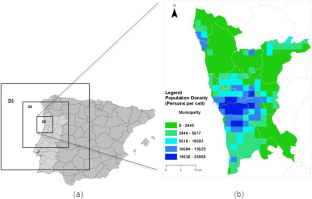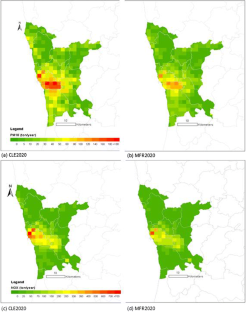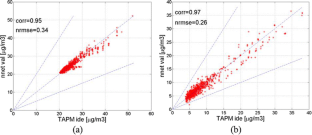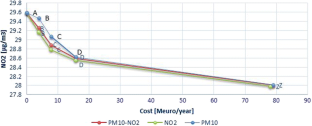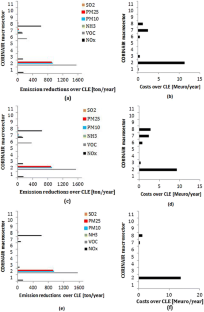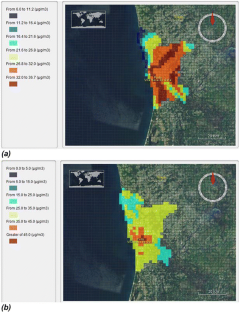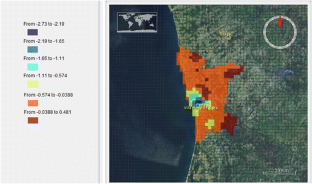 References
Aben, J., Hettelingh, J.-P. & Schöpp, W (2005) RAINS-NL: an integrated assessment model to support Dutch air quality policy making. Informatics for environmental protection - networking environmental information

Amann M, Bertok I, Borken-Kleefeld J, Cofala J, Hetelingh J-P, Heyes C, Holland M, Kiesewetter G, Klimont Z, Rafaj P (2013) Policy scenarios for the revision of the thematic strategy on air pollution TSAP report #10. Version 1.2. International Institute for Applied Systems Analysis IIASA, Vienna

APA, P. E. A (2010) Portuguese Informative Inventory Report 1990–2009. Submitted under the UNECE convention on longrange transboundary air pollution Agência Portuguesa do Ambiente, Amadora, Portugal (2010)

APPRAISAL, P. O. A. P. P. F. A. O. I. S. A. R. A. L. S (2015) Guidance on integrated air quality and health assessment systems, deliverable 4.3 guidance document evaluation Tier2

Bickel P, Friedrich R (2005) ExternE: externalities of energy, methodology 2005 update . IER, University of Stuttgart, StuttgartTech. Rep.

Borrego C, Monteiro A, Carvalho A, Miranda A, Coelho D, Sá E, Lopes M, Sousa S (2011) Air quality plans for the northern region of Portugal: improving particulate matter and coping with legislation. INTECH Open Access Publisher, Croatia

Borrego C, Sá E, Carvalho A, Sousa S, Miranda A (2012) Plans and programmes to improve air quality over Portugal: a numerical modelling approach. Int J Environ Pollut 48:60–68

Brandt J, Silver JD, Christensen JH, Andersen MS, Bønløkke JH, Sigsgaard T, Geels C, Gross A, Hansen AB, Hansen KM (2013) Contribution from the ten major emission sectors in Europe and Denmark to the health-cost externalities of air pollution using the EVA model system—an integrated modelling approach. Atmos Chem Phys 13:7725–7746

Carnevale C, Finzi G, Guariso G, Pisoni E, Volta M (2012a) Surrogate models to compute optimal air quality planning policies at a regional scale. Environ Model Softw 34:44–50

Carnevale C, Finzi G, Pisoni E, Volta M, Guariso G, Gianfreda R, Maffeis G, Thunis P, White L, Triacchini G (2012b) An integrated assessment tool to define effective air quality policies at regional scale. Environ Model Softw 38:306–315

Carnevale C, Finzi G, Pederzoli A, Turrini E, Volta M, Guariso G, Gianfreda R, MAFFEIS G, Pisoni E, Thunis P, Markl-Hummel L, Blond N, Clappier A, Dujardin V, Weber C, Perron G (2014) Exploring trade-offs between air pollutants through an integrated assessment model. Sci Total Environ 481:7–16

CCDR-LVT, L. R. C. A. D. C (2006) Plans and programmes to improve air quality in the Region of Lisbon and Tagus Valley. Lisbon

CCDR–N, N. R. C. A. D. C., UA (UNIVERSITY OF AVEIRO) (2007) Plan to improve air quality in the Northern Region: PM10–2004, O3–2004/2005, Technical Report No. AMB–QA–07/2007. Porto

CCDR–N, N. R. C. A. D. C., UA (UNIVERSITY OF AVEIRO) (2010) Plan to improve air quality in the Braga Agglomeration 2005–2008, Technical Report No. AMB–QA–03/2010. Porto

Clappier A, Pisoni E, Thunis P (2015) A new approach to design source–receptor relationships for air quality modelling. Environ Model Softw 74:66–74

D'elia I, Bencardino M, Ciancarella L, Contaldi M, Vialetto G (2009) Technical and non-technical measures for air pollution emission reduction: the integrated assessment of the regional air quality management plans through the Italian national model. Atmos Environ 43:6182–6189

Duque L, Relvas H, Silveira C, Ferreira J, Monteiro A, Gama C, Rafael S, Freitas S, Borrego C, Miranda AI (2016) Evaluating strategies to reduce urban air pollution. Atmos Environ 127:196–204

EEA (2014) Air quality in Europe—2014 report, EEA report no 5/2014. European Environment Agency, Denmark

EEA (2015) Air quality in Europe—2015 report, EEA report no 5/2015. European Environment Agency, Denmark

Gabusi V, Pisoni E, Volta M (2008) Factor separation in air quality simulations. Ecol Model 218:383–392

Hurley, P (2008) TAPM V4. Part 1: technical description. CSIRO Marine and Atmospheric Research Paper No. 25. CSIRO Marine and Atmospheric Research Group

Hurley PJ, Physick WL, Luhar AK (2005) TAPM: a practical approach to prognostic meteorological and air pollution modelling. Environ Model Softw 20:737–752

INE I (2012) Censos 2011 resultados definitivos-Portugal. Instituto Nacional de Estatística, IP, Lisboa

Karvosenoja N (2008) Emission scenario model for regional air pollution. Finnish Environment Institute, Helsinki

Mediavilla-Sahagún A, Apsimon HM (2006) Urban scale integrated assessment for London: which emission reduction strategies are more effective in attaining prescribed PM10 air quality standards by 2005? Environ Model Softw 21:501–513

Miranda A, Silveira C, Ferreira J, Monteiro A, Lopes D, Relvas H, Borrego C, Roebeling P (2015) Current air quality plans in Europe designed to support air quality management policies. Atmospheric Pollution Research 6:434–443

Miranda AI, Relvas H, Viaene P, Janssen S, Brasseur O, Carnevale C, Declerck P, Maffeis G, Turrini E, Volta M (2016) Applying integrated assessment methodologies to air quality plans: two European cases. Environ Sci Pol 65:29–38

Reis S, Nitter S, Friedrich R (2005) Innovative approaches in integrated assessment modelling of European air pollution control strategies–implications of dealing with multi-pollutant multi-effect problems. Environ Model Softw 20:1524–1531

Sjöberg, K., Haeger-Eugensson, M., Forsberg, B., Åström, S., Hellsten, S., Larsson, K., Björk, A. & Blomgren, H (2009) Quantification of population exposure to PM2. 5 and PM10 in Sweden 2005. IVL rapport B, 1792

Thunis P, Degraeuwe B, Pisoni E, Ferrari F, Clappier A (2016a) On the design and assessment of regional air quality plans: the SHERPA approach. J Environ Manag 183(Part 3):952–958

Thunis P, Miranda A, Baldasano JM, Blond N, Douros J, Graff A, Janssen S, Juda-Rezler K, Karvosenoja N, Maffeis G, Martilli A, Rasoloharimahefa M, REAL E, Viaene P, Volta M, White L (2016b) Overview of current regional and local scale air quality modelling practices: assessment and planning tools in the EU. Environ Sci Pol 65:13–21

Vedrenne M, Borge R, Lumbreras J, Rodríguez ME (2014) Advancements in the design and validation of an air pollution integrated assessment model for Spain. Environ Model Softw 57:177–191

Vedrenne M, Borge R, Lumbreras J, Conlan B, Rodríguez ME, De Andrés JM, De La Paz D, Pérez J, Narros A (2015) An integrated assessment of two decades of air pollution policy making in Spain: impacts, costs and improvements. Sci Total Environ 527:351–361

Wagner, F., Amann, M. & Schoepp, W (2007) The GAINS optimization module as of 1 February 2007. IIASA Interim Report IR-07-004, http://www.iiasa.ac.at/Admin/PUB/Documents/IR-07-004.pdf

WHO (2016) Ambient air pollution: a global assessment of exposure and burden of disease. World Health Organization, Geneva

Zachary DS, Drouet L, Leopold U, Reis LA (2011) Trade-offs between energy cost and health impact in a regional coupled energy–air quality model: the LEAQ model. Environ Res Lett 6:024021
Acknowledgements
The work has been performed using part of the data collected and managed in the GAINS (Europe) database. The authors would also like to acknowledge the financial support of FEDER through the COMPETE Programme and the national funds from FCT—Science and Technology Portuguese Foundation for the Ph.D. grant of H. Relvas (SFRH/BD/101660/2014). We thank two anonymous reviewers for providing constructive comments on this article.
Additional information
Responsible editor: Philippe Garrigues
Electronic supplementary material
About this article
Cite this article
Relvas, H., Miranda, A.I., Carnevale, C. et al. Optimal air quality policies and health: a multi-objective nonlinear approach. Environ Sci Pollut Res 24, 13687–13699 (2017). https://doi.org/10.1007/s11356-017-8895-7
Received:

Accepted:

Published:

Issue Date:

DOI: https://doi.org/10.1007/s11356-017-8895-7
Keywords
Urban air quality planning

Integrated assessment modelling

Emission reduction scenarios

Surrogate model

Cost-benefit

Multi-objective approach