Abstract
Heat waves threaten human health given the fast changing climatic scenarios in the recent past. Adaptation to heat waves would take place when people perceive their impacts based on their knowledge. The present study examines perception level and its determinants resulting in adaptation to heat waves in Pakistan. The study used cross-sectional data from urban and peri-urban respondents of Faisalabad District. The study employs a health belief model to assess risk perception among the respondents. Logistic model is used to determine factors affecting level of knowledge, perception and adaptation to heat waves. Around 30% of peri-urban respondents have a low level of knowledge about the fatal impacts of heat waves. Risk perception of heat waves is very low among urban (57%) and peri-urban (66%) respondents. Households' knowledge on heat waves is significantly related to age, gender, education, wealth and access to health services. Determinants of perception include knowledge of heat waves, age and joint effect of marital status and knowledge while income level, family size, urban/peri-urban background, perceived barriers, perceived benefits and cues to action significantly affect adaptation to heat waves. To reduce deadly health impacts, mass awareness campaigns are needed to build perception and improve adaptation to heat waves.
Access options
Buy single article
Instant access to the full article PDF.
USD 39.95
Price excludes VAT (USA)
Tax calculation will be finalised during checkout.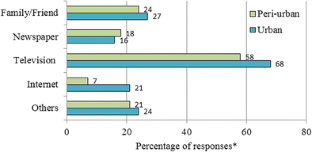 References
Abbas A, Amjath-Babu TS, Kächele H, Müller K (2016) Participatory adaptation to climate extremes: an assessment of households' willingness to contribute labor for flood risk mitigation in Pakistan. J Water Clim Change 7(3):621–636

Akompab DA, Bi P, Williams S, Grant J, Augoustinos A et al (2013a) Heat waves and climate change: applying the health belief model to identify predictors of risk perception and adaptive behaviours in Adelaide, Australia. Int J Env Res Public Health 10:2164–2184

Akompab DA, Bi P, Williams S, Grant J, Walker AI, Martha A (2013b) Awareness of and attitudes towards heat waves within the context of climate change among a cohort of residents in Adelaide, Australia. Int J Env Res Public Health 10:1–17

Algina J, Olejnik S (2003) Sample size tables for correlation analysis with applications in partial correlation and multiple regression analysis. Multivar Behav Res 38(3):309–323

Balbach ED, Smith EA, Malone RE (2006) How the health belief model helps the tobacco industry: individuals, choice and information. Tob Control 15:37–43

Bi L, Ding G, Gu S, Bi P, Su B, Qin D, Xu G, Liu Q (2014) The effects of summer temperature and heat waves on heat-related illness in a coastal city of China, 2011–2013. Environ Res 132:212–219

Bouchama A, Dehbi M, Mohamed G, Matthies F, Menne B (2007) Prognostic factors in heat wave related deaths: a meta-analysis. Arch Inter Med 167:2170–2176

Carvalho A (2007) Ideological cultures and media discourses on scientific knowledge: re-reading news on climate change. Public Underst Sci 16:223–243

Das S, Smith SC (2012) Awareness as an adaptation strategy for reducing mortality from heat waves: evidence from a disaster risk management program in India. SANDEE Working Paper, p.72–12

Deressa TT, Hassan RM, Ringler C (2011) Perception of and adaptation to climate change by farmers in the Nile basin of Ethiopia. J Agric Sci 149:23–31

Dole R, Hoerling M, Perlwitz J, Eischeid J, Pegion P, Zhang T et al (2011) Was there a basis for anticipating the 2010 Russian heat wave? Geophys Res Lett 38:1–5

Fai CM (2009) Factors affecting knowledge, attitudes, and skills levels for nursing staff toward the clinical management system in Hong Kong. Comp Inform Nurs 27:57–65

Falco SD, Veronesi M, Yesuf M (2011) Does adaptation to climate change provide food security? A micro perspective from Ethiopia. Am J Agric Econ 93:829–846

Glum J (2015) Pakistan heat wave 2015: death toll exceeds 1,200 as Karachi struggles with continued extreme weather during Ramadan. Int Busin Times dated 27-06-2015. Available online at http://www.ibtimes.com/pakistan-heat-wave-2015-death-toll-exceeds-1200-karachi-struggles-continued-extreme-1986866

Green SB (1991) How many subjects does it take to do a regression analysis. Multivar Behav Res 26(3):499–510

Hansen A, Bi P, Nitschke M, Ryan P, Pisaniello D, Tucker G (2008) The effect of heat waves on mental health in a temperate Australian City. Environ Health Perspect 116:1369–1375

Hansen A, Bi P, Nitschke M, Pisaniello D, Newbury J, Kiston A (2011) Perceptions of heat-susceptibility in older persons: barriers to adaptation. Int J Env Res Public Health 8:4714–4728

IPCC (2013) Summary for policymakers In: climate change 2013: the physical science basis. Contribution of Working Group I to the Fifth Assessment Report of the Intergovernmental Panel on Climate Change [Stocker, T.F., D. Qin, G.-K. Plattner, M. Tignor, S.K. Allen, J. Boschung, A. Nauels, Y. Xia, V. Bex and P.M. Midgley (eds.)]. Cambridge University Press, Cambridge

Janz NK, Becker MH (1984) The health belief model: a decade later. Health Educ Quart 11:1–47

Jha MK (2010) Natural and anthropogenic disasters: an overview. In: Jha MK (ed) Natural and anthropogenic disasters: vulnerability, preparedness and mitigation. Springer, Dordrecht, pp 1–16

Kosatsky T, Dufresne J, Richard L, Renouf A, Giannetti N, Bourbeau J et al (2009) Heat awareness and response among Montreal residents with chronic cardiac and pulmonary disease. Can J Public Health 100:237–240

Kovats RS, Hajat S (2008) Heat stress and public health: a critical review. Annu Rev Public Health 29:1–15

Liu T, Xu YJ, Zhang YH, Yan QH, Song XL, Xie HY et al (2013) Associations between risk perception, spontaneous adaptation behavior to heat waves and heatstroke in Guangdong Province, China. BMC Public Health 13:1–14

Malik SM, Awan H, Khan N (2012) Mapping vulnerability to climate change and its repercussions on human health in Pakistan. Glob Health 8(31):1–10

Mccright AM (2010) The effects of gender on climate change knowledge and concern in the American public. Popul Environ 32:66–87

Meehl GA, Tebaldi C (2004) More intense, more frequent, and longer lasting heat waves in the 21st century. Sci 305:994–997

MHHDC (2005) Human development in South Asia: human security in South Asia. Mahbub-ul-Haq Human Development Centre, Oxford University Press, Karachi

Page LA, Hajat S, Kovats RS (2007) Relationship between daily suicide counts and temperature in England and Wales. Br J Psychiatry 191:106–112

Robine JM, Cheung SLK, Le Roy S, Oyen HV, Griffiths C, Michel JP et al (2008) Death toll exceeded 70,000 in Europe during the summer of 2003. Comp Rend Biol 331:171–178

Ruddell D, Harlan SL, Grossman-Clarke S, Chowell G (2012) Scales of perception: public awareness of regional and neighbourhood climates. Clim Chang 111:581–607

Saeed F, Suleri, AQ (2015) Future heat waves in Pakistan under IPCC's climate change scenario. Sustainable Development Policy Institute (SDPI) Policy Brief 46, Islamabad, Pakistan

Semenza JC, Wilson DJ, Parra J, Bontempo BD, Hart M, Sailer DJ et al (2008) Public perception and behavior change in relationship to hot weather and air pollution. Environ Res 107:401–411

Sharples DM (2010) Communicating climate science: evaluating the UK public's attitude to climate change. Earth Env 5:185–205

Sheikh S, Tunio S (2013) Pakistan wilts under record heat wave. Thomson Reuters Foundation. Available: http://streettimes.com.pk/pakistan-wilts-under-record-heat-wave/. Accessed 5 April 2016

Sherwood SC, Huber M (2010) An adaptability limit to climate change due to heat stress. P Nat Acad Sci 107:9552–9555

Spence A, Poortinga W, Butler C, Pidgeon NF (2011) Perceptions of climate change and willingness to save energy related to flood experience. Nat Clim Chang 1:46–49

Vandentorren S, Bretin P, Zeghnoun A, Mandereau-Bruno L, Croisier A, Cochet C et al (2006) August 2003 heat wave in France: risk factors for death of elderly people living at home. Eur J Pub Health 16:583–591

Vidal J, Sethna R (2013) Pakistan can expect worse heat waves to come, meteorologists warn. Available: http://www.theguardian.com/environment/2013/jun/14/pakistan-heatwave-meteorologist. Accessed 12 Jan 2016

Woodruff RE, McMichael T, Butler C, Hales S (2006) Action on climate change: the health risks of procrastinating. Aust N Z J Public Health 30(6):567–571

Zahid M, Rasul G (2010) Rise in summer heat index over Pakistan. Pak J Met 6(12):85–96
Acknowledgments
This work is based on the M.Sc. (Hons) work of the first author. Authors are extremely thankful for the valuable suggestions by Dr. Zulfiqar Ahmad Saqib and Dr. Muhammad Usman. We are also grateful to the respondents for agreeing to provide required information for this study.
Additional information
Responsible editor: Philippe Garrigues
About this article
Cite this article
Rauf, S., Bakhsh, K., Abbas, A. et al. How hard they hit? Perception, adaptation and public health implications of heat waves in urban and peri-urban Pakistan. Environ Sci Pollut Res 24, 10630–10639 (2017). https://doi.org/10.1007/s11356-017-8756-4
Received:

Accepted:

Published:

Issue Date:

DOI: https://doi.org/10.1007/s11356-017-8756-4
Keywords