Abstract
Chromium (Cr) is among the most toxic pollutants in the environment that adversely affect the living organisms and physiological processes in different plants. The present study investigated the effect of 15 mg L−1 of 5-aminolevulinic acid (ALA) on morpho-physiological attributes of cauliflower (Brassica oleracea botrytis L.) under different Cr concentrations (0, 10, 100, and 200 μM) in the growth medium. The results showed that Cr stress decreased the growth, biomass, photosynthetic, and gas exchange parameters. Chromium stress enhanced the activities of enzymatic antioxidants, catalase (CAT), superoxide dismutase (SOD), and peroxidase (POD) in response to oxidative stress caused by the elevated levels of malondialdehyde (MDA), hydrogen peroxide (H2O2), and electrolyte leakage (EL) in both roots and leaves of cauliflower. Chromium concentrations and total Cr uptake were increased in leaves, stems, and roots with increasing Cr levels in the culture medium. Foliar application of ALA increased the plant growth parameters, biomass, gas exchange parameters, and photosynthetic pigments under Cr stress compared to the treatments without ALA. Foliar application ALA decreased the levels of MDA, EL, and H2O2 while further improved the performance of antioxidant in both leaves and roots compared to only Cr-stressed plant. Chromium concentrations and total Cr uptake were decreased by the ALA application compared to treatments without ALA application. The results of the present study indicated that foliar application of ALA might be beneficial in minimizing Cr uptake and its toxic effects in cauliflower.
Access options
Buy single article
Instant access to the full article PDF.
US$ 39.95
Tax calculation will be finalised during checkout.
Subscribe to journal
Immediate online access to all issues from 2019. Subscription will auto renew annually.
US$ 79
Tax calculation will be finalised during checkout.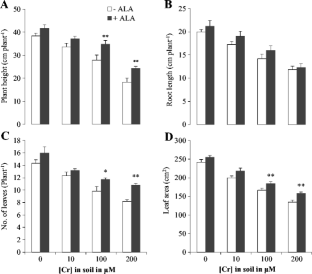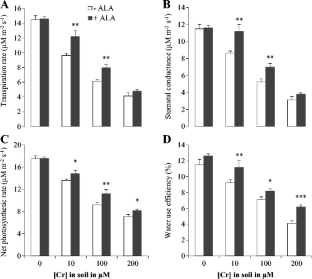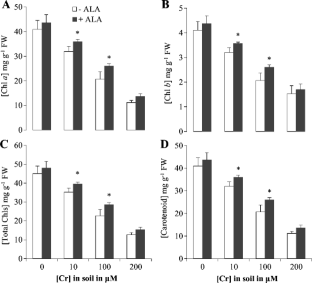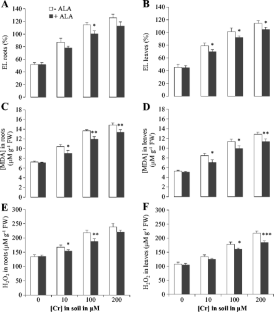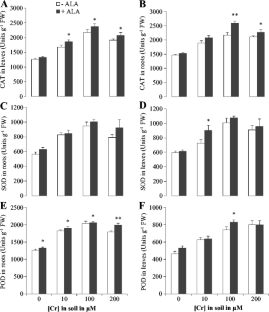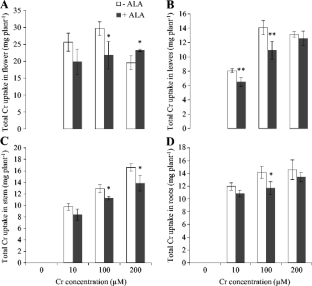 References
Adrees M, Ali S, Rizwan M, Ibrahim M, Abbas F, Farid M, Rehman MZ, Irshad MK, Bharwana SA (2015a) The effect of excess copper on growth and physiology of important food crops: a review. Environ Sci Pollut Res 22:8148–8162

Adrees M, Ali S, Iqbal M, Bharwana SA, Siddiqi Z, Farid M, Ali Q, Saeed R, Rizwan M (2015b) Mannitol alleviates chromium toxicity in wheat plants in relation to growth, yield, stimulation of antioxidative enzymes, oxidative stress and Cr uptake in sand and soil media. Ecotoxicol Environ Saf 122:1–8

Aebi H (1984) Catalase in vitro. Methods Enzymol 105:121–126

Afshan S, Ali S, Bharwana SA, Rizwan M, Farid M, Abbas F, Ibrahim M, Mehmood MA, Abbasi GH (2015) Citric acid enhances the phytoextraction of chromium, plant growth, and photosynthesis by alleviating the oxidative damages in Brassica napus L. Environ Sci Pollut Res 22:11679–11689

Ahmad P, Wani MR, Azooz MM, Tran LSP (eds) (2014) Improvement of crops in the era of climatic changes. Springer

Akram NA, Ashraf M, Al-Qurainy F (2012) Aminolevulinic acid induced regulation in some key physiological attributes and activities of antioxidant enzymes in sunflower (Helianthus annuus L.) under saline regimes. Sci Hort 142:143–148

Ali B, Wang B, Ali S, Ghani MA, Hayat MT, Yang C, Xu L, Zhou WJ (2013a) 5-aminolevulinic acid ameliorates the growth, photosynthetic gas exchange capacity, and ultrastructural changes under cadmium stress in Brassica napus L. J Plant Growth Regul 32:604–614

Ali S, Farooq MA, Yasmeen T, Hussain S, Arif MS, Abbas F, Bharwana SA, Zhang GP (2013b) The influence of silicon on barley growth, photosynthesis and ultrastructure under chromium stress. Ecotoxicol Environ Saf 89:66–72

Ali B, Xu X, Gill RA, Yang S, Ali S, Tahir M, Zhou W (2014) Promotive role of 5-aminolevulinic acid on mineral nutrients and antioxidative defense system under lead toxicity in Brassica napus. Indus Crops Prod 52:617–626

Ali S, Bharwana SA, Rizwan M, Farid M, Kanwal S, Ali Q, Ibrahim M, Gill RA, Khan MD (2015a) Fulvic acid mediates chromium (Cr) tolerance in wheat (Triticum aestivum L.) through lowering of Cr uptake and improved antioxidant defense system. Environ Sci Pollut Res 22:10601–10609

Ali S, Chaudhary A, Rizwan M, Anwar HT, Adrees M, Farid M, Irshad MK, Hayat T, Anjum SA (2015b) Alleviation of chromium toxicity by glycinebetaine is related to elevated antioxidant enzymes and suppressed chromium uptake and oxidative stress in wheat (Triticum aestivum L.). Environ Sci Pollut Res 22:10669–10678

Ali Z, Malik RN, Shinwari ZK, Qadir A (2015c) Enrichment, risk assessment, and statistical apportionment of heavy metals in tannery-affected areas. Int J Environ Sci Technol 12:537–550

Dey SK, Jena PP, Kundu S (2009) Antioxidative efficiency of Triticum aestivum L. exposed to chromium stress. J Environ Biol 30:539–544

Dheeba B, Sampathkumar P, Kannan K (2015) Fertilizers and mixed crop cultivation of chromium tolerant and sensitive plants under chromium toxicity. J Toxicol article ID 367217:1–9

Dhindsa RS, Dhindsa PP, Thorpe TA (1981) Leaf senescence: correlated with increased levels of membrane permeability and lipid peroxidation, and decreased levels of superoxide dismutase and catalase. J Exp Bot 32:93–101

Dionisio-Sese ML, Tobita S (1998) Antioxidant responses of rice seedlings to salinity stress. Plant Sci 135:1–9

Diwan H, Ahmad A, Iqbal M (2012) Characterization of chromium toxicity in food crops and their role in phytoremediation. J Bioremed Biodeg 3:1–7

Gill RA, Zang L, Ali B, Farooq MA, Cui P, Yang S, Zhou W (2015) Chromium-induced physio-chemical and ultrastructural changes in four cultivars of Brassica napus L. Chemosphere 120:154–164

Gill RA, Ali B, Cui P, Shen E, Farooq MA, Islam F, Ali S, Mao B, Zhou W (2016a) Comparative transcriptome profiling of two Brassica napus cultivars under chromium toxicity and its alleviation by reduced glutathione. BMC Genom 17:1–25

Gill RA, Zhang N, Ali B, Farooq MA, Xu J, Gill MB, Mao B, Zhou W (2016b) Role of exogenous salicylic acid in regulating physio-morphic and molecular changes under chromium toxicity in black-and yellow-seeded Brassica napus L. Environ Sci Pollut Res 23:20483–20496

Heath RL, Packer L (1968) Photoperoxidation in isolated chloroplasts: I. Kinetics and stoichiometry of fatty acid peroxidation. Arch Biochem Biophys 125:189–198

Jabeen N, Abbas Z, Iqbal M, Rizwan M, Jabbar A, Farid M, Ali S, Ibrahim M, Abbas F (2016) Glycinebetaine mediates chromium tolerance in mung bean through lowering of Cr uptake and improved antioxidant system. Arch Agron Soil Sci 62:648–662

Khan A, Khan S, Khan MA, Qamar Z, Waqas M (2015a) The uptake and bioaccumulation of heavy metals by food plants, their effects on plants nutrients, and associated health risk: a review. Environ Sci Pollut Res 22:13772–13799

Khan MU, Malik RN, Muhammad S, Ullah F, Qadir A (2015b) Health risk assessment of consumption of heavy metals in market food crops from Sialkot and Gujranwala Districts, Pakistan. Human Ecol Risk Assess 21:327–337

Khan MU, Shahbaz N, Waheed S, Mahmood A, Shinwari ZK, Malik RN (2016) Comparative health risk surveillance of heavy metals via dietary foodstuff consumption in different land-use types of Pakistan. Human Ecol Risk Assess 22:168–186

Lichtenthaler HK (1987) Chlorophylls and carotenoids pigments of photosynthetic biomembranes. In: Colowick SP, Kaplan NO (eds) Methods in Enzymology, vol 148, pp 350–382

Liu L, Zhang X, Zhong T (2015) Pollution and health risk assessment of heavy metals in urban soil in China. Human Ecol Risk Assess. doi:10.1080/10807039.2015.1078226

Metzner H, Rau H, Senger H (1965) UntersuchungenzurSynchronisierbakeiteinzelnerPigmentmangel-Mutation von Chlorella. Planta 65:186–194 (in German)

Naeem MS, Jin ZL, Wan GL, Liu D, Liu HB, Yoneyama K, Zhou WJ (2010) 5-Aminolevulinic acid improves photosynthetic gas exchange capacity and ion uptake under salinity stress in oil seed rape (Brassica napus L.). Plant Soil 332:405–415

Naeem MS, Rasheed M, Liu D, Jin ZL, Ming DF, Yoneyama K, Takeuchi Y, Zhou WJ (2011) 5-aminolevulinic acid ameliorates salinity-induced metabolic, water-related and biochemical changes in Brassica napus L. Acta Physiol Plant 33:517–528

Naeem MS, Warusawitharana H, Liu H, Liu D, Ahmad R, Waraich EA, Xu L, Zhou W (2012) 5-Aminolevulinic acid alleviates the salinity-induced changes in Brassica napus as revealed by the ultrastructural study of chloroplast. Plant Physiol Biochem 57:84–92

Nishihara E, Takahashi K, Nakata N, Tanaka K, Watanabe K (2001) Effect of 5-aminolevulinic acid (ALA) on photosynthetic rate, hydrogen peroxide content, antioxidant level and active oxygen-scavenging enzymes in spinach (Spinacia oleracea L.). J Jpn Soc Hort Sci 70:346–352

Oliveira H (2012) Chromium as an environmental pollutant: insights on induced plant toxicity. J Bot. doi:10.1155/2012/375843

Pradas-del-Real AE, García-Gonzalo P, Alarcón R, González-Rodríguez A, Lobo MC, Pérez-Sanz A (2013) Effect of genotype, Cr (III) and Cr (VI) on plant growth and micronutrient status in Silene vulgaris (Moench). Spanish J Agri Res 11:685–694

Rehman MZ, Rizwan M, Ghafoor A, Naeem A, Ali S, Sabir M, Qayyum MF (2015) Effect of inorganic amendments for in situ stabilizationof cadmium in contaminated soil and its phyto-availability to wheat and rice under rotation. Environ Sci Pollut Res 22:16897–16906

Rizwan M, Meunier JD, Hélène M, Keller C (2012) Effect of silicon on reducing cadmium toxicity in durum wheat (Triticum turgidum L. cv. Claudio W.) grown in a soil with aged contamination. J Hazard Mater 209-210:326–334

Rizwan M, Ali S, Ibrahim M, Farid M, Adrees M, Bharwana SA, Rehman MZ, Qayyum MF, Abbas F (2015) Mechanisms of silicon-mediated alleviation of drought and salt stress in plants: a review. Environ Sci Pollut Res 22:15416–15431

Rizwan M, Meunier JD, Davidian JC, Pokrovsky OS, Bovet N, Keller C (2016a) Silicon alleviates Cd stress of wheat seedlings (Triticum turgidum L. cv. Claudio) grown in hydroponics. Environ Sci Pollut Res 23:1414–1427

Rizwan M, Ali S, Qayyum MF, Ibrahim M, Rehman MZ, Abbas T, Ok YS (2016b) Mechanisms of biochar-mediated alleviation of toxicity of trace elements in plants: a critical review. Environ Sci Pollut Res 23:2230–2248

Rizwan M, Ali S, Rizvi H, Rinklebe J, Tsang DCW, Meers E, Ok YS, Ishaque W (2016c) Phytomanagement of heavy metals in contaminated soils using sunflower—a review. Criti Rev Environ Sci Technol. doi:10.1080/10643389.2016.1248199

Rodriguez E, Santos C, Azevedo R, Moutinho-Pereira J, Correia C, Dias MC (2012) Chromium (VI) induces toxicity at different photosynthetic levels in pea. Plant Physiol Biochem 53:94–100

Shakir L, Ejaz S, Ashraf M, Qureshi NA, Anjum AA, Iltaf I, Javeed A (2012) Ecotoxicological risks associated with tannery effluent wastewater. Environ Toxicol Pharmacol 34:180–191

Singh HP, Mahajan P, Kaur S, Batish DR, Kohli RK (2013) Chromium toxicity and tolerance in plants. Environ Chem Lett 11:229–254

Xu L, Ali B, Gill RA, Li L, Zhou W (2015) Alleviation of cadmium toxicity by 5-aminolevulinic acid is related to improved nutrients uptake and lowered oxidative stress in Brassica napus. Int J Agric Biol 18:557–564

Younis U, Malik SA, Rizwan M, Qayyum MF, Ok YS, Shah MHR, Rehman RA, Ahmad N (2016) Biochar enhances the cadmium tolerance in spinach (Spinacia oleracea) through modification of Cd uptake and physiological and biochemical attributes. Environ Sci Pollut Res 23:21385–21394

Zhang XZ (1992) The measurement and mechanism of lipid peroxidation and SOD POD and CAT activities in biological system. In: Zhang XZ (ed) Research Methodology of Crop Physiology, Beijing Agriculture Press, pp 208–211

Zhang J, Kirkham MB (1994) Drought-stress-induced changes in activities of superoxide dismutase, catalase, and peroxidase in wheat species. Plant Cell Physiol 35:785–791

Zhang WF, Zhang F, Raziuddin R, Gong HJ, Yang ZM, Lu L, Ye QF, Zhou WJ (2008) Effects of 5-aminolevulinic acid on oilseed rape seedling growth under herbicide toxicity stress. J Plant Growth Regul 27:159–169
Acknowledgments
We are highly thankful to the Higher Education Commission (HEC), Pakistan, and Government College University, Faisalabad, Pakistan, for their financial support.
Additional information
Responsible editor: Yi-ping Chen
About this article
Cite this article
Ahmad, R., Ali, S., Hannan, F. et al. Promotive role of 5-aminolevulinic acid on chromium-induced morphological, photosynthetic, and oxidative changes in cauliflower (Brassica oleracea botrytis L.). Environ Sci Pollut Res 24, 8814–8824 (2017). https://doi.org/10.1007/s11356-017-8603-7
Received:

Accepted:

Published:

Issue Date:
Keywords
Cauliflower

Photosynthesis

Antioxidant enzymes

Chromium

Electrolyte leakage ALA

Hydrogen peroxide

Malondialdehyde