Abstract
Algae organic matter (AOM), including extracellular organic matter (EOM) and intracellular organic matter (IOM), has caused a series of problems to the water quality, among which formation of disinfection by-products (DBPs) during subsequent chlor(am)ination process was especially serious and concerned. This study characterized physicochemical properties of the EOM and IOM solution extracted from different growth phases of Microcystis aeruginosa and investigated the corresponding formation potential of DBPs during chlor(am)ination process. Besides, the effects of initial concentration of xEOM, IOM, and Br− on the yields of disinfection by-product formation potential were studied. The results indicated that the specific UV absorbance (SUVA254) values of IOM and EOM (1.09 and 2.66 L/mg m) were considerably lower than that of natural organic matter (NOM) (4.79 L/mg m). Fluorescence dates showed the soluble microbial by-product was dominant in both EOM and IOM, and the tryptophan was the main component of AOM. From the excitation–emission matrix figure of EOM and IOM, we found that the content of the high molecular weight protein substance in IOM was higher than EOM. During chlorination of EOM and IOM, the yields of four kinds of DBPs followed the order trichloroethene (TCM) > 1,1-DCP > dichloride acetonitrile (DCAN) > trichloronitromethane (TCNM), while the order was TCM > DCAN > TCNM > 1,1-DCP during chloramination process. The bromine substitution factor (BSF) value increased with the increasing of the concentration of Br−. When the concentration of Br− was 500 μg/L, the BSF values of chlorination EOM and IOM were 51.1 and 68.4%, respectively. As the concentration of Br− increased, the formation of Cl–DBPs was inhibited and the formation of Br–DBPs was promoted.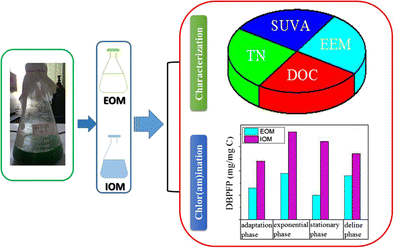 This is a preview of subscription content,
to check access.
Access this article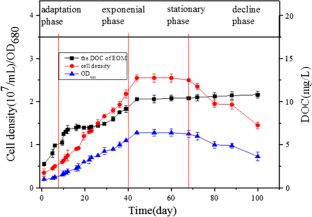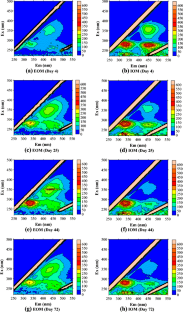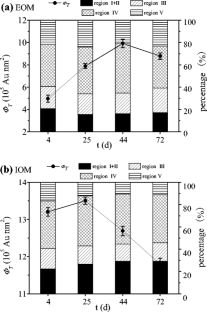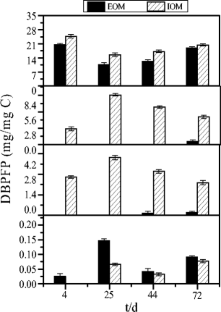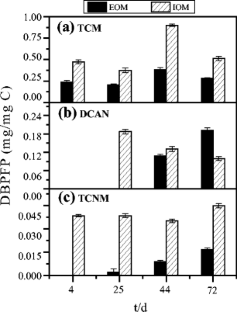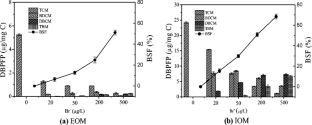 Similar content being viewed by others
References
Chen W, Westerhoff P, Leenheer JA, Booksh K (2003) Fluorescence excitation-emission matrix regional integration to quantify spectra for dissolved organic matter. Environmental science & Technology 37:5701–5710

Chu W, Gao N, Krasner SW, Templeton MR, Yin D (2012) Formation of halogenated C-, N-DBPs from chlor (am) ination and UV irradiation of tyrosine in drinking water. Environ Pollut 161:8–14

Coble PG (1996) Characterization of marine and terrestrial DOM in seawater using excitation-emission matrix spectroscopy. Mar Chem 51:325–346

Fang JY, Ma J, Yang X, Shang C (2010a) Formation of carbonaceous and nitrogenous disinfection by-products from the chlorination of Microcystis aeruginosa. Water Res 44:1934–1940

Fang JY, Yang X, Ma J, Shang C, Zhao QA (2010b) Characterization of algal organic matter and formation of DBPs from chlor(am)ination. Water Res 44:5897–5906

Flury M, Papritz A (1993) Bromide in the natural environment: occurrence and toxicity. J Environ Qual 22:747–758

Fr B, Griebe T, Nielsen P (1995) Enzymatic activity in the activated-sludge floc matrix. Appl Microbiol Biot 43:755–761

Heeb MB, Criquet J, Zimmermann-Steffens SG, Von Gunten U (2014) Oxidative treatment of bromide-containing waters: formation of bromine and its reactions with inorganic and organic compounds—a critical review. Water Res 48:15–42

Henderson RK, Baker A, Parsons SA, Jefferson B (2008) Characterisation of algogenic organic matter extracted from cyanobacteria, green algae and diatoms. Water Res 42:3435–3445

Henderson RK, Parsons SA, Jefferson B (2010) The impact of differing cell and algogenic organic matter (AOM) characteristics on the coagulation and flotation of algae. Water Res 44:3617–3624

Hong HC, Mazumder A, Wong MH, Liang Y (2008) Yield of trihalomethanes and haloacetic acids upon chlorinating algal cells, and its prediction via algal cellular biochemical composition. Water Res 42:4941–4948

Hua G, Reckhow DA (2013) Effect of pre-ozonation on the formation and speciation of DBPs. Water Res 47:4322–4330

Hua G, Reckhow DA, Kim J (2006) Effect of bromide and iodide ions on the formation and speciation of disinfection byproducts during chlorination. Environ Sci Technol 40:3050–3056

Huang J, Graham N, Templeton M, Zhang Y, Collins C, Nieuwenhuijsen M (2009) A comparison of the role of two blue–green algae in THM and HAA formation. Water Res 43:3009–3018

Ichihashi K, Teranishi K, Ichimura A (1999) Brominated trihalomethane formation in halogenation of humic acid in the coexistence of hypochlorite and hypobromite ions. Water Res 33:477–483

Lee W, Westerhoff P, Croué J-P (2007) Dissolved organic nitrogen as a precursor for chloroform, dichloroacetonitrile, N-nitrosodimethylamine, and trichloronitromethane. Environ Sci Technol 41:5485–5490

Li L, Gao N, Deng Y, Yao J, Zhang K (2012) Characterization of intracellular & extracellular algae organic matters (AOM) of Microcystic aeruginosa and formation of AOM-associated disinfection byproducts and odor & taste compounds. Water Res 46:1233–1240

Nguyen M-L, Westerhoff P, Baker L, Hu Q, Esparza-Soto M, Sommerfeld M (2005) Characteristics and reactivity of algae-produced dissolved organic carbon. J Environ Eng 131:1574–1582

Ou H, Gao N, Deng Y, Qiao J, Wang H (2012) Immediate and long-term impacts of UV-C irradiation on photosynthetic capacity, survival and microcystin-LR release risk of Microcystis aeruginosa. Water Res 46:1241–1250

Peter A, Von Gunten U (2007) Oxidation kinetics of selected taste and odor compounds during ozonation of drinking water. Environ Sci Technol 41:626–631

Sangolkar LN, Maske SS, Chakrabarti T (2006) Methods for determining microcystins (peptide hepatotoxins) and microcystin-producing cyanobacteria. Water Res 40:3485–3496

Shan J, Hu J, Kaplan-Bekaroglu SS, Song H, Karanfil T (2012) The effects of pH, bromide and nitrite on halonitromethane and trihalomethane formation from amino acids and amino sugars. Chemosphere 86:323–328

Weishaar JL, Aiken GR, Bergamaschi BA, Fram MS, Fujii R, Mopper K (2003) Evaluation of specific ultraviolet absorbance as an indicator of the chemical composition and reactivity of dissolved organic carbon. Environ Sci Technol 37:4702–4708

Westerhoff P, Chao P, Mash H (2004) Reactivity of natural organic matter with aqueous chlorine and bromine. Water Res 38:1502–1513

Xu B, Gao N-Y, Sun X-F, Xia S-J, Simonnot M-O, Causserand C, Rui M, Wu H-H (2007) Characteristics of organic material in Huangpu River and treatability with the O3-BAC process. Sep Purif Technol 57:348–355

Xu B, Ye T, Li DP, Hu CY, Lin YL, Xia SJ, Tian FX, Gao NY (2011) Measurement of dissolved organic nitrogen in a drinking water treatment plant: size fraction, fate, and relation to water quality parameters. Sci Total Environ 409:1116–1122

Yan M, Wang D, Ni J, Qu J, Chow CW, Liu H (2008) Mechanism of natural organic matter removal by polyaluminum chloride: effect of coagulant particle size and hydrolysis kinetics. Water Res 42:3361–3370

Zhang X, Bishop PL, Kinkle BK (1999) Comparison of extraction methods for quantifying extracellular polymers in biofilms. Water Sci Technol 39:211–218

Zhou S, Shao Y, Gao N, Deng Y, Li L, Deng J, Tan C (2014) Characterization of algal organic matters of Microcystis aeruginosa: biodegradability, DBP formation and membrane fouling potential. Water Res 52:199–207
Acknowledgements
This research group acknowledges the financial support provided by the National Natural Science Foundation of China (No. 51178321; No. 51208364) and the National Major Project of Science & Technology Ministry of China (No. 2012ZX07403-001; No. 2008ZX07421-002).
Additional information
Responsible editor: Bingcai Pan
Electronic supplementary material
About this article
Cite this article
Chen, J., Gao, N., Li, L. et al. Disinfection by-product formation during chlor(am)ination of algal organic matters (AOM) extracted from Microcystis aeruginosa: effect of growth phases, AOM and bromide concentration. Environ Sci Pollut Res 24, 8469–8478 (2017). https://doi.org/10.1007/s11356-017-8515-6
Received:

Accepted:

Published:

Issue Date:

DOI: https://doi.org/10.1007/s11356-017-8515-6
Keywords