Abstract
Contamination of soil is a major problem globally with colligated danger for ecosystem and human health. Chromium (Cr) is a toxic heavy metal and caused harmful effect on growth and development of plants. Phytostabilization reduced the mobility of heavy metals with addition of amendments which can significantly decrease metal solubility in soil. Phytostabilization can be achieved by application of biogas slurry (BGS) and endophytic bacteria as amendments in the contaminated soils. The present study revealed that the Burkholderia phytofirmans PsJN and BGS improved the growth, physiology, and antioxidant activity and reduced Cr uptake under a pot experiment spiked with Cr (20 mg kg−1 soil). The experiment was designed under completely randomized design, four treatments with three replications in normal and Cr-contaminated soil. The inoculation of endophytic bacteria improved the growth and physiology of Brassica. This study showed that the inoculation of endophytic bacteria stabilized the Cr levels in soil and minimized the uptake by the plant shoots and roots in BGS-amended soil. Similarly, activity of antioxidants such as catalase (CAT), reduced glutathione (GSH), glutathione peroxidase (GSH-Px), and glutathione s-transferase (GST) was decreased to normal with combined treatment of BGS and endophytic bacteria in Cr-stressed soil. Overall, the best results were analyzed by combined treatment of BGS and endophytic bacteria to improve growth, physiology, and antioxidant activity of Brassica and immobilize Cr in soil. Moreover, results emphasized the need to use BGS alone or in combination with endophytic bacteria to optimize crop performance, stabilize Cr concentration, and improve environmental efficiency.
Access options
Buy single article
Instant access to the full article PDF.
US$ 39.95
Tax calculation will be finalised during checkout.
Subscribe to journal
Immediate online access to all issues from 2019. Subscription will auto renew annually.
US$ 79
Tax calculation will be finalised during checkout.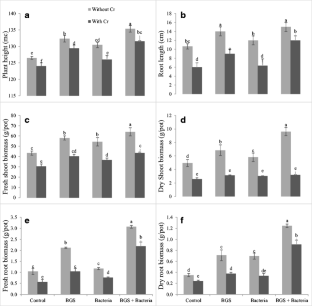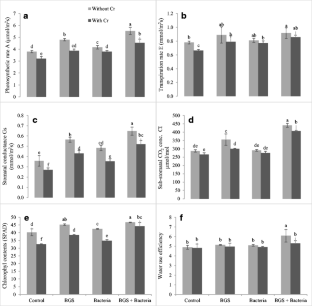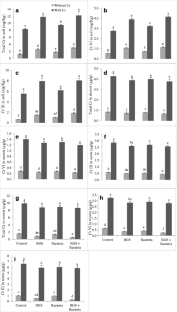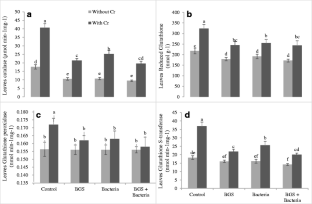 References
Abbas T, Rizwan M, Ali S, Adrees M, Rehman MZ, Qayyum F, Ok YS, Murtaza G (2017) Effect of biochar on alleviation of cadmium toxicity in wheat (Triticum aestivum L.) grown on Cd-contaminated saline soil. Environ Sci Pollut Res Online. https://doi.org/10.1007/s11356-017-8987-4

Adewuyi YG (2005a) Sonochemistry in environmental remediation. 1. Combinative and hybrid sonophotochemical oxidation processes for the treatment of pollutants in water. Environ Sci Technol 39(10):3409–3420. https://doi.org/10.1021/Es049138y

Adewuyi YG (2005b) Sonochemistry in environmental remediation. 2. Heterogeneous sonophotocatalytic oxidation processes for the treatment of pollutants in water. Environ Sci Technol 39(22):8557–8570. https://doi.org/10.1021/es0509127

Ahmad M, Zahir ZA, Nadeem SM, Nazli F, Jamil M, Jamshaid MU (2014) Physiological response of mung bean to Rhizobium and Pseudomonas based biofertilizers under salinity stress. Pak J Agric Sci 51:555–562

Akhtar MFZ, Jamil M, Ahamd M, Abbasi GH (2017) Evaluation of biofertilizer in combination with organic amendments and rock phosphate enriched compost for improving productivity of chickpea and maize. Soil Environ 36(1):59–69

Alamgir M, Kibria MG, Islam M (2011) Effects of farm yard manure on cadmium and lead accumulation in amaranth (Amaranthus oleracea L.) J Soil Sci Environ Manag 2(8):237–240

Ali S, Duan J, Charles TC, Glick BR (2013) A bioinformatics approach to the determination of genes involved in endophytic behavior in Burkholderia spp. J Theor Biol 343:193–198

Andaleeb F, Zia MA, Ashraf M, Khalid ZM (2008) Effect of chromium on growth attributes in sunflower (Helianthus annuus L.) J Environ Sci 20:1475–1480

Apel K, Hirt H (2004) Reactive oxygen species: metabolism, oxidative stress, and signal transduction. Annu Rev Plant Biol 55(1):373–399. https://doi.org/10.1146/ annurev.arplant.55.031903.141701

Bacon M (2004) Water use efficiency in plant biology. Blackwell Publishing Ltd, Oxford ISBN 1-4051-1434-7. Print

Banks MK, Schwab AP, Henderson C (2006) Leaching and reduction of chromium in soil as affected by soil organic content and plants. Chemosphere 62(2):255–264. https://doi.org/10.1016/j.chemosphere.2005.05.020

Ben-Amor N, Hamed KB, Debez A, Grignon C, Abdelly C (2005) Physiological and antioxidant response of the perennial halophytes Crithmum maritimum to salinity. Plant Sci 168(4):889–899. https://doi.org/10.1016/j.plantsci.2004.11.002

Bharathi VA, Anand V, Shanthi SS, Hemalatha G (2016) Changes in antioxidant level in Macrotyloma uniflorum l. grown under lead toxicity. Int J Pharm Technol 8:18971–18977

Boshra AH, Khan AL, Waqas M, Al-Harrasia A, Hussain J, Ali L, Adnan M, Lee IJ (2015) Endophytic bacteria (Sphingomonas sp. LK11) and gibberellin can improve Solanum lycopersicum growth and oxidative stress under salinity. J Plant Interact 10:117–125

Cakmak I, Marschner H (1992) Magnesium deficiency and high light intensity enhance activities of superoxide dismutase, ascorbate peroxidase, and glutathione reductase in bean leaves. Plant Physiol 98(4):1222–1227. https://doi.org/10.1104/pp.98.4.1222

Compant S, Reiter B, Sessitsch A, Nowak J, Clement C, AitBarka E (2005) Endophytic colonization of Vitis vinifera L. by plant growth-promoting bacterium, Burkholderia sp. strain PsJN. Appl Environ Microbiol 71(4):1685–1693. https://doi.org/10.1128/AEM.71.4.1685-1693.2005

Dixon DP, Cummins L, Cole DJ, Edwards R (1998) Glutathione-mediated detoxifcation systems in plants. Curr Opin Plant Biol 1(3):258–266. https://doi.org/10.1016/S1369-5266(98)80114-3

Dourado MN, Franco MR, Peters LP, Martins PF, Souza LA, Piotto FA, Azevedo RA (2015) Antioxidant enzymes activities of Burkholderia spp. strains—oxidative responses to Ni toxicity. Environ Sci Pollut Res 22(24):19922–19932. https://doi.org/10.1007/s11356-015-5204-1

Dube BK, Tewari K, Chatterjee J, Chaterejee C (2003) Excess chromium alters uptake and translocation of certain nutrients in Citrullus. Chemosphere 53(9):1147–1153. https://doi.org/10.1016/S0045-6535(03)00570-8

Edwards J, Johnson C, Santos-Medellín C, Lurie E, Podishetty NK, Bhatnagar S, Eisen JA, Sundaresan V (2015) Structure, variation, and assembly of the root associated microbiomes of rice. Proc Nat Acad Sci. https://doi.org/10.1073/pnas.1414592112

Fahim N, Naeem M, Ashraf MY, Tahir MN, Zulfiqar B, Salahuddin M, Shabbir RN, Aslam (2016) Selenium supplementation affects physiological and biochemical processes to improve fodder yield and quality of maize (Zea mays L.) under water deficit conditions. Front Plant Sci

Farid M, Ali S, Rizwan M, Ali Q, Abbas F, Bukhari SAH, Saeed R, Wu L (2017) Citric acid assisted phytoextraction of chromium by sunflower; morpho-physiological and biochemical alterations in plants. Ecotox Environ Safe 145:90–102

Faryal RF, Tahir F, Hameed A (2007) Effect of wastewater irrigation on soil along with its micro and macro flora. Pak J Bot 39:193–204

Fein JB, Kemner K, Fowle DA, Cahill J, Boyanov M, Bunker B (2001) Non metabolic reduction of Cr(VI) by bacterial surfaces under nutrient-absent conditions. Geomicrobiol J (in press)

Frey-Klett P, Churin JL, Pierrat JC, Garbaye J (1999) Dose effect in the dual inoculation of an ectomycorrhizal fungus and a mycorrhiza helper bacterium in two forest nurseries. Soil Biol Biochem 31(11):1555–1562. https://doi.org/10.1016/S0038-0717(99)00079-6

Frommel MI, Nowak J, Lazarovits G (1991) Growth enhancement and development modifications of invitro grown potato (Solanum tuberosum sp.) as affected by a non-fluorescent Pseudomonas sp. Plant Physiol 96(3):928–936. https://doi.org/10.1104/pp.96.3.928

Gamalero E, Glick BR (2011) Mechanism used by plant growth promoting bacteria. In: Maheshwari DK (ed) Bacteria in agrobiology: plant nutrient management. Springer, Berlin, pp 17–46

Habig WH, Pabst MJ, Jakoby WB (1974) Glutathione-S-transferases. The first enzymatic step in mercapturic acid formation. J Biol Chem 246:7130–7139

Hasanuzzaman M, Hossain MA, Jaime A, da Silva T, Fujita M (2012) Plant responses and tolerance to abiotic oxidative stress: antioxidant defense is a key factor. In: Bandi V, Shanker AK, Shanker C, Mandapaka M (eds) Crop Stress and its Management: Perspectives and Strategies. Springer, Berlin, pp 261–316. https://doi.org/10.1007/978-94-007-2220-0_8

Hoffmann MR, Hua I, Hochemer R (1996) Application of ultrasonic irradiation for the degradation of chemical contaminants in water. Ultrason Sonochem 3(3):163–172. https://doi.org/10.1016/S1350-4177(96)00022-3

Holman HYN, Perry DL, Martin MC, Lamble G, McKinney WR, Hunter Cevera JC (1999) Real-time characterization of biogeochemical reduction of Cr(VI) on basalt surfaces by SR-FTIR imaging. Geomicrobiol J 16:307–323

Huang L, Yang J, Gao W, Yang W, Cui X, Zhuang H (2016) Effects of pig slurry as basal and panicle fertilizer on trace element content and grain quality in direct-seeding rice. Sustainability 8(8):714. https://doi.org/10.3390/su8080714

Islam F, Yasmeen T, Ali Q, Mubin M, Ali S, Arif MS, Hussain S, Riaz M, Abbas F (2015a) Copper-resistant bacteria reduces oxidative stress and uptake of copper in lentil plants: potential for bacterial bioremediation. Environ Sci Pollut Res 23:220–233

Islam F, Yasmeen T, Arif MS, Ali S, Ali B, Hameed S, Zhou W (2015b) Plant growth promoting bacteria confer salt tolerance in Vigna radiate by up-regulating antioxidant defense and biological soil fertility. Plant Growth Regul 80:23–36

Jones JB, Case VW (1990) Sampling, handling and analyzing plant tissue samples. In: Westerman RL (ed) Soil testing and plant analysis, 3rd edn. Soil Science Society of America, Book Series No. 3, Madison, pp 389–427

Keunen E, Remans T, Bohler S, Vangronsveld J, Cuypers A (2011) Metal-induced oxidative stress and plant mitochondria. Int J Mol Sci 12(12):6894–6918. https://doi.org/10.3390/ijms12106894

Khan MA, Shaukat SS, Khan MA (2008) Economic benefits from irrigation of maize with treated effluent of waste stabilization pond. Pak J Bot 40:1091–1098

Krishna KR, Philip L (2005) Bioremediation of Cr (VI) in contaminated soils. J Hazard Mater 121(1-3):109–111. https://doi.org/10.1016/j.jhazmat.2005.01.018

Kurepin LV, Pharis RP (2014) Light signaling and the phyto hormonal regulation of shoot growth. Plant Sci 229:280–228. https://doi.org/10.1016/j.plantsci.2014.10.006

Kurepin LV, Zaman M, Pharis RP (2014) Phytohormonal basis for the plant growth promoting action of naturally occurring bio-stimulators. J Sci Food Agric 95:1715–1722

Kurepin LV, Park JM, Lazarovits G, Norman PA, Huner (2015) Involvement of plant stress hormones in Burkholderia phytofirmans induced shoot and root growth promotion. Plant Growth Regul 77(2):179–187. https://doi.org/10.1007/s10725-015-0049-7

Lin WH, Wang JJ, Li HQ, Zhang GM, Tian P (2016) Effects of endophytic fungi on perennial rye grass physiological characteristics under different growth conditions. Pratacul Sci 33:1574–1582

Losi ME, Amrhein C, Frankenberger WT (1994) Factors affecting chemical and biological reduction of Cr (VI) in soil. Environ Toxicol Chem 13(11):1727–1735. https://doi.org/10.1002/etc.5620131103

Mandal KG, Sinha AC (2004) Nutrient management effects on light interception, photosynthesis, growth, dry matter production and yield of Indian mustard (Brassica juncea). J Agron Crop Sci 190(2):119–129. https://doi.org/10.1046/j.1439-037X.2003.00083.x

Meunchang S, Panichsakpatana S, Weaver RW (2005) Co-composting of filter cake and bagasse; byproducts from a sugar mill. Bioresour Technol 96(4):437–442. https://doi.org/10.1016/j.biortech.2004.05.024

Millar AH, Mittova V, Kiddle G, Heazlewood JL, Bartoli CG, Teodoulou FL, Foyer CH (2003) Control of ascorbate synthesis by respiration and its implications for stress responses. Plant Physiol 133(2):443–447. https://doi.org/10.1104/pp.103.028399

Mitter B, Petric A, Shin MW, Chain PSG, Hauberg-Lotte L, Reinhold-Hurek B, Nowak J, Sessitsch A (2013) Comparative genome analysis of Burkholderia phytofirmans PsJN reveals a wide spectrum of endophytic lifestyles based on interaction strategies with host plants. Front Plant Sci 4:120

Montes-Holguin MO, Peralta-Videa JR, Meitzner G, Martinez-Martinez A, de la Rosa G, Castillo-Michel HA, Gardea-Torresdey JL (2006) Biochemical and spectroscopic studies of the response of Convolvulus arvensis L. to chromium (III) and chromium (VI) stress. Environ Toxicol Chem 25(1):220–226. https://doi.org/10.1897/05-089R.1

Moron MS, De Pierre JW, Vik BM (1979) Levels of glutathione, glutathione reductase and glutathione-S-transferase activities in rat and lung liver. Biochem Biophys Acta 582:3170–3185

Mulligan CN, Young R, Gibbs B (2001) Remediation technologies for metal contaminated soils and ground water: an evaluation. Eng Geol 60(1-4):193–207. https://doi.org/10.1016/S0013-7952(00)00101-0

Naveed M, Mittera B, Reichenauerb TG, Wieczorekc K, Sessitscha A (2014a) Increased drought stress resilience of maize through endophytic colonization by Burkholderia phytofirmans PsJN and Enterobacter sp. FD17. Environ Exp Bot 97:30–39. https://doi.org/10.1016/j.envexpbot.2013.09.014

Naveed M, Hussain MB, Zahir ZA, Mitter B, Sessitsch A (2014b) Drought stress amelioration in wheat through inoculation with Burkholderia phytofirmans strain PsJN. Plant Growth Regul 73(2):121–131. https://doi.org/10.1007/s10725-013-9874-8

Nouairi I, Ammar WB, Youssef NB, Ben Miled DD, Ghobal MH, Zarrouk M (2009) Antioxidant defense system in leaves of Indian mustard (Brassica juncea) and rape (Brassica nepus) under cadmium stress. Acta Physiol Plant 31(2):237–247. https://doi.org/10.1007/s11738-008-0224-9

Oseni OM, Adelusi AA, Dada EO et al (2016) Effects of heavy metal (Pb) concentration on some growth parameters of plants grown in lead polluted soil under organic fertilizer amendment. Sci Cold Arid Regions 8:0036–0045. https://doi.org/10.3724/SP.J.1226.2016.00036

Panagos P, van Liedekerke M, Yigini Y, Montanarella L (2013) Contaminated sites in Europe: review of the current situation based on data collected through a European network. J Environ Pub Health 11

Peiffer JA, Spor A, Koren O, Jin Z, Tringe SG, Dangl JL, Buckler ES, Ley RE (2013) Diversity and heritability of the maize rhizosphere microbiome under field conditions. Proc Nat Acad Sci 110(16):6548–6553. https://doi.org/10.1073/pnas.1302837110

Pérez-Harguindeguy N, Díaz S, Garnier E, Lavorel S, Poorter H, Jaureguiberry P, Bret-Harte MS, Cornwell WK, Craine JM, Gurvich DE, Urcelay C, Veneklaas EJ, Reich PB, Poorter L, Wright IJ, Ray P, Enrico L, Pausas JG, de Vos AC, Buchmann N, Funes G, Quétier F, Hodgson JG, Thompson K, Morgan HD, ter Steege H, van der Heijden MGA, Sack L, Blonder B, Poschlod P, Vaieretti MV, Conti G, Staver AC, Aquino S, Cornelissen JHC (2013) New handbook for standardised measurement of plant functional traits worldwide. Aus J Bot 61(3):167–234. https://doi.org/10.1071/BT12225

Philippot L, Raaijmakers JM, Lemanceau P, Van der Putten WH (2013) Going back to the roots: the microbial ecology of the rhizosphere. Nat Rev Microbiol 11(11):789–799. https://doi.org/10.1038/nrmicro3109

Ponder SM, Darab JG, Mallouk TE (2000) Remediation of Cr(VI) and Pb(II) aqueous solutions using supported, nanoscale zero-valent iron. Environ Sci Technol 34(12):2564–2569. https://doi.org/10.1021/es9911420

Rashid S, Charles TC, Glick BR (2012) Isolation and characterization of new plant growth-promoting bacterial endophytes. Appl Soil Ecol 61:217–224. https://doi.org/10.1016/j.apsoil.2011.09.011

Rehman MZ, Rizwan M, Ali S, Sabir M, Sohail MI (2017) Contrasting effects of organic and inorganic amendments on reducing lead toxicity in wheat. Bull Environ Contam Toxicol Online 99(5):642–647. https://doi.org/10.1007/s00128-017-2177-4

Sekmen AH, Türkan I, Takio S (2007) Differential responses of antioxidative enzymes and lipid peroxidation to salt stress in salt-tolerant Plantago maritima and salt-sensitive Plantago media. Physiol Plant 131(3):399–411. https://doi.org/10.1111/j.1399-3054.2007.00970.x

Shakoor MB, Ali S, Hameed A, Farid M, Hussain S, Yasmeen T, Najeeb U, Bharwana SA, Abbasi GH (2014) Citric acid improves lead (Pb) phytoextraction in Brassica napus L. by mitigating Pb-induced morphological and biochemical damages. Ecotoxicol Environ Saf 109:38–47. https://doi.org/10.1016/j.ecoenv.2014.07.033

Shankar AK, Cervantes C, Loza-Tavera H, Avudainayagam S (2005) Chromium toxicity in plants. Environ Int 1:739–753

Singh A, Agrawal M (2013) Reduction in metal toxicity by applying different soil amendments in agricultural field and its consequent effects on characteristics of radish plants (Raphanus sativus L.) J Agric Sci Technol 15:1553–1564

Singh G, Brar MS, Malhi S (2007) Decontamination of chromium by farm yard manure application in spinach grown in two texturally different Cr–contaminated soils. J Plant Nutr 30(2):289–308. https://doi.org/10.1080/01904160601118125

Singh A, Agrawal M, Marshall F (2010) The role of organic vs. inorganic fertilizers in reducing phytoavailability of heavy metals in a wastewater-irrigated area. Ecol Eng 36(12):1733–1740. https://doi.org/10.1016/j.ecoleng.2010.07.021

Sinha S, Saxena R, Singh S (2005) Chromium induced lipid peroxidation in the plants of Pistia stratiotes L.: role of antioxidants and antioxidant enzymes. Chemosphere 58(5):595–604. https://doi.org/10.1016/j.chemosphere.2004.08.071

Srivalli B, Chinnusamy V, Khanna-Chopra R (2003) Antioxidant defense in response to abiotic stresses in plants. J Plant Biol 30:121–139

Touceda-Gonzalez M, Brader G, Antonielli L, Ravindran VB, Waldner G, Hanl WF, Corretto E, Campisano A, Pancher M, Sessitsch A (2015) Combined amendment of immobilizers and the plant growth-promoting strain Burkholderia phytofirmans PsJN favours plant growth and reduces heavy metal uptake. Soil Biol Biochem 91:140–150. https://doi.org/10.1016/j.soilbio.2015.08.038

U.S. EPA Method 7196A (1992) Chromium, Hexavalent (Colorimetric), SW-846 Third Edition, Update V. U.S. Government Printing Office, Washington DC http://www3.epa.gov/epawaste/hazard/testmethods/sw846/pdfs/7196a.pdf

USEPA 3050B (1996) Acid digestion of sediments, sludge's and soils. Environmental Protection Agency, Washington, DC

Vital SA, Fowler RW, Virgen A, Gossett DR, Banks SW, Rodriguez J (2008) Opposing roles for superoxide and nitric oxide in the NaCl stress-induced upregulation of antioxidant enzyme activity in cotton callus tissue. Environ Exp Bot 62(1):60–68. https://doi.org/10.1016/j.envexpbot.2007.07.006

Waqas M, Khan AL, Hamayun M, Shahzad R, Kim YH, Choi KS, Lee IJ (2014) Endophytic infection alleviates biotic stress in sunflower through regulation of defense hormones, antioxidants and functional amino acids. Eur J Plant Pathol 141(4):803–824. https://doi.org/10.1007/s10658-014-0581-8

Wei Z, Spinney R, Ke R, Yang Z, Xiao Z (2016) Effect of pH on the sonochemical degradation of organic pollutants. Environ Chem Lett 14(2):163–182. https://doi.org/10.1007/s10311-016-0557-3

Wendel A (1980) Glutathione peroxidases. In: Jakoby WB (ed) Enzymatic basis of detoxification. Academic Press, New York, pp 333–353. https://doi.org/10.1016/B978-0-12-380001-5.50022-0

Yang Z, Liu L, Chai L, Liao Y, Yao W, Xiao R (2015) Arsenic immobilization in the contaminated soil using poorly crystalline Fe-oxyhydroxy sulfate. Environ Sci Pollut Res 22(16):12624–12632. https://doi.org/10.1007/s11356-015-4455-1

Yang Z, Zhang Z, Chai L, Wang Y, Liu Y, Xiao R (2016) Bioleaching remediation of heavy metal contaminated soils using Burkholderia sp.Z-90. J Hazard Mat 301:145–152. https://doi.org/10.1016/j.jhazmat.2015.08.047

Zahir ZA, Zafar-ul-Hye M, Sajjad S, Naveed M (2011) Comparative effectiveness of Pseudomonas and Serratia sp. containing ACC deaminase for co-inoculation with Rhizobium leguminosarum to improve growth, nodulation, and yield of lentil. Biol Fertil Soil 47(4):457–465. https://doi.org/10.1007/s00374-011-0551-7

Zhou Q (2009) Effect of BGS application on yield, nutrition quality of purple cabbage and soil quality. Acta Agric Jiangxi 2:07–27
Acknowledgements
The authors are grateful to the Institute of Soil and Environmental Sciences, University of Agriculture, Faisalabad, Pakistan; Austrian Institute of technology (AIT) for providing Burkholderia phytofirmans PsJN; and the Higher Education Commission (HEC) of Pakistan for providing financial support and research facilities.
Additional information
Responsible editor: Elena Maestri
Electronic supplementary material
About this article
Cite this article
Nafees, M., Ali, S., Naveed, M. et al. Efficiency of biogas slurry and Burkholderia phytofirmans PsJN to improve growth, physiology, and antioxidant activity of Brassica napus L. in chromium-contaminated soil. Environ Sci Pollut Res 25, 6387–6397 (2018). https://doi.org/10.1007/s11356-017-0924-z
Received:

Accepted:

Published:

Issue Date:
Keywords
Biogas slurry

Burkholderia phytofirmans PsJN

Antioxidants activity

Brassica napus L