Abstract
Acceleration of eutrophication in freshwater resources can result in prolific growth of nuisance algae, notably cyanobacteria. In this research, we evaluated the ability of an in situ P binding technology (Phoslock®) to alter available water column and sediment P, and the subsequent impact on nutrient ratios and algal assemblage composition. Two golf course irrigation ponds with legacy nutrient loads and chronic cyanobacterial blooms were treated with Phoslock and monitored for 2 years post-treatment. Phoslock significantly (P < 0.05) decreased water column total P levels and shifted mobile sediment P fractions (i.e., labile, reductant-soluble, organic) to the residual fraction. Total N/P ratios (by mass) significantly increased and were sustained at over 30:1 in the Hickory Meadows irrigation pond and 100:1 in the Chockyotte irrigation pond throughout the study. Consequent changes in the algal assemblage included decreases in dominance and overall density of cyanobacteria as well as a shift away from scum-forming genera (e.g., Microcystis spp. and Anabaena [Dolichospermum] sp.) to planktonic forms (e.g., Pseudanabaena sp. and Planktolyngbya sp.). This research provides information regarding mitigation of in situ water and sediment P toward shifting nutrient ratios and altering algal assemblage composition.
Access options
Buy single article
Instant access to the full article PDF.
USD 39.95
Price excludes VAT (USA)
Tax calculation will be finalised during checkout.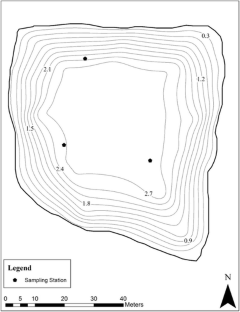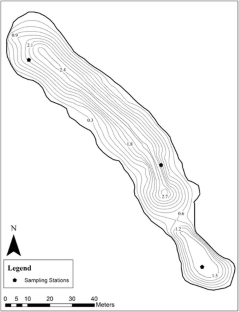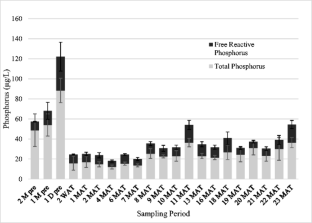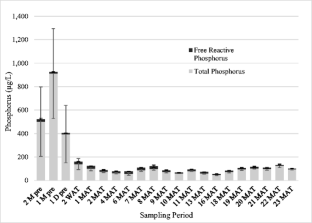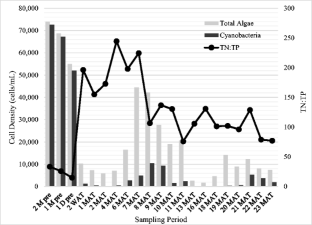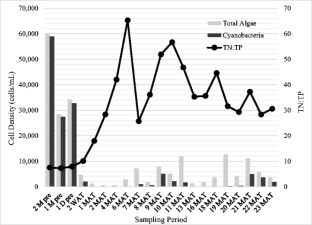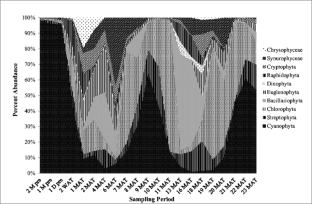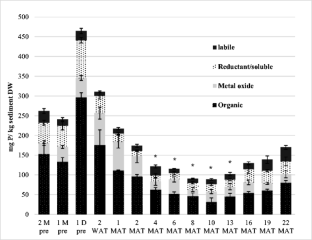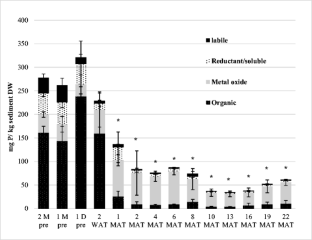 References
Anderson DM, Glibert PM, Burkholder JM (2002) Harmful algal blooms and eutrophication: nutrient sources, composition and consequences. Estuaries 25:562–584

Bachmann RW, Hoyer MV, Fernandez C, Canfield Jr DE (2003) An alternative to proposed phosphorus TMDLs for the management of Lake Okeechobee. Lake Reservoir Manag 19(3):251–264. https://doi.org/10.1080/07438140309354090

Barbiero RP, Welch EB (1992) Contribution of benthic blue-green-algal recruitment to lake populations and phosphorus translocation. Freshw Biol 27(2):249–260. https://doi.org/10.1111/j.1365-2427.1992.tb00537.x

Baris RD, Cohen SZ, Barnes NL, Lam J, Ma Q (2010) Quantitative analysis of over 20 years of golf course monitoring studies. Environ Toxicol Chem 29(6):1224–1236. https://doi.org/10.1002/etc.185

Beutel MW, Duvil R, Cubas FJ, Matthews DA, Wilhelm FM, Grizzard TJ, Austin D, Horne AJ, Gebremariam S (2016) A review of managed nitrate addition to enhance surface water quality. Crit Rev Environ Sci Technol 46:673–700

Bishop WM, Hyde S, McNabb T, Cormican I, Willis BE (2014) Operational evaluation of Phoslock phosphorus locking technology in Laguna Niguel Lake, CA. Water Air Soil Pollut 225:1–11

Bishop WM (2016) A risk-based decision information system for selecting an algal management program (Doctoral dissertation, North Carolina State University). Retrieved from https://repository.lib.ncsu.edu/handle/1840.20/33410

Burkholder JM (2009) Harmful algal blooms. In: Likens GE (ed) Encyclopedia of Inland Waters, vol. 1. Elsevier, Oxford, pp 264–285. https://doi.org/10.1016/B978-012370626-3.00239-8

Burkholder JM, Glibert PM (2013) Eutrophication and oligotrophication, pp. 347–371. In: Encyclopedia of Biodiversity, 2nd edition, Volume 3, by Levin S.A. (ed.). Academic Press, Boston, MA

Carey CC, Weathers KC, Cottingham KL (2008) Gloeotrichia echinulata blooms in an oligotrophic lake: helpful insights from eutrophic lakes. J Plankton Res 30(8):893–904. https://doi.org/10.1093/plankt/fbn055

Carpenter SR, Caraco NF, Correll DL, Howarth RW, Sharpley AN, Smith VH (1998) Nonpoint pollution of surface waters with phosphorus and nitrogen. Ecol Appl 8(3):559–568. https://doi.org/10.1890/1051-0761(1998)0080559:NPOSWW2.0.CO;2

Carvalho L, McDonald C, de Hoyos C, Mischke U, Phillips G, abor Borics G, Poikane S, Skjelbred B, Lyche Solheim A, Van Wichelen J, Cardoso AC (2013) Sustaining recreational quality of European lakes: minimizing the health risks from algal blooms through phosphorus control. J Appl Ecol 50:315–323, 2, DOI: https://doi.org/10.1111/1365-2664.12059

Cetiner ZS, Wood SA, Gammons CH (2005) The aqueous geochemistry of the rare earth elements. Part XIV. The solubility of rare earth element phosphates from 23 to 150 °C. Chem Geol 217(1-2):147–169. https://doi.org/10.1016/j.chemgeo.2005.01.001

Chang SC, Jackson ML (1957) Fractionation of soil phosphorus. Soil Sci 84(2):133–144. https://doi.org/10.1097/00010694-195708000-00005

Chislock MF, Sharp KL, Wilson AE (2014) Cylindrospermopsis raciborskii dominates under very low and high nitrogen-to-phosphorus ratios. Water Res 49:207–214. https://doi.org/10.1016/j.watres.2013.11.022

Chen M, Ye T-R, Krumholz LR, Jiang H-L (2014) Temperature and cyanobacterial bloom biomass influence phosphorous cycling in eutrophic lake sediments. PLoS One 9(3):e93130. https://doi.org/10.1371/journal.pone.0093130

Cooke GD, Welch EB, Peterson SA, Nichols SA (2005) In: Restoration and Management of Lakes and Reservoirs, 3rd edn. Taylor & Francis Group, Boca Raton, FL

Cullen P, Forsberg C (1988) Experiences with reducing point sources of phosphorus to lakes. Hydrobiologia 170(1):321–336. https://doi.org/10.1007/BF00024912

DeBusk KM, Hunt WF, Hatch U, Sydorovych O (2010) Watershed retrofit and management evaluation for urban stormwater management systems in North Carolina. J Contemp Water Res Educ 146:64–74

Diatloff E, Asher CJ, Smith FW (1993) Use of geochem-pc to predict rare-earth element (REE) species in nutrient solutions. Plant Soil 156:251–254

Dignum M, Hoogveld HL, Floris V, Gons HJ, Matthijs HCP, Pel R (2004) Flow cytometric detection of phosphatase activity combined with 13C-CO2 tracer-based growth rate assessment in phytoplankton populations from a shallow lake. Aquat Microb Ecol 37:159–169. https://doi.org/10.3354/ame037159

Dithmer L, Lipton AS, Reitzel K, Warner TE, Lundberg D, Nielsen UG (2015) Characterization of phosphate sequestration by a lanthanum modified bentonite clay: a solid state NMR, EXAFS and PXRD study. Environ Sci Technol 49(7):4559–4566. https://doi.org/10.1021/es506182s

Dithmer L, Nielsen UG, Lürling M, Spears BM, Yasseri S, Lundberg D, Moore A, Jensen ND, Reitzel K (2016) Responses in sediment phosphorus and lanthanum concentrations and composition across 10 lakes following applications of lanthanum modified bentonite. Water Res 97:101–110. https://doi.org/10.1016/j.watres.2016.02.011

Douglass GB (2002) Remediation material and remediation process for sediments United States Patent number 6350383

Downing JA, McCauley E (1992) The nitrogen:phosphorus relationship in lakes. Limnol Oceanogr 37(5):936–945. https://doi.org/10.4319/lo.1992.37.5.0936

Downing JA, Watson SB, McCauley E (2001) Predicting cyanobacteria dominance in lakes. Can J Fish Aquat Sci 58(10):1905–1908. https://doi.org/10.1139/f01-143

Duarte CM, Conley DJ, Carstensen J, Sanchez-Camacho M (2008) Return to Neverland: shifting baselines affect eutrophication restoration targets. Estuar Coasts 32:29–36

Dunne EJ, Clark MW, Corstanje R, Reddy KR (2011) Legacy phosphorus in subtropical wetland soils: influence of dairy, improved and unimproved pasture land use. Ecol Eng 37(10):1481–1491. https://doi.org/10.1016/j.ecoleng.2011.04.003

Epe TS, Finsterle K, Yasseri S (2017) Nine years of phosphorus management with lanthanum modified bentonite (Phoslock) in a eutrophic, shallow swimming lake in Germany. Lake Reservoir Manag 33(2):1–11

Firsching FH, Brune SN (1991) Solubility products of the trivalent rare-earth phosphates. J Chem Eng Data 36(1):93–95. https://doi.org/10.1021/je00001a028

Foy RH, Smith RV, Jordan C, Lennox SD (1995) Upward trend in soluble phosphorus loadings to Lough Neagh despite phosphorus reduction at sewage treatment works. Water Res 29(4):1051–1063. https://doi.org/10.1016/0043-1354(94)00259-A

Ganf GG, Oliver RL (1982) Vertical separation of the light and available nutrients as a factor of causing replacement of green algae by blue-green algae in the plankton of a stratified lake. J Ecol 70(3):829–844. https://doi.org/10.2307/2260107

Ghadouani A, Pinel-Alloul B, Prepas EE (2003) Effects of experimentally induced cyanobacterial blooms on crustacean zooplankton communities. Freshw Biol 48(2):363–381. https://doi.org/10.1046/j.1365-2427.2003.01010.x

Glibert PM, Fullerton D, Burkholder JM, Cornwell JC, Kana TM (2011) Ecological stoichiometry, biogeochemical cycling, invasive species and aquatic food webs: San Francisco Estuary and comparative systems. Rev Fish Sci 19(4):358–417. https://doi.org/10.1080/10641262.2011.611916

Gobler CJ, Burkholder JM, Davis TW, Harke MJ, Johengen T, Stow CA, Van de Waal DB (2016) The dual role of nitrogen supply in controlling the growth and toxicity of cyanobacterial blooms. Harmful Algae 54:87–97. https://doi.org/10.1016/j.hal.2016.01.010

Gonsiorczyk T, Casper P, Koschel R (1998) Phosphorus binding forms in the sediment of an oligotrophic and a eutrophic hardwater lake of the Baltic lake district (Germany). Water Sci Technol 37:51–58

Graham LE, Graham JM, Wilcox LW, Cook ME (2016) Algae (Third Edition version 3.1). LJLM Press, LLC, Madison, WI

Gulati RD, Van Donk E (2002) Lakes in the Netherlands, their origin, eutrophication and restoration: state-of-the-art review. Hydrobiologia 478(1/3):73–106. https://doi.org/10.1023/A:1021092427559

Hagheseresht F, Wang S, Do DD (2009) A novel lanthanum-modified bentonite, Phoslock, for phosphate removal from wastewaters. Appl Clay Sci 46(4):369–375. https://doi.org/10.1016/j.clay.2009.09.009

Hallegraeff GM (1993) A review of harmful algal blooms and their apparent global increase. Phycologia 32(2):79–99. https://doi.org/10.2216/i0031-8884-32-2-79.1

Harris TD, Wilhem FM, Graham JL, Loftin KA (2014a) Experimental manipulation of TN:TP ratios suppress cyanobacterial biovolume and microcystin concentration in large-scale mesocosms. Lake Reservoir Manag 30(1):72–83. https://doi.org/10.1080/10402381.2013.876131

Harris TD, Wilhelm FM, Graham JL, Loftin K (2014b) Experimental additions of aluminum sulfate and ammonium nitrate to in situ mesocosms to reduce cyanobacterial biovolume and microcystin concentration. Lake Reservoir Manag 30(1):84–93. https://doi.org/10.1080/10402381.2013.876132

Heisler J, Gilbert PM, Burkholder JM, Anderson DM, Cochlan W, Dennison WC, Dortch Q, Gobler CJ, Heil CA, Humphries E, Lewitus, R. Magnien, H.G. Marshall, K. Sellner, Stockwell DA, Stoeker DK, Suddleson M (2008) Eutrophication and harmful algal blooms: a scientific consensus. Harmful Algae 8:3–13, 1, DOI: https://doi.org/10.1016/j.hal.2008.08.006

Istvanovics V, Petterson K, Rodrigo MA, Pierson D, Padisak J, Colom W (1993) Gloeotrichia echinulata, a colonial cyanobacterium with a unique phosphorus uptake and life strategy. J Plankton Res 15(5):531–552. https://doi.org/10.1093/plankt/15.5.531

Jacoby JM, Gibbons HL, Stoops KB, Bouchard DD (1994) Response of a shallow, polymictic lake to buffered alum treatment. Lake Reservoir Manag 10(2):103–112. https://doi.org/10.1080/07438149409354181

Jansson M, Olsson H, Petterson K (1988) Phosphatases; origin, characteristics and function in lakes. Hyrobiologia 170(1):157–175. https://doi.org/10.1007/BF00024903

Jarvie HP, Sharpley AN, Spears B, Buda AR, May L, Kleinman PJ (2013) Water quality remediation faces unprecedented challenges from "legacy phosphorus". Environ Sci Technol 47(16):8997–8998. https://doi.org/10.1021/es403160a

Jeppesen E, Søndergaard M, Jensen JP, Havens KE, Anneville O, Carvalho L, Coveney MF et al (2005) Lake responses to reduced nutrient loading: an analysis of contemporary long-term data from 35 case studies. Freshw Biol 50(10):1747–1771. https://doi.org/10.1111/j.1365-2427.2005.01415.x

Jonasson RG, Bancroft GM, Boatner LA (1988) Surface reactions of synthetic, 933 end-member analogues of monazite, xenotime and rhabdophane, and evolution of natural waters. Geochm Cosmochim Acta 52(3):767–770. https://doi.org/10.1016/0016-7037(88)90336-5

Kapanen G (2008) Phosphorus fractionation in lake sediments. Estonian J Ecol 57:244–255

Koski-Vähälä J, Hartikainen H (2001) Assessment of the risk of phosphorus loading due to resuspended sediment. J Environ Qual 30(3):960–966. https://doi.org/10.2134/jeq2001.303960x

Kromkamp J, Van Den Heuvel A, Mur LR (1989) Phosphorus uptake and photosynthesis by phosphate-limited cultured of the cyanobacterium Microcystis aeruginosa. Br Phycol J 24(4):347–355. https://doi.org/10.1080/00071618900650361

Lagus A, Suomela J, Helminen H, Sipura J (2007) Impacts of nutrient enrichment and sediment on phytoplankton community structure in the northern Baltic Sea. Hydrobiologia 579(1):351–368. https://doi.org/10.1007/s10750-006-0491-7

Levine SN, Schindler DW (1999) Influence of nitrogen to phosphorus supply ratios and physicochemical conditions on cyanobacteria and phytoplankton species composition in the Experimental Lakes Area, Canada. Can J Fish Aquat Sci 56(3):451–466. https://doi.org/10.1139/f98-183

Mallin MA, McIver MR, Wells HA, Parsons DC, Johnson VL (2005) Reversal of eutrophication following sewage treatment upgrades in the New River Estuary, North Carolina. Estuaries 28(5):750–760. https://doi.org/10.1007/BF02732912

Marsden MW (1989) Lake restoration by reducing external phosphorus loading: the influence of sediment phosphorus release. Freshw Biol 21(2):139–162. https://doi.org/10.1111/j.1365-2427.1989.tb01355.x

McDonald JH (2014) Handbook of Biological Statistics, 3rd edn. Sparky House Publishing, Baltimore, MD

Meis S, Spears BM, Maberly SC, O'Malley MB, Perkins RG (2012) Sediment amendment with Phoslock in Clatto Reservoir (Dundee, UK): investigating changes in sediment elemental composition and phosphorus fractionation. J Environ Manag 93(1):185–193. https://doi.org/10.1016/j.jenvman.2011.09.015

Microsoft (2007) Microsoft excel [computer software]. Microsoft Corporation, Redmond, WA

Nikolai SJ, Dzialowski AR (2014) Effects of internal phosphorus loading on nutrient limitation in a eutrophic reservoir. Limnologica 49:33–41. https://doi.org/10.1016/j.limno.2014.08.005

Nürnberg GK, LaZerte BD (2016) Trophic state decrease after lanthanum-modified bentonite (Phoslock) application to a hyper-eutrophic polymictic urban lake frequented by Canada geese (Branta canadensis). Lake Reservoir Manag 32(1):74–88. https://doi.org/10.1080/10402381.2015.1133739

Nürnberg G (1997) Coping with water quality problems due to hypolimnetic anoxia in central Ontario lakes. Water Qual Res J Can 32:391–405

Oosterhout F, Lürling M (2013) Phosphorus binding clay (Phoslock) in mitigating cyanobacterial nuisance: effects on water quality variables and plankton. Hydrobiologia 710(1):265–277. https://doi.org/10.1007/s10750-012-1206-x

Orihel DM, Schindler DW, Ballard NC, Graham MD, O'Connell DW (2015) The "nutrient pump:" iron-poor sediments fuel low nitrogen-to-phosphorus ratios and cyanobacterial blooms in polymictic lakes. Limnol Oceanogr 60(3):856–871. https://doi.org/10.1002/lno.10076

Paerl HW (1997) Coastal eutrophication and harmful algal blooms: importance of atmospheric deposition and groundwater as 'new' nitrogen and other nutrient sources. Limnol Oceanogr 42(5part2):1154–1165. https://doi.org/10.4319/lo.1997.42.5_part_2.1154

Paerl HW, Gardner WS, Havens KE, Joyner AR, McCarthy MJ, Newell SE, Qin B, Scott JT (2016) Mitigating cyanobacterial harmful algal blooms in aquatic ecosystems impacted by climate change and anthropogenic nutrients. Harmful Algae 54:213–222. https://doi.org/10.1016/j.hal.2015.09.009

Perakis SS, Welch EB, Jacoby JM (1996) Sediment-to-water blue-green algal recruitment in response to alum and environmental factors. Hydrobiologia 318(3):165–177. https://doi.org/10.1007/BF00016678

Pettersson K, Istvanovics V (1988) Sediment phosphorus in Lake Balaton: forms and mobility. Archives of. Hydrobiology 30:25–41

Prescott GW (1970) How to know the freshwater algae, 3rd edn. McGraw Hill, Boston, MA

Recht HL, Ghassemi M, Kleber EV (1970) Precipitation of phosphates from water and waste water using lanthanum salts. Proceedings of the 5th International Water Pollution Research. Pergamon, pp. 1-17

Reddy K, Newman RS, Osborne TZ, White JR, Fitz HC (2011) Phosphorous cycling in the greater everglades ecosystem: legacy phosphorous implications for management and restoration. Crit Rev Environ Sci Technol 41(sup1):149–186. https://doi.org/10.1080/10643389.2010.530932

Reitzel K, Andersen FO, Egemose S, Jensen HS (2013) Phosphate adsorption by lanthanum modified bentonite clay in fresh and brackish water. Water Res 47(8):2787–2796. https://doi.org/10.1016/j.watres.2013.02.051

Reynolds CS (1972) Growth, gas vacuolation and buoyancy in a natural population of a planktonic blue-green alga. Freshw Biol 2(2):87–106. https://doi.org/10.1111/j.1365-2427.1972.tb00364.x

Robb MS, Greenop B, Goss Z, Douglas G, Adeney J (2003) Application of Phoslock, an innovative phosphorus binding clay, to two Western Australian waterways: preliminary findings. Hydrobiologia 494(1-3):237–243. https://doi.org/10.1023/A:1025478618611

Ross G, Haghseresht F, Cloete TM (2008) The effect of pH and anoxia on the performance of Phoslock, a phosphorus binding clay. Harmful Algae 7(4):545–550. https://doi.org/10.1016/j.hal.2007.12.007

Sabour B, Loudiki M, Vasconcelos V (2009) Growth responses of Microcystis ichthyoblabe and Anabaena aphanizomenoides (cyanobacteria) under different nitrogen and phosphorus conditions. Chem Ecol 25(5):337–344. https://doi.org/10.1080/02757540903193130

Schindler DW, Hecky RE, Findlay DL, Stainton MP, Parker BR, Paterson M, Beaty KG, Lyng M, Kasian SEM (2008) Eutrophication of lakes cannot be controlled by reducing nitrogen input: results of a 37 year whole ecosystem experiment. PNAS USA 105(32):11254–11258. https://doi.org/10.1073/pnas.0805108105

Schindler DW (2012) The dilemma of controlling cultural eutrophication of lakes. Proceedings of the Royal Society of London. Biol Sci 279(1746):4322–4333. https://doi.org/10.1098/rspb.2012.1032

Seale DB, Boraas ME, Warren GJ (1987) Effects of sodium and phosphate on growth of cyanobacteria. Water Res 21(6):625–631. https://doi.org/10.1016/0043-1354(87)90072-8

SigmaPlot version 12.5 (2014) Systat software. Inc, San Jose, CA

Smith VH (1983) Low nitrogen to phosphorus ratios favor dominance by blue-green algae in lake phytoplankton. Science 221(4611):669–671. https://doi.org/10.1126/science.221.4611.669

Søndergaard M, Jensen PJ, Jeppesen E (2001) Retention and internal loading of phosphorus in shallow, eutrophic lakes. Sci World J 1:427–442. https://doi.org/10.1100/tsw.2001.72

Søndergaard M, Jensen PJ, Jeppesen E (2003) Role of sediment and internal loading of phosphorus in shallow lakes. Hydrobiologia 506-509(1-3):135–145. https://doi.org/10.1023/B:HYDR.0000008611.12704.dd

Spears BM, Mackay EB, Yasseri S, Gunn IDM, Waters KE, Andrews C, Cole S, De Ville M, Kelly A, Meis S, Moore AL, Nürnberg GK, van Oosterhout F, Pitt JA, Madgwick G, Woods HJ, Lürling M (2016) A meta-analysis of water quality and aquatic macrophyte responses in 18 lakes treated with lanthanum modified bentonite (Phoslock®). Water Res 97:111–121. https://doi.org/10.1016/j.watres.2015.08.020

Standard Methods for the Examination of Water and wastewater, 21st ed. (SMEWW) (2005) American Public Health Association (APHA). Washington, DC

Trimbee AM, Prepas EE (1987) Evaluation of total phosphorus as a predictor of the relative biomass of blue-green algae with emphasis on Alberta lakes. Can J Fish Aquat Sci 44(7):1337–1342. https://doi.org/10.1139/f87-158

United States Environmental Protection Agency (USEPA) (1978) Phosphorous, All Forms method 365.3 manual ascorbic acid two reagent. Office of Research and Development, Environmental Monitoring and Support Laboratory. Cincinnati, OH

United States Environmental Protection Agency (USEPA) (2010) Water Quality Standards for the State of Florida's Lakes and Flowing Waters. Vol. 75, No. 233. 40 CFR Part 131 [EPA–HQ–OW–2009–0596; FRL–9228–7] RIN 2040–AF11. Washington, DC

Van Nieuwenhuyse EE (2007) Response of summer chlorophyll concentration to reduced total phosphorus concentration in the Rhine River (Netherlands) and the Sacramento – San Joaquin Delta (California, USA). Can J Fish Aquat Sci 64(11):1529–1542. https://doi.org/10.1139/f07-121

Walve J, Larsson U (2007) Blooms of Baltic Sea Aphanizomenon sp. (Cyanobacteria) collapse after internal phosphorus depletion. Aquat Microb Ecol 49:57–69. https://doi.org/10.3354/ame01130

Watson SB, McCauley E, Dowing JA (1997) Patterns in phytoplankton taxonomic composition across temperate lakes of different nutrient status. Limnol Oceanogr 42(3):487–495. https://doi.org/10.4319/lo.1997.42.3.0487

Wehr JD, Sheath RG (2003) Freshwater algae of North America. Academic Press, New York, NY

Welch EB (2009) Should nitrogen be reduced to manage eutrophication if it is growth limiting? Evidence from Moses Lake. Lake Reservoir Manag 25(4):401–409. https://doi.org/10.1080/07438140903323757

Wetzel RG (2001) Limnology: lake and river ecosystems, 3rd edn. Academic Press, San Diego, CA

Wilhelm S, Adrian R (2008) Impact of summer warming on the thermal characteristics of a polymictic lake and consequences for oxygen, nutrients and phytoplankton. Freshw Biol 53:226–237
Acknowledgments
The authors thank Clayton L. Lynch, Nick Jackson, Cody Hale, Hasan Hasan, and Ben E. Willis for application, sampling, and analytical support.
Funding
The authors thank North Carolina State University Center for Turfgrass Environmental Research and Education for funding this research.
Additional information
Responsible editor: Philippe Garrigues
About this article
Cite this article
Bishop, W.M., Richardson, R.J. Influence of Phoslock® on legacy phosphorus, nutrient ratios, and algal assemblage composition in hypereutrophic water resources. Environ Sci Pollut Res 25, 4544–4557 (2018). https://doi.org/10.1007/s11356-017-0832-2
Received:

Accepted:

Published:

Issue Date:

DOI: https://doi.org/10.1007/s11356-017-0832-2
Keywords
Eutrophication

Phosphorus

Phoslock

Management

Nutrient ratios

Cyanobacteria