Abstract
Lead (Pb) stress adversely affects in planta nutrient homeostasis and metabolism when present at elevated concentration in the surrounding media. The present study was aimed at investigation of organic acid exudations, elemental contents, growth, and lipid peroxidation in two wild plants (Amaranthus viridis L. and Portulaca oleracea L.), exhibiting differential root to shoot Pb translocation, under Pb stress. Plants were placed in soil spiked with lead chloride (PbCl2) concentrations of 0, 15, 30, 45, or 60 mg Pb/kg soil, in rhizoboxes supplied with nylon nets around the roots. The plant mucilage taken from root surfaces, mirroring the rhizospheric solution, was analyzed for various organic acids. Lead stress resulted in a release of basified root exudates from both plants. Exudates of P. oleracea roots showed a higher pH. In both plants, the pH rising effect was diminished at the highest Pb treatment level. The exudation of citric acid, glutamic acid (in both plants), and fumaric acid (in P. oleracea only) was significantly increased with applied Pb levels. In both plant species, root and shoot Pb contents increased while nutrients (Ca, Mg, and K) decreased with increasing Pb treatment levels, predominantly in A. viridis. At 60 mg Pb/kg soil, shoot Na content of A. viridis was significantly higher as compared to untreated control. Higher Pb treatment levels decreased plant fresh and dry masses as well as the quantity of photosynthetic pigments due to enhanced levels of plant H2O2 and thiobarbituric acid reactive substances in both species. Photosynthetic, growth, and oxidative stress parameters were grouped into three distinct dendrogram sections depending on their similarities under Pb stress. A positive correlation was identified between Pb contents of studied plants and secretion of different organic acids. It is concluded that Pb stress significantly impaired the growth of A. viridis and P. oleracea as a result of nutritional ion imbalance, and the response was cultivar-specific and dependent on exogenous applied Pb levels. Differential lipid oxidation, uptake of nutrients (Ca, Mg, and K) and exudation of citric acid, fumaric acid, and glutamic acid could serve as suitable physiological indicators for adaptations of P. oleracea to Pb enriched environment. The findings may help in devising strategies for Pb stabilization to soil colloids.
Access options
Buy single article
Instant access to the full article PDF.
US$ 39.95
Tax calculation will be finalised during checkout.
Subscribe to journal
Immediate online access to all issues from 2019. Subscription will auto renew annually.
US$ 79
Tax calculation will be finalised during checkout.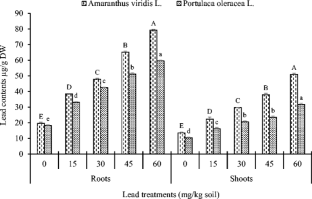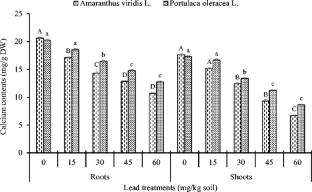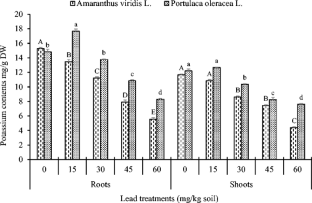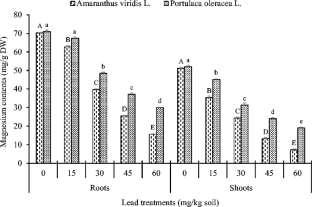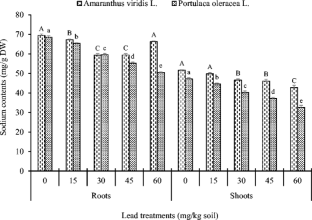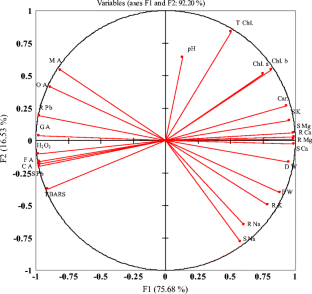 References
Akinci IE, Akinci S, Yilmaz K (2010) Response of tomato (Solanum lycopersicum L.) to lead toxicity: growth, element uptake, chlorophyll and water content. Afr J Agric Res 5:416–423

Ali B, Xu X, Gill RA, Yang S, Ali S, Tahir M, Zhou W (2014) Promotive role of 5-aminolevulinic acid on mineral nutrients and antioxidative defense system under lead toxicity in Brassica napus. Ind Crops Prod 52:617–626

Arnon DI (1949) Copper enzyme in isolated chloroplast polyphenol oxidase in Beta vulgaris. Plant Physiol 24(1):1–15. https://doi.org/10.1104/pp.24.1.1

Azmat R, Haider S, Nasreen H, Aziz F, Riaz M (2009) A viable alternative mechanism in adapting the plants to heavy metal environment. Pak J Bot 41:2729–2738

Bharwana SA, Ali S, Farooq MA, Ali B, Iqbal N, Abbas F, Ahmad MSA (2014) Hydrogen sulfide ameliorates lead-induced morphological, photosynthetic, oxidative damages and biochemical changes in cotton. Environ Sci Pollut Res 21(1):717–731. https://doi.org/10.1007/s11356-013-1920-6

Blaylock MJ, Huang JW (2000) Phytoextraction of metals. In: Raskin I, Ensley BD (eds) Phytoremediation of toxic metals: using plants to clean up the environment. John Wiley & Sons, New York, pp 53–71

Blossfeld S, Perriguey P, Sterckeman T, Morel J, Losch R (2010) Rhizosphere pH dynamics in trace-metal-contaminated soils monitored with planar pH optodes. Plant Soil 330(1-2):173–184. https://doi.org/10.1007/s11104-009-0190-z

Chen J, Shafi M, Wang Y, Wu J, Ye Z, Liu C, Zhong B, Guo H, He L, Liu D (2016) Organic acid compounds in root exudation of moso bamboo (Phyllostachys pubescens) and its bioactivity as affected by heavy metals. Environ Sci Pollut Res 23(20):20977–20984. https://doi.org/10.1007/s11356-016-7323-8

Cheng H, Wang Y, Liu Y, Ye ZH, Wu ML, Sun CC (2015) Pb uptake and tolerance in the two selected mangroves with different root lignification and suberization. Ecotoxicology 24(7-8):1650–1658. https://doi.org/10.1007/s10646-015-1473-1

Davies BH (1976) Carotenoids. In: Goodwin TW (ed) Chemistry and biochemistry of plant pigments. Academic, London, pp 138–165

Eliasson L (1978) Effect of nutrients and light on growth and root formation in Pisum sativum cuttings. Plant Physiol 43(1):13–18. https://doi.org/10.1111/j.1399-3054.1978.tb01560.x

Elloumi N, Zouari M, Chaari L, Jomni C, Marzouk B, Elloumi FBA (2014) Effects of cadmium on lipids of almond seedlings (Prunus dulcis). Bot Stud 55(1):61. https://doi.org/10.1186/s40529-014-0061-7

Fahr M, Laplaze L, Bendaou N, Hocher V, Mzibri EM, Bogusz D, Smouni A (2013) Effect of lead on root. Front Plant Sci 4:175. https://doi.org/10.3389/fpls.2013.00175

Gadd GM (2010) Metals, minerals and microbes: geo microbiology and bioremediation. Microbiology 156(3):609–643. https://doi.org/10.1099/mic.0.037143-0

Godbold DL, Kettner C (1991) Use of root elongation studies to determine aluminium and lead toxicity in Picea abies seedlings. J Plant Physiol 138(2):231–235. https://doi.org/10.1016/S0176-1617(11)80276-2

Greger M, Landberg T (2008) Role of rhizosphere mechanisms in Cd uptake by various wheat cultivars. Plant Soil 312(1–2):195–205

Haider S, Kanwal S, Uddin F, Azmat R (2006) Phytotoxicity of Pb II: changes in chlorophyll absorption spectrum due to toxic metal Pb stress on Phaseolus mungo and Lens culinaris. Pak J Biol Sci 9:2062–2068

Haoliange L, Chongling Y, Jingchun L (2007) Low-molecular-weight organic acids exuded by mangrove (Kandelia candel (L.) Druce) roots and their effect on cadmium species change in the rhizosphere. Environ Exp Bot 61(2):159–166. https://doi.org/10.1016/j.envexpbot.2007.05.007

Heath RL, Packer L (1968) Photoperoxidation in isolated chloroplasts. Arch Biochem Biophys 125(1):189–198. https://doi.org/10.1016/0003-9861(68)90654-1

Hossain AM, Piyatida P, Silva TAJ, Fujita1 M (2012) Molecular mechanism of heavy metal toxicity and tolerance in plants: central role of glutathione in detoxification of reactive oxygen species and methylglyoxal and in heavy metal chelation. J Bot Article ID 872875 1–7. https://doi.org/10.1155/2012/872875

Huang G, Guo G, Yao S, Zhang N, Hu H (2016) Organic acids, amino acids compositions in the root exudates and Cu-accumulation in castor (Ricinus communis L.) under Cu stress. Int J Phytoremediat 18(1):33–40. https://doi.org/10.1080/15226514.2015.1058333

Inoue H, Fukuoka D, Tatai Y, Kamachi HY, Hayatsu M, Ono M et al (2013) Properties of lead deposits in cell walls of radish (Raphanus sativus) roots. J Plant Res 126(1):51–61. https://doi.org/10.1007/s10265-012-0494-6

Jana S, Choudhuri MA (1981) Glycolate metabolism of three submerged aquatic angiosperms during aging. Aquat Bot 12:345–354

Janicka-Russak M, Kabała K, Burzyński M (2012) Different effect of cadmium and copper on H+-ATPase activity in plasma membrane vesicles from Cucumis sativus roots. J Exp Bot 63(11):4133–4142. https://doi.org/10.1093/jxb/ers097

Javed MT (2011) Mechanisms behind pH changes by plant roots and shoots caused by elevated concentration of toxic elements. PhD thesis, Department of Botany, Stockholm University, Stockholm, pp 1–40

Javed MT, Stoltz E, Lindberg S, Greger M (2013) Changes in pH and organic acids in mucilage of Eriophorum angustifolium roots after exposure to elevated concentrations of toxic elements. Environ Sci Pollut Res 20(3):1876–1880. https://doi.org/10.1007/s11356-012-1413-z

Javed MT, Akram MS, Tanwir K, Javed Chaudhary HJ, Ali Q, Stoltz E, Lindberg S (2017) Cadmium spiked soil modulates root organic acids exudation and ionic contents of two differentially Cd tolerant maize (Zea mays L.) cultivars. Ecotoxicol Environ Saf 141:216–225. https://doi.org/10.1016/j.ecoenv.2017.03.027

Kochian LV, Pineros MA, Hoekenga OA (2005) The physiology, genetics and molecular biology of plant aluminum resistance and toxicity. Plant Soil 274(1-2):175–195. https://doi.org/10.1007/s11104-004-1158-7

Kosobrukhov A, Knyazeva I, Mudrik V (2004) Plantago major plants responses to increase content of lead in soil: growth and photosynthesis. Plant Growth Regul 42(2):145–151. https://doi.org/10.1023/B:GROW.0000017490.59607.6b

Lamhamdi M, El Galiou O, Bakrim A, Novoa-Munoz JC, Arias-Esteves M, Aarab A, Lafont R (2013) Effect of lead stress on mineral content and growth of wheat (Triticum aestivum) and spinach (Spinacia oleracea) seedling. Saudi J Biol Sci 20(1):29–36. https://doi.org/10.1016/j.sjbs.2012.09.001

Ma JF, Taketa S, Yang ZM (2000) Aluminium tolerance genes on the short arm of chromosome 3R are linked to organic acid release in triticale. Plant Physiol 122(3):687–694. https://doi.org/10.1104/pp.122.3.687

Malar S, Manikandan R, Favas CJP, Sahi VS, Venkatachalam P (2014) Effect of lead on phytotoxicity, growth, biochemical alterations and its role on genomic templates tability in Sesbania grandiflora: a potential plant for phytoremediation. Ecotox Environ Safe 108:249–257

Malik NR, Husain ZS, Nazir A (2010) Heavy metal contamination and accumulation in soil and wild plant species from industrial area of Islamabad, Pakistan. Pak J Bot 42(1):291–301

Malkowski E, Kita A, Galas W, Karcz W, Kuperberg JM (2002) Lead distribution in corn seedlings (Zea mays L.) and its effect on growth and the concentrations of potassium and calcium. Plant Growth Regul 37(1):69–76. https://doi.org/10.1023/A:1020305400324

Massaccesi L, Meneghini C, ComaCi T, D'Amato R, Onofrij A, Businelli D (2014) Ligands involved in Pb immobilization and transport in lettuce, radish, tomato and Italian ryegrass. J Plant Nutr Soil Sci 177(5):766–774. https://doi.org/10.1002/jpln.201200581

Muhammad D, Chen F, Zhao J, Zhang G, Wu F (2009) Comparison of EDTA and citricacid-enhanced phytoextraction of heavy metals in artificially metal contaminated soil by Typha angustifolia. Int J Phytoremediat 11(6):558–574. https://doi.org/10.1080/15226510902717580

Mukai H, Tanaka A, Fujii T, Zeng Y, Hon Y, Tang J et al (2001) Regional characteristics of sulfur and lead isotope ratios in the atmosphere at several Chinese urban sites. Environ Sci Technol 35(6):1064–1071. https://doi.org/10.1021/es001399u

Paivoke AEA (2002) Soil lead alters phytase activity and mineral nutrient balance of Pisum sativum. Environ Exp Bot 48(1):61–73. https://doi.org/10.1016/S0098-8472(02)00011-4

Paul KI, Black AS, Conyers MK (2001) Effect of plant residue return on the development of surface soil pH gradients. Biol Fert Soils 33:75–82

Pourrut B, Jean S, Silvestre J, Pinelli E (2011) Lead-induced DNA damage in Vicia faba root cells: potential involvement of oxidative stress. Mutat Res 726(2):123–128. https://doi.org/10.1016/j.mrgentox.2011.09.001

Qin R, Hirano Y, Burner I (2007) Exudation of organic acid anions from poplar roots after exposure to Al, Cu, and Zn. Tree Physiol 27(2):313–320. https://doi.org/10.1093/treephys/27.2.313

Reddy AM, Kumar SG, Jyonthsnakumari G, Thimmanaik S, Sudhakar C (2005) Lead induced changes in antioxidant metabolism of horsegram (Macrotyloma uniflorum (Lam.) Verdc.) and bengalgram (Cicer arietinum L.) Chemosphere 60(1):97–104. https://doi.org/10.1016/j.chemosphere.2004.11.092

Rhodes D, Hanson AD (1993) Quaternary ammonium and tertiary sulfonium compounds in higher plants. Annu Rev Plant Physiol Plant Mol Biol 44(1):357–384

Richards SL, Wilkins KA, Swarbreck SM, Anderson AA, Habib N, Smith AG, McAinsh M, Davies JM (2015) The hydroxyl radical in plants: from seed to seed. J Exp Bot 66(1):37–46. https://doi.org/10.1093/jxb/eru398

Ryan PR, Delhaize E, Jones DL (2001) Function and mechanism of organic anion exudation from plant roots. Annu Rev Plant Physiol Plant Mol Biol 52(1):527–560. https://doi.org/10.1146/annurev.arplant.52.1.527

Samar-dakiewicz S, Wozny A (2005) Cell division in Lemna minor roots treated with lead. Aquat Bot 83(4):289–295. https://doi.org/10.1016/j.aquabot.2005.06.007

Shahid M, Pinelli E, Dumat C (2012) Review of Pb availability and toxicity to plants in relation with metal speciation; role of synthetic and natural organic ligands. J Hazard Mater 220:1–12

Shahid M, Austruy A, Echevarria G, Arshad M, Sanaullah M, Aslam M, Nadeem M, Nasim W, Dumat C (2014) EDTA-enhanced phytoremediation of heavy metals: a review. Soil Sediment Contam 23(4):389–416. https://doi.org/10.1080/15320383.2014.831029

Shakoor MB, Ali S, Hameed A, Farid M, Hussain S, Yasmeen T, Najeeb U, Bharwana SA, Abbasi GH (2014) Citric acid improves lead (Pb) phytoextraction in Brassica napus L. by mitigating Pb-induced morphological and biochemical damages. Ecotoxicol Environ Saf 109:38–47. https://doi.org/10.1016/j.ecoenv.2014.07.033

Sharma P, Dubey RS (2005) Pb toxicity in plants. Braz J Plant Physiol 17(1):35–52. https://doi.org/10.1590/S1677-04202005000100004

Shigeoka S, Ishikawa T, Tamoi M, Miyagawa Y, Takeda T, Yabuta Y, Yoshimura K (2002) Regulation and function of ascorbate peroxidase isoenzymes. J Exp Bot 53(372):1305–1319. https://doi.org/10.1093/jexbot/53.372.1305

Srivastava RK, Pandey P, Rajpoot R, Rani A, Dubey RS (2014) Cadmium and lead interactive effects on oxidative stress and antioxidative responses in rice seedlings. Protoplasma 251(5):1047–1065. https://doi.org/10.1007/s00709-014-0614-3

Stoltz E, Greger M (2002) Cottongrass effects on trace elements in submersed mine tailings. J Environ Qual 31(5):1477–1483. https://doi.org/10.2134/jeq2002.1477

Tanwir K, Akram SA, Masood S, Chaudhary HJ, Lindberg S, Javed MT (2015) Cadmium-induced rhizospheric pH dynamics modulated nutrient acquisition and physiological attributes of maize (Zea mays L.) Environ Sci Pollut Res 22(12):9193–9203. https://doi.org/10.1007/s11356-015-4076-8

Trivedi S, Erdei L (1992) Effects of cadmium and Pb on the accumulation of Ca2+ and K+ and on the influx and translocation of K+ in wheat of low and high K+ status. Physiol Plant 84(1):94–100. https://doi.org/10.1034/j.1399-3054.1992.840115.x

UdDin I, Bano A, Masood S (2015) Chromium toxicity tolerance of Solanum nigrum L. and Parthenium hysterophorus L. plants with reference to ion pattern, antioxidation activity and root exudation. Ecotox Environ Saf 113:271–278. https://doi.org/10.1016/j.ecoenv.2014.12.014

Verma S, Dubey RS (2003) Lead toxicity induces lipid peroxidation and alters the activities of antioxidant enzymes in growing rice plants. Plant Sci 164:645–655

Wang Y, Xu L, Chen YL, Shen H, Gong YQ, Limera C et al (2013) Transcriptome profiling of radish (Raphanus sativus L.) root and identification of genes involved in response to lead (Pb) stress with next generation sequencing. PLoS One 8(6):e66539. https://doi.org/10.1371/journal.pone.0066539

Wolf B (1982) A comprehensive system of leaf analysis and its use for diagnosing top nutrient status. Commun Soil Sci Plant Anal 13:1035–1059

Xie Y, Hu L, Du Z, Sun X, Amombo E, Fan J, Fu J (2014) Effects of cadmium exposure on growth and metabolic profile of bermudagrass [Cynodon dactylon (L.) Pers.] PLoS One 9(12):e115279. https://doi.org/10.1371/journal.pone.0115279

Yadav SK (2010) Heavy metals toxicity in plants: an overview on the role of glutathione and phytochelatins in heavy metal stress tolerance of plants. S Afr J Bot 76:167–179

Yang Y, Wang QL, Geng MJ, Guo ZH, Zhao Z (2011) Rhizosphere pH difference regulated by plasma membrane H+-ATPase is related to differential Al-tolerance of two wheat cultivars. Plant Soil Environ 57(5):201–206

Zeng F, Chen S, Miao Y, Wu F, Zhang G (2008) Changes of organic acid exudation and rhizosphere pH in rice plants under chromium stress. Environ Pollut 155(2):284–289. https://doi.org/10.1016/j.envpol.2007.11.019

Zhang M, Ma YQ, Zhong W, Jia XT, DR W, Yu R, Ye XX (2015) N–P–K ratio affects exudation of germination stimulants and resistance of tobacco seedlings to broomrapes. Plant Growth Regul 76(3):281–288. https://doi.org/10.1007/s10725-014-9999-4

Zhao Z, Ma JF, Sato K, Takeda K (2003) Different Al resistance and citrate secretion in barley (Hordeum vulgare L.) Planta 217(5):794–800. https://doi.org/10.1007/s00425-003-1043-2

Zhi-An L, Bi Z, Han-Ping X, Yong-Zhen D, Wan-Neng T, Sheng-Lei F (2008) Role of low-molecule-weight organic acids and their salts in regulating soil pH. Pedosphere 18(2):137–148

Zhu XF, Zheng C, Hu YT, Jiang T, Liu Y, Dong NY, Yang JL, Zheng SJ (2011) Cadmium-induced oxalate secretion from root apex is associated with cadmium exclusion and resistance in Lycopersicon esulentum. Plant Cell Environ 34:1055–1064
Acknowledgements
We are thankful to Prof. Dr. Sylvia Lindberg and Dr. Sajid Masood for critical proofreading of the manuscript.
Funding
We gratefully acknowledge the Higher Education Commission (HEC), Pakistan, for provision of funds (Grant No: PD-IPFP/HRD/HEC/2013/3021) to Dr. M. Tariq Javed for the execution of the reported work.
Additional information
Responsible editor: Philippe Garrigues
Electronic supplementary material
The dendrograms showing the similarity for the studied physiological attributes of Amaranthus viridis L. and Portulaca oleracea L. grown with PbCl2 concentrations of 0, 15, 30, 45, or 60 mg/kg soil in rhizoboxes. TBARS = thiobarbituric acid reactive substances, PFW = plant fresh weight, PDW = plant dry weight, T Chl = total chlorophyll, Chl. a = chlorophyll a, Car = carotenoids, Chl. b = chlorophyll b (DOCX 160 kb)
About this article
Cite this article
Javed, M.T., Akram, M.S., Habib, N. et al. Deciphering the growth, organic acid exudations, and ionic homeostasis of Amaranthus viridis L. and Portulaca oleracea L. under lead chloride stress. Environ Sci Pollut Res 25, 2958–2971 (2018). https://doi.org/10.1007/s11356-017-0735-2
Received:

Accepted:

Published:

Issue Date:
Keywords
Organic acids

Pb translocation

Rhizobox

Rhizosphere

Wild plants