Abstract
The first French-Swiss workshop on ecotoxicology of freshwater sediment communities was co-organized by the French Research Institute of Science and Technology for Environment and Agriculture (Irstea) and the Swiss Centre for Applied Ecotoxicology (Ecotox Centre EAWAG-EPFL) in Villié-Morgon (Beaujolais Region, France) on April 27–28, 2017. The workshop brought together scientists working in different fields of expertise (ecotoxicologists, ecologists, environmental chemists…), environmental stakeholder groups and managers, as well as economic players (start-ups and consultancies) to better connect research needs of potential end-users with research outputs. The objectives of this workshop were (i) to establish the state of the art of research in the characterization of sediment contamination and in the evaluation of the effects on sediment-associated biological communities and ecosystem functioning and (ii) to give an overview of the French and Swiss regulations dealing with the assessment of contaminated sediments in freshwater ecosystems. The ultimate goal was to collectively identify research needs and knowledge gaps, as well as to highlight ways to improve the ecotoxicological assessment of sediments in freshwater environments by further considering the structure and functions of associated microbial and invertebrate communities.
This is a preview of subscription content, log in to check access.
Access options
Buy single article
Instant access to the full article PDF.
US$ 39.95
Price includes VAT for USA
Subscribe to journal
Immediate online access to all issues from 2019. Subscription will auto renew annually.
US$ 99
This is the net price. Taxes to be calculated in checkout.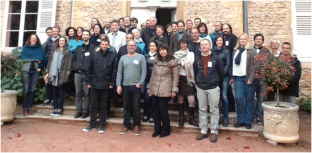 References
Clements WH, Rohr JR (2009) Community responses to contaminants: using basic ecological principles to predict ecotoxicological effects. Environ Toxicol Chem 28:1789–1800

de Deckere E, de Cooman W, Leloup V, Meire P, Schmitt C, von der Ohe PC (2011) Development of sediment quality guidelines for freshwater ecosystems. J. Soil. Sed. 11:504–517

European Commission, 2010. Common implementation strategy for water the Framework Directive (2000/60/EC): Guidance document no. 25 on chemical monitoring of sediment and biota under the water Framework Directive

Flück R, Campiche S, De Alencastro LF, Rossi L, Ferrari BJD, Santiago S, Werner I, Chèvre N (2012) Surveillance de la qualité des sédiments. État actuel des méthodes disponibles et mise en place de recommandations Aqua & Gas 92:18–22

Förstner U (2009) Sediments and priority substances in river basins. J Soil Sed 9:89–93

Gessner MO, Tlili A (2016) Fostering integration of freshwater ecology with ecotoxicology. Freshw Biol 61:1991–2001

Ghiglione JF, Martin-Laurent F, Pesce S (2016) Microbial ecotoxicology: an emerging discipline facing contemporary environmental threats. Environ Sci Pollut Res 23:3981–3983

Lafont M, Jézéquel C, Vivier A, Breil P, Schmitt L, Bernoud S (2010) Refinement of biomonitoring of urban water courses by combining descriptive and ecohydrological approaches. Ecohydro Hydrobiol 10:3–11

Ranjard L, Dequiedt S, Jolivet C, Saby NPA, Thioulouse J, Harmand J, Loisel P, Rapaport A, Fall S, Simonet P, Joffre R, Boure NC-P, Maron P-A, Mougel C, Martin MP, Toutain B, Arrouays D, Lemanceau P (2010) Biogeography of soil microbial communities: a review and a description of the ongoing French national initiative. Agron Sustain Dev 30:359–265

Segner H, 2007. Ecotoxicology-how to assess the impact of toxicants in a multifactorial environment. In: Mothersill C, Mosse I, Seymour C (Eds.) Multiple stressors: a challenge for the future. Springer (NATO Science) 39–56
Acknowledgments
We would like to thank the Municipality of Villié-Morgon for granting us the space to host our workshop and our colleagues from Irstea who were closely involved in the workshop organization: Vanessa Aburegaiba, Catherine Ambroise-Rendu, Anaïs Charton, and Bernard Motte. We are also grateful to Dr. Inge Werner for her careful reading of and valuable comments on the manuscript.
Funding
This workshop benefited from funding from the Auvergne-Rhône-Alpes Region, the French Research Institute of Science and Technology for Environment and Agriculture (Irstea) and the Swiss Centre for Applied Ecotoxicology (Ecotox Centre Eawag-EPFL).
Additional information
Responsible editor: Philippe Garrigues
About this article
Cite this article
Pesce, S., Perceval, O., Bonnineau, C. et al. Looking at biological community level to improve ecotoxicological assessment of freshwater sediments: report on a first French-Swiss workshop. Environ Sci Pollut Res 25, 970–974 (2018). https://doi.org/10.1007/s11356-017-0620-z
Received:

Accepted:

Published:

Issue Date:
Keywords
Sediment ecotoxicity

Environmental risk assessment

Structural and functional effects

Sediment exposure

Bioavailability

Microbial ecotoxicology

Invertebrates