Abstract
In this study, the production, composition, and characteristics of dissolved organic matter (DOM) in an anoxic-aerobic submerged membrane bioreactor (MBR) were investigated. The average concentrations of proteins and carbohydrates in the MBR aerobic stage were 3.96 ± 0.28 and 8.36 ± 0.89 mg/L, respectively. After membrane filtration, these values decreased to 2.9 ± 0.2 and 2.8 ± 0.2 mg/L, respectively. High performance size exclusion chromatograph (HP-SEC) analysis indicated a bimodal molecular weight (MW) distribution of DOMs, and that the intensities of all the peaks were reduced in the MBR effluent compared to the influent. Three-dimensional fluorescence excitation emission matrix (FEEM) indicated that fulvic and humic acid-like substances were the predominant DOMs in biological treatment processes. Precise identification and characterization of low-MW DOMs was carried out using gas chromatography-mass spectrometry (GC-MS). The GC-MS analysis indicated that the highest peak numbers (170) were found in the anoxic stage, and 54 (32%) compounds were identified with a similarity greater than 80%. Alkanes (28), esters (11), and aromatics (7) were the main compounds detected. DOMs exhibited both biodegradable and recalcitrant characteristics. There were noticeable differences in the low-MW DOMs present down the treatment process train in terms of numbers, concentrations, molecular weight, biodegradability, and recalcitrance.
Access options
Buy single article
Instant access to the full article PDF.
US$ 39.95
Tax calculation will be finalised during checkout.
Subscribe to journal
Immediate online access to all issues from 2019. Subscription will auto renew annually.
US$ 79
Tax calculation will be finalised during checkout.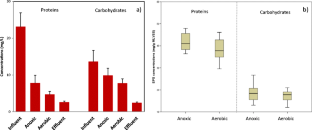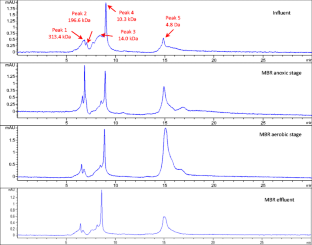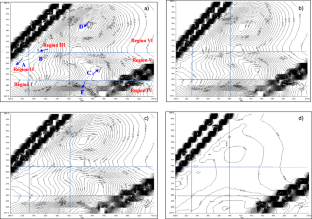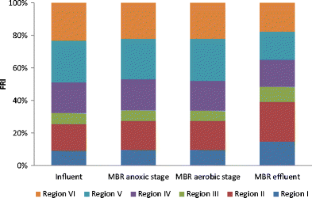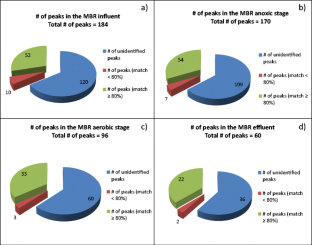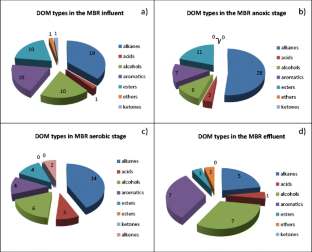 References
APHA (2012). APHA, AWWA, WEF 2012. Standard Methods for the Examination of Water and Wastewater 22nd edition, American Public Health Association, Washington D.C

Aquino SF, Hu AY, Akram A, Stuckey DC (2006) Characterization of dissolved compounds in submerged anaerobic membrane bioreactors (SAMBRs). J Chem Technol Biotechnol 81(12):1894–1904

Aquino SF, Stuckey DC (2004) Soluble microbial products formation in anaerobic chemostats in the presence of toxic compounds. Water Res 38(2):255–266

Barker DJ, Stuckey DC (1999) A review of soluble microbial products (SMP) in wastewater treatment systems. Water Res 33(14):3063–3082

Chen L, Gu Y, Cao C, Zhang J, Ng JW, Tang C (2014) Performance of a submerged anaerobic membrane bioreactor with forward osmosis membrane for low-strength wastewater treatment. Water Res 50:114–123

Chen W, Westerhoff P, Leenheer JA, Booksh K (2003) Fluorescence excitation-emission matrix regional integration to quantify spectra for dissolved organic matter. Environ Sci Technol 37(24):5701–5710

Drews A, Mante J, Iversen V, Vocks M, Lesjean B, Kraume M (2007) Impact of ambient conditions on SMP elimination and rejection in MBRs. Water Res 41(17):3850–3858

Horng RY, Huang C, Chang MC, Shao H, Shiau BL, Hu YJ (2009) Application of TiO2 photocatalytic oxidation and non-woven membrane filtration hybrid system for degradation of 4-chlorophenol. Desalination 245(1–3):169–182

Huang X, Liu R, Qian Y (2000) Behaviour of soluble microbial products in a membrane bioreactor. Process Biochem 36(5):401–406

Imai A, Matsushige K, Nagai T (2003) Trihalomethane formation potential of dissolved organic matter in a shallow eutrophic lake. Water Res 37(17):4284–4294

Ishii SKL, Boyer TH (2012) Behavior of reoccurring parafac components in fluorescent dissolved organic matter in natural and engineered systems: a critical review. Environ Sci Technol 46(4):2006–2017

Janga N, Ren X, Kim G, Ahn C, Cho J, Kim IS (2007) Characteristics of soluble microbial products and extracellular polymeric substances in the membrane bioreactor for water reuse. Desalination 202(1–3):90–98

Jarusutthirak C, Amy G (2006) Role of soluble microbial products (SMP) in membrane fouling and flux decline. Environ Sci Technol 40(3):969–974

Kunacheva C, Soh YNA, Trzcinski AP, Stuckey DC (2017a) Soluble microbial products (SMPs) in the effluent from a submerged anaerobic membrane bioreactor (SAMBR) under different HRTs and transient loading conditions. Chem Eng J 311:72–81

Kunacheva C, Le C, Soh YNA, Stuckey DC (2017b) Chemical characterization of low molecular weight soluble microbial products in an anaerobic membrane bioreactor. Environ Sci Technol 51(4):2254–2261

Kunacheva C, Stuckey DC (2014) Analytical methods for soluble microbial products (SMP) and extracellular polymers (ECP) in wastewater treatment systems: a review. Water Res 61:1–18

Liang S, Liu C, Song L (2007) Soluble microbial products in membrane bioreactor operation: behaviors, characteristics, and fouling potential. Water Res 41(1):95–101

Ma H, Allen HE, Yin Y (2001) Characterization of isolated fractions of dissolved organic matter from natural waters and a wastewater effluent. Water Res 35(4):985–996

Meng F, Chae SR, Drews A, Kraume M, Shin HS, Yang F (2009a) Recent advances in membrane bioreactors (MBRs): membrane fouling and membrane material. Water Res 43(6):1489–1512

Meng F, Drews A, Mehrez R, Iversen V, Ernst M, Yang F, Jekel M, Kraume M (2009b) Occurrence, source, and fate of dissolved organic matter (DOM) in a pilot-scale membrane bioreactor. Environ Sci Technol 43(23):8821–8826

Namour P, Müller MC (1998) Fractionation of organic matter from wastewater treatment plants before and after a 21-day biodegradability test: a physical-chemical method for measurement of the refractory part of effluents. Water Res 32(7):2224–2231

Ren X, Shon HK, Jang N, Lee YG, Bae M, Lee J, Cho K, Kim IS (2010) Novel membrane bioreactor (MBR) coupled with a nonwoven fabric filter for household wastewater treatment. Water Res 44(3):751–760

Rojo F (2009) Degradation of alkanes by bacteria: minireview. Environ Microbiol 11(10):2477–2490

Rosenberger S, Kraume M (2002) Filterability of activated sludge in membrane bioreactors. Desalination 146(1–3):373–379

Seo DJ, Kim YJ, Ham SY, Lee DH (2007) Characterization of dissolved organic matter in leachate discharged from final disposal sites which contained municipal solid waste incineration residues. J Hazard Mater 148(3):679–692

Sheng GP, Yu HQ, Li XY (2010) Extracellular polymeric substances (EPS) of microbial aggregates in biological wastewater treatment systems: a review. Biotechnol Adv 28(6):882–894

Shin HS, Kang ST (2003) Characteristics and fates of soluble microbial products in ceramic membrane bioreactor at various sludge retention times. Water Res 37(1):121–127

Stuckey DC (2012) Recent developments in anaerobic membrane reactors. Bioresour Technol 122:137–148

Tang S, Wang Z, Wu Z, Zhou Q (2010) Role of dissolved organic matters (DOM) in membrane fouling of membrane bioreactors for municipal wastewater treatment. J Hazard Mater 178(1–3):377–384

Trzcinski AP, Ganda L, Yan Ni AS, Kunacheva C, Qing ZD, Lin LL, Tao G, Lee Y, Ng WJ (2016) Identification of recalcitrant compounds in a pilot-scale AB system: an adsorption (a) stage followed by a biological (b) stage to treat municipal wastewater. Bioresour Technol 206:121–127

Wang Z, Wu Z, Tang S (2009) Characterization of dissolved organic matter in a submerged membrane bioreactor by using three-dimensional excitation and emission matrix fluorescence spectroscopy. Water Res 43(6):1533–1540

Wang ZP, Zhang T (2010) Characterization of soluble microbial products (SMP) under stressful conditions. Water Res 44(18):5499–5509

Wu B, Zhou W (2010) Investigation of soluble microbial products in anaerobic wastewater treatment effluents. J Chem Technol Biotechnol 85(12):1597–1603

Zhang D, Trzcinski AP, Kunacheva C, Stuckey DC, Liu Y, Tan SK, Ng WJ (2016) Characterization of soluble microbial products (SMPs) in a membrane bioreactor (MBR) treating synthetic wastewater containing pharmaceutical compounds. Water Res 102:594–606

Zhang DQ, Eng CY, Stuckey DC, Zhou Y (2017) Effects of ZnO nanoparticle exposure on wastewater treatment and soluble microbial products (SMPs) in an anoxic-aerobic membrane bioreactor. Chemosphere 171:446–459
Additional information
Responsible editor: Philippe Garrigues
About this article
Cite this article
Zhang, D., Trzcinski, A.P., Luo, J. et al. Fate and behavior of dissolved organic matter in a submerged anoxic-aerobic membrane bioreactor (MBR). Environ Sci Pollut Res 25, 4289–4302 (2018). https://doi.org/10.1007/s11356-017-0586-x
Received:

Accepted:

Published:

Issue Date:
Keywords
Dissolved organic matter (DOM)

Anoxic-aerobic MBR

Fluorescence excitation emission matrix (EEM)

Gas chromatography-mass spectrometry (GC-MS)