Abstract
Integrated management of water quality is critical for sustaining food production and achieving overall well-being of a community. Further, understanding people's perceptions and engagement can play an important role in achieving water and food security. The main aim of this study was to investigate the perspectives of community and other stakeholders as to how water quality impacts on agriculture, livelihood and community well-being within rural farming communities of two dry zone districts of Sri Lanka. The study adopted 'key informant interviews' as the methodology to investigate community and other stakeholder perspectives to collect primary data over a period of four months. The interview contents were then examined using a frequency matrix and graphed using an Excel graphing tool. The raw text was also analysed to understand the broader patterns in the text. A fuzzy logic cognitive map (FCM) was developed using the relationships between various concepts and linkages provided by the key informants. All key informants were concerned with the quality of drinking water they consume and the water used for their food preparation. Key informants representing the farming community indicated that the use of poor quality groundwater with higher levels of hardness has made growing crops difficult in the region. The key informants also identified extensive and ongoing use of agro-chemicals and fertilisers as a major source of pollution in water bodies in both spatio-temporal scale. Based on key informant interviews, possible initiatives that can help improve surface water and groundwater qualities for both drinking and agricultural use in the dry zone of Sri Lanka can be categorised into four broader themes, viz., provision of filtering/treatment systems, reduction in the use of agro-chemical and fertilisers, education of community stakeholders and support of alternative options for portable water supplies. The study indicates that in the key informants' view of groundwater and surface waters' continued deterioration in the absence of a proper governance structure, a majority of farmers will have restricted access to good quality water to meet daily and agricultural needs, and this will affect the health of the elderly and children in the area. Further, a majority of key informants were of the view that management of surface water and groundwater should be a shared responsibility between the government and the community in the region and appropriate policy initiatives that will improve water literacy at all levels are mandatory to address future water quality challenges.
This is a preview of subscription content, log in to check access.
Access options
Buy single article
Instant access to the full article PDF.
US$ 39.95
Price includes VAT for USA
Subscribe to journal
Immediate online access to all issues from 2019. Subscription will auto renew annually.
US$ 99
This is the net price. Taxes to be calculated in checkout.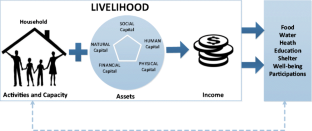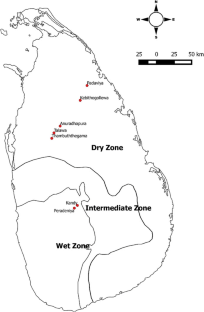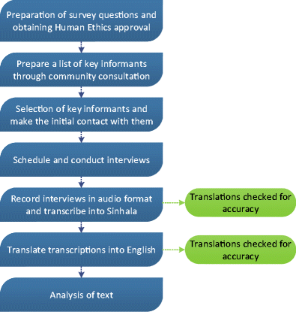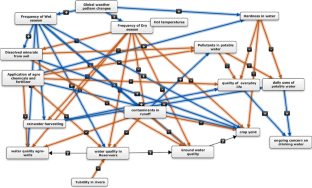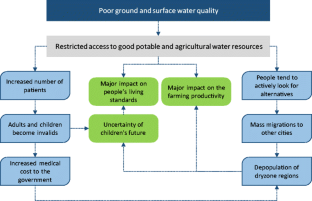 References
Adikaram M, Pitawala A, Ishiga H, Jayawardana D (2017) Spatial distribution, enrichment, and source of environmentally important elements in Batticaloa lagoon, Sri Lanka. Environ Sci Pollut Res 24:2089–2099

Alem A, Jacobsson L, Araya M, Kebede D, Kullgren G (1999) How are mental disorders seen and where is help sought in a rural Ethiopian community? A key informant study in Butajira, Ethiopia. Acta Psychiatr Scand 100:40–47

Bandara JM, Senevirathna DM, Dasanayake DM, Herath V, Bandara JM, Abeysekara T, Rajapaksha K (2008) Chronic renal failure among farm families in cascade irrigation systems in Sri Lanka associated with elevated dietary cadmium levels in rice and freshwater fish (tilapia). Environ Geochem Health 30:465–478

Bandara JM, Wijewardena HV, Bandara YM, Jayasooriya RG, Rajapaksha H (2011) Pollution of river Mahaweli and farmlands under irrigation by cadmium from agricultural inputs leading to a chronic renal failure epidemic among farmers in NCP, Sri Lanka. Environ Geochem Health 33:439–453

Barker KK, Bosco C, Oandasan IF (2005) Factors in implementing interprofessional education and collaborative practice initiatives: findings from key informant interviews. J Interprof Care 19:166–176

Burt T, Weerasinghe K (2014) Rainfall distributions in Sri Lanka in time and space: an analysis based on daily rainfall data. Climate 2:242–263

Calliera M, Marchis A, Sacchettini G, Capri E (2016) Stakeholder consultations and opportunities for integrating socio-behavioural factors into the pesticide risk analysis process. Environ Sci Pollut Res Int 23:2937

Chandrajith R, Seneviratna S, Wickramaarachchi K, Attanayake T, Aturaliya T, Dissanayake C (2010) Natural radionuclides and trace elements in rice field soils in relation to fertilizer application: study of a chronic kidney disease area in Sri Lanka. Environ Earth Sci 60:193–201

Chandrajith R, Ariyaratna T, Dissanayake C (2012) The status of cadmium in the geo-environment of Sri Lanka. Ceylon J Sci (Phys Sci) 16:47–53

DCS (2015) Sri Lanka Labour Force Survey: Annual Bulletin 2015 [online]. Colombo, Lanka: Department of Census and Statitics, Ministry of National Policies and Economic Affairs. Available: http://www.statistics.gov.lk/samplesurvey/LFS_Annual%20Bulletin_2015-f.pdf. Accessed 30 Jun 2017

de Toledo Piza Peluso É, Blay SL (2004) Community perception of mental disorders. Soc Psychiatry Psychiatr Epidemiol 39:955–961

Dissanayake C (1991) The fluoride problem in the ground water of Sri Lanka—environmental management and health. Int J Environ Stud 38:137–155

Dissanayake C, Weerasooriya S (1985) The hydrogeochemical atlas of Sri Lanka [Online]. Natural Resources Energy and Science Authority of Sri Lanka. Available: http://dl.nsf.ac.lk/handle/1/5216. Accessed 20 Sept 2013

Dissanayake C, Weerasooriya S (1987) Medical geochemistry of nitrates and human cancer in Sri Lanka. Int J Environ Stud 30:145–156

Fonseka S, Jayasumana C, Jayalarh K, Amarasinghe M, Senanayake K, Wijewardhane C, Samarasinghe D, Dahanayake K, Mahamithawa P, Paranagama P (2012) Arsenic and harness in ground water from chronic kidney disease of unknown etiology (CKDu) prevalent areas and non-CKDu prevalent areas in Sri Lanka. In: Ileperuma OA, Priyantha N, Navaratne A, Yatigammana SK, Weragoda SK (eds) International Symposium on Water Quality and Human Health: Challenges Ahead. Postgraduate Institute of Science, Peradeniya

Franzen F, Hammer M, Balfors B (2015) Institutional development for stakeholder participation in local water management—an analysis of two Swedish catchments. Land Use Policy 43:217–227

Gladstone Healthy Harbour Partnership (2016) Gladstone Harbour Report Card 2016 [online]. Gladstone, Quensland: Gladstone Healthy Harbour Partnership. Available: http://rc.ghhp.org.au/report-cards/2016. Accessed 29 Jun 2017

Gunda T, Hornberger GM, Gilligan JM (2016) Spatiotemporal patterns of agricultural drought in Sri Lanka: 1881–2010. Int J Climatol 36:563–575

Health Land and Water (2015) South East Queensland Healthy Water Ways Report Card [online]. Brisbane: Health Land and Water. Available: http://hlw.org.au/. Accessed 29 Jun 2017

Herath K, Illeperuma O, Dharmagunawardhane H, Haller KJ (2005) Environmental health risk for the chronic renal failure in Sri Lanka. 31st Congress on Science and Technology of Suranaree University of Technology, Thailand

IRFC (2016) What is livelihood [Online]. Available: http://www.ifrc.org/en/what-we-do/disaster-management/from-crisis-to-recovery/what-is-a-livelihood/

Janakan N (2012) Investigation and evaluation of chronic kidney disease of uncertain aetiology, Epidemiology unit of Sri Lanka [Online]. Available: http://www.epid.gov.lk/web/images/pdf/ckd/Investigation_&_Evaluation_of_CKDU-Final_Report.pptx. Accessed 26 Jun 2017

Jayasekera DL, Kaluarachchi JJ, Villholth KG (2011) Groundwater stress and vulnerability in rural coastal aquifers under competing demands: a case study from Sri Lanka. Environ Monit Assess 176:13–30

Jayasingha P, Pitawala A, Dharmagunawardhane H (2011) Vulnerability of coastal aquifers due to nutrient pollution from agriculture: Kalpitiya, Sri Lanka. Water Air Soil Pollut 219:563–577

Jayasumana C, Paranagama P, Amarasinghe M (2011) Chronic kidney disease of unknown etology and arsenic in groundwater in Sri Lanka workshop on challenges in groundwater management in Sri Lanka. Ministry of Irrigation and Water resources Management, Water resources Board and dam Safety and Water Resources Planning project, Colombo

Jeyaruba T, Thushyanthy M (2009) The effect of agriculture on quality of groundwater: a case study. Middle-East J Sci Res 4:110–114

Karim H (2002) Livelihoods approaches compared: a multi-agency review of current practise. Department for international development (DFID), London

Kularatne RKA, Harris JM, Vinobaba P, Kankanamge CE (2017) Bio-transfer factors and temporal variation of heavy metals in different sexes of three species of edible brackish water fish. Environ Sci Pollut Res Int 24:18680–18690

Liyanage C, Jayathilake R, de Silva A (2012) Community based study on economic, social and psychosocial impact of chronic kidney disease in the North Central Province and interventions to support the affected households, National Research Program on CKDu. Ministry of Health Sri Lanka

Mahatantila K, Chandrajith R, Jayasena H, Ranawana K (2008) Spatial and temporal changes of hydrogeochemistry in ancient tank cascade systems in Sri Lanka: evidence for a constructed wetland. Water Environ J 22:17–24

Mentalmodeler (2017) What is mental modeler [Online]. Available: http://www.mentalmodeler.org/. Accessed 27 Jun 2017

Nanayakkara V (2009) Water policy: themes and issues. Presented in: Jinapala et al (eds) 2010. Proceedings of the National Conference on Water, Food Security and Climate Change in Sri Lanka. Vol. 3: Policies, institutions and data needs for water management [Online]. IWMI. Available: http://www.environmentportal.in/files/SLWC_Vol_3_final-low.pdf. Accessed 27 Jun 2017

Panabokke CR (2002) Small tanks in Sri Lanka: evolution, present status, and issues, IWMI

Panabokke C, Perera A (2005) Groundwater resources of Sri Lanka [online]. Water Resources Board. Available: http://tsunami.obeysekera.net/documents/Panabokke_Perera_2005_Sri_Lanka.pdf

Sinclair S, & Rockwell G (2017). Voyant Tools (web applications) [Online]. Available: https://docs.voyant-tools.org/about/ [Accessed 25 October 2017 2016].

Thoradeniya B, Pinto U, Maheshwari B, Wijesekara S (2016) Improving livelihood vis-a-vis water quality: a baseline study from dry zone in Sri Lanka, 8th International Perspective on Water Resources and the Environment. American Society of Civil Engineers/Environmental and Water Resources Institute, Colombo

UNDP. UNDP Guidance note on Recovery Livelihood [Online]. UNDP. Available: http://www.undp.org/content/dam/india/docs/guidance_note_on_recovery_livelihood.pdf. Accessed 13 Jan 2016

Van Der Hoek W, Ekanayake L, Rajasooriyar L, Karunaratne R (2003) Source of drinking water and other risk factors for dental fluorosis in Sri Lanka. Int J Environ Health Res 13:285–293

Villholth KG, Rajasooriyar LD (2010) Groundwater resources and management challenges in Sri Lanka—an overview. Water Resour Manag 24:1489–1513

Wasana H, Aluthpatabendi D, Bandara J (2012) Drinking water quality assessment towards chronic kidney disease of unknown etiology in North Central Province of Sri Lanka. In: Ileperuma OA, Priyantha N, Navaratne A, Yatigammana SK, Weragoda SK (eds) Symposium proceedings, international symposium on water quality and human health: Challenges Ahead. Postgraduate Institute of Science, Peradeniya

Wang J, Zhu B, Zhang J, Müller C and Cai Z (2015) Mechanisms of soil N dynamics following longterm application of organic fertilizers to subtropical rain-fed purple soil in China. Soil Biology and Biochemistry, 91:222–231

WHO (2012) Investigation and Evaluation of Chronic Kidney Disease of Uncertain Aetiology in Sri Lanka. [Online]. World Health Organisation. Available: http://dh-web.org/place.names/posts/WHO-final-CKDU.pdf. Accessed 27 Jun 2017

WHO/UNICEF (2013) Progress on sanitation and drinking water [Online]. Available: http://www.wssinfo.org/fileadmin/user_upload/resources/JMPreport2013.pdf

Wijesekara R, Kudahetti C (2011) Water quality study in the shalow aquifer systmes of the Attanagalu Oya basin. Workshop on Challenges in Groundwater Management in Sri Lanka, Colombo. Ministry of Irrigation and Water resources Management, Water resources Board and dam Safety and Water Resources Planning project
Acknowledgements
We thank all the key informants for taking part in this study. Special thanks to Mr. P. H. Ariyawansa and Miss Sashika Ariyawansa for travelling long distances to interview the key informants and collect data. We would also like to thank the two anonymous reviewers for their comments on earlier version of the paper. Also, thanks to Ms. Joycelyn Applebee for her help in the preparation of this manuscript.
Funding
This study was financed by funding from Institute of Technology, University of Moratuwa, Sri Lanka.
Additional information
Responsible editor: Philippe Garrigues
About this article
Cite this article
Thoradeniya, B., Pinto, U. & Maheshwari, B. Perspectives on impacts of water quality on agriculture and community well-being—a key informant study from Sri Lanka. Environ Sci Pollut Res 26, 2047–2061 (2019). https://doi.org/10.1007/s11356-017-0493-1
Received:

Accepted:

Published:

Issue Date:
Keywords
Groundwater

Surface water

Sri Lanka

Water quality

Community education

Health and well-being