Abstract
This study was aimed to investigate the antifouling (AF) potentials and toxic properties of methanol extract from leaves of mangrove Excoecaria agallocha. Antimicrofouling activity results inferred that this extract strongly inhibited fouling bacterial and microalgal growth. This extract had also inhibited the settlement of brown mussel Perna indica and larvae of barnacle Balanus amphitrite. Further, EC50 < LC50 and therapeutic ratio > 1 together propagated non-toxic nature of the extract. Mollusk foot adherence assay result showed complete inhibition of foot spreading and loss of attachment of common rocky fouler Patella vulgata to the substrata. Field assay results affirmed that this extract effectively deterred settlement of biofoulers. Purification and GC-MS analysis of bioassay-guided active spot evidenced presence of three major compounds (> 85%) responsible for the promising AF activity. The identified lead compounds subjected to an estimation (BIOWIN™) program developed by United States Environmental Protection Agency (USEPA) predicts that they are biodegradable in nature.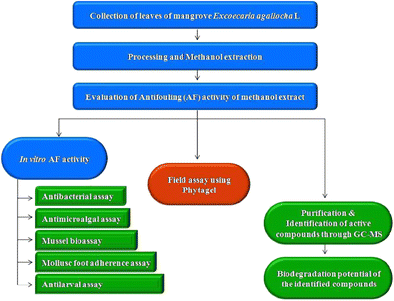 Access options
Buy single article
Instant access to the full article PDF.
US$ 39.95
Tax calculation will be finalised during checkout.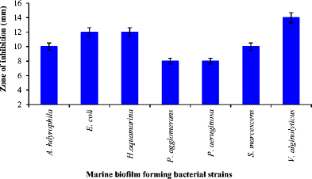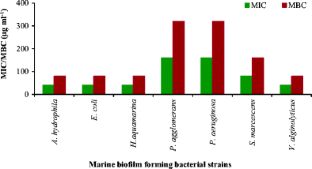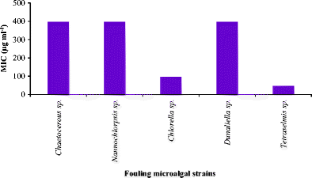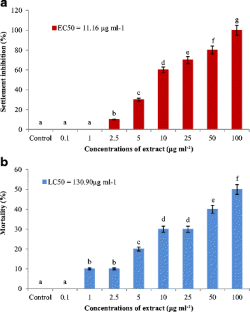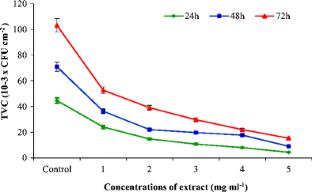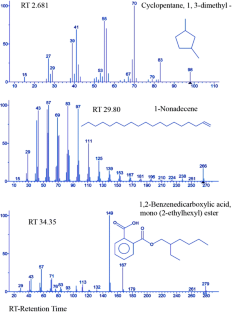 References
Al-Zanbagi NA, Banaja AA, Barret J (2000) Molluscicidal activity of some Saudi Arabian Euphorbiales against snail Biomphalaria pfeifferi. J Ethanopharmacol 70:119–125

Bandaranayake WM (2002) Bioactivities, bioactive compounds and chemical constituents of mangrove plants. Wetl Ecol Manag 10:421–452

Chai CLL, Teo SLM, Jameson FKM, Lee SCS, Likhitsup A, Chen CL, Rittschoff D (2014) Loperamide-based compounds as additives for biofouling management. Int Biodeter Biodegr 89:82–87

Chandrasekaran M, Kannathasan K, Venkatesalu V, Prabhakar K (2009) Antibacterial activity of some salt marsh halophytes and mangrove plants against methicillin resistant Staphylococcus aureus. World J Microbiol Biotechnol 25:155–160

Chen JD, Feng DQ, Yang ZW, Wang ZC, Qiu Y, Lin YM (2008) Antifouling metabolites from the mangrove plant Ceriops tagal. Molecules 13:212–219

Cui YT, Teo SLM, Leong W, Chai CLL (2014) Searching for "environmentally-benign" antifouling biocides. Int J Mol Sci 15:9255–9284

Deepa S, Srikumar M, Padmakumar K (2014) Antifouling potentials of selected mangroves from Indian Coast. Int J Nat Prod Res 4:54–57

Dineshbabu J, Teepica Priya Darsini D, Srinivasan P, Everlyne IM, Manimekala K (2015) Synergistic anti-biofilm activity of medicinal plants against biofilm forming Streptococcus pyogenes from pharyngitis patients. Indo Amer J Pharm Res 5:2598

Dobretsov S, Dahms HU, Qian PY (2005) Antibacterial and anti-diatom activity of Hong Kong sponges. Aquat Microb Ecol 38:191–201

Dobretsov S, Teplitski M, Paul V (2009) Mini-review: quorum sensing in the marine environment and its relationship to biofouling. Biofouling 25:413–427

Feng DQ, Wang W, Wang X, Qiu Y, Ke CH (2016) Low barnacle fouling on leaves of the mangrove plant Sonneratia apetala and possible anti-barnacle defense strategies. Mar Ecol Prog Ser 544:169–182

Finlay JA, Callow ME, Ista LK, Lopez GP, Callow JA (2002) The influence of surface wettability on the adhesion strength of settled spores of the green alga Enteromorpha and the diatom Amphora. Integr Comp Biol 42:1116–1122

Hellio C, Bourgougnon N, Le Gal Y (2000) Phenoloxidase from the byssus gland of Mytilus edulis: purification, partial characterization and application for screening products with potential antifouling activities. Biofouling 16:235–244

Hellio C, Pascal Berge J, Beaupoil C, Le Gal Y, Bougougnon N (2002) Screening of marine algal extracts for anti-settlement activities against microalgae and macroalgae. Biofouling 18:205–215

Henrikson AA, Pawlik JR (1995) A new antifouling assay method: results from field experiments using extracts of four marine organisms. J Exp Mar Biol Ecol 194:157–165

Howard PH, Muir DCG (2013) Identifying new persistent and bioaccumulative organics among chemicals in commerce. III: Byproducts, impurities, and transformation products. Environ Sci Technol 47:5259–5266

Immanuel G, Iyapparaj P, Ramasubburayan R, Palavesam A, Marian PM (2005) Screening of medicinal plant extracts for eco-friendly antimicrofouling compounds. J Biol Res 4:181–188

Iyapparaj P, Revathi P, Ramasubburayan R, Prakash S, Anantharaman P, Immanuel G, Palavesam A (2013) Antifouling activity of the methanolic extract of Syringodium isoetifolium, and its toxicity relative to tributyltin on the ovarian development of brown mussel Perna indica. Ecoxociol Environ Safe 89:231–238

Iyapparaj P, Revathi P, Ramasubburayan R, Prakash S, Palavesam A, Immanuel G, Anantharaman P, Sautreau A, Hellio C (2014) Antifouling and toxic properties of the bioactive metabolites from the seagrasses Syringodium isoetifolium and Cymodocea serrulata. Ecotoxicol Environ Safe 103:54–60

Joint I, Tait K, Callow ME, Callow JA, Milton D, Williams P, Camara M (2002) Cell-to-cell communication across the prokaryote-eukaryote boundary. Science 298:1207

Lau SCK, Thiyagarajan V, Cheung CK, Qian PY (2005) Roles of bacterial community composition in biofilms as a mediator for larval settlement of three marine invertebrates. Aqua Microb Ecol 38:41–51

Limna Mol VP, Raveendran TV, Parameswaran PS (2009) Antifouling activity by secondary metabolites of the marine sponge, Haliclona exigua (Kirkpatrick). Int Biodet Biodeg 63:67–72

Manilal A, Sujith G, Kiran GS, Selvin J, Shakir C (2009) Biopotentials of mangroves collected from the Southwest Coast of India. Global J Biotechnol Biochem 4:59–65

Monday R, Kayode O, Afolayan AJ (2015) Cytotoxicity and effect of extraction methods on the chemical composition of essential oils of Moringa oleifera seeds. J Zhejiang Univ-Sci B (Biomed & Biotechnol) 16:680–689

Murugan A, Shynisha Begum M, Ramasamy MS, Raja P (2012) Antifouling and antipredatory activity of natural products of the seaweeds Dictyota dichotoma and Chaetomorpha linoides. Nat Prod Res 26:975–978

Patil JS, Anil AC (2005) Influence of diatom exopolymers and biofilms on metamorphosis in the barnacle Balanus amphitrite. Mar Ecol Prog Ser 301:231–245

Patricia AO, Kayode KO, Olasunkanmi GS (2011) Chemical composition, brine shrimp toxicity and free-radical scavenging activity of leaf essential oil of Acalypha indica. Adv Env Biol 5:188–193

Patro S (2012) Studies on larval settlement process of the barnacle, Balanus amphitrite and their inhibition mechanism. PhD Thesis, Pondicherry University, Andaman and Nicobar Islands, India

Pavan M, Worth AP (2006) Review of QSAR models for ready biodegradation, EUR 22355 EN, European Commission Directorate General Joint Research Centre, Ispra, Italy

Pereira RC, Carvalho AGV, Da Gama BAP, Coutinho R (2002) Field experimental evaluation of secondary metabolites from marine invertebrates as antifoulants. Braz J Biol 62:311–320

Plouguerne E, Hellio C, Cesconetto C, Thabard M, Mason K, Veron B, Pereira RC, Da Gama BAP (2010) Antifouling activity as a function of population variation in Sargassum vulgare from the littoral of Rio de Janeiro (Brazil). J Appl Phycol 22:717–724

Posthumus R, Traas TP, Peijnenburg WJGM, Hulzebos EM (2005) External validation of EPIWIN biodegradation models, SAR QSAR. Environ Res 16:135–148

Prabhakaran S, Rajaram R, Balasubramanian V, Mathivanan K (2012) Antifouling potentials of extracts from seaweeds, seagrasses and mangroves against primary biofilm forming bacteria. Asian Pac J Trop Biomed 2:S316–S322

Prakash S, Ahila NK, Sri Ramkumar V, Ravindran J, Kannapiran E (2015a) Antimicrofouling properties of chosen marine plants: an eco-friendly approach to marine microfoulers. Biocatal Agric Biotechnol 4:114–121

Prakash S, Ramasubburayan R, Iyapparaj P, Arthi AR, Ahila NK, Vijayan SR, Immanuel G, Palavesam A (2015b) Environmentally benign antifouling potentials of triterpene-glycosides from Streptomycesfradiae: a mangrove isolate. RSC Adv 5:29524–29534

Prakash S, Ramasubburayan R, Iyapparaj P, Kumar C, Jinitha Mary C, Palavesam A, Immanuel G (2013) Screening and partial purification of antifungal metabolite from Streptomyces rochei MSA14: an isolate from marine mining soil of Southwest coast of India. Ind J Mar Sci 42:888–897

Qian PY, Lau S, Dahms HU, Dobretsov S, Harder T (2007) Marine biofilms as mediators of colonization by marine macroorganisms: implications for antifouling and aquaculture. Mar Biotechnol 9:399–410

Qian PY, Xu Y, Fusetani N (2010) Natural products as antifouling compounds: progress and future perspectives. Biofouling 26:223–234

Qing P, Zhiwei Y, Lin P, Yiming L, Chang WZ, Junde C (2008) Antifouling compound its extraction and application. CN Pat., CN 101230039A

Ramasamy MS, Murugan A (2007) Fouling deterrent chemical defense in three muricid gastropod egg masses from south east coast of India. Biofouling 23:259–265

Ramasubburayan R, Susan T, Pradeep Kumar V, Immanuel G, Palavesam A (2014) Isolation, screening and optimization of culture conditions for enhanced antibacterial activity by a marine epibiotic bacterium Bacillus flexus APGI against fouling bacterial strains. J Pure Appl Microbiol 8:2909–2920

Ramasubburayan R, Prakash S, Iyapparaj P, Sumathi S, Jude Thaddaeus B, Palavesam A, Immanuel G (2015a) Investigation on antibacterial, antifungal and cytotoxic properties of chosen mangroves. Ind J Mar Sci 44:1769–1777

Ramasubburayan R, Sumathi S, Magi Bercy D, Immanuel G, Palavesam A (2015b) Antimicrobial, antioxidant and anticancer activities of mangrove associated bacterium Bacillus subtilis subsp. subtilis RG. Biocatal Agric Biotechnol 4:158–165

Ramasubburayan R, Prakash S, Iyapparaj P, Sumathi S, Titus S, Immanuel G, Palavesam A (2017a) Isolation, screening and evaluation of antifouling activity of mangrove associated bacterium Bacillus subtilis subsp. subtilis RG. Proc Natl Acad Sci Sect B: Biol Sci 87:1015–1024

Ramasubburayan R, Sumathi S, Prakash S, Sri Ramkumar S, Susan T, Immanuel G, Palavesam A (2017b) Synthesis of nano silver by a marine epibiotic bacterium Bacillus vallismortis and its potent ecofriendly antifouling properties. Environ Nanotechnol Monit Manage 8:112–120

Ramasubburayan R, Susan T, Kumar P, Immanuel G, Palavesam A (2017c) Antifouling activity of marine epibiotic bacterium Bacillus flexus APGI isolated from Kanyakumari Coast, Tamilnadu. India Ind J Mar Sci 46:1396–1400

Raveendran TV, Limna Mol VP (2009) Natural product antifoulants. Curr Sci 97:508–520

Rittschof D, Clare AS, Gerhert DJ, Bonaventura J, Smith C, Hadfield MG (1992) Rapid field assessment of antifouling and foul-release coatings. Biofouling 6:181–192

Rittschof D, Lai CH, Kok LM, Teo SL (2003) Pharmaceuticals as antifoulants: concept and principles. Biofouling 19:207–212

Selvin J, Lipton AP (2002) Development of a rapid mollusc foot adherence bioassay for detecting potent antifouling bioactive compounds. Curr Sci 83:735–737

Shanab SMM, Shalaby EA (2012) Biological activities and anticorrosion efficiency of water hyacinth (Eichhornia crassipes). J Med Plant Res 6:3950–3962

Shi H, Yu S, Liu D, Ofwegen LV, Proksch P, Lin W (2012) Sinularones A-I, new cyclopentenone and butenolide derivatives from a marine soft coral Sinularia sp. and their antifouling activity. Mar Drugs 10:1331–1334

Sri Ramkumar V, Prakash S, Ramasubburayan R, Pugazhendhi A, Gopalakrishnan K, Kannapiran E, Babu Rajendran R (2016) Seaweeds: A resource for marine bionanotechnology. Enzym Microb Technol 95:45

Subhan N, Alam A, Ahmed F, Shahid IZ (2008) Antinociceptive and gastroprotective effect of the crude ethanolic extracts of Excoecaria agallocha Linn. Turk J Pharm Sci 5:143–154

Thirunavukkarsu P, Ramkumar L, Ramanathan T (2009) Anti-ulcer activities of Excoecaria agallocha bark on NSAID-induced gastric ulcer in albino rats. Global J Pharmacol 3:123–126

Thiyagarajan V, Harder T, Qiu JW, Qian PY (2003) Energy content at metamorphosis and growth rate of the early juvenile barnacle Balanus amphitrite. Mar Biol 143:543–554

Tomas CR (1997) Marine diatoms. In: Tomas CR (ed) Identifying marine phytoplankton. Academic press, New York

Wang ZC, Lin YM, Feng DQ, Ke CH, Lin P, Yan CL, Chen JD (2009) A new atisane-type diterpene from the bark of the mangrove plant Excoecaria agallocha. Molecules 14:414–422

Wilsanand A, Wagh B, Bapuji M (1999) Antifouling activities of marine sedentary invertebrates on some macrofoulers. Ind J Mar Sci 28:280–284

Yang F, Long E, Wen J, Cao L, Zhu C, Hu H, Ruan Y, Okanurak K, Hu H, Wei X, Yang X, Wang C, Wang X, Ji P, Zheng Z, Wu Z, Lu Z (2014) Linalool, derived from Cinnamomum camphora (L.) Presl leaf extracts, possessing molluscicidal activity against Oncomelania hupensis and inhibits infection of Schistosoma japonicum. Par Vect 29:407

Yang LH, Lau SCK, Lee OO, Tsoi MMY, Qian PY (2007) Potential roles of succinic acid against colonization by a tube worm. J Exp Mar Biol Ecol 349:1–11
Acknowledgements
We gratefully acknowledge the financial assistance extended in the form of BSR-One time Grant by the UGC, New Delhi, India [F. No. 19-91/2013(BSR) dated October 2013].
Additional information
Highlights
•Antifouling and toxic properties of leaves of mangrove Excoecaria agallocha L was studied.
•Methanol extract showed promising in vitro antimicro- and macrofouling activity.
•Toxicity assay using mussel and barnacle evidenced that the extract is non-toxic in nature.
•Field assay results inferred that extract effectively deterred settlement of fouling organisms.
•GC-MS analysis showed presence of antibiofouling compounds which are readily biodegradable.
Responsible editor: Philippe Garrigues
Electronic supplementary material
About this article
Cite this article
Ramasubburayan, R., Prakash, S., Venkatesan, S. et al. Environmentally benign antifouling activity and toxic properties of bioactive metabolites from mangrove Excoecaria agallocha L. Environ Sci Pollut Res 24, 27490–27501 (2017). https://doi.org/10.1007/s11356-017-0297-3
Received:

Accepted:

Published:

Issue Date:
Keywords
Mangrove

Excoecaria agallocha

Antifouling

Field assay

GC-MS

Biodegradation