Abstract
The freshwater pearl mussel Margaritifera margaritifera is one of the most threatened freshwater bivalves worldwide. In this study, we aimed (i) to study the processes by which water quality might affect freshwater mussels in situ and (ii) to provide insights into the ecotoxicological significance of water pollution to natural populations in order to provide necessary information to enhance conservation strategies. M. margaritifera specimens were sampled in two close sites located upstream or downstream from an illegal dumping site. The renal transcriptome of these animals was assembled and gene transcription determined by RNA-seq. Correlations between transcription levels of each single transcript and the bioaccumulation of nine trace metals, age (estimated by sclerochronology), and condition index were determined in order to identify genes likely to respond to a specific factor. Amongst the studied metals, Cr, Zn, Cd, and Ni were the main factors correlated with transcription levels, with effects on translation, apoptosis, immune response, response to stimulus, and transport pathways. However, the main factor explaining changes in gene transcription appeared to be the age of individuals with a negative correlation with the transcription of retrotransposon-related genes. To investigate this effect further, mussels were classified into three age classes. In young, middle-aged and old animals, transcription levels were mainly explained by Cu, Zn and age, respectively. This suggests differences in the molecular responses of this species to metals during its lifetime that must be better assessed in future ecotoxicology studies.
Access options
Buy single article
Instant access to the full article PDF.
US$ 39.95
Tax calculation will be finalised during checkout.
Subscribe to journal
Immediate online access to all issues from 2019. Subscription will auto renew annually.
US$ 79
Tax calculation will be finalised during checkout.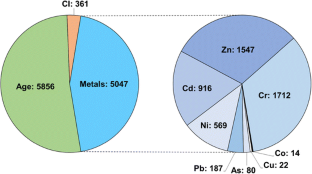 References
Alexa A, Rahnenfuhrer J (2016) topGO: enrichment analysis for gene ontology. R Package Version 2280

Auffret M, Oubella R (1994) Cytometric parameters of bivalve molluscs: effect of environmental factors. Modulators of fish immune responses. In: Models Environ. Toxicol. Biomark. Immunostimul. Stolen, J.S., Fletcher, T.C., pp 22–32

Baillon L, Pierron F, Coudret R et al (2015) Transcriptome profile analysis reveals specific signatures of pollutants in Atlantic eels. Ecotoxicol Lond Engl 24:71–84. https://doi.org/10.1007/s10646-014-1356-x

Bellas J, Albentosa M, Vidal-Liñán L et al (2014) Combined use of chemical, biochemical and physiological variables in mussels for the assessment of marine pollution along the N-NW Spanish coast. Mar Environ Res 96:105–117. https://doi.org/10.1016/j.marenvres.2013.09.015

Bouchut A, Roger E, Coustau C et al (2006) Compatibility in the Biomphalaria glabrata/Echinostoma caproni model: potential involvement of adhesion genes. Int J Parasitol 36:175–184. https://doi.org/10.1016/j.ijpara.2005.09.009

Cabau C, Escudié F, Djari A, et al (2016) Compacting and correcting Trinity and Oases RNA-Seq de novo assemblies. PeerJ Preprints

Camacho C, Coulouris G, Avagyan V et al (2009) BLAST+: architecture and applications. BMC Bioinformatics 10:421. https://doi.org/10.1186/1471-2105-10-421

Canesi L, Viarengo A (1997) Age-related differences in glutathione metabolism in mussel tissues (Mytilus edulis L.) Comp Biochem Physiol - B Biochem Mol Biol 116:217–221. https://doi.org/10.1016/S0305-0491(96)00223-4

Carella F, Villari G, Maio N, De Vico G (2016) Disease and disorders of freshwater unionid mussels: a brief overview of recent studies. Front Physiol. https://doi.org/10.3389/fphys.2016.00489

Casacuberta E, González J (2013) The impact of transposable elements in environmental adaptation. Mol Ecol 22:1503–1517. https://doi.org/10.1111/mec.12170

Causeur D, Friguet C, Houee-Bigot M, Kloareg M (2011) Factor analysis for multiple testing (FAMT): an R package for large-scale significance testing under dependence. J Stat Softw. 10.18637/jss.v040.i14

Chambers JE, Dalton LE, Clarke HJ et al (2015) Actin dynamics tune the integrated stress response by regulating eukaryotic initiation factor 2α dephosphorylation. elife. https://doi.org/10.7554/eLife.04872

Coles JA, Farley SR, Pipe R (1995) Alteration of the immune response of the common marine mussel Mytilus edulis resulting from exposure to cadmium. Dis Aquat Org 22:59–65. https://doi.org/10.3354/dao022059

Connon RE, Geist J, Werner I (2012) Effect-based tools for monitoring and predicting the ecotoxicological effects of chemicals in the aquatic environment. Sensors 12:12741–12771. https://doi.org/10.3390/s120912741

Conrado AB, D'Angelantonio M, Torreggiani A et al (2014) Reactivity of hypotaurine and cysteine sulfinic acid toward carbonate radical anion and nitrogen dioxide as explored by the peroxidase activity of Cu,Zn superoxide dismutase and by pulse radiolysis. Free Radic Res 48:1300–1310. https://doi.org/10.3109/10715762.2014.951839

Cope WG, Bringolf RB, Buchwalter DB et al (2008) Differential exposure, duration, and sensitivity of unionoidean bivalve life stages to environmental contaminants. J North Am Benthol Soc 27:451–462. https://doi.org/10.1899/07-094.1

Cousins RJ (1998) A role of zinc in the regulation of gene expression. Proc Nutr Soc 57:307–311. https://doi.org/10.1079/PNS19980045

Cuttelod A, Seddon M, Neubert E (2011) European Red List of Non-marine Molluscs. Publications Office of the European Union, Luxembourg

de Almagro MC, Vucic D (2012) The inhibitor of apoptosis (IAP) proteins are critical regulators of signaling pathways and targets for anti-cancer therapy. Exp Oncol 34:200–211

De Cecco M, Criscione SW, Peterson AL et al (2013) Transposable elements become active and mobile in the genomes of aging mammalian somatic tissues. Aging 5:867–883

de Nadal E, Ammerer G, Posas F (2011) Controlling gene expression in response to stress. Nat Rev Genet 12:833–845. https://doi.org/10.1038/nrg3055

De Schutter K, Van Damme EJM (2015) Protein-carbohydrate interactions as part of plant defense and animal immunity. Molecules 20:9029–9053. https://doi.org/10.3390/molecules20059029

Defo MA, Pierron F, Spear PA et al (2012) Evidence for metabolic imbalance of vitamin A2 in wild fish chronically exposed to metals. Ecotoxicol Environ Saf 85:88–95. https://doi.org/10.1016/j.ecoenv.2012.08.017

Dunca E, Soderberg H, Norrgrann O (2011) Shell growth and age determination in the freshwater pearl mussel Margaritifera margaritifera in Sweden: natural versus limed streams. In: Rearing of unionoid mussels (with special emphasis on the Freshwater Pearl Mussel Margaritifera margaritifera). Thielen Frank (ed), pp 48–58

Edgar R, Domrachev M, Lash AE (2002) Gene expression omnibus: NCBI gene expression and hybridization array data repository. Nucleic Acids Res 30:207–210. https://doi.org/10.1093/nar/30.1.207

Ferreira VP, Pangburn MK, Cortés C (2010) Complement control protein factor H: the good, the bad, and the inadequate. Mol Immunol 47:2187–2197. https://doi.org/10.1016/j.molimm.2010.05.007

Flores-Nunes F, Gomes T, Company R et al (2015) Changes in protein expression of pacific oyster Crassostrea gigas exposed in situ to urban sewage. Environ Sci Pollut Res Int 22:17267–17279. https://doi.org/10.1007/s11356-014-3821-8

Friguet C, Kloareg M, Causeur D (2009) A factor model approach to multiple testing under dependence. J Am Stat Assoc 104:1406–1415. https://doi.org/10.1198/jasa.2009.tm08332

Geist J (2010) Strategies for the conservation of endangered freshwater pearl mussels (Margaritifera margaritifera L.): a synthesis of conservation genetics and ecology. Hydrobiologia 644:69–88. https://doi.org/10.1007/s10750-010-0190-2

Gilgès D, Vinit M-A, Callebaut I et al (2000) Polydom: a secreted protein with pentraxin, complement control protein, epidermal growth factor and von Willebrand factor A domains. Biochem J 352:49–59. https://doi.org/10.1042/bj3520049

Gillis PL, McInnis R, Salerno J et al (2017) Freshwater mussels in an urban watershed: impacts of anthropogenic inputs and habitat alterations on populations. Sci Total Environ 574:671–679. https://doi.org/10.1016/j.scitotenv.2016.09.110

Gonzalez P, Pierron F (2015) Omics in aquatic ecotoxicology: the ultimate response to biological questions? In: Amiard J-C, Mouneyrac C (eds) Amiard-Triquet C. Academic Press, Aquatic Ecotoxicology, pp 183–203

González VL, Andrade SCS, Bieler R et al (2015) A phylogenetic backbone for Bivalvia: an RNA-seq approach. Proc Biol Sci 282:20142332. https://doi.org/10.1098/rspb.2014.2332

Grabherr MG, Haas BJ, Yassour M et al (2011) Full-length transcriptome assembly from RNA-Seq data without a reference genome. Nat Biotechnol 29:644–652. https://doi.org/10.1038/nbt.1883

Gruber H, Wessels W, Boynton P, et al (2015) Age-related cellular changes in the long-lived bivalve A. islandica. Age. doi: https://doi.org/10.1007/s11357-015-9831-8

Gupta A, Lutsenko S (2009) Human copper transporters: mechanism, role in human diseases and therapeutic potential. Future Med Chem 1:1125–1142. https://doi.org/10.4155/fmc.09.84

Harding HP, Zhang Y, Scheuner D et al (2009) Ppp1r15 gene knockout reveals an essential role for translation initiation factor 2 alpha (eIF2α) dephosphorylation in mammalian development. Proc Natl Acad Sci U S A 106:1832–1837. https://doi.org/10.1073/pnas.0809632106

Husmann G, Abele D, Rosenstiel P et al (2014) Age-dependent expression of stress and antimicrobial genes in the hemocytes and siphon tissue of the Antarctic bivalve, Laternula elliptica, exposed to injury and starvation. Cell Stress Chaperones 19:15–32. https://doi.org/10.1007/s12192-013-0431-1

Ivanov VA, Melnikov AA, Siunov AV et al (1991) Authentic reverse transcriptase is coded by jockey, a mobile Drosophila element related to mammalian LINEs. EMBO J 10:2489–2495

Kerambrun E, Rioult D, Delahaut L et al (2016) Variations in gene expression levels in four European zebra mussel, Dreissena polymorpha, populations in relation to metal bioaccumulation: a field study. Ecotoxicol Environ Saf 134(Part 1):53–63. https://doi.org/10.1016/j.ecoenv.2016.08.018

Kültz D (2005) Molecular and evolutionary basis of the cellular stress response. Annu Rev Physiol 67:225–257. https://doi.org/10.1146/annurev.physiol.67.040403.103635

Lagesen K, Hallin P, Rødland EA et al (2007) RNAmmer: consistent and rapid annotation of ribosomal RNA genes. Nucleic Acids Res 35:3100–3108. https://doi.org/10.1093/nar/gkm160

Lauer MM, de Oliveira CB, Yano NLI, Bianchini A (2012) Copper effects on key metabolic enzymes and mitochondrial membrane potential in gills of the estuarine crab Neohelice granulata at different salinities. Comp Biochem Physiol Part C Toxicol Pharmacol 156:140–147. https://doi.org/10.1016/j.cbpc.2012.08.001

Leulier F, Lhocine N, Lemaitre B, Meier P (2006) The Drosophila inhibitor of apoptosis protein DIAP2 functions in innate immunity and is essential to resist gram-negative bacterial infection. Mol Cell Biol 26:7821–7831. https://doi.org/10.1128/MCB.00548-06

Li H, Durbin R (2009) Fast and accurate short read alignment with Burrows–Wheeler transform. Bioinformatics 25:1754–1760. https://doi.org/10.1093/bioinformatics/btp324

Li H, Handsaker B, Wysoker A et al (2009) The Sequence Alignment/Map format and SAMtools. Bioinformatics 25:2078–2079. https://doi.org/10.1093/bioinformatics/btp352

Liu H, Chen X, Kang IJ et al (2016) The valve movement response of three freshwater mussels Corbicula fluminea Müller 1774, Hyriopsis cumingii Lea 1852, and Anodonta woodiana Lea 1834 exposed to copper. Hydrobiologia 770:1–13. https://doi.org/10.1007/s10750-015-2560-2

Lopes-Lima M, Teixeira A, Froufe E et al (2014) Biology and conservation of freshwater bivalves: past, present and future perspectives. Hydrobiologia 735:1–13. https://doi.org/10.1007/s10750-014-1902-9

Love MI, Huber W, Anders S (2014) Moderated estimation of fold change and dispersion for RNA-seq data with DESeq2. Genome Biol 15:550. https://doi.org/10.1186/s13059-014-0550-8

Lummer E-M, Auerswald K, Geist J (2016) Fine sediment as environmental stressor affecting freshwater mussel behavior and ecosystem services. Sci Total Environ 571:1340–1348. https://doi.org/10.1016/j.scitotenv.2016.07.027

Lydeard C, Cowie RH, Ponder WF et al (2004) The global decline of nonmarine mollusks. Bioscience 54:321–330. https://doi.org/10.1641/0006-3568(2004)054[0321:TGDONM]2.0.CO;2

Machordom A, Araujo R, Erpenbeck D, Ramos M-Á (2003) Phylogeography and conservation genetics of endangered European Margaritiferidae (Bivalvia: Unionoidea). Biol J Linn Soc 78:235–252. https://doi.org/10.1046/j.1095-8312.2003.00158.x

Mariette J, Noirot C, Nabihoudine I et al (2014) RNAbrowse: RNA-Seq de novo assembly results browser. PLoS One 9:e96821. https://doi.org/10.1371/journal.pone.0096821

McKenna A, Hanna M, Banks E et al (2010) The genome analysis toolkit: a MapReduce framework for analyzing next-generation DNA sequencing data. Genome Res 20:1297–1303. https://doi.org/10.1101/gr.107524.110

Meng J, Zhang L, Li L et al (2015) Transcription factor CgMTF-1 regulates CgZnT1 and CgMT expression in Pacific oyster (Crassostrea gigas) under zinc stress. Aquat Toxicol 165:179–188. https://doi.org/10.1016/j.aquatox.2015.05.023

Miousse IR, Chalbot M-CG, Lumen A et al (2015) Transposable elements in response to environmental stressors. Mutat Res Rev Mutat Res 765:19–39. https://doi.org/10.1016/j.mrrev.2015.05.003

Moise AR, Kuksa V, Imanishi Y, Palczewski K (2004) Identification of all-trans-retinol:all-trans-13,14-dihydroretinol saturase*. J Biol Chem 279:50230–50242. https://doi.org/10.1074/jbc.M409130200

Moise AR, Lobo GP, Erokwu B et al (2010) Increased adiposity in the retinol saturase-knockout mouse. FASEB J 24:1261–1270. https://doi.org/10.1096/fj.09-147207

Nishimura T, Duereh M, Sugita Y et al (2015) Protective effect of hypotaurine against oxidative stress-induced cytotoxicity in rat placental trophoblasts. Placenta 36:693–698. https://doi.org/10.1016/j.placenta.2015.02.014

Ozato K, Shin D-M, Chang T-H, Morse HC (2008) TRIM family proteins and their emerging roles in innate immunity. Nat Rev Immunol 8:849–860. https://doi.org/10.1038/nri2413

Paul-Pont I, Gonzalez P, Baudrimont M et al (2010) Interactive effects of metal contamination and pathogenic organisms on the marine bivalve Cerastoderma edule. Mar Pollut Bull 60:515–525. https://doi.org/10.1016/j.marpolbul.2009.11.013

Petris MJ, Mercer JF, Culvenor JG et al (1996) Ligand-regulated transport of the Menkes copper P-type ATPase efflux pump from the Golgi apparatus to the plasma membrane: a novel mechanism of regulated trafficking. EMBO J 15:6084–6095

Philipp EER, Abele D (2010) Masters of longevity: lessons from long-lived bivalves—a mini-review. Gerontology 56:55–65. https://doi.org/10.1159/000221004

Pierron F, Normandeau E, Defo MA et al (2011) Effects of chronic metal exposure on wild fish populations revealed by high-throughput cDNA sequencing. Ecotoxicology 20:1388–1399. https://doi.org/10.1007/s10646-011-0696-z

Polishchuk R, Lutsenko S (2013) Golgi in copper homeostasis: a view from the membrane trafficking field. Histochem Cell Biol 140:285–295. https://doi.org/10.1007/s00418-013-1123-8

Quayle DB, Newkirk GF (1989) Farming bivalve molluscs: methods for study and development. World Aquaculture Society in association with the International Development Research Centre. Baton Rouge, LA

Quevillon E, Silventoinen V, Pillai S et al (2005) InterProScan: protein domains identifier. Nucleic Acids Res 33:W116–W120. https://doi.org/10.1093/nar/gki442

Regier N, Baerlocher L, Münsterkötter M et al (2013) Analysis of the Elodea nuttallii transcriptome in response to mercury and cadmium pollution: development of sensitive tools for rapid ecotoxicological testing. Environ Sci Technol 47:8825–8834. https://doi.org/10.1021/es401082h

Regoli F, Giuliani ME (2014) Oxidative pathways of chemical toxicity and oxidative stress biomarkers in marine organisms. Mar Environ Res 93:106–117. https://doi.org/10.1016/j.marenvres.2013.07.006

Regoli F, Winston GW, Gorbi S et al (2003) Integrating enzymatic responses to organic chemical exposure with total oxyradical absorbing capacity and DNA damage in the European eel Anguilla anguilla. Environ Toxicol Chem 22:2120–2129. https://doi.org/10.1897/02-378

Reynders H, van der Ven K, Moens LN et al (2006) Patterns of gene expression in carp liver after exposure to a mixture of waterborne and dietary cadmium using a custom-made microarray. Aquat Toxicol 80:180–193. https://doi.org/10.1016/j.aquatox.2006.08.009

Rozen S, Skaletsky H (2000) Primer3 on the WWW for general users and for biologist programmers. Methods Mol Biol 132:365–386

Sahin E, DePinho RA (2010) Linking functional decline of telomeres, mitochondria and stem cells during ageing. Nature 464:520–528. https://doi.org/10.1038/nature08982

Saleem M, Qadir MI, Perveen N et al (2013) Inhibitors of apoptotic proteins: new targets for anticancer therapy. Chem Biol Drug Des 82:243–251. https://doi.org/10.1111/cbdd.12176

Sato-Nishiuchi R, Nakano I, Ozawa A et al (2012) Polydom/SVEP1 is a ligand for integrin α9β1. J Biol Chem 287:25615–25630. https://doi.org/10.1074/jbc.M112.355016

Schneider CA, Rasband WS, Eliceiri KW (2012) NIH image to ImageJ: 25 years of image analysis. Nat Methods 9:671–675. https://doi.org/10.1038/nmeth.2089

Schöne BR, Dunca E, Fiebig J, Pfeiffer M (2005) Mutvei's solution: an ideal agent for resolving microgrowth structures of biogenic carbonates. Palaeogeogr Palaeoclimatol Palaeoecol 228:149–166. https://doi.org/10.1016/j.palaeo.2005.03.054

Sciamanna I, De Luca C, Spadafora C (2016) The reverse transcriptase encoded by LINE-1 retrotransposons in the genesis, progression, and therapy of cancer. Front Chem. https://doi.org/10.3389/fchem.2016.00006

Seiler GR, Morse MP (1988) Kidney and hemocytes of Mya arenaria (Bivalvia): normal and pollution-related ultrastructural morphologies. J Invertebr Pathol 52:201–214

Sheir SK, Handy RD, Henry TB (2013) Effect of pollution history on immunological responses and organ histology in the marine mussel Mytilus edulis exposed to cadmium. Arch Environ Contam Toxicol 64:701–716. https://doi.org/10.1007/s00244-012-9868-y

Smith AFA, Hubley R, Green P RepeatMasker Open-4.0

Strayer DL, Downing JA, Haag WR et al (2004) Changing perspectives on pearly mussels, North America's most imperiled animals. Bioscience 54:429–439. https://doi.org/10.1641/0006-3568(2004)054[0429:CPOPMN]2.0.CO;2

Stubblefield WA, Steadman BL, La Point TW, Bergman HL (1999) Acclimation-induced changes in the toxicity of zinc and cadmium to rainbow trout. Environ Toxicol Chem 18:2875–2881. https://doi.org/10.1002/etc.5620181231

Supek F, Bošnjak M, Škunca N, Šmuc T (2011) REVIGO summarizes and visualizes long lists of gene ontology terms. PLoS One 6:e21800. https://doi.org/10.1371/journal.pone.0021800

Taylor HH, Anstiss JM (1999) Copper and haemocyanin dynamics in aquatic invertebrates. Mar Freshw Res 50:907–931

Thomas GR, Taylor J, Garcia de Leaniz C (2010) Captive breeding of the endangered freshwater pearl mussel Margaritifera margaritifera. Endanger Species Res 12:1

Tomanek L (2012) Environmental proteomics of the mussel Mytilus: implications for tolerance to stress and change in limits of biogeographic ranges in response to climate change. Integr Comp Biol 52:648–664. https://doi.org/10.1093/icb/ics114

Uren Webster TM, Bury N, van Aerle R, Santos EM (2013) Global transcriptome profiling reveals molecular mechanisms of metal tolerance in a chronically exposed wild population of brown trout. Environ Sci Technol 47:8869–8877. https://doi.org/10.1021/es401380p

Vaughn CC, Hakenkamp CC (2001) The functional role of burrowing bivalves in freshwater ecosystems. Freshw Biol 46:1431–1446. https://doi.org/10.1046/j.1365-2427.2001.00771.x

Williams TD, Diab AM, George SG et al (2006) Development of the GENIPOL European flounder (Platichthys flesus) microarray and determination of temporal transcriptional responses to cadmium at low dose. Environ Sci Technol 40:6479–6488. https://doi.org/10.1021/es061142h

Yang J, Huang T, Petralia F et al (2015) Synchronized age-related gene expression changes across multiple tissues in human and the link to complex diseases. Sci Rep 5:15145. https://doi.org/10.1038/srep15145

Young M (2005) A literature review of the water quality requirements of the freshwater pearl mussel (Margaritifera margaritifera) and related freshwater bivalves. Scott. Nat. Herit. Comm. Rep. No 084 ROAME No F01AC609d

Zhang G, Fang X, Guo X et al (2012) The oyster genome reveals stress adaptation and complexity of shell formation. Nature 490:49–54. https://doi.org/10.1038/nature11413
Acknowledgements
This work was supported by the European Union program LIFE+ Nature (project LIFE13 NAT/FR/000506). We are grateful to all the staff members of the Perigord-Limousin national park for their contribution to this project. We thank the four anonymous reviewers for their careful reading and insightful comments on our work.
Ethics declarations
The collection of M. margaritifera for this study was allowed by the prefectoral decree 60/2008 delivered by the Préfecture de la Dordogne (DIREN Aquitaine) on the 31st of October 2008. In France, no ethical permits are required to carry out research on bivalves. Therefore, all procedures were conducted according to the ethical guidelines of France to ensure ethical appropriateness.
Conflict of interest
The authors declare that they have no competing interests.
Additional information
Responsible editor: Philippe Garrigues
Electronic supplementary material
About this article
Cite this article
Bertucci, A., Pierron, F., Thébault, J. et al. Transcriptomic responses of the endangered freshwater mussel Margaritifera margaritifera to trace metal contamination in the Dronne River, France. Environ Sci Pollut Res 24, 27145–27159 (2017). https://doi.org/10.1007/s11356-017-0294-6
Received:

Accepted:

Published:

Issue Date:
Keywords
Freshwater mussel

Transcriptomics

RNA sequencing

Metal pollution

Sclerochronology

Margaritifera margaritifera

In situ study