Abstract
2-Ethylhexyl methoxycinnamate (EHMC) is one of the most used ultraviolet filters in personal care products. It undergoes cis/trans isomerization in sunlight, and there is limited toxicological understanding of the effects of the cis-isomer. It is known that two geometric isomers of one compound can have different physico-chemical properties and effects. However, there are no studies focusing on toxicokinetics of EHMC isomerization products to compare their potential difference in dermal exposure to cis-EHMC and trans-EHMC due to the difference in their dermatotoxicokinetics. In this study, dermal absorption of the parental trans-EHMC and its cis isomer was studied. A commercially available sunscreen lotion containing trans-EHMC and spiked with laboratory-prepared cis-EHMC was locally applied on the forearm skin of two volunteers. After 8 h of skin exposure, the stratum corneum (SC) layer was removed by tape stripping. The removed thickness of the SC was determined spectrophotometrically using a total protein assay. The concentration of both isomers in the removed SC was measured by HPLC-DAD. A new diffusion and permeability coefficient of both EHMC isomers in SC were determined by Fick's second law of diffusion in vivo. The difference in dermatotoxicokinetic parameters between the two isomers was not statistically significant. However, separate toxicological studies of isomeric forms and the determination of their dermatotoxicokinetic parameters are crucial for refinement of human risk assessment.
Access options
Buy single article
Instant access to the full article PDF.
US$ 39.95
Tax calculation will be finalised during checkout.
Subscribe to journal
Immediate online access to all issues from 2019. Subscription will auto renew annually.
US$ 79
Tax calculation will be finalised during checkout.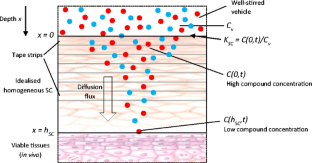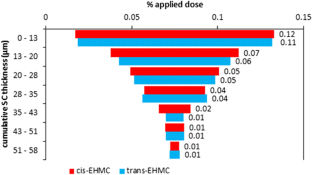 Abbreviations
UV:

ultraviolet

EHMC:

2-ethylhexyl 4-methoxycinnamate

SC:

stratum corneum

HPLC-DAD:

high-performance liquid chromatography with diode array detector

PCPs:

personal care products

D SC :

diffusion coefficient

k p :

permeability coefficient

K SC :

partition coefficient

h SC :

total thickness of stratum corneum
References
Anderson RL, Cassidy JM (1973) Variations in physical dimensions and chemical composition of human stratum corneum. J Invest Dermatol 61:30–32. https://doi.org/10.1111/1523-1747.ep12674117

Anissimov YG, Jepps OG, Dancik Y, Roberts MS (2013) Mathematical and pharmacokinetic modelling of epidermal and dermal transport processes. Adv Drug Deliv Rev 65:169–190. https://doi.org/10.1016/j.addr.2012.04.009

Axelstad M, Boberg J, Hougaard KS, Christiansen S, Jacobsen PR, Mandrup KR, Nellemann C, Lund SP, Hass U (2011) Effects of pre- and postnatal exposure to the UV-filter octyl methoxycinnamate (OMC) on the reproductive, auditory and neurological development of rat offspring. Toxicol Appl Pharmacol 250:278–290. https://doi.org/10.1016/j.taap.2010.10.031

Bashir SJ, Dreher F, Chew AL, Zhai H, Levin C, Stern R, Maibach HI (2005) Cutaneous bioassay of salicylic acid as a keratolytic. Int J Pharm 292:187–194. https://doi.org/10.1016/j.ijpharm.2004.11.032

Bonin AM, Arlauskas AP, Angus DS, Baker RSU, Gallagher CH, Greenoak G, Brown MML, Meherhomji KM, Reeve V (1982) UV-absorbing and other sun-protecting substances: genotoxicity of 2-ethylhexyl P-methoxycinnamate. Mutat Res 105:303–308. https://doi.org/10.1016/0165-7992(82)90097-5

Breternitz M, Flach M, Präßler J, Elsner P, Fluhr JW (2007) Acute barrier disruption by adhesive tapes is influenced by pressure, time and anatomical location: integrity and cohesion assessed by sequential tape stripping; a randomized, controlled study. Br J Dermatol 156:231–240. https://doi.org/10.1111/j.1365-2133.2006.07632.x

Brooke D, Burns JS, Agency GBE, Crookes MJ (2008) UV-filters in cosmetics: prioritisation for environmental assessment. Environment Agency science report, Environment Agency

Carbone S, Szwarcfarb B, Reynoso R, Ponzo OJ, Cardoso N, Ale E, Moguilevsky JA, Scacchi P (2010) In vitro effect of Octyl-Methoxycinnamate (OMC) on the release of Gn-RH and amino acid neurotransmitters by hypothalamus of adult rats. Exp Clin Endocrinol Diabetes 118:298–303. https://doi.org/10.1055/s-0029-1224153

Chatelain E, Gabard B, Surber C (2003) Skin penetration and sun protection factor of five UV filters: effect of the vehicle. Skin Pharmacol Appl Ski Physiol 16:28–35. https://doi.org/10.1159/000068291

Cimetiere N, De Laat J (2014) Effects of UV-dechloramination of swimming pool water on the formation of disinfection by-products: a lab-scale study. Microchem J 112:34–41. https://doi.org/10.1016/j.microc.2013.09.014

Côté J, Bonvalot Y, Carrier G, Lapointe C, Fuhr U, Tomalik-Scharte D, Wachall B, Bouchard M (2014) A novel toxicokinetic modeling of cypermethrin and permethrin and their metabolites in humans for dose reconstruction from biomarker data. PLoS One 9. https://doi.org/10.1371/journal.pone.0088517

Crawford MJ, Croucher A, Hutson DH (1981) Metabolism of cis- and trans-cypermethrin in rats. Balance and tissue retention study. J Agric Food Chem 29:130–135. https://doi.org/10.1021/jf00103a033

Dreher F, Arens A, Hostýnek JJ, Mudumba S, Ademola J, Maibach HI (1998) Colorimetric method for quantifying human stratum corneum removed by adhesive-tape stripping. Acta Derm Venereol 78:186–189. https://doi.org/10.1007/s004030100212

Dreher F, Modjtahedi BS, Modjtahedi SP, Maibach HI (2005) Quantification of stratum corneum removal by adhesive tape stripping by total protein assay in 96-well microplates. Skin Res Technol 11:97–101. https://doi.org/10.1111/j.1600-0846.2005.00103.x

FDA (1999) Sunscreen drug products for over-the-counter human use; final monograph. Food and Drug Administration. Fed Regist 64:27666–27693

Gantz GM, Sumner WG (1957) Stable ultraviolet light absorbers. Text Res J 27:244–251

Gee CM, Nicolazzo JA, Watkinson AC, Finnin BC (2012) Assessment of the lateral diffusion and penetration of topically applied drugs in humans using a novel concentric tape stripping design. Pharm Res 29:2035–2046. https://doi.org/10.1007/s11095-012-0731-7

Gustin DM, Rodvold KA, Sosman JA, Diwadkar-Navsariwala V, Stacewicz-Sapuntzakis M, Viana M, Crowell JA, Murray J, Tiller P, Bowen PE (2004) Single-dose pharmacokinetic study of lycopene delivered in a well-defined food-based lycopene delivery system (tomato paste-oil mixture) in healthy adult male subjects. Cancer Epidemiol Biomark Prev 13:850–860

Hanson KM, Narayanan S, Nichols VM, Bardeen CJ (2015) Photochemical degradation of the UV filter octyl methoxycinnamate in solution and in aggregates. Photochem Photobiol Sci 14:1607–1616. https://doi.org/10.1039/c5pp00074b

Hayden CGJ, Roberts MS, Benson HAE (1997) Systemic absorption of sunscreen after topical application. Lancet 350:863–864. https://doi.org/10.1016/s0140-6736(05)62032-6

Huong SP, Andrieu V, Reynier J-P, Rocher E, Fourneron J-D (2007) The photoisomerization of the sunscreen ethylhexyl p-methoxy cinnamate and its influence on the sun protection factor. J. Photochem. Photobiol. A Chem. 186:65–70. https://doi.org/10.1016/j.jphotochem.2006.07.012

Jacobi U, Weigmann HJ, Baumann M, Reiche AI, Sterry W, Lademann J (2004) Lateral spreading of topically applied UV filter substances investigated by tape stripping. Skin Pharmacol Physiol 17:17–22. https://doi.org/10.1159/000074058

Janjua NR, Mogensen B, Andersson AM, Petersen JH, Henriksen M, Skakkebaek NE, Wulf HC (2004) Systemic absorption of the sunscreens benzophenone-3, octyl-methoxycinnamate, and 3-(4-methyl-benzylidene) camphor after whole-body topical application and reproductive hormone levels in humans. J. Invest. Dermatol. 123:57–61. https://doi.org/10.1111/j.0022-202X.2004.22725.x

Janjua NR, Kongshoj B, Andersson AM, Wulf HC (2008) Sunscreens in human plasma and urine after repeated whole-body topical application. J. Eur. Acad. Dermatol. Venereol. 22:456–461. https://doi.org/10.1111/j.1468-3083.2007.02492.x

Jentzsch F, Olsson O, Westphal J, Reich M, Leder C, Kümmerer K (2016) Photodegradation of the UV filter ethylhexyl methoxycinnamate under ultraviolet light: identification and in silico assessment of photo-transformation products in the context of grey water reuse. Sci Total Environ 572:1092–1100. https://doi.org/10.1016/j.scitotenv.2016.08.017

Jiménez-Díaz I, Molina-Molina JM, Zafra-Gómez A, Ballesteros O, Navalón A, Real M, Sáenz JM, Fernández MF, Olea N (2013) Simultaneous determination of the UV-filters benzyl salicylate, phenyl salicylate, octyl salicylate, homosalate, 3-(4-methylbenzylidene) camphor and 3-benzylidene camphor in human placental tissue by LC-MS/MS. Assessment of their in vitro endocrine activi. J Chromatogr B Anal Technol Biomed Life Sci 936:80–87. https://doi.org/10.1016/j.jchromb.2013.08.006

Kanof NB (1956) Protection of the skin against the harmful effects of sunlight. AMA Arch Derm 74:46–49

Kligman AM, Christophers E (1963) Preparation of isolated sheets of human stratum corneum. Arch Dermatol 88:702–705. https://doi.org/10.1001/archderm.1963.01590240026005

Klinubol P, Asawanonda P, Wanichwecharungruang SP (2008) Transdermal penetration of UV filters. Skin Pharmacol Physiol 21:23–29. https://doi.org/10.1159/000109085

Kunz PY, Fent K (2006) Multiple hormonal activities of UV filters and comparison of in vivo and in vitro estrogenic activity of ethyl-4-aminobenzoate in fish. Aquat Toxicol 79:305–324. https://doi.org/10.1016/j.aquatox.2006.06.016

Lademann J, Jacobi U, Surber C, Weigmann HJ, Fluhr JW (2009) The tape stripping procedure - evaluation of some critical parameters. Eur J Pharm Biopharm 72:317–323. https://doi.org/10.1016/j.ejpb.2008.08.008

Lehman PA, Slattery JT, Franz TJ (1988) Percutaneous absorption of Retinoids: influence of vehicle, light exposure, and dose. J. Invest. Dermatol. 91:56–61

Lien CA, Smith VD, Embree PB, Belmont MR, Wargin WA, Savarese JJ (1994) The pharmacokinetics and Pharmacodynamis of the stereoisomers of Mivacurium in patients Recieving nitrous oxide/opioid/barbiturate anesthesia. Anesthesiology 80:1296–1302

Lowry OH, Rosebrough NJ, Farr AL, Randall RJ (1951) Protein measurement with the folin phenol reagent. J Biol Chem 193:265–275. https://doi.org/10.1016/0304-3894(92)87011-4

Manová E, Goetz NV, Hungerbuehler K (2015) Aggregate consumer exposure to UV filter ethylhexyl methoxycinnamate via personal care products. Environ Int 74:249–257. https://doi.org/10.1016/j.envint.2014.09.008

Markogiannaki E, Andrianou XD, Kalyvas C, Andra SS, Konstantinos CM (2014) The association between use of sunscreens and cosmetics and urinary concentrations of the UV filter ethylhexyl-methoxy cinnamate: A pilot biomonitoring study. Biomonitoring 1:85–94. https://doi.org/10.2478/bimo-2014-0009

Midha KK, Hubbard JW, Mckay G, Hawes EM, Korchinski ED, Gurnsey T, Cooper JK, Schwede R (1992) Stereoselective pharmacokinetics of doxepin isomers. Eur J Clin Pharmacol 42:539–544

Moghimi H, Noorani N, Zarghi A (2004) Stereoselective permeation of tretinoin and isotretinoin through enhancer-treated rat skin. II. Effects of lipophilic penetration enhnacers. Iran J Pharm Res 3:17–22

Montenegro L, Puglisi G (2013) Evaluation of sunscreen safety by in vitro skin permeation studies: effects of vehicle composition. Pharmazie 68:34–40. https://doi.org/10.1691/ph.2013.2117

Nagelreiter C, Mahrhauser D, Wiatschka K, Skipiol S, Valenta C (2015) Importance of a suitable working protocol for tape stripping experiments on porcine ear skin: influence of lipophilic formulations and strip adhesion impairment. Int J Pharm 491:162–169. https://doi.org/10.1016/j.ijpharm.2015.06.031

Nakajima M, Kawakami T, Niino T, Takahashi Y, Onodera S (2009) Aquatic fate of sunscreen agents Octyl-4-methoxycinnamate and Octyl-4-dimethylaminobenzoate in model swimming pools and the mutagenic assays of their chlorination byproducts. J Heal Sci 55:363–372. https://doi.org/10.1248/jhs.55.363

Necasova A, Banyiova K, Literak J, Cupr P (2017) New probabilistic risk assessment of ethylhexyl methoxycinnamate: comparing the genotoxic effects of trans- and cis-EHMC. Environ Toxicol 32:569–580. https://doi.org/10.1002/tox.22260

Nishi K, Huang H, Kamita SG, Kim IH, Morisseau C, Hammock BD (2006) Characterization of pyrethroid hydrolysis by the human liver carboxylesterases hCE-1 and hCE-2. Arch Biochem Biophys 445:115–123. https://doi.org/10.1016/j.abb.2005.11.005

OECD, 2004a. OECD guideline for the testing of chemicals number 427: skin absorption: in vivo Method

OECD, 2004b. OECD guideline for the testing of chemicals: skin absorption: in vitro method. Number 428

OECD, 2004c. OECD guidance document for the conduct of skin absorption studies. Number 28

Pattanaargson S, Limphong P (2001) Stability of octyl methoxycinnamate and identification of its photo-degradation product. Int J Cosmet Sci 23:153–160. https://doi.org/10.1046/j.1467-2494.2001.00071.x

Pattanaargson S, Munhapol T, Hirunsupachot N, Luangthongaram P (2004) Photoisomerization of octyl methoxycinnamate. J. Photochem. Photobiol. a-Chemistry 161:269–274. https://doi.org/10.1016/s1010-6030(03)00282-x

Potard G, Laugel C, Schaefer H, Marty JP (2000) The stripping technique: in vitro absorption and penetration of five UV filters on excised fresh human skin. Skin Pharmacol Appl Ski Physiol 13:336–344. https://doi.org/10.1159/000029941

Pugh WJ, Chilcott RP (2008) Principles of diffusion and thermodynamics, in: principles and practice of skin toxicology. John Wiley & Sons, Ltd, pp 93–107. https://doi.org/10.1002/9780470773093.ch6

Rachon D, Rimoldi G, Wuttke W (2006) In vitro effects of benzophenone-2 and octyl-methoxycinnamate on the production of interferon-gamma and interleukin-10 by murine splenocytes. Immunopharmacol Immunotoxicol 28:501–510. https://doi.org/10.1080/08923970600927751

Raj N, Voegeli R, Rawlings AV, Gibbons S, Munday MR, Summers B, Lane ME (2016) Variation in stratum corneum protein content as a function of anatomical site and ethnic group. Int J Cosmet Sci 38:224–231. https://doi.org/10.1111/ics.12274

Rodil R, Moeder M, Altenburger R, Schmitt-Jansen M (2009) Photostability and phytotoxicity of selected sunscreen agents and their degradation mixtures in water. Anal Bioanal Chem 395:1513–1524. https://doi.org/10.1007/s00216-009-3113-1

Ross MK, Borazjani A, Edwards CC, Potter PM (2006) Hydrolytic metabolism of pyrethroids by human and other mammalian carboxylesterases. Biochem Pharmacol 71:657–669. https://doi.org/10.1016/j.bcp.2005.11.020

Roussel L, Gilbert E, Salmon D, Serre C, Gabard B, Haftek M, Maibach HI, Pirot F (2015) Measurement, analysis and prediction of topical UV filter bioavailability. Int J Pharm 478:804–810. https://doi.org/10.1016/j.ijpharm.2014.12.026

Sandby-Møller J, Poulsen T, Wulf HC (2003) Epidermal thickness at different body sites: relationship to age, gender, pigmentation, blood content, skin type and smoking habits. Acta Derm Venereol 83:410–413. https://doi.org/10.1080/00015550310015419

Scalia S, Mezzena M, Ramaccini D (2011) Encapsulation of the UV filters ethylhexyl methoxycinnamate and butyl methoxydibenzoylmethane in lipid microparticles: effect on in vivo human skin permeation. Skin Pharmacol Physiol 24:182–189. https://doi.org/10.1159/000324054

SCCS, 2016. Scientific committee on consumer safety (SCCS) notes of guidance for the testing of cosmetic ingredients and their safety evaluation, 9th revision, SCCS/1564/15, revision of 25 April 2016

Schlumpf M, Kypke K, Wittassek M, Angerer J, Mascher H, Mascher D, Vokt C, Birchler M, Lichtensteiger W (2010) Exposure patterns of UV filters, fragrances, parabens, phthalates, organochlor pesticides, PBDEs, and PCBs in human milk correlation of UV filters with use of cosmetics. Chemosphere 81:1171–1183. https://doi.org/10.1016/j.chemosphere.2010.09.079

Schoen BW, Lira CT, Lee A (2014) Separation and solubility of cis and trans isomers in nanostructured double-decker silsequioxanes. J Chem Eng Data 59:1483–1493. https://doi.org/10.1021/je4010245

Schreurs R, Sonneveld E, Jansen JHJ, Seinen W, van der Burg B (2005) Interaction of polycyclic musks and UV filters with the estrogen receptor (ER), androgen receptor (AR), and progesterone receptor (PR) in reporter gene bioassays. Toxicol Sci 83:264–272. https://doi.org/10.1093/toxsci/kfi035

Sharma A, Bányiová K, Babica P, El Yamani N, Collins AR, Čupr P (2017) Different DNA damage response of cis and trans isomers of commonly used UV filter after the exposure on adult human liver stem cells and human lymphoblastoid cells. Sci Total Environ 593–594:18–26. https://doi.org/10.1016/j.scitotenv.2017.03.043

Steinberg DC (2005) Regulations of sunscreens worldwide. In: Shaath NA (ed) Sunscreen: regulations and commercial development. Taylor & Francis, New York, pp 173–198

Surber C, Schwarb FP, Smith EW (2005) Tape-stripping technique. In: Bronaugh RL, Maibach HI (eds) Percutaneous absorption. Drugs-Cosmetics-Mechanisms-Methodology, Taylor & Francis Group, pp 399–410

Svensson CK (2009) Biotransformation of drugs in human skin. Drug Metab Dispos 37:247–253. https://doi.org/10.1124/dmd.108.024794.nel

Szwarcfarb B, Carbone S, Reynoso R, Bollero G, Ponzo O, Moguilevsky J, Scacchi P (2008) Octyl-methoxycinnamate (OMC), an ultraviolet (UV) filter, alters LHRH and amino acid neurotransmitters release from hypothalamus of immature rats. Exp Clin Endocrinol Diabetes 116:94–98. https://doi.org/10.1055/s-2007-1004589

The Comission of the European Communities (2006) Commission Recommendation of 22 September 2006 on the efficacy of sunscreen products and the claims made relating thereto. Off J Eur Union 49:39–43

Treffel P, Gabard B (1996) Skin penetration and sun protection factor of ultra-violet filters from two vehicles. Pharm Res 13:770–774. https://doi.org/10.1023/A:1016012019483

Tsui MMP, Leung HW, Lam PKS, Murphy MB (2014) Seasonal occurrence, removal efficiencies and preliminary risk assessment of multiple classes of organic UV filters in wastewater treatment plants. Water Res 53:58–67. https://doi.org/10.1016/j.watres.2014.01.014

Volz P, Boreham A, Wolf A, Kim TY, Balke J, Frombach J, Hadam S, Afraz Z, Rancan F, Blume-Peytavi U, Vogt A, Alexiev U (2015) Application of single molecule fluorescence microscopy to characterize the penetration of a large amphiphilic molecule in the stratum corneum of human skin. Int J Mol Sci 16:6960–6977. https://doi.org/10.3390/ijms16046960

Wilkinson SC (2008) Skin as a route of entry. In: Chilcott RP, Price S (eds) Principles and practice of skin toxicology. John Wiley & Sons, Ltd, pp 69–82. https://doi.org/10.1002/9780470773093.ch4

Williams AC (2003) Transdermal and topical drug delivery from theory to clinical practice. Pharmaceutical Press, London

Woollen BH, Marsh JR, Laird WJ, Lesser JE (1992) The metabolism of cypermethrin in man: differences in urinary metabolite profiles following oral and dermal administration. Xenobiotica 22:983–991. https://doi.org/10.3109/00498259209049904
Acknowledgements
This project was supported by the Czech Science Foundation (CSF/GAČR grant No. 14-27941S).The RECETOX research infrastructure was supported by the projects of the Czech Ministry of Education (LO1214) and (LM2015051).
Compliance with ethical standards
Ethical approval for the use of human skin was given by the Ethical Committee of the University Hospital Brno. This included documentation on consent, protocols, and information for donors.
Additional information
Responsible editor: Philippe Garrigues
Electronic supplementary material
About this article
Cite this article
Sharma, A., Bányiová, K., Vrana, B. et al. Investigation of cis-trans isomer dependent dermatotoxicokinetics of UV filter ethylhexyl methoxycinnamate through stratum corneum in vivo. Environ Sci Pollut Res 24, 25061–25070 (2017). https://doi.org/10.1007/s11356-017-0172-2
Received:

Accepted:

Published:

Issue Date:
Keywords
Ethylhexyl methoxycinnamate

Personal care products

Cis/trans isomerization

Tape stripping

Dermatotoxicokinetics

Human skin permeation