Abstract
Microplastic pollution has exhibited a global distribution, including seas, lakes, rivers, and terrestrial environment in recent years. However, little attention was paid on the atmospheric environment, though the fact that plastic debris can escape as wind-blown debris was previously reported. Thus, characteristics of microplastics in the atmospheric fallout from Dongguan city were preliminarily studied. Microplastics of three different polymers, i.e., PE, PP, and PS, were identified. Diverse shapes of microplastics including fiber, foam, fragment, and film were found, and fiber was the dominant shape of the microplastics. SEM images illustrated that adhering particles, grooves, pits, fractures, and flakes were the common patterns of degradation. The concentrations of non-fibrous microplastics and fibers ranged from 175 to 313 particles/m2/day in the atmospheric fallout. Thus, dust emission and deposition between atmosphere, land surface, and aquatic environment were associated with the transportation of microplastics.
This is a preview of subscription content, log in to check access.
Access options
Buy single article
Instant access to the full article PDF.
US$ 39.95
Price includes VAT for USA
Subscribe to journal
Immediate online access to all issues from 2019. Subscription will auto renew annually.
US$ 99
This is the net price. Taxes to be calculated in checkout.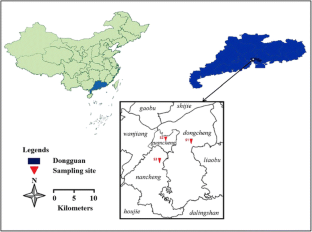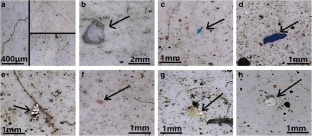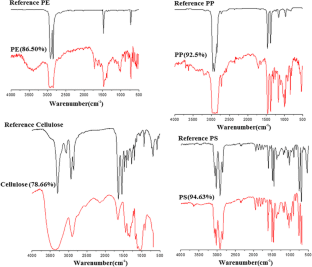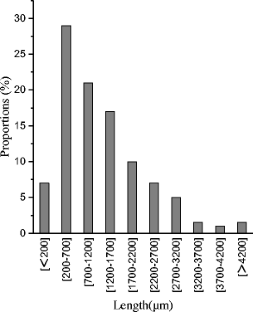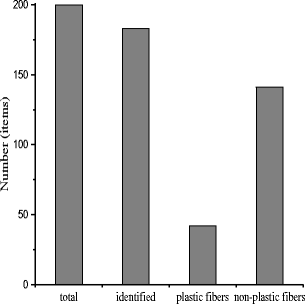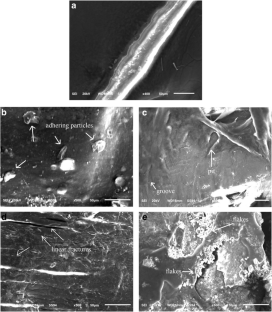 References
Barnes DKA, Galgani F, Thompson RC, Barlaz M (2009) Accumulation and fragmentation of plastic debris in global environments. Philos Trans R Soc B 364(1526):1985–1998

Browne MA, Crump P, Niven SJ, Teuten E, Tonkin A, Galloway T, Thompson R (2011) The physical impacts of microplastics on marine organisms: a review. Environ Sci Technol 45(21):9175–9179

Cooper DA, Corcoran PL (2010) Effects of mechanical and chemical processes on the degradation of plastic beach debris on the island of Kauai, Hawaii. Mar Pollut Bull 60(5):650–654

Corcoran PL, Biesinger MC, Grifi M (2009) Plastics and beaches: a degrading relationship. Mar Pollut Bull 58(1):80–84

Desforges JP, Galbraith M, Dangerfield N, Ross PS (2014) Widespread distribution of microplastics in subsurface seawater in the NE Pacific Ocean. Mar Pollut Bull 79:94–99

Dris R, Gasperi J, Saad M, Mirande C, Tassin B (2016) Synthetic fibers in atmospheric fallout: a source of microplastics in the environment? Mar Pollut Bull 104(1):290–293

Eerkes-Medrano D, Thompson RC, Aldridge DC (2015a) Microplastics in freshwater systems: a review of the emerging threats, identification of knowledge gaps and prioritisation of research needs. Water Res 75:63–82

Eerkes-Medrano D, Thompson RC, Aldridge DC (2015b) Microplastics in freshwater systems: a review of the emerging threats, identification of knowledge gaps and prioritisation of research needs. Water Res 75:63–82

Eriksen M, Maximenko N, Thiel M, Cummins A, Lattin G, Wilson S, Hafner J, Zellers A, Rifman S (2013) Plastic pollution in the South Pacific subtropical gyre. Mar Pollut Bull 68(1):71–76

Faure F, Corbaz M, Baecher H, de Alencastro L (2012) Pollution due to plastics and microplastics in Lake Geneva and in the Mediterranean Sea. Arch Sci 65:157–164

Frias JPGL, Otero V, Sobral P (2014) Evidence of microplastics in samples of zooplankton from Portuguese coastal waters. Mar Environ Res 95:89–95

Gall SC, Thompson RC (2015) The impact of debris on marine life. Mar Pollut Bull 92(1–2):170

Hildago-Ruz V, Gutow L, Thompson RC, Thiel M (2012) Microplastics in the marine environment: a review of the methods used for identification and quantification. Environ Sci Technol 46(6):3060–3075

Hirai H, Takada H, Ogata Y, Yamashita R, Mizukawa K, Saha M, Kwan C, Moore C, Gray H, Laursen D, Zettler ER, Farrington JW, Reddy CM, Peacock EE, Ward MW (2011) Organic micropollutants in marine plastics debris from the open ocean and remote and urban beaches. Mar Pollut Bull 62:1683–1692

Holmes LA, Turner A, Thompson RC (2012) Adsorption of trace metals to plastic resin pellets in the marine environment. Environ Pollut 160:42–48

Jambeck RJ, Geyer R, Wolcox C, Siegel TR, Perryman M, Andrady A, Narayan R, Law KL (2015) Plastic waste inputs from land into the ocean. Science 347(6223):768–771

Laist DW (1997) Impacts of marine debris: entanglement of marine life in marine debris including a comprehensive list of species with entanglement and ingestion records. In: Coe JM, Rogers DB (eds) Marine debris––sources. Impacts and Solutions. Springer, New York, pp 99–139

Li J, Qu X, Su L, Zhang W, Yang D, Kolandhasamy P, Li D, Shi H (2016) Microplastics in mussels along the coastal waters of China. Environ Pollut 214:177–184

Lithner D, Larsson Å, Dave G (2011) Environmental and health hazard ranking and assessment of plastic polymers based on chemical composition. Sci Total Environ 409(18):3309–3324

Mato Y, Isobe T, Takada H, Kanehiro K, Ohtaka C, Kamimura T (2001) Plastic resin pellets as transport medium for toxic chemicals in the marine environment. Environ Sci Technol 35(2):318–324

McCormick A, Hoellein TJ, Mason SA, Schluep J, Kelly JJ (2014) Microplastic is an abundant and distinct microbial habitat in an urban river. Environ Sci Technol 48:11863–11871

Moore CJ, Lattin GL, Zellers AF (2011) Quantity and type of plastic debris flowing from two urban rivers to coastal waters and beaches of Southern California. J Integr Coast Zone Manage 11(1):65–73

Morritt D, Stefanoudis PV, Pearce D, Crimmen OA, Clark PF (2014) Plastic in the Thames: a river runs through it. Mar Pollut Bull 78:196–200

Ng KL, Obbard JP (2006) Prevalence of microplastics in Singapore's coastal marine environment. Mar Pollut Bull 52:761–767

Norén F (2007) Small plastic particles in coastal Swedish waters. Kimo Sweden, Lysekil

Ogata Y, Takada H, Mizukawa K, Hirai H, Iwasa S, Endo S, Mato Y, Saha M, Okuda K, Nakashima A, Murakami M, Zurcher N, Booyatumanondo R, Zakaria MP, Dung LQ, Gordon M, Miguez C, Suzuki S, Moore C, Karapanagioti HK, Weerts S, McClurg T, Burres E, Smith W, Velkenburg MV, Lang JS, Lang RC, Laursen D, Danner B, Stewardson N, Thompson RC (2009) International pellet watch: global monitoring of persistent organic pollutants (POPs) in coastal waters. 1. Initial phase data on PCBs, DDTs, and HCHs. Mar Pollut Bull 58:1437–1446

Ojeda JJ, Romero-González ME, Banwart SA (2009) Analysis of bacteria on steel surfaces using reflectance micro-Fourier transform infrared spectroscopy. Anal Chem 81(15):6467–6473

Peng J, Wang J, Cai L (2017) Current understanding of microplastics in the environment: occurrence, fate, risks, and what we should do. Integr Environ Assess Manag 13:476–482

Qiu Q, Peng J, Yu X, Chen F, Wang J, Dong F (2015) Occurrence of microplastics in the coastal marine environment: first observation on sediment of China. Mar Pollut Bull 98(1):274–280

Remy F, Collard F, Gilbert B, Compère P, Eppe G, Lepoint G (2015) When microplastic is not plastic: the ingestion of artificial cellulose fibers by macrofauna living in seagrass macrophytodetritus. Environ Sci Technol 49(18):11158–11166

Rillig MC (2012) Microplastic in terrestrial ecosystems and the soil? Environ Sci Technol 46:6453–6454

Rochman CM, Browne MA, Halpern BS, Hentschel BT, Hoh E, Karapanagioti HK, RiosMendoza LM, Takada H, The S, Thompson RC (2013) Classify plastic waste as hazardous. Nature 494:169–171

Rochman CM, Hentschel BT, Teh SJ (2014) Long-term sorption of metals is similar among plastics types: implications for plastic debris in the aquatic environments. PLoS One 9(1):85433–85443

Thompson RC, Olsen Y, Mitchell RP, Davis A, Rowland SJ, John AWG, McGonigle D, Russell AE (2004) Lost at sea: where is all the plastic? Science 304(5672):838

Turner A, Holmes LA (2015) Adsorption of trace metals by microplastic pellets in fresh water. Environ Chem 12(5):600–610

Vianello A, Boldrin A, Guerriero P, Moschino V, Rella R, Sturaro A, Da Ros L (2013) Microplastic particles in sediments of lagoon of Venice, Italy: first observations on occurrence, spatial patterns and identification. Estuar Coast Shelf Sci 130:54–61

Wang J, Peng J, Tan Z, Gao Y, Zhan Z, Chen Q, Cai L (2017) Microplastics in the surface sediments from the Beijiang River littoral zone: composition, abundance, surface textures and interaction with heavy metals. Chemosphere 171:248–258

Yu X, Peng J, Wang J, Wang K, Bao S (2017) Occurrence of microplastics in the beach sand of the Chinese inner sea: the Bohai Sea. Environ Pollut 214:722–730

Zbyszewski M, Corcoran PL (2011) Distribution and degradation of fresh water plastic particles along the beaches of Lake Huron, Canada. Water Air Soil Poll 220(1–4):365–372

Zbyszewski M, Corcoran PL, Hockin A (2014) Comparison of the distribution and degradation of plastic debris along shorelines of the Great Lakes, North America. J Great Lakes Res 40(2):288–299

Zhang K, Su J, Xiong X, Wu X, Wu C, Liu J (2016) Microplastic pollution of lakeshore sediments from remote lakes in Tibet plateau, China. Environl Pollut 219:450–455
Funding
This study was financially supported from National Natural Science Foundation of China (no. 41676104) and program of Science and Technology development of Dongguan city (no. 2016108101016).
Additional information
Responsible editor: Philippe Garrigues
About this article
Cite this article
Cai, L., Wang, J., Peng, J. et al. Characteristic of microplastics in the atmospheric fallout from Dongguan city, China: preliminary research and first evidence. Environ Sci Pollut Res 24, 24928–24935 (2017). https://doi.org/10.1007/s11356-017-0116-x
Received:

Accepted:

Published:

Issue Date:
Keywords
Microplastics

Atmospheric fallout

Dongguan city

μ-FTIR

SEM