Abstract
Antibiotic resistance genes (ARGs) in urban rivers are a serious public health concern in regions with poorly planned, rapid development. To gain insights into the predominant factors affecting the fate of ARGs in a highly polluted urban river in eastern China, a total of 285 ARGs, microbial communities, and 20 physicochemical parameters were analyzed for 17 sites. A total of 258 unique ARGs were detected using high-throughput qPCR, and the absolute abundance of total ARGs was positively correlated with total organic carbon and total dissolved nitrogen concentrations (P < 0.01). ARG abundance and diversity were greatly altered by microbial community structure. Variation partitioning analysis showed that the combined effects of multiple factors contributed to the profile and dissemination of ARGs, and variation of microbial communities was the major factor affecting the distribution of ARGs. The disparate distribution of some bacteria, including Bacteroides from mammalian gastrointestinal flora, Burkholderia from zoonotic infectious diseases, and Zoogloea from wastewater treatment, indicates that the urban river was strongly influenced by point-source pollution. Results imply that microbial community shifts caused by changes in water quality may lead to the spread of ARGs, and point-source pollution in urban rivers requires greater attention to control the transfer of ARGs between environmental bacteria and pathogens.
Access options
Buy single article
Instant access to the full article PDF.
US$ 39.95
Tax calculation will be finalised during checkout.
Subscribe to journal
Immediate online access to all issues from 2019. Subscription will auto renew annually.
US$ 79
Tax calculation will be finalised during checkout.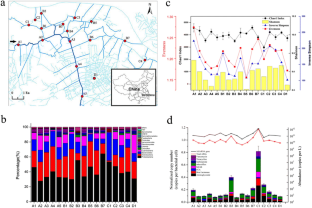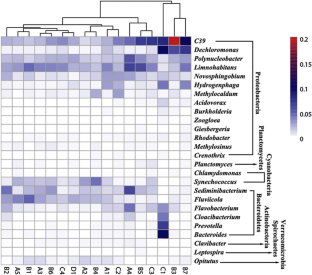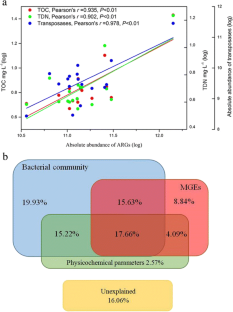 References
Amos GCA, Zhang L, Hawkey PM, Gaze WH, Wellington EM (2014) Functional metagenomic analysis reveals rivers are a reservoir for diverse antibiotic resistance genes. Vet Microbiol 171(3–4):441–447

Angebault C, Andremont A (2013) Antimicrobial agent exposure and the emergence and spread of resistant microorganisms: issues associated with study design. Eur J Clin Microbiol 32(5):581–595

Bogaerts P, Cuzon G, Evrard S, Hoebekeet M, Naas T, Glupczynski Y (2016) Evaluation of a DNA microarray for rapid detection of the most prevalent extended-spectrum β-lactamases, plasmid-mediated cephalosporinases and carbapenemases in Enterobacteriaceae, Pseudomonas and Acinetobacter. Int J Antmicrob Agents 48(2):189–193

Cabral L, Júnior GVL, Pereira-de-Sousa ST, Dias CF, Lira-Cadete L, Andreote FD, Hess M (2016) Anthropogenic impact on mangrove sediments triggers differential responses in the heavy metals and antibiotic resistomes of microbial communities. Environ Pollut 216:460–469

Chen H, Zhang M (2013) Effects of advanced treatment systems on the removal of antibiotic resistance genes in wastewater treatment plants from Hangzhou, China. Environ Sci Technol 47:8157–8163

Chen B, Liang X, Huang X, Zhang T, Li X (2013) Differentiating anthropogenic impacts on ARGs in the Pearl River Estuary by using suitable gene indicators. Water Res 47(8):2811–2820

Coutinho FH, Silveira CB, Pinto LH, Salloto GRB, Cardoso AM, Martins OB, Clementino MM (2014) Antibiotic resistance is widespread in urban aquatic environments of Rio de Janeiro, Brazil. Microb Ecol 68(3):441–452

Cui E, Ying W, Zuo Y, Hong C (2015) Effect of different biochars on antibiotic resistance genes and bacterial community during chicken manure composting. Bioresour Technol 203:11–17

Czekalski N, Sigdel R, Birtel J, Matthews B, Bürgmann H (2015) Does human activity impact the natural antibiotic resistance background? Abundance of antibiotic resistance genes in 21 Swiss lakes. Environ Int 81:45–55

D'Costa VM, King CE, Kalan L, Morar M, Sung WW, Schwarz C, Debruyne R (2011) Antibiotic resistance is ancient. Nature 477(7365):457–461

Di Cesare A, Eckert EM, Rogora M, Corno G (2017) Rainfall increases the abundance of antibiotic resistance genes within a riverine microbial community. Environ Pollut 226:473–478

Djordjevic SP, Stokes HW, Chowdhury PR (2013) Mobile elements, zoonotic pathogens and commensal bacteria: conduits for the delivery of resistance genes into humans, production animals and soil microbiota. Front Microbiol 4(86):1–12

Edgar RC (2010) Search and clustering orders of magnitude faster than BLAST. Bioinformatics 26(19):2460–2461

Enger KS, Nelson KL, Clasen T, Roseet JB, Eisenberg JNS (2012) Linking quantitative microbial risk assessment and epidemiological data: informing safe drinking water trials in developing countries. Environ Sci Technol 46(9):5160–5167

Forsberg KJ, Patel S, Gibson MK, Lauber CL, Knight R, Fierer N, Dantas G (2014) Bacterial phylogeny structures soil resistomes across habitats. Nature 509(7502):612–616

Fu Y, Tang C, Li J, Zhao Y, Wei Z, Zeng X (2014) Sources and transport of organic carbon from the Dongjiang River to the Humen outlet of the Pearl River, southern China. J Geogr Sci 24(1):143–158

Garrity G, Brenner DJ, Kreig N, (2005) Bergey's manual of systematic bacteriology, Vol. 2 Part C. The Alpha-, Beta-, Delta-, and Epsilonproteobacteria. Springer, New York

Hale RL, Turnbull L, Earl SR, Childers DL, Grimm NB (2015) Stormwater infrastructure controls runoff and dissolved material export from arid urban watersheds. Ecosystems 18(1):62–75

Huerta B, Marti E, Gros M, Armengol J (2013) Exploring the links between antibiotic occurrence, antibiotic resistance, and bacterial communities in water supply reservoirs. Sci Total Environ 456–457(7):161–170

Ibekwe AM, Ma J, Murinda SE (2016) Bacterial community composition and structure in an urban river impacted by different pollutant sources. Sci Total Environ 566-567:1176–1185

Jia S, Shi P, Hu Q, Li B, Zhang T, Zhang XX (2015) Bacterial community shift drives antibiotic resistance promotion during drinking water chlorination. Environ Sci Technol 49(20):12271–12279

Jordaan K, Bezuidenhout CC (2016) Bacterial community composition of an urban river in the North West Province, South Africa, in relation to physico-chemical water quality. Environ Sci Pollut Res 23(6):5868–5880

Koczura R, Mokracka J, Taraszewska A, Łopacinska N (2016) Abundance of class 1 integron-integrase and sulfonamide resistance genes in river water and sediment is affected by anthropogenic pressure and environmental factors. Microb Ecol 72(4):1–8

Lachmayr KL, Kerkhof LJ, Dirienzo AG, Cavanaugh CM, Ford TE (2009) Quantifying nonspecific TEM β-lactamase (blaTEM) genes in a wastewater stream. Appl Environ Microb 75(1):203–211

Levy SB, Marshall B (2004) Antibacterial resistance worldwide: causes, challenges and responses. Nat Med 10(12):122–129

Lu Z, Na G, Gao H, Wang L, Bao C, Yao Z (2015) Fate of sulfonamide resistance genes in estuary environment and effect of anthropogenic activities. Sci Total Environ 527–528:429–438

Luo Y, Mao D, Rysz M, Zhou Q, Zhang H, Xu L, Alvarez PJJ (2010) Trends in antibiotic resistance genes occurrence in the Haihe River, China. Environ Sci Technol 44(19):7220–7225

Madigan MT, Martinko JM, Stahl D, Clark D (2012) Brock biology of microorganisms, 13th edn. Pearson/Benjamin Cummings, San Francisco, pp 368–381

Martínez JL, Baquero F (2014) Emergence and spread of antibiotic resistance: setting a parameter space. Upsala J Med Sci 119(2):68–77

Mei K, Liao L, Zhu Y, Lu P, Wang Z, Dahlgren RA, Zhang M (2014) Evaluation of spatial-temporal variations and trends in surface water quality across a rural-suburban-urban interface. Environ Sci Pollut Res 21(13):8036–8051

Nakayama T, Tuyet-Hoa TT, Harada K, Warisaya M, Asayama M, Hinenoya A, Lee WJ, Phu TM, Ueda S, Sumimura Y, Hirata K, Phuong NT, Yamamoto Y (2017) Water metagenomic analysis reveals low bacterial diversity and the presence of antimicrobial residues and resistance genes in a river containing wastewater from backyard aquacultures in the Mekong Delta, Vietnam. Environ Pollut 222:294–306

Ouyang WY, Huang FY, ZhaoY LH, Su JQ (2015) Increased levels of antibiotic resistance in urban stream of Jiulongjiang River, China. Appl Microbiol Biotechnol 99(13):5697–5707

Peña-Fernández A, González-Muñoz MJ, Lobo-Bedmar MC (2014) Establishing the importance of human health risk assessment for metals and metalloids in urban environments. Environ Int 72(22):176–185

Pruden A, Pei R, Storteboom H, Carlson KH (2006) Antibiotic resistance genes as emerging contaminants: studies in northern Colorado. Environ Sci Technol 40(23):7445–7450

Rodriguez-Mozaz S, Chamorro S, Marti E, Martia E, Huertaa B, Grosa M, Sànchez-Melsióa A, Borregoa CM, Barcelóa D, Balcázar JL (2015) Occurrence of antibiotics and antibiotic resistance genes in hospital and urban wastewaters and their impact on the receiving river. Water Res 69:234–242

Ruan T, Song S, Wang T, Liu R, Lin Y, Jiang G (2014) Identification and composition of emerging quaternary ammonium compounds in municipal sewage sludge in China. Environ Sci Technol 48(8):4289–4297

Schmittgen TD, Livak KJ (2008) Analyzing real-time PCR data by the comparative C(T) method. Nat Protoc 3(6):1101–1108

Shao Y, Chung BS, Lee SS, Park W, Jeon CO (2009) Zoogloea caeni sp. nov. a floc-forming bacterium isolated from activated sludge. Int J Syst Evol Microbiol 59(3):526–530

Singh R, Schroeder CM, Meng J, White DG, McDermott PF, Wagner DD, Walker RD (2005) Identification of antimicrobial resistance and class 1 integrons in Shiga toxin-producing Escherichia coli recovered from humans and food animals. J Antimicrob Chemother 56(1):216–219

Singh G, Vajpayee P, Ram S, Shanker R (2010) Environmental reservoirs for enterotoxigenic Escherichia coli in South Asian Gangetic riverine system. Environ Sci Technol 44(16):6475–6480

Singh G, Vajpayee P, Rani N, Amoah ID, Stenström TA, Shanker R (2016) Exploring the potential reservoirs of non specific TEM beta lactamase (blaTEM) gene in the Indo-Gangetic region: a risk assessment approach to predict health hazards. J Hazard Mater 314:121–128

Statista (2016) Degree of urbanization by continent in 2016. http://www.statista.com/statistics/270860/ urbanization-by- continent/

Su JQ, Wei B, Ouyang WY, Huang FY, Zhao Y, Xu HJ, Zhu YG (2015) Antibiotic resistome and its association with bacterial communities during sewage sludge composting. Environ Sci Technol 49(12):7356–7363

Wassenaar TM, Ussery D, Nielsen LN, Ingmer H (2015) Review and phylogenetic analysis of qac genes that reduce susceptibility to quaternary ammonium compounds in Staphylococcus species. Eur J Immunol 5(1):44–61

Wexler HM (2007) Bacteroides: the good, the bad, and the nitty-gritty. Clin Microbiol Rev 20(4):593–621

Woods DE, Sokol PA (2006) The genus Burkholderia. Springer, New York, pp 848–860

Xiong W, Sun Y, Ding X, Wange M, Zeng Z (2015) Selective pressure of antibiotics on ARGs and bacterial communities in manure-polluted freshwater-sediment microcosms. Front Microbiol 6:1–8

Xu Y, Guo C, Luo Y, Lv J, Zhang Y, Lin H, Xu J (2016) Occurrence and distribution of antibiotics, antibiotic resistance genes in the urban rivers in Beijing, China. Environ Pollut 213:833–840

Zhang WS, Swaney DP, Li XY, Hong B, Howarth RW, Ding SH (2015) Anthropogenic point-source and non-point-source nitrogen inputs into Huai River Basin and their impacts on riverine ammonia-nitrogen flux. Biogeosciences 12:4275–4289

Zhao Z, Wang J, Han Y, Chen J, Liu GF, Lu H, Yan B, Chen S (2016) Nutrients, heavy metals and microbial communities co-driven distribution of antibiotic resistance genes in adjacent environment of mariculture. Environ Pollut 220:909–918

Zhu YG, Johnson TA, Su JQ, Qiao M, Guo GX, Stedtfeld RD, Hashsham SA, Tiedje JM (2013) Diverse and abundant antibiotic resistance genes in Chinese swine farms. Proc Natl Acad Sci U S A 110(9):3435–3440

Zhu YG, Zhao Y, Li B, Huang CL, Zhang SY, Yu S, Chen YS, Zhang T, Gillings MR, Su JQ (2017) Continental-scale pollution of estuaries with antibiotic resistance genes. Nature Microbiol 2:1–7
Acknowledgements
This work was supported by the Natural Science Foundation of China (21677121 and 41571130064).
Additional information
Responsible editor: Robert Duran
Electronic supplementary material
About this article
Cite this article
Zhou, ZC., Zheng, J., Wei, YY. et al. Antibiotic resistance genes in an urban river as impacted by bacterial community and physicochemical parameters. Environ Sci Pollut Res 24, 23753–23762 (2017). https://doi.org/10.1007/s11356-017-0032-0
Received:

Accepted:

Published:

Issue Date:
Keywords
Antibiotic resistance genes

Urban rivers

Physicochemical parameters

Microbial community structure

High-throughput qPCR