Abstract
Realistic implementation of ion selective electrodes (ISEs) into environmental monitoring programs has always been a challenging task. This could be largely attributed to difficulties in validation of ISE assay results. In this study, the electrochemical response of amoxicillin trihydrate (AMX), ciprofloxacin hydrochloride (CPLX), trimethoprim (TMP), and norfloxacin (NFLX) was studied by the fabrication of sensitive membrane electrodes belonging to two types of ISEs, which are polyvinyl chloride (PVC) membrane electrodes and glassy carbon (GC) electrodes. Linear response for the membrane electrodes was in the concentration range of 10−5–10−2 mol/L. For the PVC membrane electrodes, Nernstian slopes of 55.1, 56.5, 56.5, and 54.0 mV/decade were achieved over a pH 4–8 for AMX, CPLX, and NFLX, respectively, and pH 3–6 for TMP. On the other hand, for GC electrodes, Nernstian slopes of 59.1, 58.2, 57.0, and 58.2 mV/decade were achieved over pH 4–8 for AMX, CPLX, and NFLX, respectively, and pH 3–6 for TMP. In addition to assay validation to international industry standards, the fabricated electrodes were also cross-validated relative to conventional separation techniques; high performance liquid chromatography (HPLC), and thin layer chromatography (TLC)-densitometry. The HPLC assay was applied in concentration range of 0.5–10.0 μg/mL, for all target analytes. The TLC-densitometry was adopted over a concentration range of 0.3–1.0 μg/band, for AMX, and 0.1–0.9 μg/band, for CPLX, NFLX, and TMP. The proposed techniques were successfully applied for quantification of the selected drugs either in pure form or waste water samples obtained from pharmaceutical plants. The actual waste water samples were subjected to solid phase extraction (SPE) for pretreatment prior to the application of chromatographic techniques (HPLC and TLC-densitometry). On the other hand, the fabricated electrodes were successfully applied for quantification of the antibiotic residues in actual waste water samples without any pretreatment. This finding assures the suitability of the fabricated ISEs for environmental analysis.
Access options
Buy single article
Instant access to the full article PDF.
US$ 39.95
Tax calculation will be finalised during checkout.
Subscribe to journal
Immediate online access to all issues from 2019. Subscription will auto renew annually.
US$ 79
Tax calculation will be finalised during checkout.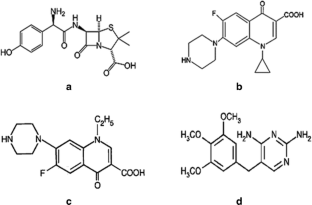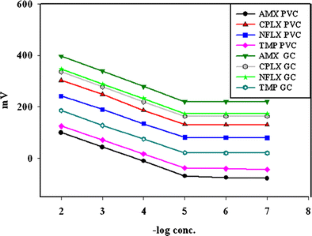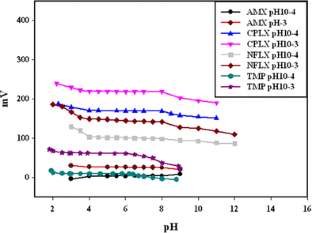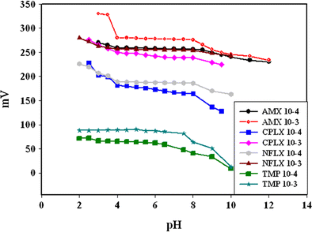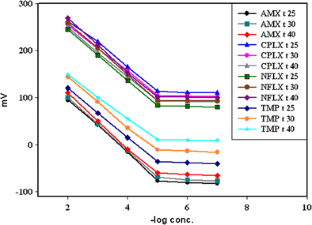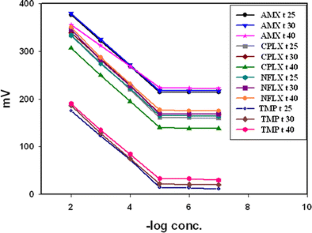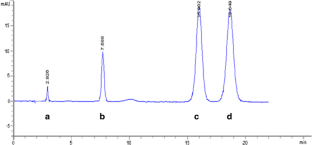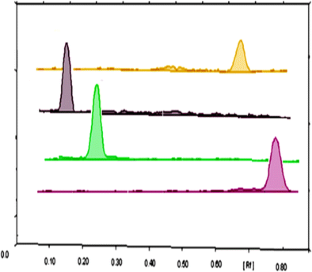 References
Abdel-Gawad FM, Issa YM, Fahmy HM, Hussein HM (1998) Spectrophotometric determination of ciprofloxacin in pure form and in tablets through charge-transfer complexation reactions. Microchim Acta 130:35–40

Abraham DJ, Rotella DP (2003) Burger's medicinal chemistry drug discovery, 5. Wiley Online Library

Beg S, Kohli K, Swain S, Hasnain MS (2012) Development and validation of RP-HPLC method for quantitation of amoxicillin trihydrate in bulk and pharmaceutical formulations using Box-Behnken experimental design. J Liq Chromatogr Relat Technol 35:393–406

Belal F, El-Din MS, Eid M, El-Gamal R (2013) Micellar HPLC and derivative spectrophotometric methods for the simultaneous determination of fluconazole and tinidazole in pharmaceuticals and biological fluids. J chromatogr Sci bmt028

Chen L, Zhang X, Xu Y, Du X, Sun X, Sun L, Wang H, Zhao Q, Yu A, Zhang H (2010) Determination of fluoroquinolone antibiotics in environmental water samples based on magnetic molecularly imprinted polymer extraction followed by liquid chromatography–tandem mass spectrometry. Anal Chim Acta 662:31–38

Coşofre VV, Buck RP (1993) Recent advances in pharmaceutical analysis with potentiometric membrane sensors. Crit Rev Anal Chem 24:1–58

Dong X, Ding L, Cao X, Jiang L, Zhong S (2013) A sensitive LC-MS/MS method for the simultaneous determination of amoxicillin and ambroxol in human plasma with segmental monitoring. Biomed Chromatogr 27:520–526

Fedorova G, Nebesky V, Randak T, Grabic R (2014) Simultaneous determination of 32 antibiotics in aquaculture products using LC-MS/MS. Chem Pap 68:29–36

Ghante MR, Pannu HK, Loni A, Shivsharan T (2012) Development and validation of a RP-HPLC method for simultaneous estimation of metronidazole and norfloxacin in bulk and tablet dosage form. International Journal of Pharmacy & Pharmaceutical Sciences 4:241

Givianrad M, Saber-Tehrani M, Aberoomand-Azar P, Mohagheghian M (2011) H-point standard additions method for simultaneous determination of sulfamethoxazole and trimethoprim in pharmaceutical formulations and biological fluids with simultaneous addition of two analytes. Spectrochim Acta A Mol Biomol Spectrosc 78:1196–1200

Guideline IHT (2005) Validation of analytical procedures: text and methodology. Q2 (R1) 1

Gummadi S, Thota D, Varri SV, Vaddi P, Rao VLNS (2012) Development and validation of UV spectroscopic methods for simultaneous estimation of ciprofloxacin and tinidazole in tablet formulation. International Current Pharmaceutical Journal 1:317–321

Herrera-Herrera AV, Hernández-Borges J, Borges-Miquel TM, Rodríguez-Delgado MÁ (2013) Dispersive liquid–liquid microextraction combined with ultra-high performance liquid chromatography for the simultaneous determination of 25 sulfonamide and quinolone antibiotics in water samples. J Pharm Biomed Anal 75:130–137

Hu F-Y, He L-M, Yang J-W, Bian K, Wang Z-N, Yang H-C, Liu Y-H (2014) Determination of 26 veterinary antibiotics residues in water matrices by lyophilization in combination with LC–MS/MS. J Chromatogr B 949:79–86

Ibrahim FA, Nasr JJM (2014) Direct determination of ampicillin and amoxicillin residues in food samples after aqueous SDS extraction by micellar liquid chromatography with UV detection. Anal Methods 6:1523–1529

Ji W, Wang L, Qian H, Yao W (2014) Quantitative analysis of amoxicillin residues in foods by surface-enhanced Raman spectroscopy. Spectrosc Lett 47:451–457

Karimi-Maleh H, Tahernejad-Javazmi F, Gupta VK, Ahmar H, Asadi MH (2014) A novel biosensor for liquid phase determination of glutathione and amoxicillin in biological and pharmaceutical samples using a ZnO/CNTs nanocomposite/catechol derivative modified electrode. J Mol Liq 196:258–263

Ladhani S, Gransden W (2003) Increasing antibiotic resistance among urinary tract isolates. Arch Dis Child 88:444–445

Lindner E, Umezawa Y (2008) Performance evaluation criteria for preparation and measurement of macro-and microfabricated ion-selective electrodes (IUPAC technical report). Pure Appl Chem 80:85–104

Liu C, Feng X, Qian H, Fang G, Wang S (2015) Determination of norfloxacin in food by capillary electrophoresis immunoassay with laser-induced fluorescence detector. Food Anal Methods 8:596–603

Nijhu RS, Jhanker YM, Sutradhar KB (2011) Development of an assay method for simultaneous determination of ciprofloxacin and naproxen by UV spectrophotometric method. Stamford journal of pharmaceutical sciences 4:84–90

Petrović M, Škrbić B, Živančev J, Ferrando-Climent L, Barcelo D (2014) Determination of 81 pharmaceutical drugs by high performance liquid chromatography coupled to mass spectrometry with hybrid triple quadrupole–linear ion trap in different types of water in Serbia. Sci Total Environ 468:415–428

Pharmacopoeia B (2015) British Pharmacopoiea Commision. London

Phonkeng N, Burakham R (2012) Signal derivatization for HPLC analysis of fluoroquinolone antibiotic residues in milk products. Chromatographia 75:233–239

Prieto A, Schrader S, Bauer C, Möder M (2011) Synthesis of a molecularly imprinted polymer and its application for microextraction by packed sorbent for the determination of fluoroquinolone related compounds in water. Anal Chim Acta 685:146–152

Rajith L, Jissy A, Kumar KG, Datta A (2011) Mechanistic study for the facile oxidation of trimethoprim on a manganese porphyrin incorporated glassy carbon electrode. J Phys Chem C 115:21858–21864

Rossmann J, Schubert S, Gurke R, Oertel R, Kirch W (2014) Simultaneous determination of most prescribed antibiotics in multiple urban wastewater by SPE-LC–MS/MS. J Chromatogr B 969:162–170

Sayar E, Sahin S, Cevheroglu S, Hıncal AA (2010) Development and validation of an HPLC method for simultaneous determination of trimethoprim and sulfamethoxazole in human plasma. Eur J Drug Metab Pharmacokinet 35:41–46

Seifrtová M, Aufartová J, Vytlačilová J, Pena A, Solich P, Nováková L (2010) Determination of fluoroquinolone antibiotics in wastewater using ultra high-performance liquid chromatography with mass spectrometry and fluorescence detection. J Sep Sci 33:2094–2108

Silva IS, Vidal DTR, do Lago CL, Angnes L (2013) Fast simultaneous determination of trimethoprim and sulfamethoxazole by capillary zone electrophoresis with capacitively coupled contactless conductivity detection. J Sep Sci 36:1405–1409

Silva MA, Ferreira MH, Braga JW, Sena MM (2012) Development and analytical validation of a multivariate calibration method for determination of amoxicillin in suspension formulations by near infrared spectroscopy. Talanta 89:342–351

Storey JM, Clark SB, Johnson AS, Andersen WC, Turnipseed SB, Lohne JJ, Burger RJ, Ayres PR, Carr JR, Madson MR (2014) Analysis of sulfonamides, trimethoprim, fluoroquinolones, quinolones, triphenylmethane dyes and methyltestosterone in fish and shrimp using liquid chromatography–mass spectrometry. J Chromatogr B 972:38–47

Turiel E, Bordin G, Rodríguez AR (2005) Determination of quinolones and fluoroquinolones in hospital sewage water by off-line and on-line solid-phase extraction procedures coupled to HPLC-UV. J Sep Sci 28:257–267

Vella J, Busuttil F, Bartolo NS, Sammut C, Ferrito V, Serracino-Inglott A, Azzopardi LM, LaFerla G (2015) A simple HPLC–UV method for the determination of ciprofloxacin in human plasma. J Chromatogr B 989:80–85

Wagil M, Kumirska J, Stolte S, Puckowski A, Maszkowska J, Stepnowski P, Białk-Bielińska A (2014) Development of sensitive and reliable LC-MS/MS methods for the determination of three fluoroquinolones in water and fish tissue samples and preliminary environmental risk assessment of their presence in two rivers in northern Poland. Sci Total Environ 493:1006–1013

Wankhede S, Prakash A, Kumari B, Chitlange S (2009) Simultaneous spectrophotometric estimation of norfloxacin and ornidazole in tablet dosage form. Indian journal of pharmaceutical sciences 71:325

Yola ML, Eren T, Atar N (2014) Molecular imprinted nanosensor based on surface plasmon resonance: application to the sensitive determination of amoxicillin. Sensors Actuators B Chem 195:28–35

Zhang X, Wei Y, Ding Y (2014) Electrocatalytic oxidation and voltammetric determination of ciprofloxacin employing poly (alizarin red)/graphene composite film in the presence of ascorbic acid, uric acid and dopamine. Anal Chim Acta 835:29–36
Acknowledgments
The authors gratefully acknowledge the Egyptian Pharmaceutical Industrial Company (EPICO, EGYPT) for supplying us with the samples required for this study.
Additional information
Responsible editor: Roland Kallenborn
About this article
Cite this article
Ibrahim, H.K., Abdel-Moety, M.M., Abdel-Gawad, S.A. et al. Validated electrochemical and chromatographic quantifications of some antibiotic residues in pharmaceutical industrial waste water. Environ Sci Pollut Res 24, 7023–7034 (2017). https://doi.org/10.1007/s11356-016-8340-3
Received:

Accepted:

Published:

Issue Date:
Keywords
Antibiotic residues

Waste water

Ion selective electrode

HPLC

TLC

Electrochemistry