Abstract
Cadmium (Cd) is a biologically non-essential heavy metal while the cultivation of Cd-tolerant varieties/hybrids (V) seems the most promising strategy for remediation of Cd-contaminated soils. For this, 24-day-old seedlings of seven maize hybrids, DKC 65-25, DKC 61-25, DKC 919, 23-T-16, 32-B-33, 31-P-41, and Syn hybrid, were grown in hydroponic conditions for 21 additional days in various Cd concentrations (0, 5, 10, and 15 μM). Effects of variety, Cd, and their interaction were highly significant (p ≤ 0.05) for studied plant agronomic and physiological traits except the V × Cd interaction for leaf chlorophyll content, root-shoot length, and root dry weight. The Cd accumulation in root and shoot increased gradually with increasing Cd treatments while copper (Cu), zinc (Zn), and manganese (Mn) uptake was decreased in all hybrids. The reduction in root and shoot biomass and Cd uptake was lower in 32-B-33 and 23-T-16 compared to other hybrids. The highest accumulation of Cu, Zn, and Mn was observed in 32-B-33, DK C65-25, and 31-P-41, respectively. The differential uptake and accumulation of Cd by maize hybrids may be useful in selection and breeding for Cd-tolerant genotypes.
Access options
Buy single article
Instant access to the full article PDF.
US$ 39.95
Tax calculation will be finalised during checkout.
Subscribe to journal
Immediate online access to all issues from 2019. Subscription will auto renew annually.
US$ 79
Tax calculation will be finalised during checkout.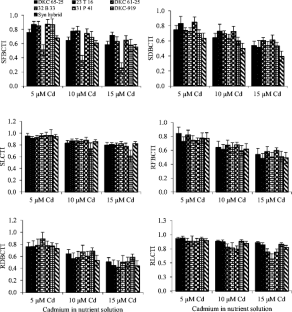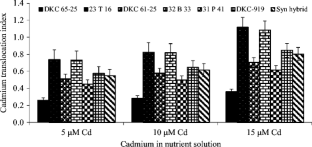 References
Adrees M, Ali S, Rizwan M, Rehman MZ, Ibrahim M, Abbas F, Farid M, Qayyum MF, Irshad MK (2015) Mechanisms of silicon-mediated alleviation of heavy metal toxicity in plants: a review. Ecotoxicol Environ Saf 119:186–197

Anjum NA, Sofo A, Scopa A, Roychoudhury A, Gill SS, Iqbal M, Lukatkin AS, Pereira E, Duarte AC, Ahmad I (2015) Lipids and proteins—major targets of oxidative modifications in abiotic stressed plants. Environ Sci Pollut Res 22:4099–4121

AOAC (1990) Official methods of analysis. Association of Official Analytical Chemists, Inc, Virginia

Arshad M, Ali S, Noman A, Ali Q, Rizwan M, Farid M, Irshad MK (2016) Phosphorus amendment decreased cadmium (Cd) uptake and ameliorates chlorophyll contents, gas exchange attributes, antioxidants and mineral nutrients in wheat (Triticum aestivum L.) under Cd stress. Arch Agron Soil Sci 62:533–546

Artiushenko T, Syshchykov D, Gryshko V, Čiamporová M, Fiala R, Repka V, Martinka M, Pavlovkin J (2014) Metal uptake, antioxidant status and membrane potential in maize roots exposed to cadmium and nickel. Biologia 69:1142–1147

Baker AJ, Whiting SN (2002) In search of the Holy Grail—a further step in understanding metal hyperaccumulation? New Phytol 155:1–4

Broadhurst CL, Chaney RL, Davis AP, Cox A, Kumar K, Reeves RD, Green CE (2015) Growth and cadmium phytoextraction by Swiss chard, maize, rice, Noccaea caerulescens, and Alyssum murale in pH adjusted biosolids amended soils. Int J Phytorem 17:25–39

Chen YX, He YF, Luo YM, YL Y, Lin Q, Wong MH (2003) Physiological mechanism of plant roots exposed to cadmium. Chemosphere 50:789–793

Chen Y, Wang C, Wang Z, Huang S (2004) Assessment of the contamination and genotoxicity of soil irrigated with wastewater. Plant Soil 261:189–196

Choppala G, Saifullah Bolan N, Bibi S, Iqbal M, Rengel Z, Kunhikrishnan A, Ashwath N, Ok YS (2014) Cellular mechanisms in higher plants governing tolerance to cadmium toxicity. Crit Rev Plant Sci 33:374–391

Cui Y, Wang Q (2006) Physiological responses of maize to elemental sulphur and cadmium stress. Plant Soil Environ 52:523–529

Du YL, He MM, Xu M, Yan ZG, Zhou YY, Guo GL, Nie J, Wang LQ, Hou H, Li FS (2014) Interactive effects between earthworms and maize plants on the accumulation and toxicity of soil cadmium. Soil Biol Biochem 72:193–202

Fernandez R, Fernandez-Fuego D, Bertrand A, Gonzalez A (2014) Strategies for Cd accumulation in Dittrichia viscose (L.) greuter: role of the cell wall, non-protein thiols and organic acids. Plant Physiol Biochem 78:63–70

Hussain I, Iqbal M, Qurat-ul-Ain S, Rasheed R, Mahmood S, Perveen A, Wahid A (2012) Cadmium dose and exposure-time dependent alterations in growth and physiology of maize (Zea mays). Int J Agri Biol 14:959–964

Iqbal N, Masood A, Nazar R, Syeed S, Khan NA (2005) Photosynthesis, growth and antioxidant metabolism in mustard (Brassica juncea L.) cultivars differing in cadmium tolerance. Agri Sci China 9:519–527

Johnson CM, Strout R, Broyer TC, Carlton AB (1957) Comparative chlorine requirements of different plant species. Plant Soil 8:327–353

Keller C, Rizwan M, Davidian JC, Pokrovsky OS, Bovet N, Chaurand P, Meunier JD (2015) Effect of silicon on wheat seedlings (Triticum turgidum L.) grown in hydroponics and exposed to 0 to 30 μM Cu. Planta 241:847–860

Li Y, Chen Z, Xu S, Zhang L, Hou W, Yu N (2015) Effect of combined pollution of Cd and B [a] P on photosynthesis and chlorophyll fluorescence characteristics of wheat. Pol J Environ Stud 24:157–163

Lin AJ, Zhang XH, Chen M, Cao Q (2007) Oxidative stress and DNA damages induced by cadmium accumulation. J Environ Sci 19:596–602

Lux A, Martinka M, Vaculik M, White PJ (2011) Root response to cadmium in the rhizosphere: a review. J Exp Bot 62:21–37

Lysenko EA, Klaus AA, Pshybytko NL, Kusnetsov VV (2015) Cadmium accumulation in chloroplasts and its impact on chloroplastic processes in barley and maize. Photosynth Res 125:291–303

Metwally A, Safronova VI, Bellimov AA, Dietz KJ (2005) Genotypic variation of the response to cadmium toxicity in Pisum sativum L. J Exp Bot 56:167–178

Naeem A, Saifullah, Rehman MZ, Akhtar T, Ok YS, Rengel Z (2016) Genetic variation in cadmium accumulation and tolerance among wheat cultivars at the seedling stage. Commun Soil Sci Plant Anal 47:554–562

Nagajyoti PC, Lee KD, Sreekanth TVM (2010) Heavy metals, occurrence and toxicity for plants: a review. Environ Chem Lett 8:199–216

Parrotta L, Guerriero G, Sergeant K, Cai G, Hausman JF (2015) Target or barrier? The cell wall of early and later diverging plants vs cadmium toxicity: differences in the response mechanisms. Front Plant Sci 6:1–16

Polle A, Schützendübel A (2004) Heavy metal signaling in plants: linking cellular and organismic responses. In Plant responses to abiotic stress. Springer, Berlin Heidelberg, pp 187–215

Rehman MZ, Rizwan M, Ghafoor A, Naeem A, Ali S, Sabir M, Qayyum MF (2015) Effect of inorganic amendments for in situ stabilization of cadmium in contaminated soils and its phyto-availability to wheat and rice under rotation. Environ Sci Pollut Res 22:16897–16906

Rizwan M, Meunier JD, Hélène M, Keller C (2012) Effect of silicon on reducing cadmium toxicity in durum wheat (Triticum turgidum L. cv. Claudio W.) grown in a soil with aged contamination. J Hazard Mater 209-210:326–334

Rizwan M, Ali S, Ibrahim M, Farid M, Adrees M, Bharwana SA, Rehman MZ, Qayyum MF, Abbas F (2015) Mechanisms of silicon-mediated alleviation of drought and salt stress in plants: a review. Environ Sci Pollut Res 22:15416-15431

Rizwan M, Meunier JD, Davidian JC, Pokrovsky OS, Bovet N, Keller C (2016a) Silicon alleviates Cd stress of wheat seedlings (Triticum turgidum L. cv. Claudio) grown in hydroponics. Environ Sci Pollut Res 23:1414–1427

Rizwan M, Ali S, Qayyum MF, Ok YS, Rehman MZ, Abbas Z, Hannan F (2016b) Use of maize (Zea mays L.) for phytomanagement of Cd contaminated soils: a critical review. Environ Geochem Health. doi:10.1007/s10653-016-9826-0

Rizwan M, Ali S, Rizvi H, Rinklebe J, Tsang DCW, Meers E, Ok YS, Ishaque W (2016c) Phytomanagement of heavy metals in contaminated soils using sunflower—a review. Crit Rev Environ Sci Technol. doi:10.1080/10643389.2016.1248199

Sarwar N, Saifullah, Malhi SS, Zia MH, Naeem A, Bibi S, Farida G (2010) Role of mineral nutrition in minimizing cadmium accumulation by plants. J Sci Food Agr 90:925–937

Song WE, Chen SB, Liu JF, Li CH, Song NN, Ning LI, Bin LI (2015) Variation of Cd concentration in various rice cultivars and derivation of cadmium toxicity thresholds for paddy soil by species-sensitivity distribution. J Int Agri 14:1845–1854

Steel RGD, Torrie JH, Dickey DA (1996) Principles and procedures of statistics: a biometrical approach, 3rd edn. McGraw Hill, New York

Stritsis C, Steingrobe B, Claassen N (2014) Cadmium fractions in an acid sandy soil and Cd in soil solution as affected by plant growth. J Plant Nutr Soil Sci 177:431–437

Tanwir K, Akram MS, Masood S, Chaudhary HJ, Lindberg S, Javed MT (2015) Cadmium-induced rhizospheric pH dynamics modulated nutrient acquisition and physiological attributes of maize (Zea mays L.). Environ Sci Pollut Res 22:9193–9203

Tauqeer HM, Ali S, Rizwan M, Ali Q, Saeed R, Iftikhar U, Ahmad R, Farid M, Abbasi GH (2016) Phytoremediation of heavy metals by Alternanthera bettzickiana: growth and physiological response. Ecotoxicol Environ Saf 126:138–146

Wang M, Duan ZJ, Jiang X, Liu DW (2007) Cadmium accumulation and its effects on metal uptake in maize (Zea mays L.). Biores Technol 98:82–88

Wang HY, Wen SL, Chen P, Zhang L, Cen K, Sun GX (2016a) Mitigation of cadmium and arsenic in rice grain by applying different silicon fertilizers in contaminated fields. Environ Sci Pollut Res 23:3781–3788

Wang A, Wang M, Liao Q, He X (2016b) Characterization of Cd translocation and accumulation in 19 maize cultivars grown on Cd-contaminated soil: implication of maize cultivar selection for minimal risk to human health and for phytoremediation. Environ Sci Pollut Res 23:5410–5419

Wu FB, Chen F, Wei K, Zhang GP (2004) Effect of cadmium on free amino acid, glutathione and ascorbic acid concentrations in two barley genotypes (Hordeum vulgare L.) differing in cadmium tolerance. Chemosphere 57:447–454

Wu F, Dong J, Jia G, Zheng S, Zhang G (2006) Genotypic difference in the responses of seedling growth and Cd toxicity in rice (Oryza sativa L.). Agri Sci China 5:68–76

Xu X, Liu C, Zhao X, Li R, Deng W (2014) Involve- ment of an antioxidant defense system in the adaptive response to cadmium in maize seedlings (Zea mays L.). Bull Environ Contam Toxicol 93:618–624

Yang Y, Xiong J, Chen R, Fu G, Chen T, Tao L (2016) Excessive nitrate enhances cadmium (Cd) uptake by up-regulating the expression of OsIRT1 in rice (Oryza sativa). Environ Exp Bot 122:141–149

Zhang G, Fukami M, Sekimoto H (2002) Influence of cadmium on mineral concentrations and yield components in wheat genotypes differing in Cd tolerance at seedling stage. Field Crop Res 77:93-98
Acknowledgments
The authors greatly acknowledge the financial support from the University of Agriculture Faisalabad (UAF), Pakistan.
Additional information
Responsible editor: Elena Maestri
About this article
Cite this article
Akhtar, T., Zia-ur-Rehman, M., Naeem, A. et al. Photosynthesis and growth response of maize (Zea mays L.) hybrids exposed to cadmium stress. Environ Sci Pollut Res 24, 5521–5529 (2017). https://doi.org/10.1007/s11356-016-8246-0
Received:

Accepted:

Published:

Issue Date:
Keywords
Cadmium

Chlorophyll contents

Gas exchange parameters

Growth

Micronutrients

Maize hybrids