Abstract
We monitored trace metals and nitrogen using naturally growing moss Hypnum cupressiforme Hedw. in urban and peri-urban forests of the City Municipality of Ljubljana. The aim of this study was to explore the differences in atmospheric deposition of trace metals and nitrogen between urban and peri-urban forests. Samples were collected at a total of 44 sites in urban forests (forests within the motorway ring road) and peri-urban forests (forests outside the motorway ring road). Mosses collected in urban forests showed increased trace metal concentrations compared to samples collected from peri-urban forests. Higher values were significant for As, Cr, Cu, Hg, Mo, Ni, Pb, Sb, Tl and V. Within the motorway ring road, the notable differences in element concentrations between the two urban forests were significant for Cr, Ni and Mo. Factor analysis showed three groups of elements, highlighting the contribution of traffic emissions, individual heating appliances and the resuspension of contaminated soils and dust as the main sources of trace elements in urban forests.
Access options
Buy single article
Instant access to the full article PDF.
USD 39.95
Price includes VAT (USA)
Tax calculation will be finalised during checkout.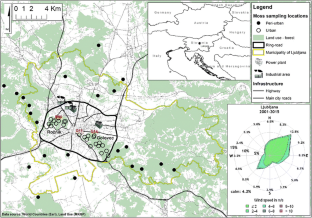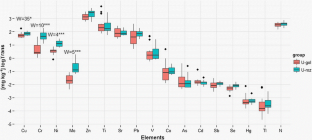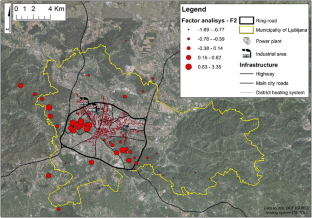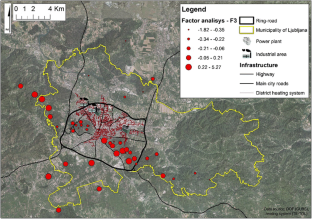 References
Abu-Allaban M, Gillies JA, Gertler AW, Clayton R, Proffitt D (2003) Tailpipe, resuspended road dust, and brake-wear emission factors from on-road vehicles. Atmos Environ 37:5283–5293

ARSO (2016) Climate characteristics of Ljubljana - Wind Rose for the City of Ljubljana. ARSO. http://meteo.arso.gov.si/uploads/probase/www/climate/table/sl/by_variable/wind/Ljubljana.html. Accessed 8 July 2016

Bates JW, Farmer AM (1990) An experimental study of calcium acquisition and its effects on the calcifuge moss Pleurozium schreberi. Ann Bot 65:87–96

Bates JW (1992) Mineral nutrient acquisition and retention by bryophytes. J Bryol 17:223–240

Bermejo-Orduna R, McBride JR, Shiraishi K, Elustondo D, Lasheras E, Santamaría JM (2014) Biomonitoring of traffic-related nitrogen pollution using Letharia vulpina (L.) Hue in the Sierra Nevada, California. Sci Total Environ 490:205–212

Biasioli M, Barberis R, Ajmone-Marsan F (2006) The influence of a large city on some soil properties and metals content. Sci Total Environ 356:154–164

Brown DH, Bates JW (1990) Bryophytes and nutrient cycling. Bot J Linn Soc 104:129–147

Cegnar T, Gjerek M, Koleša T, Logar M, Murovec M, Planinšek A, Paradiž B, Faganeli Pucer J, Rode B, Rus M, Turšič J, Žabkar R (2015) Kakovost zraka v Sloveniji v letu 2014, Ministrstvo za okolje in prostor. Agencija RS za okolje, Ljubljana (in Slovenian)

Dongarrà G, Manno E, Varrica D, Vultaggio M (2007) Mass levels, crustal component and trace elements in PM10 in Palermo, Italy. Atmos Environ 41:7977–7986

Escobedo FJ, Nowak DJ (2009) Spatial heterogeneity and air pollution removal by an urban forest. Landsc Urban Plan 90:102–110

ESRI (2015) ArcGIS Desktop: Release 10.3.1. In: Redlands (Hrsg.). CA: Environmental Systems Research Institute

Fantozzi F, Monaci F, Blanusa T, Bargagli R (2013) Holm oak (Quercus ilex L.) canopy as interceptor of airborne trace elements and their accumulation in the litter and topsoil. Environ Pollut 183:89–95

Glime JM (2006) Bryophyte ecology. Michigan Technological University and the International Association of Bryologists, pp. 631

Harmens H, Buse A, Büker P, Norris D, Mills G, Williams B, Reynolds B, Ashenden TW, Rühling Å, Steinnes E (2004) Heavy metal concentrations in European mosses: 2000/2001 survey. J Atmos Chem 49:425–436

Harmens H, Norris D, and the participants of the moss survey (2010) Spatial and temporal trends in heavy metal accumulation in mosses in Europe (1990–2005), Programme Coordination Centre of the ICP. Vegetation, Bangor Gwynedd

Harmens H, Norris D, Mills G, and the participants of the moss survey (2013) Heavy metals and nitrogen in mosses: spatial patterns in 2010/2011 and long-term temporal trends in Europe. ICP Vegetation Programme Coordination Centre, Bangor UK

Hart BT (1982) Uptake of trace metals by sediments and suspended particulates: a review. Hydrobiologia 91:299–313

He ZL, Yang XE, Stoffella PJ (2005) Trace elements in agroecosystems and impacts on the environment. J Trace Elem Med Biol 19:125–140

Herpin U, Berlekamp J, Markert B, Wolterbeek B, Grodzinska K, Siewers U, Lieth H, Weckert V (1996) The distribution of heavy metals in a transect of the three states the Netherlands, Germany and Poland, determined with the aid of moss monitoring. Sci Total Environ 187:185–198

Ho YB, Tai KM (1988) Elevated levels of lead and other metals in roadside soil and grass and their use to monitor aerial metal depositions in Hong Kong. Environ Pollut 49:37–51

ICP Vegetation Coordination Centre (2010) Monitoring of atmospheric heavy metal and nitrogen deposition in Europe using bryophytes—monitoring manual. ICP Vegetation Coordination Centre, Gwynedd

Johansson C, Norman M, Burman L (2009) Road traffic emission factors for heavy metals. Atmos Environ 43:4681–4688

Koleša T, Planinšek A (2013) Opredelitev virov delcev PM 10 v Ljubljani. Agancy, Slovenian Environment (in Slovenian)

Krommer V, Zechmeister HG, Roder I, Scharf S, Hanus-Illnar A (2007) Monitoring atmospheric pollutants in the biosphere reserve Wienerwald by a combined approach of biomonitoring methods and technical measurements. Chemosphere 67:1956–1966

Lee CSL, Li X, Zhang G, Peng X, Zhang L (2005) Biomonitoring of trace metals in the atmosphere using moss (Hypnum plumaeforme) in the Nanling Mountains and the Pearl River Delta, Southern China. Atmos Environ 39:397–407

Legret M, Pagotto C (2006) Heavy metal deposition and soil pollution along two major rural highways. Environ Technol 27:247–254

Lewis-Smith RI (1978) Summer and winter concentrations of sodium, potassium and calcium in some maritime Antarctic cryptogams. J Ecol 66:891–909

Malea P, Haritonidis S, Kevrekidis T (1994) Seasonal and local variations of metal concentrations in the seagrass Posidonia oceanica (L.) Delile in the Antikyra Gulf, Greece. Sci Total Environ 153:225–235

Markert B, Wappelhorst O, Weckert V, Herpin U, Siewers U, Friese K, Breulmann G (1999) The use of bioindicators for monitoring the heavy-metal status of the environment. J Radioanal Nucl Chem 240:425–429

Markert BA, Breure AM, Zechmeister HG (2003) Definitions, strategies and principles for bioindication/biomonitoring of the environment. In: B.A. Markert AMB, Zechmeister HG (eds) Trace metals and other contaminants in the environment. Elsevier, pp. 3–39

Meij R, te Winkel H (2007) The emissions of heavy metals and persistent organic pollutants from modern coal-fired power stations. Atmos Environ 41:9262–9272

Miguel E, Llamas JF, Chacón E, Berg T, Larssen S, Røyset O, Vadset M (1997) Origin and patterns of distribution of trace elements in street dust: unleaded petrol and urban lead. Atmos Environ 31:2733–2740

Naszradi T, Badacsonyi A, Keresztényi I, Podar D, Csintalan Z, Tuba Z (2007) Comparison of two metal surveys by moss Tortula ruralis in Budapest, Hungary. Environ Monit Assess 134:279–285

Nowak DJ, Hirabayashi S, Bodine A, Greenfield E (2014) Tree and forest effects on air quality and human health in the United States. Environ Pollut 193:119–129

OECD (2012): OECD Environmental Performance Reviews: Slovenia 2012. In: OECD (Hrsg.), Paris

Ogrin M, Vintar Mally K, Planinšek A, Gregorič A, Drinovec L, Močnik G (2016): Nitrogen dioxide and black carbon concentrations in Ljubljana. Faculty of Arts—Department of Geography

Økland T, Økland RH, Steinnes E (1999) Element concentrations in the boreal forest moss Hylocomium splendens: variation related to gradients in vegetation and local environmental factors. Plant Soil 209:71–83

Oliva SR, Espinosa AJF (2007) Monitoring of heavy metals in topsoils, atmospheric particles and plant leaves to identify possible contamination sources. Microchem J 86:131–139

Pacyna JM, Pacyna EG (2001) An assessment of global and regional emissions of trace metals to the atmosphere from anthropogenic sources worldwide. Environ Rev 9:269–298

Pearson J, Wells DM, Seller KJ, Bennet A, Soares A, Woodland J, Ingrouille MJ (2000) Traffic exposure increases natural 15N and heavy metal concentrations in mosses. New Phytol 147:317–326

Puckett KJ (1988) Bryophytes and lichens as monitors of metal deposition, 30. Bibliotheca Lichenologica, 231 pp

R Development Core Team (2016) R: a language and environment for statistical computing. R Fundation for Statistical Computing, Vienna, Austria

Rainbow PS, Phillips DJH (1993) Cosmopolitan biomonitors of trace metals. Mar Pollut Bull 26:593–601

Reimann C, de Caritat P (1998) Chemical elements in the environment—factsheets for the geochemist and environmental scientist. Springer, 387 pp

Reimann C, Arnoldussen A, Boyd R, Finne TE, Nordgulen O, Volden T, Englmaier P (2006) The influence of a city on element contents of a terrestrial moss (Hylocomium splendens). Sci Total Environ 369:419–432

Rühling Å, Tyler G (1970) Sorption and retention of heavy metals in the woodland moss Hylocomium splendens (Hedw.) Br. et Sch. Oikos 21:92–97

Sabovljević M, Vujičić M, Pantović J, Sabovljević A (2014) Bryophyte conservation biology: in vitro approach to the ex situ conservation of bryophytes from Europe. Plant Biosystems - An International Journal Dealing with all Aspects of Plant Biology 148:857–868

Schauer JJ, Lough GC, Shafer MM, Christensen WF, Arndt MF, DeMinter JT, Park J-S (2006) Characterization of metals emitted from motor vehicles. Research report (Health Effects Institute), 1–76; discussion 77

Schilling JS, Lehman ME (2002) Bioindication of atmospheric heavy metal deposition in the Southeastern US using the moss Thuidium delicatulum. Atmos Environ 36:1611–1618

Senesi GS, Baldassarre G, Senesi N, Radina B (1999) Trace element inputs into soils by anthropogenic activities and implications for human health: matter and energy fluxes in the anthropocentric environment. Chemosphere 39:343–377

Skudnik M, Jeran Z, Batič F, Simončič P, Lojen S, Kastelec D (2014) Influence of canopy drip on the indicative N, S and δ15N content in moss Hypnum cupressiforme. Environ Pollut 190:27–35

Skudnik M, Jeran Z, Batič F, Simončič P, Kastelec D (2015) Potential environmental factors that influence the nitrogen concentration and δ15N values in the moss Hypnum cupressiforme collected inside and outside canopy drip lines. Environ Pollut 198:78–85

Slovenian Infrastructure Agency (2014) Taffic loads in Slovenia

Stalnaker D, Turner J, Parekh D, Whittle B, Norton R (1996) Indoor simulation of tire wear: some case studies. Tire Science and Technology 24:94–118

Steinnes E, Rühling Å, Lippo H, Mäkinen A (1997) Reference materials for large-scale metal deposition surveys. Accred Qual Assur 2:243–249

SURS (2014) Statistical yearbook 2013. Ljubljana: City of Ljubljana, Ljubljana (in Slovenian)

Szczepaniak K, Biziuk M (2003) Aspects of the biomonitoring studies using mosses and lichens as indicators of metal pollution. Environ Res 93:221–230

Thorpe A, Harrison RM (2008) Sources and properties of non-exhaust particulate matter from road traffic: a review. Sci Total Environ 400:270–282

Thurston GD, Ito K, Lall R (2011) A source apportionment of U.S. fine particulate matter air pollution. Atmos Environ 45:3924–3936

Tyler G (1990) Bryophytes and heavy metals: a literature review. Bot J Linn Soc 104:231–253

Tyler T, Olsson PA (2016) Substrate pH ranges of south Swedish bryophytes—identifying critical pH values and richness patterns. Flora - Morphology, Distribution, Functional Ecology of Plants 223:74–82

Tyrväinen L, Pauleit S, Seeland K, de Vries S (2005) Benefits and uses of urban forests and trees. In: Konijnendijk C, Nilsson K, Randrup T, Schipperijn J (eds) Urban forests and trees: a reference book. Springer Berlin Heidelberg, Berlin, Heidelberg, pp. 81–114

Urbančič M, Kobal M, Ferreira A, Simončič P (2010) Forest soil in the municipality of Ljubljana. Gozdarski Vestnik 68:292–300 (in Slovenian)

Vilhar U, Žlindra D, Ruper M, Simončič P (2014) Monitoring of ambient air quality in forests. Vetrnica:109–119 (in Slovenian)

von Uexküll O, Skerfving S, Doyle R, Braungart M (2005) Antimony in brake pads—a carcinogenic component? J Clean Prod 13:19–31

Vujičić M, Sabovljević A, Sabovljević M (2011) Axenically culturing the bryophytes: establishment and propagation of the moss Hypnum cupressiforme Hedw. (Bryophyta, Hypnaceae) in in vitro conditions. Botanica Serbica 35:71–77

Weckwerth G (2001) Verification of traffic emitted aerosol components in the ambient air of Cologne (Germany). Atmos Environ 35:5525–5536

Wells JM, Brown DH (1996) Mineral nutrient recycling within shoots of the moss Rhytidiadelphus squarrosus in relation to growth. J Bryol 19:1–17

Wik A, Dave G (2009) Occurrence and effects of tire wear particles in the environment—a critical review and an initial risk assessment. Environ Pollut 157:1–11

Wolterbeek B (2002) Biomonitoring of trace element air pollution: principles, possibilities and perspectives. Environ Pollut 120:11–21

Zechmeister HG, Hohenwallner D, Riss A, Hanus-Illnar A (2003) Variations in heavy metal concentrations in the moss species Abietinella abietina (Hedw.) Fleisch. according to sampling time, within site variability and increase in biomass. Sci Total Environ 301:55–65

Zechmeister HG, Dullinger S, Hohenwallner D, Riss A, Hanus-Illnar A, Scharf S (2006) Pilot study on road traffic emissions (PAHs, heavy metals) measured by using mosses in a tunnel experiment in Vienna, Austria. Environ Sci Pollut Res 13:398–405
Acknowledgements
This research was funded by EMoNFUr project LIFE10ENV/IT 399: 'Establishing a monitoring network to assess lowland forest and urban plantation in Lombardy and urban forest in Slovenia' and by the Municipality of Ljubljana. We thank the Slovene Human Resources Development and Scholarship Fund (contract no. 11011-33/2012) and the Ministry of Science of the Republic of Serbia (grant no. 173030). This research was realized through the frame of bilateral cooperation between Serbia and Slovenia.
Additional information
Responsible editor: Roberto Terzano
About this article
Cite this article
Berisha, S., Skudnik, M., Vilhar, U. et al. Trace elements and nitrogen content in naturally growing moss Hypnum cupressiforme in urban and peri-urban forests of the Municipality of Ljubljana (Slovenia). Environ Sci Pollut Res 24, 4517–4527 (2017). https://doi.org/10.1007/s11356-016-8201-0
Received:

Accepted:

Published:

Issue Date:
Keywords
Heavy metals

Biomonitoring

Ljubljana

ICP-MS

Elemental analysis

Factor analysis

Traffic emissions