Abstract
Application of biosolids to agricultural soils is one of the pathways by which antibiotics can be introduced into agricultural ecosystems. A pot experiment was conducted with repeated soil amendment with biosolids to examine the concentrations of four classes of antibiotics (tetracyclines, sulfonamides, fluoroquinolones, and macrolides) and their dissipation in three different soil types in wheat-rice rotations. Antibiotics accumulate in the soils after repeated application of biosolids. Fluoroquinolones showed stronger accumulation and persistence in the test soils than the other three classes of antibiotics. The maximum residual antibiotic concentration was that of norfloxacin at 155 ± 16 μg kg−1 in the Typic Hapli-Stagnic Anthrosols (paddy soil). Predicted half-lives were up to 3.69 years, a much longer period than that between biosolid applications (twice each year on average). Antibiotic accumulation followed the rough order fluoroquinolones > tetracyclines > macrolides > sulfonamides, and the sulfonamides were seldom encountered. When biosolid application was suspended, the dissipation rate accelerated. Antibiotic dissipation was slightly slower when biosolids with high heavy metal concentrations were applied and microbial degradation may have been the main mechanism of dissipation. Norfloxacin persistence was positively correlated with its soil adsorption capacity. Cation exchange capacity and soil organic matter content may have vital roles in the soil adsorption of fluoroquinolones. Because of their persistence, the fluoroquinolones must be taken into account in the planning of biosolid applications in agricultural practice.
This is a preview of subscription content, log in to check access.
Access options
Buy single article
Instant access to the full article PDF.
US$ 39.95
Price includes VAT for USA
Subscribe to journal
Immediate online access to all issues from 2019. Subscription will auto renew annually.
US$ 99
This is the net price. Taxes to be calculated in checkout.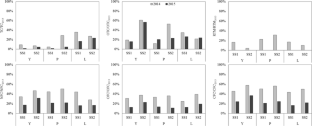 References
Accinelli C, Koskinen WC, Becker JM, Sadowsky MJ (2007) Environmental fate of two sulfonamide antimicrobial agents in soil. J Agric Food Chem 55:2677–2682

Aristilde L, Sposito G (2010) Binding of ciprofloxacin by humic substances: a molecular dynamics study. Environ Toxicol Chem 29(1):90–98

Barboza M, Almeida RMRG, Hokka CO (2003) Influence of temperature on the kinetics of adsorption and desorption of clavulanic acid by ionic exchange. Biochem Eng J 14(1):19–26

Belden JB, Maul JD, Lydy MJ (2007) Partitioning and photo degradation of ciprofloxacin in aqueous systems in the presence of organic matter. Chemosphere 66(8):1390–1395

Boxall ABA, Blackwell P, Cavallo R, Kay P, Tolls J (2002) The sorption and transport of a sulphonamide antibiotic in soil systems. Toxicol Lett 131(1–2):19–28

Boxall ABA, Johnson P, Smith EJ, Sinclair CJ, Stutt E, Levy LS (2006) Uptake of veterinary medicines from soils into plants. J Agric Food Chem 54:2288–2297

Chaudhry AS, Kochhar R, Kohli KK (2009) Importance of CYP2C19 genetic polymorphism in the eradication of Helicobacter pylori in north Indians. Indian J Med Res 130(4):437–443

Chen H, Ma LQ, Gao B, Gu C (2013) Influence of Cu and Ca cations on ciprofloxacin transport in saturated porous media. J Hazard Mater 262:805–811

Cheng MM, Wu LH, Huang YJ, Luo YM, Perter C (2014) Total concentrations of heavy metals and occurrence of antibiotics in sewage sludges from cities throughout China. J Soils Sediments 14:1123–1135

Dalkmann P, Siebe C, Amelug W, Schloter M, Siemens J (2014) Dose long term irrigation with untreated wastewater accelerate the dissipation of pharmaceuticals in soil? Environ Sci Technol 48:4963–4970

Du LF, Liu WK (2012) Occurrence, fate, and ecotoxicity of antibiotics in agro-ecosystems. A review. Agron Sustain Dev 32(2):309–327

Franklin AM, Aga DS, Cytryn E, Durso LM, McLain JE, Pruden A, Roberts MC, Rothrock MJ, Snow DD, Watson JE, Dungan RS (2016) Antibiotics in agroecosystems: introduction to the special section. J Environ Qual 45(2):377–393

Garcia-Galant MJ, Diaz-Cruz MS, Barcelo D (2011) Occurrence of sulfonamide residues along the Ebro river basin removal in wastewater treatment plants and environmental impact assessment. Environ Int 37:462–473

Giger W, Alder AC, Golet EM, Kohler HPE, McArdell CS (2003) Occurrence and fate of antibiotics as trace contaminants in wastewaters, sewage sludges, and surface waters. Chimia 57:485–491

Golet EM, Xifra I, Siegrist H, Giger W (2003) Environmental exposure assessment of fluoroquinolone antibacterial agents from sewage to soil. Environ Sci Technol 37:3243–3249

Guaita DP, Sayen S, Boudesocque S, Guillon E (2011) Copper (II) influence on flumequine retention in soils: macroscopic and molecular investigations. J Colloid Interf Sci 357(2):453–459

Haiba E, Lillenberg M, Kipper K, Astover A, Herodes K, Ivask M, Kuu A, Litvin SV, Nei L (2013) Fluoroquinolones and sulfonamides in sewage sludge compost and their uptake from soil into food plants. Afr J Agr Res 8(23):3000–3006

Halling-Sørensen B, Jacobsen AM, Jensen J, Sengelov G, Vaclavik E, Ingerslev F (2005) Dissipation and effects of chlortetracycline and tylosin in two agricultural soils: a field-scale study in southern Denmark. Environ Toxicol Chem 24(4):802–810

Hamscher G, Pawelzick HK, Höper H, Nau H (2009) Different behavior of tetracyclines and sulfonamides in sandy soils after repeated fertilization with liquid manure. Environ Toxitic Chem 24:861–868

Hamscher G, Sczesny S, Höper H, Nau H (2002) Determination of persistent tetracycline residues in soil fertilized with liquid manure by high-performance liquid chromatography with electrospray ionization tandem mass spectrometry. Anal Chem 74:1509–1518

Hongsawat P, Prarat P, Ngamcharussrivichai C, Punyapalakul P (2014) Adsorption of ciprofloxacin on surface functionalized superparamagnetic porous silicas. Desalin Water Treat 52(22–24):4430–4443

Huang YJ, Cheng MM, Li WH, Wu LH, Chen YS, Luo YM, Christie P, Zhang HB (2013) Simultaneous extraction of four classes of antibiotics in soil, manure and sewage sludge and analysis by liquid chromatography-tandem mass spectrometry with the isotope-labelled internal standard method. Anal Methods 5(15):3721–3731

Jechalke S, Heuer H, Siemens J, Amelung W, Smalla K (2014) Fate and effects of veterinary antibiotics in soil. Trends Microbiol 22:536–545

Ji XL, Shen QH, Liu F, Ma J, Xu G, Wang YL, Wu MH (2012) Antibiotic resistance gene abundances associated with antibiotics and heavy metals in animal manures and agricultural soils adjacent to feedlots in shanghai, China. J Hazard Mater 235:178–185

Jiang WT, Wang CJ, Li ZH (2013) Intercalation of ciprofloxacin accompanied by dehydration in rectorite. Appl Clay Sci 74:74–80

Kang J, Liu HJ, Zheng YM, Qu JH, Chen JP (2010) Systematic study of synergistic and antagonistic effects on adsorption of tetracycline and copper onto a chitosan. J Colloid Interf Sci 344:117–125

Karcı A, Balcıoğlu IA (2009) Investigation of the tetracycline, sulfonamides, and fluoroquinolone antimicrobial compounds in animal manure and agricultural soils in Turkey. Sci Total Environ 407:4652–4664

Kümmerer K (2003) Significance of antibiotics in the environment. J Antimicrob Chemother 52(1):5–7

Kulshrestha P, Giese RF, Aga DS (2004) Investigating the molecular interactions of oxytetracycline in clay and organic matter: insights on factors affecting its mobility in soil. Environ Sci Technol 38:4097–4105

Liao XB, Li BX, Zou RS, Dai Y, Xie SG, Yuan BL (2016) Biodegradation of antibiotic ciprofloxacin: pathways, influential factors, and bacterial community structure. Environ Sci Pollut R 23(8):7911–7918

Li B, Zhang T (2010) Biodegradation and adsorption of antibiotics in the activated sludge. Proc Environ Sci Technol 44:3468–3473

Li ZH, Hong HL, Liao LB, Ackley CJ, Schulz LA, MacDonald RA (2011) A mechanistic study of ciprofloxacine removal by kaolinite. Colloid Surf B 88:339–344

Li YS, Tang H, Hu YX, Wang XH, Ai XJ, Tang L, Mattew C, Cavanagh J, Qiu JP (2016a) Enrofloxacin at environmentally relevant concentration enhances uptake and toxicity of cadmium in the earthworm Eisenia fetida in farm soils. J Hazard Mater 208:312–320

Li YZ, Wang HJ, Liu XX, Zhao GY, Sun Y (2016b) Dissipation kinetics of oxytetracycline, tetracycline, and chlortetracycline residues in soil. Environ Sci Pollut Res 23(14):13822–138311

Lillenberg M, Yurchenko S, Kipper K, Herodes K, Pihl V, Lohmus R, Ivask M, Kuu A, Kutti S, Litvin SV, Nei L (2010) Presence of fluoroquinolones and sulfonamides in urban sewage sludge and their degradation as a result of composting. Int J Environ Sci Technol 7(2):307–312

Lindberg RH, Wennberg P, Johansson MI, Tysklind M, Andersson BAV (2005) Screening of human antibiotic substances and determination of weekly mass flows in five sewage treatment plants in Sweden. Environ Sci Technol 39:3421–3429

Lindberg RH, Bjorklund K, Rendahl P, Johansson MI, Tysklind M, Andersson BAV (2007) Environmental risk assessment of antibiotics in the Swedish environment with emphasis on sewage treatment plants. Water Res 41(3):613–619

Lu RK (2000) Analytical methods for soil and agro-chemistry. China Agriculture Scientech Press (In Chinese), Beijing

Lv GH, Pearce CW, Gleason A, Liao LB, MacWilliams MP, Li ZH (2013) Influence of montomorillonite on antimicrobial activity of tetracycline and ciprofloxacin. J Asian Earth Sci 77:281–286

McArdell CS, Molnar E, Suter MJF, Giger W (2003) Occurrence and fate of macrolide antibiotics in wastewater treatment plants and in the Glatt Valley watershed, Switzerland. Environ Sci Technol 37(24):5479–5486

Moffett BF, Nicholson FA, Uwakwe NC, Chambers BJ, Harris JA, Hill TJ (2003) Zinc contamination decreases the bacterial diversity of agricultural soil. FEMS Microbiol Ecol 43(1):13–19

Pan M, Chu LM (2016) Adsorption and degradation of five selected antibiotics in agricultural soil. Sci Total Environ 545:48–56

Pan X, Qiang ZM, Ben WW, Chen MX (2011) Residual veterinary antibiotics in swine manure from concentrated animal feeding operations in Shandong Province, China. Chemosphere 84:695–700

Pantelelis I, Karpouzas DG, Menkissoglu-Spiroudi U, Tsiropoulos N (2006) Influence of soil physicochemical and biological properties on the degradation and adsorption of the nematicide fosthiazate. J Agric Food Chem 54(18):6783–6789

Pignatello JJ, Xing BS (1996) Mechanisms of slow sorption of organic chemicals to natural particles. Environ Sci Technol 30(1):1–11

Rabolle M, Spliid NH (2000) Sorption and mobility of metronidazole, olaquindox, oxytetracycline and tylosin in soil. Chemosphere 40(7):715–722

Rosendahl I, Siemens J, Kindler R, Groeneweg J, Zimmermann J, Czerwinski S, Lamshoft M, Laabs V, Wilke BM, Vereecken H, Amelung W (2012) Persistence of the fluoroquinolone antibiotic difloxacin in soil and lacking effects on nitrogen turnover. J Environ Qual 41(4):1275–1283

Sarmah AK, Meyer MT, Boxall ABA (2006) A global perspective on the use, sales, exposure pathways, occurrence, fate and effects of veterinary antibiotics (VAs) in the environment. Chemosphere 65(5):725–759

Sengeløv G, Agersø Y, Halling-Sørensen B, Baloda SB, Andersen JS, Jensen LB (2003) Bacterial antibiotic resistance levels in Danish farmland as a result of treatment with pig manure slurry. Environ Int 28:587–595

Subbiah M, Mitchell SM, Call DR (2016) Not all antibiotic use practices in food-animal agriculture afford the same risk. J Environ Qual 45(2):618–629

Toll J (2001) Sorption of veterinary pharmaceuticals in soils: a review. Environ Sci Technol 17:3397–3406

Vasudevan D, Bruland GL, Torrance BS, Upchurch VG, MacKay AA (2009) pH-dependent ciprofloxacin sorption to soils: interaction mechanisms and soil factors influencing sorption. Geoderma 151:68–76

Vree TB, Kolmer EWJB, Hekster YA (1991) Pharmacokinetics, N1-glucuronidation and N4-acetylation of sulfamethomidine in humans. Pharm Weekblad Sci Ed 13(5):198–206

Walters E, McClellan K, Halden RU (2010) Occurrence and loss over three years of 72 pharmaceuticals and personal care products from biosolids-soil mixtures in outdoor mesocosms. Water Res 44(20):6011–6020

Wang CJ, Li ZH, Jiangxi WT, Jean JS, Liu CC (2010) Cation exchange interaction between antibiotics ciprofloxacin and montmorillonite. J Hazard Mater 183:309–314

Wang CJ, Li ZH, Jiang WT (2011) Adsorption of ciprofloxacin on 2: 1 dioctahedral clay minerals. Appl Clay Sci 53:723–728

Wang JM, Lin H, Sun WC, Xia Y, Ma JW, Fu JR, Zhang ZL, Wu HZ, Qian MR (2016) Variations in the fate and biological effects of sulfamethoxazole, norfloxacin and doxycycline in different vegetable – soil systems following manure application. Bioresource Technol 102:5924–5931

Wang QQ, Yates SR (2008) Laboratory study of oxytetracycline degradation kinetics in animal manure and soil. J Agric Food Chem 56:1683–1688

Wu XF, Wei YS, Zheng JX, Zhao X, Zhong WK (2011) The behavior of tetracyclines and their degradation products during swine manure composting. Bioresource Technol 102(10):5924–5931

Wu LH, Pan X, Chen LK, Huang YJ, Teng Y, Luo YM, Christie P (2013) Occurrence and distribution of heavy metals and tetracyclines in agricultural soils after typical land use change in East China. Environ Sci Pollut Res 20:8342–8354

Zhang JQ, Dong YH (2008) Effect of low-molecular-weight organic acids on the adsorption of norfloxacin in typical variable charge soils of China. J Hazard Mater 151:833–839

Zhang HB, Zhou Y, Huang YJ, Wu LH, Liu XH, Luo YM (2016) Residues and risks of veterinary antibiotics in protected vegetable soils following application of different manures. Chemosphere 52:229–237

Zhao YP, Geng JJ, Wang XR, Gu XY, Gao SX (2011) Adsorption of tetracycline onto goethite in the presence of metal cations and humic substances. J Colloid Interf Sci 361(1):247–251

Zhu YG, Johnson TA, Su J, Qiao M, Guo GX, Stedtfeld RD, Hashsham SA, Tiedje JM (2013) Diverse and abundant antibiotic resistance genes in Chinese swine farms. Proc Nat Acad Sci USA 110:3435–3440
Acknowledgements
This research was financially supported by the National Natural Science Foundation of China (projects 41271326 and 41325003).
Additional information
Responsible editor: Zhihong Xu
About this article
Cite this article
Yang, L., Wu, L., Liu, W. et al. Dissipation of antibiotics in three different agricultural soils after repeated application of biosolids. Environ Sci Pollut Res 25, 104–114 (2018). https://doi.org/10.1007/s11356-016-8062-6
Received:

Accepted:

Published:

Issue Date:
Keywords
Antibiotics

Biosolids

Fluoroquinolones

Rice-wheat rotations

Repeated amendment

Soils