Abstract
Following the Deepwater Horizon (DWH) event in 2010 subsurface hydrocarbon intrusions (1000–1300 m) and an order of magnitude increase in flocculent hydrocarbon deposition caused increased concentrations of hydrocarbons in continental slope sediments. This study sought to characterize the variability [density, Fisher's alpha (S), equitability (E), Shannon (H)] of benthic foraminifera following the DWH event. A series of sediment cores were collected at two sites in the northeastern Gulf of Mexico from 2010 to 2012. At each site, three cores were utilized for benthic faunal analysis, organic geochemistry, and redox metal chemistry, respectively. The surface intervals (∼0–10 mm) of the sedimentary records collected in December 2010 at DSH08 and February 2011 at PCB06 were characterized by significant decreases in foraminiferal density, S, E, and H, relative to the down-core intervals as well as previous surveys. Non-metric multidimensional scaling (nMDS) analysis suggested that a 3-fold increase in polycyclic aromatic hydrocarbon (PAH) concentration in the surface interval, relative to the down-core interval, was the environmental driver of benthic foraminiferal variability. These records suggested that the benthic foraminiferal recovery time, following an event such as the DWH, was on the order of 1–2 years.
Access options
Buy single article
Instant access to the full article PDF.
US$ 39.95
Tax calculation will be finalised during checkout.
Subscribe to journal
Immediate online access to all issues from 2019. Subscription will auto renew annually.
US$ 79
Tax calculation will be finalised during checkout.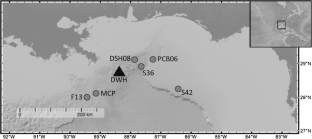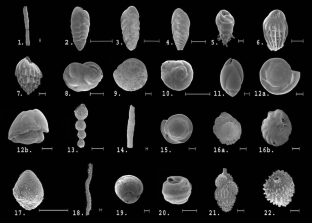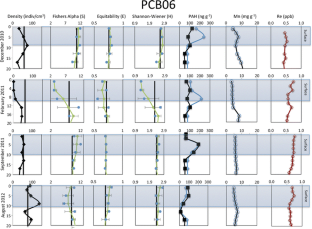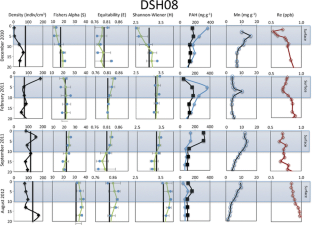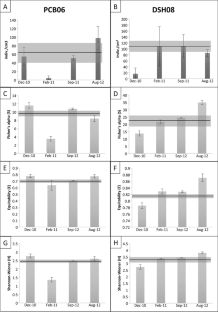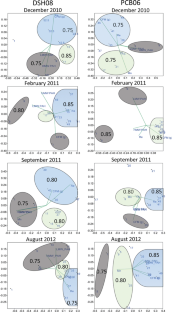 References
Atlas RM, Hazen TC (2011) Oil biodegradation and bioremediation: a tale of the two worst spills in U.S. history. Environ Sci Technol 45:6709–6715

Bernhard JM, Sen Gupta BK, Baguley JG (2008) Benthic foraminifera living in Gulf of Mexico bathyal and abyssal sediments: community analysis and comparison to metazoan meiofaunal biomass and density. Deep-Sea Res II 55:2617–2626

Brady HB (1878) On the reticularian and radiolarian Rhizopoda (Foraminifera and Polycystina) of the north polar expedition of 1875-76. Ann Mag Nat Hist 5:425–440

Brady HB (1879) Notes on some of the reticularian Rhizopoda of the challenger expedition, part I. On new or little known Arenaceous types. Q J Microsc Sci (New Series) 19:20–63

Brady HB (1884) Report on the foraminifera dredged by H.M.S. Challenger during the years 1873-1876. Zoology 9:1–814

Brooks GR, Larson RA, Schwing PT, Flower BP, Hollander DJ, Romero IC, Moore C, Reichart GJ, Jilbert T, Hastings DW (2015) Sediment pulse in the NE Gulf of Mexico following the 2010 DWH blowout. PLoS One 10(7):e0132341. doi:10.1371/journal.pone.0132341

Buzas MA, Hayek LC, Culver SJ (2007) Community structure of benthic foraminifera in the Gulf of Mexico. Mar Micropaleontol 65:43–53

Culver SJ, Buzas MA (1983) Recent benthic foraminiferal provinces in the Gulf of Mexico. J Foraminifer Res 13:21–31

Cushman, J.A., (1922). Shallow-water foraminifera of the Tortugas region. The Carnegie Institution of Washington, 17, 311, 5–83.

Cushman JA (1923) The foraminifera of the Atlantic Ocean. Part 4. Lagenidae. Bull United States Natl Mus 104:1–228

Cushman JA (1927) New and interesting foraminifera from Mexico and Texas. Contrib Cushman Lab Foram Res 3:111–117

d'Orbigny A.D., (1846). Voyage de las Amérique Méridionale, vol. 5 Mollusques. Paris Pitois- Levraut

Daly K, Passow U, Chanton J, Hollander D (2016) Assessing the impacts of oil-associated marine snow formation and sedimentation during and after the Deepwater Horizon oil spill. Anthropocene 13:2–17. doi:10.1016/j.ancene.2016.01.006

Denne RA, Sen Gupta BK (1991) Association of bathyal foraminifera with water masses in the northwestern Gulf of Mexico. Mar Micropaleontol 17:173–193

Denoyelle M, Geslin E, Jorissen FJ, Cazes L, Galgani F (2012) Innovative use of foraminifera in ecotoxicology: a marine chronic bioassay for testing potential toxicity of drilling muds. Ecol Indic 12:17–25

Di Leonardo R, Bellanca A, Capotondi L, Cundy A, Neri R (2007) Possible impacts of Hg and PAH contamination on benthic foraminiferal assemblages: an example from the Sicilian coast, central Mediterranean. Sci Total Environ 388:168–183

d'Orbigny AD (1826) Tableau méthodique de la classe des Céphalopodes. Ann Sci Nat 7:245–314

d'Orbigny AD (1839) Voyage dans l'Amerique Meridionale. Paris Strasbourg 5(5):1–86

Enge A, Nomaki H, Ogawa N, Witte U, Moeseneder M, Lavik G, Ohkouchi N, Kitazato H, Kucera M, Heinz P (2011) Response of the benthic foraminiferal community to a simulated short-term phytodetritus pulse in the abyssal North Pacific. Mar Ecol Prog Ser 438(1992):129–142. doi:10.3354/meps09298

Engstrom DR (1993) A lightweight extruder for accurate sectioning of soft-bottom lake sediment cores in the field. Limnol Oceanogr 38(8):1796–1802

EPA (2007a) Method 8015C: nonhalogenated organics by gas chromatography. 1–68

EPA (2007b) Method 8270D: semivolatile organic compounds by gas chromatography/mass spectrometry (Gc/Ms). 1–72

Ernst SR, Morvan J, Geslin E, Le Bihan A, Jorissen FJ (2006) Benthic foraminiferal response to experimentally induced Erika oil pollution. Mar Micropaleontol 61:76–93

Hammer, O., Harper, D.A.T., (2006). Paleontological data analysis. Blackwell Publishing, Malden, MA, USA, 6.4.

Hastings DW, Schwing PT, Brooks GR, Larson RA, Morford JL, Roeder T, Quinn KD, Romero IC, Hollander DJ (2016) Changes in sediment redox conditions following the BP DWH blowout event. Deep-Sea Res II. doi:10.1016/j.dsr2.2014.12.009

Jones JP, Parker WK (1860) On the Rhizopodal fauna of the Mediterranean compared with that of the Italian and some other tertiary deposits. Q J Geol Soc Lond 16:292–307

Kessler JD, Valentine DL, Redmond MC, Du M, Chan EW, Mendes SD, Quiroz EW, Villanueva CJ, Shusta SS, Werra LM, Yvon-Lewis SA, Weber TC (2011) A persistent oxygen anomaly reveals the fate of spilled methane in the deep Gulf of Mexico. Science 331(6015):312–315

Kurbeweit F, Schmiedl G, Schiebel R, Hemleben C, Pfannkucke O, Wallman K, Shäfer P (2000) Distribution, biomass and diversity of benthic foraminifera in relation to sediment geochemistry in the Arabian Sea. Deep-Sea Res II 47:2913–2955

Lobegeier MK, Sen Gupta BK (2008) Foraminifera of hydrocarbon seep, Gulf of Mexico. J Foraminifer Res 38(2):93–116

Magurran AE (1988) Ecological diversity and its measurement. Princeton University Press, Princeton, NJ

Mojtahid M, Jorissen F, Durrieu J, Galgani F, Howa H, Redois F, Camps R (2006) Benthic foraminfera as bio-indicators of drill cutting disposal in tropical east Atlantic outer shelf environments. Marine Mircopaleontology 61:58–75

Montagna PA, Baguley JG, Cooksey C, Hartwell I, Hyde LJ, Hyland JL, Kalke RD, Kracker LM, Reuscher M, Rhodes ACE (2013) Deep-Sea benthic footprint of the Deepwater horizon blowout. PLoS One 8(8):e70540. doi:10.1371/journal.pone.0070540

Morvan J, Le Cadre V, Jorissen FJ, Debenay J (2004) Foraminifera as potential bio-indicators of the "Erika" oil spill in the Bay of Bourgneuf: field and experimental studies. Aquat Living Resour 17:317–322

Osterman LE (2003) Benthic foraminifers from the continental shelf and slope of the Gulf of Mexico: an indicator of shelf hypoxia. Estuar Coast Shelf Sci 58:17–35

Panieri G (2005) Benthic foraminifera associated with a hydrocarbon seep in the Rockall Trough (NE Atlantic). Geobios 38(2):247–255. doi:10.1016/j.geobios.2003.10.004

Paris CB, Le Hénaff M, Aman ZM, Subramaniam A, Helgers J, Wang DP, Kourafalou VH, Srinivasan A (2012) Evolution of the Macondo well blowout: simulating the effects of the circulation and synthetic dispersants on the subsea oil transport. Environ Sci Technol 121203084426001. doi:10.1021/es303197h

Parker FL (1954) Distribution of foraminifera in the Northeastern Gulf of Mexico. Bull Mus Comp Zool 111:453–588

Parker WC, Arnold AJ (2003) Quantitative methods of data analysis in foraminiferal ecology. In: Sen Gupta BK (ed) Modern foraminifera. Kluwer Academic Publishers, Boston, MA, pp. 71–92

Parker WK, Jones TR (1865) On some foraminifera from the coast of Norway. Ann Mag Nat Hist 155:325–441

Parker FL, Phleger FB, Pierson JF (1953) North Atlantic foraminifera. Rep Swedish Deep-Sea Expedition 1947-1948(7):3–122

Passow U, Ziervogel K, Asper V, Diercks A (2012) Marine snow formation in the aftermath of the Deepwater Horizon oil spill in the Gulf of Mexico. Environ Res Lett 7:035301

Patterson RT, Fishbein E (1989) Re-examination of statistical methods used to determine the number of point counts needed micropaleontological quantitative research. J Paleontol 63(2):245–248

Phleger, F.B., Parker, F.L. (1951). Gulf of Mexico foraminifera, Part 1 and 2. Geol Soc Am Memoir 46:

Poag WC (1984) Distribution and ecology of deep-water benthic foraminifera in the Gulf of Mexico. Palaeogeogr Palaeoclimatol Palaeoecol 48:25–37

Romero IC, Schwing PT, Brooks GR, Larson RA, Hastings DW, Ellis G, Goddard EA, Hollander DJ (2015) Hydrocarbons in Deep-Sea sediments following the 2010 Deepwater Horizon Blowout in the Northeast Gulf of Mexico. PLoS One 10(5):e0128371. doi:10.1371/journal.pone.0128371

Rowe, G. T., & Kennicutt II, M. C. (2009). Northern Gulf of Mexico continental slope habitats and benthic ecology study: final report. US. Dept. of the Interior, Minerals Management. Service, Gulf of Mexico OCS Region, New Orleans, LA. OCS Study MMS 2009–039. 456 pp (p 456)

Schönfeld J (2012) History and development of methods in recent benthic foraminiferal studies. J Micropaleontol 31:53–72

Schwing PT, Romero IC, Brooks GR, Hastings DW, Larson RA, Hollander DJ (2015) A decline in Deep-Sea benthic foraminifera following the Deepwater Horizon Event in the northeastern Gulf of Mexico. PLOSone 10(3):e0120565. doi:10.1371/journal.pone.0120565

Scott DB, Medioli FS (1980) Living vs. total foraminiferal populations: their relative usefulness in paleoecology. J Paleontol 54:814–831

Sen Gupta BK, Aharon P (1994) Benthic foraminifera of bathyal hydrocarbon vents of the Gulf of Mexico: initial report on communities and stable isotopes. Geo-Mar Lett 14:88–96

Sen Gupta BK, Machain-Castillo ML (1993) Benthic foraminifera in oxygen-poor habitats. Mar Micropaleontol 20:183–201

Sen Gupta, B.K., Lobegeier, M.K., and Smith, L.E. (2009). Foraminiferal communities of bathyal hydrocarbon seeps, northern Gulf of Mexico: a taxonomic, ecologic, and geologic study. U.S. Dept. of the Interior, Minerals Management Service, Gulf of Mexico OCS Region, New Orleans, LA. OCS Study MMS 2009–013, 385

Spellerberg IF, Fedor PJ (2003) A tribute to Claude Shannon (1916–2001) and a plea for more rigorous use of species richness, species diversity and the 'Shannon–Wiener' Index. Glob Ecol Biogeogr 12:177–179. doi:10.1046/j.1466-822X.2003.00015.x

Stewart RE, Stewart KC (1930) Post-Miocene Foraminifera from the Ventura quadrangle, Ventura County, California. J Paleontol 4:60–72

Valentine, D. L., Fisher, G. B., Bagby, S. C., Nelson, R. K., Reddy, C. M., & Sylva, S. P. (2014). Fallout plume of submerged oil from Deepwater Horizon, 1–6. doi:10.1073/pnas.1414873111

Valsangkar AB (2007) A device for finer-scale sub-sectioning of aqueous sediments. Curr Sci 92(4):5–8

Wade TL, Soliman Y, Sweet ST, Wolff GA, Presley BJ (2008) Trace elements and polycyclic aromatic hydrocarbons (PAHs) concentration in deep Gulf of Mexico sediments. Deep-Sea Research II 55:2585–2593

Williamson WC (1858) On the recent foraminifera of Great Britain. Ray Soc:1–107

Yanko V, Arnold JJ, Parker WC (1999) Effects of marine pollution on benthic foraminifera. In: Sen Gupta B (ed) Modern foraminifera. Kluwer, Boston, pp. 217–235

Ziervogel K, Mckay L, Rhodes B, Osburn CL, Dickson-Brown J, Arnosti C, Teske A (2012) Microbial activities and dissolved organic matter dynamics in oil-contaminated surface seawater from the Deepwater Horizon oil spill site. PLoS One 7(4):e34816
Acknowledgments
This research was made possible in part by a grant from the Gulf of Mexico Research Initiative, C-IMAGE, and DEEP-C and in part by the British Petroleum/Florida Institute of Oceanography (BP/FIO)-Gulf Oil Spill Prevention, Response, and Recovery Grants Program. The authors also thank the crew of the R/V Weatherbird II for their help during the field program. Data are publicly available through the Gulf of Mexico Research Initiative Information & Data Cooperative (GRIIDC) at https://data.gulfresearchinitiative.org/R1.x135.120:0004.
Additional information
Responsible editor: Philippe Garrigues
Electronic supplementary material
About this article
Cite this article
Schwing, P.T., O'Malley, B.J., Romero, I.C. et al. Characterizing the variability of benthic foraminifera in the northeastern Gulf of Mexico following the Deepwater Horizon event (2010–2012). Environ Sci Pollut Res 24, 2754–2769 (2017). https://doi.org/10.1007/s11356-016-7996-z
Received:

Accepted:

Published:

Issue Date:
Keywords
Benthic

Foraminifera

Ecology

Petroleum

Gulf of Mexico

Deepwater Horizon