Abstract
Caffeine-photosensitized degradation has been studied in the presence of bio-based materials derived from urban biowaste after aerobic aging. A peculiar fraction (namely bio-based substances (BBSs)), soluble in all the pH range, has been used as photosensitizing agent. Several caffeine photodegradation tests have been performed, and positive results have been obtained in the presence of BBSs and H2O2, without and with additional Fe(II) (photo-Fenton-like process). Moreover, hybrid magnetite-BBS nanoparticles have been synthesized and characterized, in order to improve the sensitizer recovery and reuse after the caffeine degradation. In the presence of such nanoparticles and H2O2 and Fe(II), the complete caffeine degradation has been attained in very short time. Both homogeneous and heterogeneous processes were run at pH = 5, milder condition compared to the classic photo-Fenton process.
Access options
Buy single article
Instant access to the full article PDF.
US$ 39.95
Tax calculation will be finalised during checkout.
Subscribe to journal
Immediate online access to all issues from 2019. Subscription will auto renew annually.
US$ 79
Tax calculation will be finalised during checkout.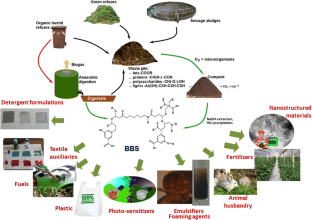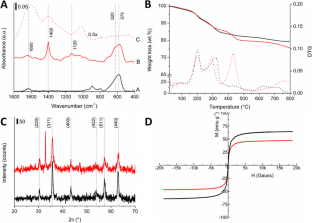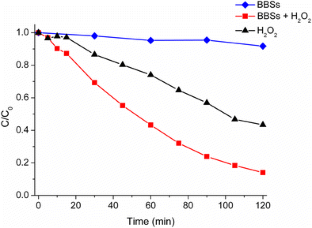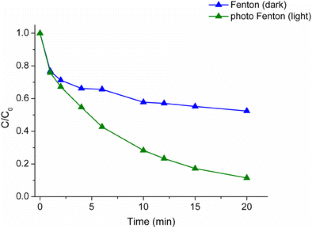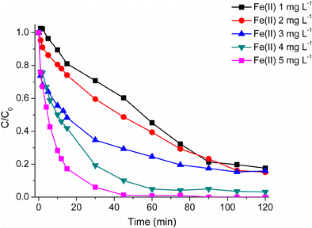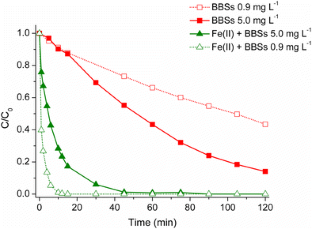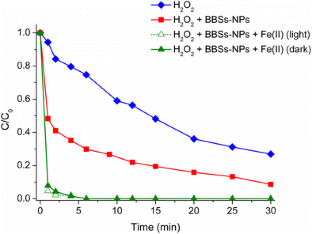 References
Avetta P, Bella F, Bianco Prevot A, Laurenti E, Montoneri E, Arques A, Carlos L (2013) Waste cleaning waste: photodegradation of monochlorophenols in the presence of waste derived organic catalysts. ACS Sustain Chem Eng 1:1545–1550

Avetta P, Berto S, Bianco Prevot A, Minella M, Montoneri E, Persico D, Vione D, Gonzalez MC, Mártire DO, Carlos L, Arques A (2015) Photoinduced transformation of waste-derived soluble bio-based substances. Chem Eng J 274:247–255

Bernabeu A, Vercher RF, Santos-Juanes L, Simón PJ, Lardín C, Martínez MA, Vicente JA, González R, Llosá C, Arques A, Amat AM (2011) Solar photocatalysis as a tertiary treatment to remove emerging pollutants from wastewater treatment plant effluents. Catal Today 161:235–240

Bianco Prevot A, Avetta P, Fabbri D, Laurenti E, Marchis T, Perrone DG, Montoneri E, Boffa V (2011) Waste derived bio-organic substances for light induced generation of reactive oxygenated species. ChemSusChem 4:85–90

Buerge IJ, Poiger T, Müller MD, Buser HR (2003) Caffeine, an anthropogenic marker for wastewater contamination of surface waters. Environ Sci Technol 37:691–700

Canonica S, Jans U, Stemmler K, Hoigné J (1995) Transformation kinetics of phenols in water: photosensitization by dissolved natural organic material and aromatic ketones. Environ. Sci. Technol. 29:1822–1831

Carlos L, Martire DO, Gonzalez MC, Gomis J, Bernabeu A, Amat AM, Arques A (2012) Photochemical fate of a mixture of emerging pollutants in the presence of humic substances. Water Res 46:4732–4740

Cesano F, Fenoglio G, Carlos L, Nisticò R (2015) One-step synthesis of magnetic chitosan polymer composite films. Appl Surf Sci 345:175–181

Girotto F, Alibardi L, Cossu R (2015) Food waste generation and industrial uses: a review. Waste Manag 45:32–41

Gomis J, Vercher RF, Amat AM, Martire DO, González MC, Bianco-Prevot A, Montoneri E, Arques A, Carlos L (2013) Application of soluble bio-organic substances (SBO) as photocatalysts for wastewater treatment: sensitizing effect and photo-Fenton-like process. Catal Today 209:176–180

Gomis J, Bianco Prevot A, Montoneri E, Gonzalez MC, Amat AM, Martire DO, Arques A, Carlos L (2014) Waste sourced bio-based substances for solar-driven wastewater remediation: photodegradation of emerging pollutants. Chem Eng J 235:236–243

Gomis J, Carlos L, Bianco Prevot A, Teixeira ACSC, Mora M, Amat AM, Vicente R, Arques A (2015a) Bio-based substances from urban waste as auxiliaries for solar photo-Fenton treatment under mild conditions: optimization of operational variables. Catal Today 240:39–45

Gomis J, Gonçalves MG, Vercher RF, Sabater C, Castillo MA, Bianco Prevot A, Amat AM, Arques A (2015b) Determination of photostability, biocompatibility and efficiency asphoto-Fenton auxiliaries of three different types of soluble bio-based substances (SBO). Catal Today 252:177–183

Gonzalez-García S, Gullon B, Rivas S, Feijoo G, Moreira MT (2016) Environmental performance of biomass refining into high-added value compounds. J Clean Prod 120:170–180

http://costeubis.org/ last accessed May 2016

Huang W, Brigante M, Wu F, Mousty C, Hanna K, Mailhot G (2013) Assessment of the Fe(III)-EDDS complex in Fenton-like processes: from the radical formation to the degradation of bisphenol A. Environ SciTechnol 47:1952–1959

Jacobs LE, Weavers LK, Houtz EF, Chin Y (2012) Photosensitized degradation of caffeine: role of fulvic acids and nitrate. Chemosphere 86:124–129

Klamerth N, Miranda N, Malato S, Agüera A, Fernández-Alba AR, Maldonado MI, Coronado JM (2009) Degradation of emerging contaminants at low concentrations in MWTPs effluents with mild solar photo-Fenton and TiO2. Catal Today 144:124–130

Klamerth N, Malato S, Maldonado MI, Agüera A, Fernández-Alba AR (2010a) Application of photo-Fenton as a tertiary treatment of emerging contaminants in municipal wastewater. Environ Sci Technol 44:1792–1798

Klamerth N, Rizzo L, Malato S, Maldonado MI, Agüera A, Fernández-Alba AR (2010b) Degradation of fifteen emerging contaminants at mu g L-1 initial concentrations by mild solar photo-Fenton in MWTP effluents. Water Res 44:545–554

Magnacca G, Allera A, Montoneri E, Celi L, Benito DE, Gagliardi LG, Gonzalez MC, Mártire DO, Carlos L, (2014) Novel magnetite nanoparticles coated with waste-sourced biobased substances as sustainable and renewable adsorbing materials. ACS Sustain Chem Eng 2 (6): 1518–1524

Metcalfe CD, Miao XS, Koenig BG, Struger J (2003) Distribution of acidic and neutral drugs in surface waters near sewage treatment plants in the lower Great Lakes, Canada. Environ Toxicol Chem 22:2881–2889

Montoneri E, Mainero D, Boffa V, Perrone DG, Montoneri C (2011) Biochemenergy: a project to turn an urban wastes treatment plant into biorefinery for the production of energy, chemicals and consumer's products with friendly environmental impact. Int J Global Environ Issues 11:170–196

Montoneri E, Bianco Prevot A, Avetta P, Arques A, Carlos L, Magnacca G, Laurenti E, Tabasso S, (2013) Food wastes conversion to products for use in chemical and environmental technology, material science and agriculture. In: Kazmi A, Shuttleworth P (eds) The Economic Utilisation of Food Co-Products, Royal Society of Chemistry, pp.64–109

Munoz M, de Pedro ZM, Casas JA, Rodriguez JJ (2015) Preparation of magnetite-based catalysts and their application in heterogeneous Fenton oxidation—a review. Appl Catal B Environ 176–177:249–265

Nadejde C, Neamtu M, Hodoroaba VD, Schneider RJ, Paul A, Ababei G, Panne U (2015a) Tannic acid- and natural organic matter-coated magnetite as green Fenton-like catalysts for the removal of water pollutants. J Nanopart Res 17:476–486

Nadejde C, Neamtu M, Hodoroaba VD, Schneider RJ, Paul A, Ababei G, Panne U (2015b) Green Fenton-like magnetic nanocatalysts: synthesis, characterization and catalytic application. Appl Catal B Environ 176–177:667–677

Nisticò R, Barrasso M, Carrillo Le Roux GA, Seckler MM, Sousa W, Malandrino M, Magnacca G (2015) Biopolymers from composted biowaste as stabilizers for the green synthesis of spherical and homogeneously sized silver nanoparticles for textile application on natural fibers. ChemPhysChem 16:3902–3909

O'Callaghan K (2016) Technologies for the utilisation of biogenic waste in the bioeconomy. Food Chem 198:2–11

Ou X, Quan X, Chen S, Zhao H, Zhang Y (2007) Atrazine photodegradation in aqueous solution induced by interaction of humic acids and iron: photoformation of iron(II) and hydrogen peroxide. J Agric Food Chem 55:8650–8656

Ou X, Chen S, Quan X, Zhao H (2009) Photochemical activity and characterization of the complex of humic acids with iron(III. J Geochem Explor 102:49–55

Pignatello JJ, Oliveros E, Mackay A (2006) Advenced oxidation processes for organic contaminant destruction based on the Fenton reaction and related chemistry. Critical Reviews in Environmental Science and Tecnology 36:1–84

Santos-Juanes L, García Sáncheza JL, Casas Lópeza JL, Oller I, Malato S, Sánchez Péreza JA (2011) Dissolved oxygen concentration: a key parameter in monitoring the photo-Fenton process. Appl Catal B Environ 104:316–323

Satchatippavarn S, Martinez-Hernandez E, Hang P, Leach M, Yang A (2016) Urban biorefinery for waste processing. Chem Eng Res Des 107:81–90

Sulzberger B (2015) Light-induced redox cycling of iron: roles for CO2 uptake and release by aquatic ecosystems. Aquat Geochem 21:65–80

Wenk J, Von Gunten U, Canonica S (2011) Effect of dissolved organic matter on the transformation of contaminants induced by excited triplet states and the hydroxyl radical. Environ Sci Technol 45:1334–1340

www.biocore-europe.org. Last accessed May 2016

www.biowaste4sp.eu. Last accessed May 2016

www.eurobioref.org. Last accessed May 2016
Acknowledgments
This work was performed with the financial support for academic interchange by the Marie Sklodowska-Curie Research and Innovation Staff Exchange project funded by the European Commission H2020-MSCA-RISE-2014 within the framework of the research project MAT4TREAT (project number 645551). Compagnia di San Paolo and University of Torino are gratefully acknowledged for funding Project Torino_call2014_L2_126 through "Bando per il finanziamento di progetti di ricerca di Ateneo – anno 2014" (Project acronym: Microbusters). Additionally, authors would like to acknowledge Dr. Flavio R. Sives (La Plata, Argentina) for magnetization measurements.
Additional information
Responsible editor: Vítor Pais Vilar
Electronic supplementary material
About this article
Cite this article
Bianco Prevot, A., Baino, F., Fabbri, D. et al. Urban biowaste-derived sensitizing materials for caffeine photodegradation. Environ Sci Pollut Res 24, 12599–12607 (2017). https://doi.org/10.1007/s11356-016-7763-1
Received:

Accepted:

Published:

Issue Date:
Keywords
Caffeine photodegradation

Bio-based substances

Fenton

Photo-Fenton, magnetic nanoparticles

Urban waste