Abstract
Mercury is a toxic trace metal, which can accumulate to levels threatening human and environmental health. In this study, contents of total mercury have been determined by ICP-MS spectrometry in fresh and processed tuna (110 samples) purchased from supermarkets in NW Spain. Mercury was present in all samples analyzed; however, only one sample of fresh tuna (1.070 mg kg−1 wet weight (w.w.)) slightly exceeded the limit of the EU (1.0 mg kg−1 w.w.). The average mercury concentration in processed tuna was lower than fresh, 0.306 mg kg−1 w.w., and ranged from 0.080 to 0.715 mg kg−1 w.w. Results were compared with literature data. In regard to the three types of preparation-packaging media for canned tuna, total Hg content was found in the following order: olive oil > natural > pickled sauce; the last showed significant statistical differences (p < 0.01) with the other two preparations. Between the two evaluated canned tuna species, significant statistical differences (p = 0.008) were observed and Thunnus alalunga presented a greater mean content (0.332 ± 0.114 mg kg−1 w.w.) compared to Thunnus albacares (0.266 ± 0.171 mg kg−1 w.w.).Taking into account the AESAN recommendation for adults and children, as well as the EU regulations and the tuna consumption by the Spanish population, the Hg levels obtained in this study pose no risk to consumer health. However, additional studies, a monitoring process, and efforts to reduce Hg concentration in tuna would be necessary, as well as considering other sources of exposure to Hg.
Access options
Buy single article
Instant access to the full article PDF.
US$ 39.95
Tax calculation will be finalised during checkout.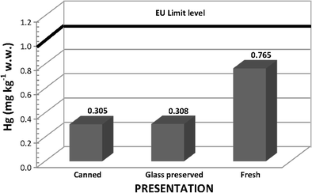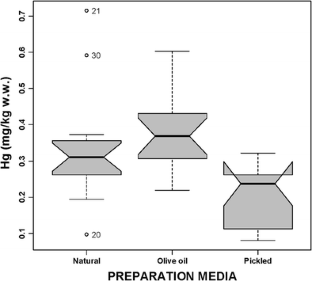 References
Abolghait SK, Garbaj AM (2015) Determination of cadmium, lead and mercury residual levels in meat of canned light tuna (Katsuwonus pelamis and Thunnus albacares) and fresh little tunny (Euthynnus alletteratus) in Libya. Open Vet J 5:130–137

AESAN (2011) http://www.aecosan.msssi.gob.es/AECOSAN/docs/documentos/para_consumidor/Recomendaciones_mercurio.pdf

Agyekum AA, Opoku-Danquah J, Adu Bobi NAK, Donkor S, Frimpong CE (2012) Heavy metals in canned fish marketed in Accra. Food Sci 51:10731–10734

Andayesh S, Hadiani MR, Mousavi Z, Shoeibi S (2015) Lead, cadmium, arsenic and mercury in canned tuna fish marketed in Tehran, Iran. Food Addit Contam Part B 8(2):93–98. doi:10.1080/19393210.2014.993430

ANFACO-CECOPESCA (2015a) El Clúster Mar-Alimentario de Galicia (in Spanish)

ANFACO-CECOPESCA 2015b) (in Spanish) http://www.anfaco.es/es/categorias.php?var1=Noticias&var3=&nar1=0&nar2=718&nar3=1009

Araújo CVM, Cedeño-Macias LA (2016) Heavy metals in yellowfin tuna (Thunnus albacares) and common dolphinfish (Coryphaena hippurus) landed on the Ecuadorian coast. Sci Total Environ 541:149–154

Behzadnia A, Rahimi E (2012) Determination of mercury in fish (Otollithes ruber) and canned tuna fish marketed in Khuzestan and Shiraz, Iran. J Chem Health Risks 2:1–5

Blanco SL, González JC, Vieites JM (2008) Mercury, cadmium and lead levels in samples of the main traded fish and shellfish species in Galicia, Spain. Food Addit Contam Part B 1(1):15–21

Burger J, Gochfeld M (2004) Mercury in canned tuna: white versus light and temporal variation. Environ Res 96:239–249

Burger J, Gochfeld M (2006) Mercury in fish available in supermarkets in Illinois: are there regional differences. Sci Total Environ 367:1010–1016

Burger J, Gochfeld M (2013) Selenium and mercury molar ratios in commercial fish from New Jersey and Illinois: variation within species and relevance to risk communication. Food Chem Toxicol 57:235–245

Cano-Sancho G, Perello G, Maulvault AL, Marques A, Nadal M, Domingo JL (2015a) Oral bioaccessibility of arsenic, mercury and methylmercury in marine species commercialized in Catalonia (Spain) and health risks for the consumers. Food Chem Toxicol 86:34–40

Cano-Sancho G, Sioen I, Vandermeersch G, Jacobs S, Robbens J, Nadal M, Domingo JL (2015b) Integrated risk index for seafood contaminants (IRISC): pilot study in five European countries. Environ Res 143:109–115. doi:10.1016/j.envres.2015.03.006

Castaño A, Cutanda F, Esteban M, Pärt P, Navarro C, Gómez S, et al. (2015) Fish consumption patterns and hair mercury levels in children and their mothers in 17 EU countries. Environ Res 141:58–68. doi:10.1016/j.envres.2014.10.029

Chen CY, Driscoll CT, Lambert KF, Mason RP, Rardin LR, Schmitt CV, Serrell NS, Sunderland EM (2012) Sources to seafood: mercury pollution in the marine environment. Toxic Metals Superfund Research Program, Dartmouth College, Hanover, NH

Chen C-Y, Lai C-C, Chen K-S, Hsu C-C, Chin-Chang Hung C-C, Chen M-H (2014) Total and organic mercury concentrations in the muscles of Pacific albacore (Thunnus alalunga) and bigeye tuna (Thunnus obesus. Mar Pollut Bull 85:606–612

Commission Decision 90/515/EEC of 26 September 1990 laying down the reference methods for detecting residues of heavy metals and arsenic. OJ L 286, 18.10.1990, p. 33–39.

Commission Directive 2001/22/EC of 8 March 2001 laying down the sampling methods and the methods of analysis for the official control of the levels of lead, cadmium, mercury and 3MCPD in foodstuffs. OJ L 77, 16.3.2001, p. 14–21

Commission Regulation (EC) No. 1881/2006 of 19 December 2006 setting maximum levels for certain contaminants in foodstuffs. OJ L 364, 20.12.2006, p. 5–24

Commission Regulation (EC) No. 629/2008 of 2 July 2008 amending Regulation No. 1881/2006 setting maximum levels for certain contaminants in foodstuffs. OJ L 173, 3.7.2008, p. 6–9

Costa S, Afonso C, Cardoso C, Batista I, Chaveiro N, Nunes ML, Bandarra NM (2015) Fatty acids, mercury, and methylmercury bioaccessibility in salmon (Salmo salar) using an in vitro model: effect of culinary treatment. Food Chem 185:268–276

Crespo-López ME, Macêdo GL, Pereira SI, Arrifano GP, Picanço-Diniz DL, do Nascimento JL, Herculano AM (2009) Mercury and human genotoxicity: critical considerations and possible molecular mechanisms. Pharmacol Res 60:212–220

Dabeka RW, McKenzie AD, Forsyth DS (2011) Levels of total mercury in predatory fish sold in Canada in 2005. Food Add Contam Part A 28:740–774

Dabeka RW, Mckenzie AD, Forsyth DS (2014) Total mercury in canned tuna sold in Canada in 2006. Food Add Contam Part B 7:110–114. doi:10.1080/19393210.2013.856036

Dhindsa HS, Adeloju SB (2004) Could vapour atomic absorption spectroscopic determination of mercury in brine preserved fish [Internet]. [cited 2016 Mar 27]. Available from: http://fos.ubd.edu.bn/fos_journal/2004-paper2.pdf

Di Bella G, Potortì AG, Lo Turco V, Bua D, Licata P, Cicero N, Dugo G (2015) Trace elements in Thunnus thynnus from Mediterranean Sea and benefit–risk assessment for consumers. Food Addit Contam Part B 8:175–181. doi:10.1080/19393210.2015.1030347

Drevnick PE, Lamborg CH, Horgan MJ (2015) Increase in mercury in Pacific yellowfin tuna. Environ Toxicol Chem 34:931–934

EFSA (2004) Opinion of the Scientific Panel on Contaminants in the Food Chain on a request from the Commission related to mercury and methylmercury in food. The EFSA Journal 34:1–14

EFSA (2012) Scientific opinion on the risk for public health related to the presence of mercury and methylmercury in food. The EFSA Journal 10(12):2985

Emami Khansari F, Ghazi-Khansari M, Abdollahi M (2005) Heavy metals content of canned tuna fish. Food Chem 93:293–296. doi:10.1016/j.foodchem.2004.09.025

Environmental Protection Agency (1996) Method 3052, SW-846

FAO/WHO (2011) Report of the joint FAO/WHO expert consultation on the risks and benefits of fish consumption. Rome 25–29 January 2010, Food and Agriculture Organization of the United Nations; World Health Organization, 63 pp

Freire C, Ramos R, López-Espinosa MJ, Díez S, Vioque J, Ballester F, Fernández MF (2010) Hair mercury levels, fish consumption, and cognitive development in preschool children from Granada, Spain. Environ Res 110:96–104

Gerstenbergen SL, Martinson A, Kramer JL (2010) An evaluation of mercury concentrations in three brands of canned tuna. Environ Toxicol Chem 29:237–242

González-Estecha M, Martínez-García MJ, Fuentes-Ferrer M, Bodas-Pinedo A, Calle-Pascual A, Ordóñez-Iriarte JM, et al. (2013) Mercury in canned tuna in Spain. Is light tuna really light? Food Nutr Sci 4:48–54

González-Estecha M, Bodas-Pinedo A, Rubio-Herrera MA, Martell-Claros N, Trasobares-Iglesias EM, Ordóñez-Iriarte JM, et al. (2014) Efectos sobre la salud del metilmercurio en niños y adultos; estudios nacionales e internacionales. Nutr Hosp 30:989–1007

González-Estecha M, Bodas-Pinedo A, Guillén-Pérez MA, Rubio-Herrera MA, Martínez-Álvarez JR, Herráiz-Martínez MA, et al. (2015) Consensus document on the prevention of methylmercury exposure in Spain. Study group for the prevention of Me-Hg exposure in Spain (GEPREM-Hg. J Trace Elem Med Biol 32:122–134

Hisamichi Y, Haraguchi K, Endo T (2010) Levels of mercury and organochlorine compounds and stable isotope ratios in three tuna species taken from different regions of Japan. Environ Sc Techno 44:5971–5978

Ikem A, Egiebor NO (2005) Assessment of trace elements in canned fishes (mackerel, tuna, salmon, sardines and herrings) marketed in Georgia and Alabama (United States of America). J Food Compos Anal 18:771–787

Jinadasa BKKK, Jayasinghe GDTM, Edirisinghe EMRKB, Wickramasinghe I (2015) Mercury concentration of muscle tissue and relationship with size of yellowfin tuna, Thunnus albacares, of the Indian Ocean. European Journal of Academic Essays 2:35–40

Karjalainen AK, Hallikainen A, Hirvonen T, Kiviranta H, Knip M, Kronberg-Kippilä C, Leino O, Simell O, Sinkko H, Tuomisto JT, Veijola R, Venäläinen ER, Virtanen SM (2013) Estimated intake levels for Finnish children of methylmercury from fish. Food Chem Toxicol 54:70–77

Knowles TG, Farrington D, Kestin SC (2003) Mercury in UK imported fish and shellfish and UK-farmed fish and their products. Food Addit Contam 20:813–818

Kojadinovic J, Potier M, Le Corre M, Cosson RP, Bustamante P (2007) Bioaccumulation of trace elements in pelagic fish from the Western Indian Ocean. Environ Pollut 146:548–566

Kouyoumjian HH, Tilbian M, Najjar E (2001) Exposure of the Lebanese population to mercury through fishery products and a proposal for a screening standard. Lebanese Sci J 2:37–44

Licata P, Trombetta D, Cristani M, Naccari C, Martino D, Calò M, Naccari F (2005) Heavy metals in liver and muscle of bluefin tuna (Thunnus thynnus) caught in the Straits of Messina (Sicily Italy. Environ Monit Assess 107:239–248

Magrama (2015) Ministerio de Agricultura, Alimentación y Medio Ambiente. El Mercado de los túnidos en España. Secretaría general de Pesca. Dirección General de Ordenación Pesquera. Subdirección General de Economía Pesquera. Madrid (in Spanish) http://www.magrama.gob.es/es/pesca/temas/mercados-economia-pesquera/informeatun_marzo2015_tcm7-401356.pdf

Martorell I, Perelló G, Martí-Cid R, Llobet JM, Castell V, Domingo JL (2011) Human exposure to arsenic, cadmium, mercury, and lead from foods in Catalonia, Spain: temporal trend. Biol Trace Elem Res 142:309–322

Melgar MJ, Alonso J, García MA (2016) Cadmium in edible mushrooms from NW Spain: bioconcentration factors and consumer health implications. Food Chem Toxicol 88:13–20

Miklavčič A, Stibilj V, Heath E, Polak T, Tratnik JS, Klavž J, Mazej D, Horvat M (2011) Mercury, selenium, PCBs and fatty acids in fresh and canned fish available on the Slovenian market. Food Chem 124:711–720

Milatou N, Dassenakisb M, Megalofonou P (2015) Do fattening process and biological parameters affect the accumulation of metals in Atlantic bluefin tuna? Food Addit Contam Part A 32:1129–1139. doi:10.1080/19440049.2015.1038855

Mol S (2011) Levels of selected trace metals in canned tuna fish produced in Turkey. J Food Comp Anal 24:66–69. doi:10.1016/j.jfca.2010.04.009

Mol S, Ozden O, Karakulak S (2012) Levels of selected metals in albacore (Thunnus alalunga, Bonnaterre, 1788) from the Eastern Mediterranean. J Aquatic Food Product Technol 21:111–117. doi:10.1080/10498850.2011.586489

Morgano MA, Rabonato LC, Milani RF, Miyagusku L, Quintaes KD (2014) As, Cd, Cr, Pb and Hg in seafood species used for sashimi and evaluation of dietary exposure. Food Control 36:24–29

NRC (National Research Council) (2000) Committee on the toxicological effects of methylmercury: toxicological effects of methylmercury. National Academy Press, Washington DC

Oken E, Choi AL, Karagas MR, Marien K, Rheinberger CM, Schoeny R, Sunderland E, Korrick S (2012) Which fish should I eat? Perspectives influencing fish consumption choices. Environ Health Perspect 120:790–798

Okyere H, Voegborlo RB, Agorku SE (2015) Human exposure to mercury, lead and cadmium through consumption of canned mackerel, tuna, pilchard and sardine. Food Chem 179:331–335

Olmedo P, Pla A, Hernández AF, Barbier F, Ayouni L, Gil F (2013) Determination of toxic elements (mercury, cadmium, lead, tin and arsenic) in fish and shellfish samples. Risk assessment for the consumers. Environ Int 59:63–72

Ordiano-Flores A, Galván-Magaña F, Rosiles-Martínez R (2011) Bioaccumulation of mercury in muscle tissue of yellowfin tuna, Thunnus albacares, of the Eastern Pacific Ocean. Biol Trace Elem Res 144:606–620

Perelló G, Llobet JM, Gómez-Catalán J, Castell V, Centrich F, Nadal M, Domingo JL (2014) Human health risks derived from dietary exposure to toxic metals in Catalonia, Spain: temporal trend. Biol Trace Elem Res 162:26–37

Pourjafar H, Ghasemnejad R, Noori N, Mohammadi K (2014) Heavy metals content of canned tuna fish marketed in Tabriz, Iran. IJVM 8:9–14

Rahimi E, Hajisalehi M, Kazemeini HR, Chakeri A, Khodabakhsh A, Derakhshesh M, et al. (2010) Analysis and determination of mercury, cadmium and lead in canned tuna fish marketed in Iran. Afr J Biotechnol 9:4938–4941

Ralston NV, Raymond LJ (2010) Dietary selenium's protective effects against methylmercury toxicity. Toxicology 278:112–123

Ralston NV, Ralston CR, Blackwell JL III, Raymond LJ (2008) Dietary and tissue selenium in relation to methylmercury toxicity. Neurotoxicology 29:802–811

Ralston NV, Ralston CR, Raymond LJ (2016) Selenium health benefit values: updated criteria for mercury risk assessments. Biol Trace Elem Res 171:262–269

Rasmussen RS, Morrissey MT (2007) Effects of canning on total mercury, protein, lipid, and moisture content in troll-caught albacore tuna (Thunnus alalunga. Food Chem 101:1130–1135

Raymond LJ, Ralston NV (2009) Selenium's importance in regulatory issues regarding mercury. Fuel Process Technol 90:1333–1338

Real Decreto 256/2003, de 28 de febrero, por el que se fijan los métodos de toma de muestras y de análisis para el control oficial del contenido máximo de plomo, cadmio, mercurio y 3-monocloropropano-1,2-diol en los productos alimenticios. BOE No. 52 (1.3.2003) (in Spanish)

Renzi M, Cau A, Bianchi N, Focardi SE (2014) Levels of mercury and polychlorobiphenyls in bluefin tuna from the Western Mediterranean Sea: a food safety issue? J Environ Prot 5:106–113

Revill AT, Young JW, Lansdell M (2009) Stable isotopic evidence for trophic groupings and bioregionalization of predators and their prey in oceanic waters off eastern Australia. Mar Biol 156:1241--1253

Ruelas-Inzunza J, Patiño-Mejía C, Soto-Jiménez M, Barba-Quintero G, Spanopoulos-Hernández M (2011) Total mercury in canned yellowfin tuna Thunnus albacares marketed in northwest Mexico. Food Chem Toxicol 49:3070–3073. doi:10.1016/j.fct.2011.07.030

Ruelas-Inzunza J, Soto-Jiménez M, Ruiz-Fernández A, Bojórquez-Leyva H, Pérez-Bernal H, Páez-Osuna F (2012) 210Po activity and concentrations of selected trace elements (As, Cd, Cu, Hg, Pb, Zn) in the muscle tissue of tunas Thunnus albacares and Katsuwonus pelamis from the Eastern Pacific Ocean. Biol Trace Elem Res 149:371–376

Russo R, Voi A L, Simone A D, Serpe FP, Anastasio A, Pepe T, Cacace D, Severino L (2013) Heavy metals in canned tuna from Italian markets. J Food Protect 2:355–369

Schartup AT, Mason RP, Balcom PH, Hollweg TA, Chen CY (2013) Methylmercury production in estuarine sediments: role of organic matter. Environ Sci Technol 47:695–700. doi:10.1021/es302566w

Srebocan E, Pompe-Gotal J, Prevendar-Crnic A, Ofner E (2007) Mercury concentrations in captive Atlantic bluefin tuna (Thunnus thynnus) farmed in the Adriatic Sea. Vet Med 52:175–177

Storelli MM, Marcotrigiano GO (2004) Content of mercury and cadmium in fish (Thunnus alalunga) and cephalopods (Eledone moschata) from the South-Eastern Mediterranean Sea. Food Addit Contam 21:1051–1056. doi:10.1080/02652030400023127

Storelli MM, Barone G, Garofalo R, Marcotrigiano GO (2007) Metals and organochlorine compounds in eel (Anguilla anguilla) from the Lesina lagoon, Adriatic Sea (Italy. Food Chem 100:1337–1341

Storelli MM, Barone G, Cuttone G, Giungato D, Garofalo R (2010) Occurrence of toxic metals (Hg, Cd and Pb) in fresh and canned tuna: public health implications. Food Chem Toxicol 48:3167–3170. doi: 10.1016/j.fct.2010.08.013

Suppin D, Zahlbruckner R, Krapfenbauer-Cermak CH, HassanHauser CH, Smulders FJM (2005) Mercury, lead and cadmium content of fresh and canned fish collected from Austrian retail operations. Ernährung Nutr 29:456–460

Velasco-González OH, Echavarría-Almeida S, Pérez-López ME, Villanueva-Fierro I (2001) Contenido de mercurio y arsénico en atún y sardinas enlatadas mexicanas. Rev Int Contam Amb 17:31–35

Voegborlo RB, El-Methnani AM, Abedin MZ (1999) Mercury, cadmium and lead content of canned tuna fish. Food Chem 67:341–345

Waqar A (2006) Levels of selected heavy metals in tuna fish. Arab J Sci Eng 31:89–92

Yallouz A, Campos RC, Louzada A (2001) Niveis de mercurio em atum solido enlatado comercializado na cidade do Rio de Janeiro. Ciencia e Tecnología Alimentos 21:1–4

Yang HR, Kim NY, Hwang LH, Park JS, Kim JH (2015) Mercury contamination and exposure assessment of fishery products in Korea. Food Addit Contam Part B 8:44–49

Zook EG, Powell JJ, Hackley BM, Emerson JA, Brooker JR, Knobl GM (1976) National marine fisheries service preliminary survey of selected seafoods for mercury, lead, cadmium, chromium, and arsenic content. J Agric Food Chem 24:47–53
Additional information
Responsible by: Philippe Garrigues
About this article
Cite this article
García, M.Á., Núñez, R., Alonso, J. et al. Total mercury in fresh and processed tuna marketed in Galicia (NW Spain) in relation to dietary exposure. Environ Sci Pollut Res 23, 24960–24969 (2016). https://doi.org/10.1007/s11356-016-7634-9
Received:

Accepted:

Published:

Issue Date:
Keywords
Mercury

Fresh tuna

Processed tuna

Preparation media

ICP-MS

Risk assessment

Spain