Abstract
Natural and human activities generate a significant amount of PM2.5 (particles ≤2.5 μm in aerodynamic diameter) into the surrounding atmospheric environments. Because of their small size, they can remain suspended for a relatively longer time in the air than coarse particles and thus can travel long distances in the atmosphere. PM2.5 is one of the key indicators of pollution and known to cause numerous types of respiratory and lung-related diseases. Due to poor implementation of regulations and a time lag in introducing the vehicle technology, levels of PM2.5 in most Asian cities are much worse than those in European environments. Dedicated reviews on understanding the characteristics of PM2.5 in Asian urban environments are currently missing but much needed. In order to fill the existing gaps in the literature, the aim of this review article is to describe dominating sources and their classification, followed by current status and health impact of PM2.5, in Asian countries. Further objectives include a critical synthesis of the topics such as secondary and tertiary aerosol formation, chemical composition, monitoring and modelling methods, source apportionment, emissions and exposure impacts. The review concludes with the synthesis of regulatory guidelines and future perspectives for PM2.5 in Asian countries. A critical synthesis of literature suggests a lack of exposure and monitoring studies to inform personal exposure in the household and rural areas of Asian environments.
Access options
Buy single article
Instant access to the full article PDF.
USD 39.95
Price includes VAT (USA)
Tax calculation will be finalised during checkout.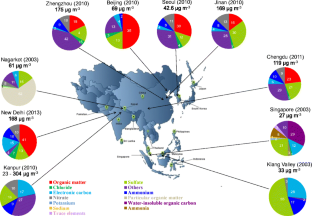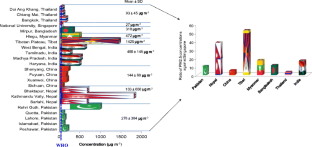 References
Airkorea (2014) Available at: http://www.airkorea.or.kr/. Assessed 10 Feb 2016

Alam K, Blaschke T, Madl P, Mukhtar P, Hussain M, Trautmann T, Rahman S (2011) Aerosol size distribution and mass concentration measurements in various cities of Pakistan. J Environ Monit 13(7):1944–1952

Alam K, Rahman N, Khan HU, Haq BS, Rahman S (2015) Particulate matter and its source apportionment in Peshawar, northern Pakistan. Aerosol Air Qual Res 15:634–647

Al-Dabbous AN, Kumar P (2014) Number size distribution of airborne nanoparticles during summer time in Kuwait: first observations from the Middle East. Environ Sci Technol 48:13634–13643

Al-Dabbous AN, Kumar P (2015) Source apportionment of airborne nanoparticles in a Middle Eastern city using positive matrix factorization. Environ Sci Processes Impacts 17:802–812

Atkinson RW, Kang S, Anderson HR, Mills IC, Walton HA (2014) Epidemiological time series studies of PM2.5 and daily mortality and hospital admissions: a systematic review and meta-analysis. Thorax. doi:10.1136/thoraxjnl-2013-204492

Azarmi F, Kumar P (2016) Ambient exposures of workers to coarse and fine particles around building demolition sites. Atmos Environ 137:62–79

Azarmi F, Kumar P, Marsh D, Fuller G (2016) Assessment of the long-term impacts of PM10 and PM2.5 particles from construction works on surrounding areas. Environ Sci Process Impacts 18(2):208–221

Balakrishnan K, Ghosh S, Ganguli B, Sambandam S, Bruce N, Barnes DF, Smith KR (2013) State and national household concentrations of PM2.5 from solid cookfuel use: results from measurements and modeling in India for estimation of the global burden of disease. Environ Health 12(77):1–14

Balasubramanian R, Qian WB, Decesari S, Facchini MC, Fuzzi S (2003) Comprehensive characterization of PM2.5 aerosols in Singapore. J Geophy Res 108:4523

Bangkok Ambient Annual Summary of Air Quality Data (2012)

Behera SN, Sharma M (2010) Reconstructing primary and secondary components of PM2.5 composition for an urban atmosphere. Aerosol Sci Technol 44:983–992

Bell ML, Dominici F, Ebisu K, Zeger SL, Samet JM (2007) Spatial and temporal variation in PM2.5 chemical composition in the United States for health effects studies. Environ. Health Perspect 115(7):989–995

Bode AM, Dong Z, Wang H (2016) Cancer prevention and control: alarming challenges in China. Nat Sci Rev. doi:10.1093/nsr/nwv054

Boffetta P, Merler E, Vainio H (1993) Carcinogenicity of mercury and mercury compounds. Scand J Work Environ Health 19:1–7

Boman J, Shaltout AA, Abozied AM, Hassan SK (2013) On the elemental composition of PM2.5 in central Cairo, Egypt. X-Ray Spectrom 42:276–283

Bozlaker A, Spada NJ, Fraser MP, Chellam S (2014) Elemental characterization of PM2.5 and PM10 emitted from light duty vehicles in the washburn tunnel of Houston, Texas: release of rhodium, palladium, and platinum. Environ Sci Technol 48:54–62

Brauer M, Amann M, Burnett RT, Cohen A, Dentener F, Ezzati M, et al. (2012) Exposure assessment for estimation of the global burden of disease attributable to outdoor air pollution. Environ Sci Technol 46:652–660

Brunekreef B, Holgate ST (2002) Air pollution and health. Lancet 360(9341):1233–1242

Cabada JC, Pandis SN, Subramanian R, Robinson AL, Polidori A, Turpin B (2004) Estimating the secondary organic aerosol contribution to PM2.5 using the EC tracer method. Aerosol Sci Technol 38(S1):140–155

Cadelis G, Tourres R, Molinie J (2014) Short-term effects of the particulate pollutants contained in Saharan dust on the visits of children to the emergency department due to asthmatic conditions in Guadeloupe (French Archipelago of the Caribbean. PLoS One 9(3):e 91136. doi:10.1371/journal.pone.0091136

Canagaratna MR, Massoli P, Browne EC, Franklin JP, Wilson KR, Onasch TB, Kirchstetter TW, Fortner EC, Kolb CE, Jayne JT, Kroll JH, Worsnop DR (2015) Chemical compositions of black carbon particle cores and coatings via soot particle aerosol mass spectrometry with photoionization and electron ionization. J Phys Chem A 119:4589–4599

Cao J, Chow JC, Lee FSC, Watson JG (2013) Evolution of PM2.5 measurements and standards in the US and future perspectives for China. Aerosol Air Qual Res 13:1197–1211

Carrico CM, Bergin MH, Shrestha AB, Dibb JE, Gomes L, Harris JM (2003) The importance of carbon and mineral dust to seasonal aerosol properties in the Nepal Himalaya. Atmos Environ 37:2811–2824

CEA (2008) Central Environmental Authority Sri Lanka. http://www.cea.lk/web/images/pdf/airqulity/1562_22E%20Ambient%20air%20quality%20-%20english.pdf. Assessed 10 Feb 2016

Census of India (2011) Household schedule-side A & B. Government of India. Retrieved 22 January 2011

Chafe ZA, Brauer M, Klimont Z, Dingenen RV, Mehta S, Rao S, Riahi K, Dentener F, Smith KR (2014) Household cooking with solid fuels contributes to ambient PM2.5 air pollution and the burden of disease. Environ Health Perspect 122(12):1314–1320

Chakraborty D, Mondal NK, Datta JK (2014) Indoor pollution from solid biomass fuel and rural health damage: a micro-environmental study in rural area of Burdwan, West Bengal. Int J Sustain. Built Environ 3(2):262–271

Cheng Z, Jiang J, Fajardo O, Wang S, Hao J (2013) Characteristics and health impacts of particulate matter pollution in China 2001–2011. Atmos Environ 65:186–194

Choi JK, Heo JB, Ban SJ, Yi SM, Zoh KD (2013) Source apportionment of PM2.5 at the coastal area in Korea. Sci Tot Environ 447:370–380

Claeys M, Graham B, Vas G, Wang W, Vermeylen R, Pashynska V, Cafmeyer J, Guyon P, Andreae MO, Artaxo P, Maenhaut W (2004) Formation of secondary organic aerosols through photooxidation of isoprene. Sci 303:1173–1176

Clean Air Asia (2013) Cities Act

Correia AW, Pope CA III, Dockery DW, Wang Y, Ezzati M, Dominici F (2013) The effect of air pollution control on life expectancy in the United States: an analysis of 545 us counties for the period 2000 to 2007. Epidemiol 24(1):23–31

CPCB (2009) National Ambient Air Quality Standards (NAAQS), Central Pollution Control Board, New Delhi. http://cpcb.nic.in/National_Ambient_Air_Quality_Standards.php. Accessed 8 Feb 2016

CPCB (2013) Environmental Data Bank 2013

Dadvand P, Parker J, Bell ML, Bonzini M, Brauer M, Darrow LA, et al. (2013) Maternal exposure to particulate air pollution and term birth weight: a multi-country evaluation of effect and heterogeneity. Environ Health Perspect 121:267–373

Dockery DW, Pope CA (1994) Acute respiratory effects of particulate air pollution. Ann Rev Pub Health 15:107–132

Dockery DW, Pope CA, Xu XP, Spengler JD, Ware JH, Fay ME, Ferris BG, Speizer FE (1993) An association between air-pollution and mortality in six United States cities. New Eng J Medi 329:1753–1759

Ebisu K, Bell ML (2012) Airborne PM2.5 chemical components and low birth weight in the northeastern and mid-Atlantic regions of the United States. Environ Health Perspect 120(12):1746–1752

Ebisu K, Belanger K, Bell ML (2014) Association between airborne PM2.5 chemical constituents and birth weight implication of buffer exposure assignment. Environ Res Lett 9:084007

EC (2010) European Commission, air quality standards. Available at: http://ec.europa.eu/environment/air/quality/standards.htm. Accessed 22 Feb 2016

EPA (2010) National Ambient Air Quality Standards (NAAQS). Available at: http://www.epa.gov/air/criteria.html. Accessed 22 Feb 2016.

Esworthy R (2013) Air quality: EPA's 2013 changes to the particulate matter (PM) standard. Congressional Research Service 7-5700, n. R42934. p 6

Fan J, Li S, Fan C, Bai Z, Yang K (2016) The impact of PM2.5 on asthma emergency department visits: a systematic review and meta-analysis. Environ Sci Pollut Res 23(1):843–850

Fann N, Lamson AD, Anenberg SC, Wesson K, Risley D, Hubbell BJ (2012) Estimating the national public health burden associated with exposure to ambient PM2.5 and ozone. Risk Anal 32(1):81–95

Ferguson M, Migliaccio C, Ward T (2013) Comparison of how ambient PMc and PM2.5 influence the inflammatory potential. Inhal Toxicol 25(14):766–773

Fountoukis C, Megaritis AG, Skyllakou K, Charalampidis PE, Pilinis C, et al. (2014) Organic aerosol concentration and composition over Europe: insights from comparison of regional model predictions with aerosol mass spectrometer factor analysis. Atmos Chem Phy 14:9061–9076

Gautam S, Patra AK (2015) Dispersion of particulate matter generated at higher depths in opencast mines. Environ. Technol Innov 3:11–27

Gautam S, Prusty BK, Patra AK (2015) Dispersion of respirable particles from the workplace in opencast iron ore mines. Environ. Technol Innov 4:137–149

Gautam S, Kumar P, Patra AK (2016) Occupational exposure to particulate matter in three Indian opencast mines. Air Qual Atmos Health 9(2):143–158

Geng NB, Wang J, Xu YF, Zhang WD, Chen C, Zhang RQ (2013) PM2.5 in an industrial district of Zhengzhou, China: chemical composition and source apportionment. Particuol 11:99–109

Goldstein A, Galbally I (2007) Known and unexplored organic constituents in the Earth's atmosphere. Environ Sci Technol 40(5):1514–1521

Gomiscek B, Hauck H, Stopper S, Preining O (2004) Spatial and temporal variations of PM1, PM2.5, PM10 and particle number concentration during the AUPHEP—project. Atmos Environ 38:3917–3934

Grantz DA, Garner JHB, Johnson DW (2003) Ecological effects of particulate matter. Environ Int 29:213–239

Gu JX, SY D, Han DW, Hou LJ, Yi J, Xu J, Liu GH, Han B, Yang GW, Bai ZP (2014) Major chemical compositions, possible sources, and mass closure analysis of PM2.5 in Jinan, China. Air Qual Atmos Health 7:251–262

Gugamsetty B, Wei H, Liu CN, Awasthi A, Hsu SC, Tsai CJ, Roam GD, Wu YC, Chen CF (2012) Source characterization and apportionment of PM10, PM2.5 and PM0.1 by using positive matrix factorization. Aerosol Air Qual Res 12:476–491

Guo ZG, Feng JL, Fang M, Chen HY, Lau KH (2004) The elemental and organic characteristics of PM2.5 in Asian dust episodes in Qingdao, China, 2002. Atmos Environ 38:909–919

Gurjar BR, van Aardenne JA, Lelieveld J, Mohan M (2004) Emission estimates and trends (1990–2000) for megacity Delhi and implications. Atmos Environ 38(33):5663–5681

Hamad SH, Schauer JJ, Antkiewicz DS, Shafer MM, Kadhim AKH (2016) ROS production and gene expression in alveolar macrophages exposed to PM2.5 from Baghdad, Iraq: seasonal trends and impact of chemical composition. Sci Tot Environ 543:739–745

Heal MR, Kumar P, Harrison RM (2012) Particles, air quality, policy and health. Chem Soc Rev 41:6606–6630

Hsieh NH, Liao CM (2013) Assessing exposure risk for dust storm events-associated lung function decrement in asthmatics and implications for control. Atmos Environ 68:256–264

Hu D, Jiang J (2014) A study of smog issues and PM2.5 pollutant control strategies in China. J Environ Protect 4:746–752

Hu W, Downward GS, Reiss B, Xu J, Bassig BA, HosgoodIII HD, Zhang L, Seow WJ, Wu G, Chapman RS, Tian L, Wei F, Vermeulen R, Lan Q (2014) Personal and indoor PM2.5 exposure from burning solid fuels in vented and unvented stoves in a rural region of China with a high incidence of lung cancer. Environ Sci Technol 48(15):8456–8464

Huang Y, Shen H, Chen H, Wang R, Zhang Y, Su S, Chen Y, Lin N, Zhuo S, Zhong Q, Wang X, Liu J, Li B, Tao S (2014) Quantification of global primary emissions of PM2.5, PM10, and TSP from combustion and industrial process sources. Environ Sci Technol 48(23):13834–13843

Hung LJ, Tsai SS, Chen PS, Yang YH, Liou SH, Wu TN, Yang CY (2012) Traffic air pollution and risk of death from breast cancer in Taiwan: fine particulate matter (PM2.5) as a proxy marker. Aerosol Air Qual Res 12:275–282

IPCC (2007) Fourth assessment report: the physical science basis, working group I, final report, Geneva, Switzerland. Available at: http://www.ipcc.ch/ipccreports/ar4-wg1.htm. Assessed 30 Dec 2015

Japan (2014) Ministry of the environment. Available at: Japan: http://www.env.go.jp/en/lar/regulation/aq.html. Assessed 8 Feb 2016

Jiang R, Bell ML (2008) A comparison of particulate matter from biomass-burning rural and non-biomass-burning urban households in northeastern China. Environ Health Perspec 116(7):907–914

Jinsart W, Tamura K, Loetkamonwit S, Thepanondh S, Karita K, Yano E (2002) Roadside particulate air pollution in Bangkok. Air Waste Manage Assoc 52:1102–1110

Kampa M, Castanas E (2008) Human health effects of air pollution. Environ Pollut 151:362–367

Kan H, Chen R, Tong S (2012) Ambient air pollution, climate change, and population health in China. Environ Int 42:10–19

Keywood MD, Ayers GP, Gras JL, Boers R, Leong CP (2003) Haze in the Klang Valley of Malaysia. Atmos Chem Phys 3:591–605

Khamkaew C, Chantara S, Wiriya W (2016) Atmospheric PM2.5 and its elemental composition from near source and receptor sites during open burning season in Chiang Mai, Thailand. Int J Environ Sci Develop 7(6):436–440

Kim KH, Jahan SA, Kabir E (2013) A review on human health perspective of air pollution with respect to allergies and asthma. Environ Int 59:41–52

Kim YP, Grinshpun SA, Asbach C, Tsai CJ (2015a) Overview of the special issue "Selected Papers from the 2014 International Aerosol Conference". Aerosol Air Qual Res 15:2185–2189

Kim KH, Kabir E, Kabir S (2015b) A review on the human health impact of airborne particulate matter. Environ Int 74:136–143

Kimbrough RD, Carter CD, Liddle JA, Cline RE (1977) Epidemiology and pathology of a tetrachlorodibenzodioxin poisoning episode. Arch Environ Health 32:77–86

Klasen EM, Wills B, Naithani N, Gilman RH, Tielsch JM, Chiang M, Khatry S, Breysse PN, Menya D, Apaka C, Carter EJ, Sherman CB, Miranda JJ, Checkley W, COCINAS Trial Working Group (2015) Low correlation between household carbon monoxide and particulate matter concentrations from biomass-related pollution in three resource-poor settings. Environ Resea 142:424–431

Kumar P, Jain S, Gurjar BR, Sharma P, Khare M, Morawska L, Britter R (2013) New directions: can a "blue sky" return to Indian megacities? Atmos Environ 71:198–201

Kumar P, Morawska L, Birmili W, Paasonen P, Hu M, Kulmala M, Harrison RM, Norford L, Britter R (2014) Ultrafine particles in cities. Environ Int 66:1–10

Kumar P, Khare M, Harrison RM, Bloss WJ, Lewis A, Coe H, Morawska L (2015) New directions: air pollution challenges for developing megacities like Delhi. Atmos Environ 122:657–661

Kumar P, Andrade MF, Ynoue RY, Fornaro A, de Freitas ED, Martins JLD, Albuquerque T, Zhang Y, Morawska L (2016) New directions: from biofuels to wood stoves: the modern and ancient air quality challenges in the megacity of São Paulo. Atmos Environ 140:364–369

Kurmi OP, Semple S, Devereux GS, Gaihre S, Lam KBH, Sadhra S, Steiner MFC, Simkhada P, Smith WCS, Ayre JG (2014) The effect of exposure to biomass smoke on respiratory symptoms in adult rural and urban Nepalese populations. Environ Health 13:92 1-8

Kurokawa J, Ohara T, Morikawa T, Hanayama S, Janssens-Maenhout G, Fukui T, Kawashima K, Akimoto H (2013) Emissions of air pollutants and greenhouse gases over Asian regions during 2000–2008: regional emission inventory in ASia (REAS) version 2. Atmos Chem Phys 13:11019–11058

Lamichhane DK, Leem JH, Lee JY, Kim HC (2015) A meta-analysis of exposure to particulate matter and adverse birth outcomes. Environ Health Toxicol 3(30):1–19

Lee BJ, Kim B, Lee K (2014) Air pollution exposure and cardiovascular disease. Toxicol Resea 30(2):71–75

Leung YC, Cheung KK (1999) Particulate problems of different occupationalenvironment in Hong Kong. J Environ Sci 11(4):385–391

Li C, Kang S, Chen P, Zhang Q, Guo J, Mi J, Basang P, Luosang Q, Smith KR (2012) Personal PM2.5 and indoor CO in nomadic tents using open and chimney biomass stoves on the Tibetan Plateau. Atmos Environ 59:207–213

Li T, Cao S, Fan D, Zhang Y, Wang B, Zhao X, Leaderer BP, Shen G, Zhang Y, Duan X (2016) Household concentrations and personal exposure of PM2.5 among urban residents using different cooking fuels. Sci Tot Environ 548-549:6–12

Liang CS, Yu TY, Chang YY, Syu JY, Lin WY (2013) Source apportionment of PM2.5 particle composition and Submicrometer size distribution during an Asian dust storm and non-dust storm in Taipei. Aerosol Air Qual Rea 13:545–554

Liang CS, Duan FK, He KB, Ma YL (2016) Review on recent progress in observations, source identifications and countermeasures of PM2.5. Environ Int 86:150–170

Lin J, Pan D, Davis SJ, Zhang Q, He K, Wang C, Streets DG, Wuebbles DJ, Guan D (2014) China's international trade and air pollution in the United States. Procee Nat Acad Sci USA 111:1736–1741

Lin GY, Lee GR, Lin SF, Hung YH, Li SW, Wu GJ, Ye H, Huang W, Tsai CJ (2015) Ultrafine particles and PM2.5 at three urban air monitoring stations in northern Taiwan from 2011 to 2013. Aerosol Air Qual Res 15:2305–2319

Lin CC, Yang LS, Cheng YH (2016) Ambient PM2.5, black carbon, and particle size-resolved number concentrations and the Ångström exponent value of aerosols during the firework display at the Lantern Festival in southern Taiwan. Aerosol Air Qual Resea 16(2):373–387

Luo P, Bao LJ, Guo Y, Li SM, Zeng EY (2016) Size-dependent atmospheric deposition and inhalation exposure of particle-bound organophosphate flame retardants. J Hazardous Mat 301:504–511

Mar TF, Ito K, Koening JQ, Larson TV, Eatough DJ, Henry RC, Kim E, Laden F, Lall R, Neas L, Stolzel M, Paatero P, Hopke PK, Thurston GD (2005) PM source apportionment and health effects. 3. Investigation of inter-method variations in associations between estimated source contributions of PM2.5 and daily mortality in Phoenix, AZ. J Exposure Sci Environ Epidemiol 16:311–320

McGuinn LA, Ward-Caviness CK, Neas LM, Schneider A, Diaz-Sanchez D, Cascio WE, Kraus WE, Hauser E, Dowdy E, Haynes C, Chudnovsky A, Koutrakis P, Devlin RB (2016) Association between satellite-based estimates of long-term PM2.5 exposure and coronary artery disease. Environ Resea 145:9–17

Meister K, Johansson C, Forsberg B (2012) Estimated short-term effects of coarse particles on daily mortality in Stockholm, Sweden. Environ Health Perspect 120:431–436

MEPPRC (2015) National urban ambient air quality daily report (Ministry of Environmental Protection of the People's Republic of China). http://datacenter.mep.gov. cn/; http://www.gov.cn/xinwen/2015-01/16/content_2805618.htm.

Mukherjee S, Roychoudhury S, Siddique S, Banerjee M, Bhattacharya P, Lahiri T, Ray MR (2014) Respiratory symptoms, lung function decrement and chronic obstructive pulmonary disease in pre-menopausal Indian women exposed to biomass smoke. Inhal Toxicol 26(14):866–872

Mukhopadhyay R, Sambandam S, Pillarisetti A, Jack D, Mukhopadhyay K, Balakrishnan K, Vaswani M, Bates MN, Kinney PL, Arora NK, Smith KR (2012) Cooking practices, air quality, and the acceptability of advanced cookstoves in Haryana, India: an exploratory study to inform large-scale interventions. Glob Health Action 5:1–13

NAAQS (2005)

NAAQS (2012) National Ambient Air Quality Standard (NAAQS) Nepal. http://www.cen.org.np/uploaded/AQ%20Status%20and%20Managment%20in%20KV_Maya%20Factsheet%205.pdf. Assessed 10 Feb 2016

Nagpure AS, Gurjar BR, Kumar V, Kumar P (2016) Estimation of exhaust and non-exhaust gaseous, particulate matter and air toxics emissions from on-road vehicles in Delhi. Atmos Environ 127:118–124

NEA (2011) National Environment Agency, Singapore. http://www.nea.gov.sg/anti-pollution-radiation-protection/air-pollution-control/air-quality-and-targets. Assessed 10 Feb 2016

Nel A (2005) Air pollution-related illness: effects of particles. Sci 308:804–806

NEQS (2010) National Environmental Quality Standards Pakistan. http://epd.punjab.gov.pk/system/files/National_Environmental_Quality_Standards_for_Ambient_Air.pdf. Assessed 9 Feb 2016

Pan X, Chin M, Gautam R, Bian H, Kim D, Colarco PR, Diehl TL, Takemura T, Pozzoli L, Tsigaridis K, Bauer S, Bellouin N (2015) A multi-model evaluation of aerosols over South Asia: common problems and possible causes. Atmos Chem Phys 15:5903–5928

Pant P, Shukla A, Kohl SD, Chow JC, Watson JG, Harrison RM (2015) Characterization of ambient PM2.5 at a pollution hotspot in New Delhi, India and inference of sources. Atmos Environ 109:178–189

Park ME, Song CH, Park RS, Lee J, Kim J, Lee S, Woo JH, Carmichael GR, Eck TF, Holben BN, Lee SS, Song CK, Hong YD (2014) New approach to monitor transboundary particulate pollution over Northeast Asia. Atmos Chem Phys 14:659–674

Patra AK, Gautam S, Kumar P (2016) Emissions and human health impact of particulate matter from surface mining operation—a review. Environ. Technol Innov 5:233–249

PCD (2010). Pollution Control Department, Thailand. http://www.pcd.go.th/info_serv/en_reg_std_airsnd01.html#s1. Assessed 10 Feb 2016.

Pokhrel AK, Bates MN, Acharya J, Valentiner-Branth P, Chandyo RK, Shrestha PS, Raut AK, Smith KR (2015) PM2.5 in household kitchens of Bhaktapur, Nepal, using four different cooking fuels. Atmos Environ 113:159–168

Pope IIICA, Burnett RT, Thun MJ, Calle EE, Krewski D, Ito K, Thurston GD (2002) Lung cancer, cardiopulmonary mortality, and long-term exposure to fine particulate air pollution. J Am Med Assoc 287:1132–1141

Pope D, Diaz E, Smith-Sivertesen T, Lie RT, Bakke P, Balmes JR, Smith KR, Bruce NG (2015) Exposure to household air pollution from wood combustion and association with respiratory symptoms and lung function in nonsmoking women: results from the RESPIRE Trial, Guatemala. Environ Health Perspec 123(4):285–292

Ranabhat CL, Kim CB, Kim CS, Jha N, Deepak KC, Connel FA (2015) Consequence of indoor air pollution in rural area of Nepal: a simplified measurement approach. Front Pub Health 3(5):1–6

Rasheed A, Aneja VP, Aiyyer A, Rafique U (2015) Measurement and analysis of fine particulate matter (PM2.5) in urban areas of Pakistan. Aerosol Air Qual Resea 15:426–439

Reff A, Bhave PV, Simon H, Pace TG, Pouliot GA, Mobley JD, Houyoux M (2009) Emissions inventory of PM2.5 trace elements across the United States. Environ Sci Technol 43:5790–5796

Rodriguez S, Cuevas E, Gonzalez Y, Ramos R, Romero PM, Perez N, Querol X, Alastuey A (2008) Influence of sea breeze circulation and road traffic emissions on the relationship between particle number, black carbon, PM1, PM2.5 and PM2.5–10 concentrations in a coastal city. Atmos Environ 42(26):6523–6534

Rumchev K, Win T, Bertolatti D, Dhaliwal S (2015) Prevalence of respiratory symptoms among children in rural Myanmar-disease burden assessment attributable to household biomass smoke. Indoor Built Environ 0(0):1–9

Saini R, Singh P, Awasthi BB, Kumar K, Taneja A (2014) Ozone distributions and urban air quality during summer in Agra—a world heritage site. Atmos Pollut Res 5(4):796–804

Salvi D, Limaye S, Muralidharan V, Londhe J, Madas S, Juvekar S, Biswal S, Salvi S (2016) Indoor particulate matter <2.5 mm in mean aerodynamic diameter and carbon monoxide levels during the burning of mosquito coils and their association with respiratory health. Chest 149(2):459–466

Satsangi PG, Yadav S (2014) Characterization of PM2.5 by X-ray diffraction and scanning electron microscopy-energy dispersive spectrometer: its relation with different pollution sources. Int J Environ Sci Technol 11:217–232

Shah ASV, Langrish JP, Nair H, McAllister DA, Hunter AL, Donaldson K, Newby DE, Mills NL (2013) Global association of air pollution and heart failure: a systematic review and meta-analysis. Lancet 382:1039–1048

Shan M, Yang X, Ezzati M, Chaturvedi N, Coady E, Hughes A, Shi Y, Yang M, Zhang Y, Baumgartner J (2014) A feasibility study of the association of exposure to biomass smoke with vascular function, inflammation, and cellular aging. Environ Health 135:165–172

Singh P, Saini R, Taneja A (2014) Physicochemical characteristics of PM2.5: low, middle, and high–income group homes in Agra, India—a case study. Atmos Pollut Res 5(3):352–360

Smith KR (1987) Biofuels, air pollution, and health: a global review. Plenum, New York

Smith KR, Frumkin H, Balakrishnan K, Butler CD, Chafe ZA, Fairlie I, et al. (2013) Energy and human health. Ann Rev Pub Health 34:159–188

Song Y, Wang X, Maher BA, Li F, Xu C, Liu X, Sun X, Zhang Z (2016) The spatial-temporal characteristics and health impacts of ambient fine particulate matter in China. J Cleaner Production 112(2):1312–1318

Sughis M, Nawrot TS, Ihsan-ul-Haque S, Amjad A, Nemery B (2012) Blood pressure and particulate air pollution in schoolchildren of Lahore, Pakistan. BMC Public Health 25(12):378

Sun X, Luo X, Zhao C, Zhang B, Tao J, Yang Z, Ma W, Liu T (2016) The associations between birth weight and exposure to fine particulate matter (PM2.5) and its chemical constituents during pregnancy: a meta-analysis. Environ Pollut 211:38–47

Tao J, Cheng TT, Zhang RJ, Cao JJ, Zhu LH, Wang QY, Luo L, Zhang LM (2013) Chemical composition of PM2.5 at an urban site of Chengdu in southwestern China. Adv Atmos Sci 30:1070–1084

Tao J, Gao J, Zhang L, Zhang R, Che H, Zhang Z, Lin Z, Jing J, Cao J, Hsu SC (2014) PM2.5 pollution in a megacity of southwest China: source apportionment and implication. Atmos Chem Phys 14:8679–8699

Tao J, Zhang L, Zhang Z, Huang R, Zhang R, Cao J, Zhang Y (2015) Control of PM2.5 in Guangzhou during the 16th Asian Games period: implication for hazy weather prevention. Sci Total Environ 508:57–66

Tsigaridis K, Krol M, Dentener FJ, Balkanski Y, Lathiere J, Metzger S, Hauglustaine DA, Kanakidou M (2006) Change in global aerosol composition since preindustrial times. Atmos Chem Phys 6:5143–5162

USEPA (2014) PM2.5 objectives and history. http://www.epa.gov/region4/sesd/pm25/p2.html. Assessed 22 Feb 2016

Van Donkelaar A, Martin R, Verduzco C (2010) A hybrid approach for predicting PM2.5 exposure: van Donkelaar et al. respond. Environ Health Perspect 118(10):A426

Varshney P, Saini R, Taneja A (2016) Trace element concentration in fine particulate matter (PM2.5) and their bioavailability in different microenvironments in Agra, India: a case study. Environ Geochem Health 38(2):593–605

Vela AV, Andrade MF, Ynoue RY, Kumar P (2015) Impact of vehicular emissions on the formation of fine particles in the Sao Paulo Metropolitan Area: a numerical study with the WRF-Chem model. Atmos Chem Phy 15:14171–14219

Volkamer R, Jimenez JL, Martini FS, Dzepina K, Zhang Q, Salcedo D, Molina LT, Worsnop DR, Molina MJ (2006) Secondary organic aerosol formation from anthropogenic air pollution: rapid and higher than expected. Geophy Resea Lett 33:L17811

Wang SX, Zhao B, Cai SY, Klimont Z, Nielsen CP, Morikawa T, Woo JH, Kim Y, Fu Y, JY X, Hao JM, He KB (2014) Emission trends and mitigation options for air pollutants in East Asia. Atmos Chem Phys 14:6571–6603

Watson JG (2002) Visibility: science and regulation. J Air Waste Manage Assoc 52:628–713

WHO (2006) Air quality guidelines global update 2005 particulate matter, ozone, nitrogen dioxide and sulfur dioxide. World Health Organization, Denmark

WHO (2011a) Air pollution—health topics. Available at: http://www.who.int/topics/air_pollution/en/. Assessed 22 Feb 2016.

WHO (2011b) Air pollution—health topics. Available at: http://www.who.int/topics/air_pollution/en/. Assessed 22 Feb 2016

WHO (2013) Health effects of particulate matter. Policy implications for countries in eastern Europe, Caucasus and central Asia. Copenhagen: WHO Regional Office for Europe; 2013 [http://www.euro.who.int/__data/assets/pdf_file/0006/189051/Health-effects-of-particulate-matter-final-Eng.pdf. Accessed 6 Jan 2015.

Wong CM, Ma S, Hedley AJ, Lam TH (2001) Effect of air pollution on daily mortality in Hong Kong. Environ Health Perspect 109:335–340

Wong TW, Tam WS, Yu TS, Wong AH (2002) Associations between daily mortalities from respiratory and cardiovascular diseases and air pollution in Hong Kong, China. Occup Environ Med 59:30–35

Wong CM, Tsang H, Lai HK, Thomas GN, Lam KB, Chan KP, Zheng Q, Ayres JG, Lee SY, Lam TH, Thach TQ (2016) Cancer mortality risks from long-term exposure to ambient fine particle. Cancer Epidemiol Biomark Prev 25:839

World Bank (WB) (2015) http://data.worldbank.org/indicator/EN.ATM.PM25.MC.M3/countries/1W-IN?display=map. Assessed 10 Feb 2016

World Health Organization (2005) WHO air quality guidelines for particulate matter, ozone, nitrogen dioxide and sulfur dioxide: global update 2005. (http://apps.who.int/iris/bitstream/10665/69477/1/WHO_SDE_PHE_OEH_06.02_eng.pdf). Accessed 10 Feb 2016

Wu SW, Deng FR, Wei HY, Huang J, Wang X, Hao Y, Zheng CJ, Qin Y, Lv HB, Shima M, Guo XB (2014) Association of cardiopulmonary health effects with source-appointed ambient fine particulate in Beijing, China: a combined analysis from the Healthy Volunteer Natural Relocation (HVNR) Study. Environ Sci Technol 48:3438–3448

Yang H, Chen J, Wen J, Tian H, Liu X (2016) Composition and sources of PM2.5 around the heating periods of 2013 and 2014 in Beijing: implications for efficient mitigation measures. Atmos Environ 124:378–386

Yu L, Wang G, Zhang R, Zhang L, Song Y, Wu B, Li X, An K, Chu J (2013) Characterization and source apportionment of PM2.5 in an urban environment in Beijing. Aerosol Air Qual Res 13:574–583

Zhang Q, Jimenez JL, Canagaratna MR, Ulbrich IM, Ng NL, Worsnop DR, Sun Y (2011) Understanding atmospheric organic aerosols via factor analysis of aerosol mass spectrometry: a review. Anal Bioanal Chem 401:3045–3067

Zhang Q, Qiu Z, Chung KF, Huang SK (2015) Link between environmental air pollution and allergic asthma: East meets West. J Thorac Dis 7(1):14–22 21

Zheng X, Xu X, Yekeen TA, Zhang Y, Chen A, Kim SS, Dietrich KN, Ho SM, Lee SA, Reponen T, Huo X (2016) Ambient air heavy metals in PM2.5 and potential human health risk assessment in an informal electronic-waste recycling site of China. Aerosol Air Qual Res 16(2):388–397

Zhong M, Saikawa E, Liu Y, Naik V, Horowitz LW, Takigawa M, Zhao Y, Lin NH, Stone EA (2015) Air quality modeling with WRF-Chem v3.5 in East and South Asia: sensitivity to emissions and evaluation of simulated air quality. Geosci Model Dev Discuss 8:9373–9413

Zhu CS, Cao JJ, Tsai CJ, Shen ZX, Liu SX, Huang RJ, Zhang NN, Wang P (2016) The rural carbonaceous aerosols in coarse, fine, and ultrafine particles during haze pollution in northwestern China. Environ Sci Pollut Res 23:4569–4575
Acknowledgments
We are thankful to Dr. Narendra Kumar Arora, Executive Director of International Clinical Epidemiology Network (INCLEN), New Delhi, India, for providing us with the required funding and research-related facilities to complete this critical review. We also thank anonymous reviewers for their time to read the article.
Additional information
Responsible editor: Philippe Garrigues
About this article
Cite this article
Gautam, S., Yadav, A., Tsai, CJ. et al. A review on recent progress in observations, sources, classification and regulations of PM2.5 in Asian environments. Environ Sci Pollut Res 23, 21165–21175 (2016). https://doi.org/10.1007/s11356-016-7515-2
Received:

Accepted:

Published:

Issue Date:
Keywords
PM2.5

Asian environment

Human health impact

Air pollution exposure